FBI Halted Probe of Pedophile to Focus on Jan 6. Now He's Accused of Abusing a 10-Year-Old Boy.
On January 6, 2021, the FBI explicitly chose to abandon a sting on a child pornographer in Virginia who was messaging with an undercover agent about having sex with a nine-year-old boy, opting instead to focus on prosecuting Donald Trump's supporters who stormed the U.S. Capitol. Less than three years later, the FBI discovered the same man living in Alaska where he appears to have been performing sex acts on a 10-year-old boy, according to court documents, Daily Wire reported.
On December 2, 2020, an internet user with the screen name "gayboy69freak" messaged an undercover agent with the FBI's Washington Field Office, who was posing as a father pimping out his 9-year-old son, and told him that he wanted to travel to D.C. to have sex with the boy. The man also sent the agent a video of "a prepubescent minor male being anally penetrated by an adult male's erect penis." His IP address led the FBI to Brogan Welsh of Glenn Allen, Virginia.
What appears to be a slam-dunk case against a child predator was abruptly abandoned just one month later.
"On January 6, 2021, FBI, Washington Field Office, [decided] this investigation was halted due to events that occurred at the United States Capitol Building that day," court documents say.
The man was only arrested, and the court documents only filed, because Welsh moved to Alaska and crossed the Anchorage FBI's radar in an unrelated perversion investigation. On October 24, 2023, after coming across troubling chats from Welsh on a phone they seized from a different alleged pervert, Alaska FBI agents went into his house and "located items including sex toys that are very small in size and apparently consistent with the body size of an approximate 10-year-old boy," as well as children's underwear.
"The investigation has revealed that a 10-year-old boy was, in fact, residing at the residence belonging to Welsh," the agents wrote.
In other words, because the FBI called off the dogs even after Welsh sent child porn to an FBI agent, he appears to have gone on to molest a 10-year-old.
It was as FBI agents worked through the Alaska case that they realized that the bureau's Washington Field Office had slam-dunk evidence that it had never bothered to do anything with, and added it to charging documents filed November 6, 2023. The Alaska arrest of Welsh was made based on the initial child pornography crime in Virginia, not even his apparent crimes in Alaska.
The Washington Field Office wouldn't say how many other ordinary criminal investigations were put on hold because of January 6, but it did acknowledge that resources were diverted.
"In the immediate aftermath of the January 6 attack on the U.S. Capitol, WFO resources were surged to support the FBI's response and investigation," the office told The Daily Wire in a statement. "However, WFO continued to diligently pursue its ongoing investigations. While we can't speak to the specific circumstances of this case, the FBI takes all crimes against children investigations extremely seriously, and we must follow the facts where they lead and collect enough evidence to pursue prosecution."
This sort of admission, that a case was dropped, rarely appears in court filings, because a dropped investigation means nothing ever makes it to court. Welsh's case is an exception because he tripped the wires of a different field office in Alaska, which picked up the case.
Federal prosecutors have charged more than 1,000 defendants in what they call the "Capitol Breach," and more than 65,000 legal documents have been filed in the cases, according to a Daily Wire database. Investigators and prosecutors have limited time, so it turns out that all that work likely comes at the expense of the cases they'd normally be handling.
The focus on January 6 prosecutions has coincided with U.S. Attorney for the District of Columbia prosecutors, who because of D.C.'s unique status handle most local criminal violations in the city, increasingly deciding not to prosecute residents arrested by the Metropolitan Police Department — even as D.C. crime has gotten out of control.
In 2020, before the Capitol event, the office declined to prosecute 35% of felonies and 52% of misdemeanors that were brought to them by local police. In 2021, as they focused on Capitol defendants, those numbers grew to 56% and 42%, according to Department Of Justice data. In 2022, a whopping 72% of people who were arrested for misdemeanors in D.C., and 53% of would-be felons, found themselves going free because prosecutors simply didn't bother to pursue their cases. The U.S. Attorney's office has in part blamed a lack of an accredited crime lab to test drugs and DNA.
At the same time, life has gotten worse for D.C. residents. Violent crime is up by 39% compared to last year; homicide is up by 34%. In 2020, there were 360 carjackings in DC, according to city police. So far in 2023, there have been 870.

⬇️ Top Picks for You ⬇️
Biden Got Recurring $1,380 Payment from Hunter's Firm Starting in 2018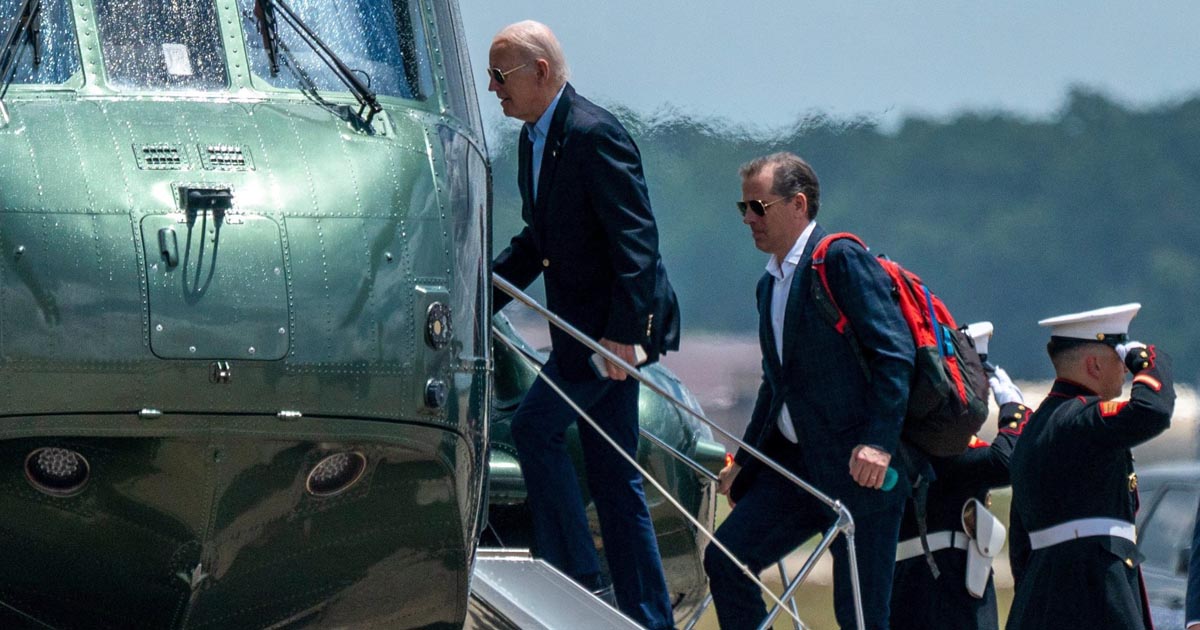 President Biden received a recurring payment of $1,380 from his son Hunter's law firm beginning in late 2018 shortly after a bank money laundering officer warned that the same account was receiving millions of dollars in Chinese government-linked funds without "any services rendered."
A bank order shows that Owasco PC set up a "monthly" transfer to then-former Vice President Joseph R. Biden Jr., with a voided check for the future president included in the documentation, which was released Monday by the House Oversight Committee.
A source told The Post that at least three recurring payments were made — on Sept. 17, Oct. 15 and Nov. 15, 2018 — totaling $4,140 to the elder Biden from Owasco PC, according to the bank records of the firm.
"President Biden and his family must be held accountable for this blatant corruption," Oversight Committee Chairman James Comer (R-Ky.) said in a video release.
"Today, the House Oversight Committee is releasing subpoenaed bank records that show Hunter Biden's business entity, Owasco PC, made direct monthly payments to Joe Biden. This wasn't a payment from Hunter Biden's personal account but an account for his corporation that received payments from China and other shady corners of the world," Comer said.
"At this moment, Hunter Biden is under an investigation by the Department of Justice for using Owasco PC for tax evasion and other serious crimes. And based on whistleblower testimony, we know the Justice Department made a concerted effort to prevent investigators from asking questions about Joe Biden. I wonder why?"
Earlier that year, a January 2019 email from assistant Katie Dodge to Hunter Biden annotated various expenses including "Ford Raptor — Reimbursement to JRB — $1380."
The provenance of the funds is unclear, however, and additional records show that Hunter Biden was knee-deep in two of his most controversial business relationships at the time, with Ukraine's Burisma Holdings and CEFC China Energy.
The evidence emerged as House Republicans prepare to question first brother James Biden on Wednesday and Hunter next week about the president's role in his family's dealings in countries such as China and Ukraine — with a possible floor vote to authorize the ongoing impeachment inquiry this month.
While a presidential candidate, Joe Biden denied that he ever discussed business with his relatives, but evidence has since shown that he met with his relatives' associates from both the Burisma and CEFC ventures.
Documents from the first son's abandoned laptop show that Burisma board adviser Vadym Pozharskyi sought "bank reference" information on Sept. 14, 2018 — one day before the initial transfer to Joe Biden was sought. However, the transaction was not executed for another two days, apparently due to a later-than-expected form submission.
Joe Biden met Pozharskyi at an April 17, 2015, dinner at DC's Café Milano. An unproven FBI informant tip said that Burisma owner Mykola Zlochevsky claimed in 2016 he was "coerced" into paying $10 million in bribes to the Bidens for their assistance in ousting prosecutor Viktor Shokin.
Hunter also was on the tail end of disbursing millions of dollars received from CEFC China Energy — one of two major Biden family dealings with Chinese government-linked firms.
On June 26, 2018 — less than three months before Joe Biden began to receive the monthly transfers — an internal Bank Secrecy Act expert warned colleagues that the institution should reconsider its relationship with Hunter as a result of Owasco PC seeming to receive Chinese funds without "any services rendered."
CEFC transferred $5 million to another Biden family-linked entity, Hudson West III, in August 2017 after Hunter warned a China-based associate of his father's wrath if a business deal was aborted. Much of the large transfer later went to Hunter's Owasco PC.
Prior bank records released by the Oversight Committee indicate that Joe Biden received payments of $40,000 and $200,000 from his brother James, who also was involved in the CEFC venture and other foreign-focused enterprises.
Comer alleged that the $40,000 transferred to Joe Biden's bank account on Sept 3, 2017, was from "laundered" Chinese funds.
James Biden paid Joe Biden $200,000 on March 1, 2018 — the same day that James received a $200,000 transfer from troubled rural hospital company Americore after pledging to use his political connections to secure a Middle Eastern investor, according to bankruptcy filings.
The White House says there's evidence that both transfers were loan repayments, but Republicans argue they have not seen loan agreement documents and note that the funds distributed to James came from a law firm, rather than Joe Biden himself, further clouding the picture.