The FBI improperly used warrantless search powers against U.S. citizens more than 278,000 times in the year ending November 2021, according to an unsealed Foreign Intelligence Surveillance Court (FISC) filing.
U.S. citizens covered in that improper effort included people involved in the Capitol riot on Jan. 6, 2021; George Floyd protesters during the summer of 2020; and donors to a failed congressional candidate, the filing said.
Section 702 of Foreign Intelligence Surveillance Act (FISA) allows the government to conduct targeted surveillance of non-U.S. persons located abroad to acquire foreign intelligence information. When U.S. citizens are flagged as part of these investigations, the FBI takes over the process of querying them for possible security reasons.
The court filing, which spanned 127 pages, was unsealed Friday by the FISC, but was filed in April 2022.
"As Director Wray has made clear, the errors described in the Foreign Intelligence Surveillance Court's opinion are completely unacceptable," a senior FBI official told Fox News Friday. "As a result of the audits that revealed these instances of noncompliance, the FBI changed its querying procedures to make sure these errors do not happen again. These steps have led to significant improvement in the way we conduct queries of lawfully obtained Section 702 information."
"We are committed to continuing this work and providing greater transparency into the process to earn the trust of the American people and advance our mission of safeguarding both the nation's security, and privacy and civil liberties, at the same time," the senior FBI official said.
The FBI has faced scrutiny for the misuse of Section 702, and FBI Director Christopher Wray has said the bureau has taken steps to reform the system.
Fox News Digital first reported last month that the Office of the Director of National Intelligence said there was a "significant decline" in the total number of queries the FBI made into U.S. citizens between 2021 and 2022 under Section 702, due to the changes the bureau made to its "systems, processes, and training relating to U.S. persons queries."
In the year ending November 2022, the FBI conducted a total of about 204,000 queries, a 94% drop from the previous year's reporting period when it conducted nearly 3.4 million.
The filing released on Friday detailed a number of the improper queries, including a batch query for "over 19,000 donors to a congressional campaign."
"The analyst who ran the query advised that the campaign was a target of foreign influence, but NSD [National Security Division] determined that only eight identifiers used in the query had sufficient ties to foreign influence activities to comply with the querying standard," the filing stated.
It is unclear to which congressional campaign the filing is referring. Fox News has learned the candidate was not a member of Congress and did not win his or her election.
The filing also said another batch of queries was made in June 2020, "using identifiers of 133 individuals arrested in connection with civil unrest and protests between approximately May 30 and June 18, 2020."
The civil unrest was due to the death of George Floyd in police custody in May 2020.
"The query was run to determine whether the FBI had 'any counter-terrorism derogatory information on the arrestees,' but without 'any specific potential connections to terrorist related activity' known to those who conducted the queries," the filing stated.
The filing revealed that an FBI employee ran more than 23,000 queries "to find possible foreign influence, although the analyst conducting the queries had no indications of foreign influence related to the query term used."
The filing said "no raw Section 702 information was accessed as a result of these queries."
Queries can help to "find connections between individuals and entities," as well as to identify threats to the U.S. homeland or national security interests abroad. Queries also help to identify potential victims of national security threat activity — like possible victims of cyberattacks on U.S. infrastructure by foreign actors.
Between December 2021 and November 2022, the FBI's queries conducted based on evidence of a crime "increased slightly." But the number of instances in which the FBI "failed to obtain a required court order prior to reviewing the results of certain evidence of a crime-only queries declined."
The report also shows the FBI opened "zero" investigations into U.S. persons who are not considered a threat to national security in the year ending November 2022.
FISA Section 702 is set to sunset on Dec. 31, and lawmakers on both sides of the aisle are proposing reforms in order to reauthorize the section, with more congressional oversight.
FISA reform became a priority for both Republicans and Democrats following a 2019 review from Justice Department Inspector General Michael Horowitz. That review found significant inaccuracies and omissions by the FBI in a FISA warrant application to surveil former Trump campaign adviser Carter Page in 2016, and has proposed significant reforms to FISA Section 702 since.

⬇️ Top Picks for You ⬇️
Tucker Carlson Returns With New Show: 'Tucker on Twitter'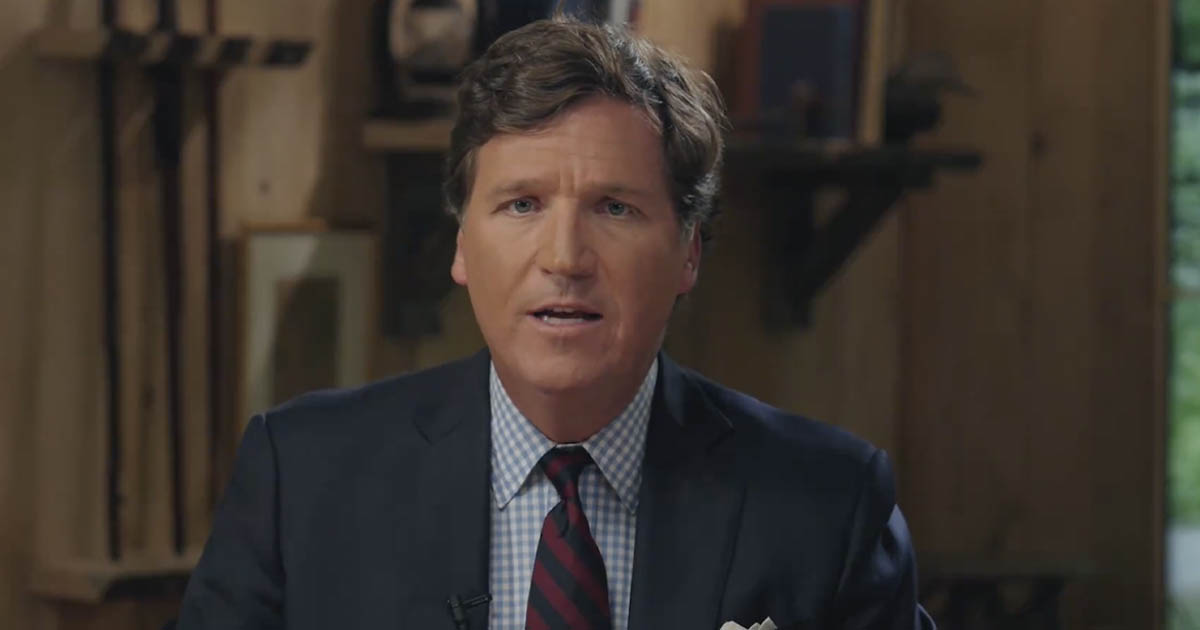 Former Fox News host and Daily Caller co-founder Tucker Carlson brought his show to Twitter for the first time Tuesday by posting a monologue about the Ukraine war and how the media is covering it.
Carlson spoke about the latest developments in the Russian war against Ukraine, beginning with a major dam explosion inside Russian-occupied territory Tuesday morning.
"This morning, it looks like somebody blew up the Kakhovka Dam in southern Ukraine. The rushing wall of water wiped out entire villages, destroyed a critical hydropower plant, and as of tonight, puts the largest nuclear reactor in Europe in danger of melting down. So, if this was intentional, it was not a military tactic — it was an act of terrorism," Carlson began.
The Ukrainian and Russian governments accused each other of intentionally destroying the dam as an act of sabotage, according to The Washington Post.
"Blowing up the dam may be bad for Ukraine, but it hurts Russia more. And for precisely that reason, the Ukrainian government has considered destroying it. In December, The Washington Post quoted a Ukrainian general saying his men had fired American-made rockets at the dam's floodgate, as a test strike," Carlson stated.
Carlson transitioned to discussing The Washington Post's story showing the U.S. knew about Ukrainian plans to attack the Nord Stream 2 gas pipeline months before it was destroyed. The Post's story was based on an intelligence leak on social media platform Discord.
"So, really, once the facts start coming in, it becomes much less of a mystery what might have happened to the dam. Any fair person would conclude that the Ukrainians probably blew it up — just as you would assume they blew up Nord Stream, the Russian natural gas pipeline, last fall. And in fact, the Ukrainians did do that, as we now know. It's not like Vladimir Putin is anxious to wage war on himself," he said.
Carlson proceeded to mock the corporate media's coverage of the Nordstream 2 explosion for immediately blaming Russia for the attack without considering whether Ukraine blew up the pipeline.
"Oh, but that's where you're wrong, Mr. and Mrs. Cable News Consumer. Vladimir Putin is exactly that sort of man — the sort of man who'd shoot himself to death in order to annoy you. We know this from the American media, which wasted no time this morning in accusing the Russians of sabotaging their own infrastructure," Carlson remarked.
"No one who's paid to cover these things seemed to entertain even the possibility it could have been the Ukrainians who did it. No chance of that. Ukraine, as you may have heard, is led by a man called Zelensky, and we can say for a dead certain fact that he was not involved. He couldn't have been. Zelensky is too decent for terrorism," Carlson added.
He followed up by ridiculing Republican South Carolina Sen. Lindsey Graham and Republican Presidential candidate Nikki Haley because of their unwavering support for Ukrainian President Volodymyr Zelenskyy and his country. Afterwards, he broadened his media criticism beyond the scope of the Ukraine war to other issues where narratives must never be questioned.
"But mostly they just ignore the stories that matter. What's happened to the hundreds of billions of US dollars we've sent to Ukraine? No clue. Who organized those BLM riots three years ago? No one's gotten to the bottom of that. What exactly happened on 9/11? Well, it's still classified. How did Jeffrey Epstein make all that money? How did he die? How about JFK? And so endlessly on. Not only are the media not interested in any of this, they're actively hostile to anybody who is. In journalism, curiosity is the gravest crime," Carlson said.
Carlson pointed to the intelligence officer who blew the whistle Monday on alleged UFOs possessed by the U.S. government as a recent example of the pressing stories the media ignores.
"So if you're wondering why our country seems so dysfunctional, this is a big part of the reason. Nobody knows what's happening. A small group of people control accesses to all relevant information. And the rest of us don't know. We're allowed to yap all we want about racism, but go ahead and talk about something that really matters and see what happens. If you keep it up, they'll make you be quiet. Trust us. That's how they maintain control," he continued.
Carlson concluded his monologue with a teaser about future Twitter broadcasts if the platform maintains its commitment to free speech under owner Elon Musk.
"That's how most of us now live here in the United States — manipulated by lies, silenced by taboos. It is unhealthy and is dehumanizing, and we're tired of it. As of today, we've come to Twitter, which we hope will be the shortwave radio under the blankets. We're told there are no gatekeepers here. If that turns out to be false, we'll leave. But in the meantime, we are grateful to be here. We'll be back with much more very soon."
Watch:
Ep. 1 pic.twitter.com/O7CdPjF830

— Tucker Carlson (@TuckerCarlson) June 6, 2023