Federal Child Pornography Investigation Infiltrates Telegram App, Results in More than a Dozen Arrests
Operation Swipe Left resulted in criminal charges against more than a dozen people involved in a "cross-country network of people sexually exploiting children," the Chicago Sun-Times reported Thursday.
A federal judge called some of the allegations "horrific." Allegations include livestreamed abuse, kidnapping threats, and production of child pornography.
"When agents raided one suspect's home, video depicting the sexual abuse of an infant was allegedly playing on screen."
"This is not a victimless crime," Cook County Circuit Judge Mary Marubio stressed. Victims, four of whom were rescued in "real time," range in age from six months to 17 years.
Arrests in the sweep include Norris "Nick" Stauffer, 27, of Chicago and at least 16 others. Charges were brought in Arizona, Wisconsin, Washington, D.C., California, and South Africa. Nine have already been sentenced to prison time, per the Sun-Times' reporting.
Stauffer's attorney, Kevin Bolger, denies that his client produced child pornography and denies that his case has to do with Telegram.
Former Trump administration official and former Turning Point USA employee Adam Hageman is among the defendants, Ars Technica reported. Following Hageman's arrest and guilty plea in 2020 for receiving child sexual abuse materials, he granted investigators access to his Telegram group chats. That access, in turn, led to charges filed against a dozen others.
Ars Technica says Homeland Security Investigations verified the accuracy of all the Sun-Times' statements.
Ruben Verastigui, a former RNC staffer, is also on the list of defendants.
Defendants reportedly include include a youth soccer coach, a grocery store employee, an amusement park employee, and the son of a police officer.
Others charged include Raymond Glover, Sebastian Protel, Zachary Marsh, Devin Parrish, Tyler Ehredt, Jesus Jimenez-Cornejo, Ryan Hoberg, Edgar Martinez, Shawn Grenier, Ryan Showell, Marthinus Gerhardus Lourens, and Quentin Joseph Carbajal.
The investigation began June 12, 2020, after Royal Canadian Mounted Police discovered a child sexual abuse video with embedded geographic data that pointed to Arizona. The Sun-Times' reporting was based on "recently unsealed" Cook County court documents, per Ars Technica.
The sweep, dubbed Operation Swipe Left, was the work of Homeland Security Investigations, the Sun-Times reported.
HSI is the "principal investigative arm of the U.S. Department of Homeland Security." The agency's mission is to "investigate, disrupt and dismantle terrorist, transnational and other criminal organizations." Child exploitation is listed among the wide array of transnational crimes HSI is tasked with investigating.

⬇️ Top Picks for You ⬇️
Biden Dog Bites Another Secret Service Agent; 11th Incident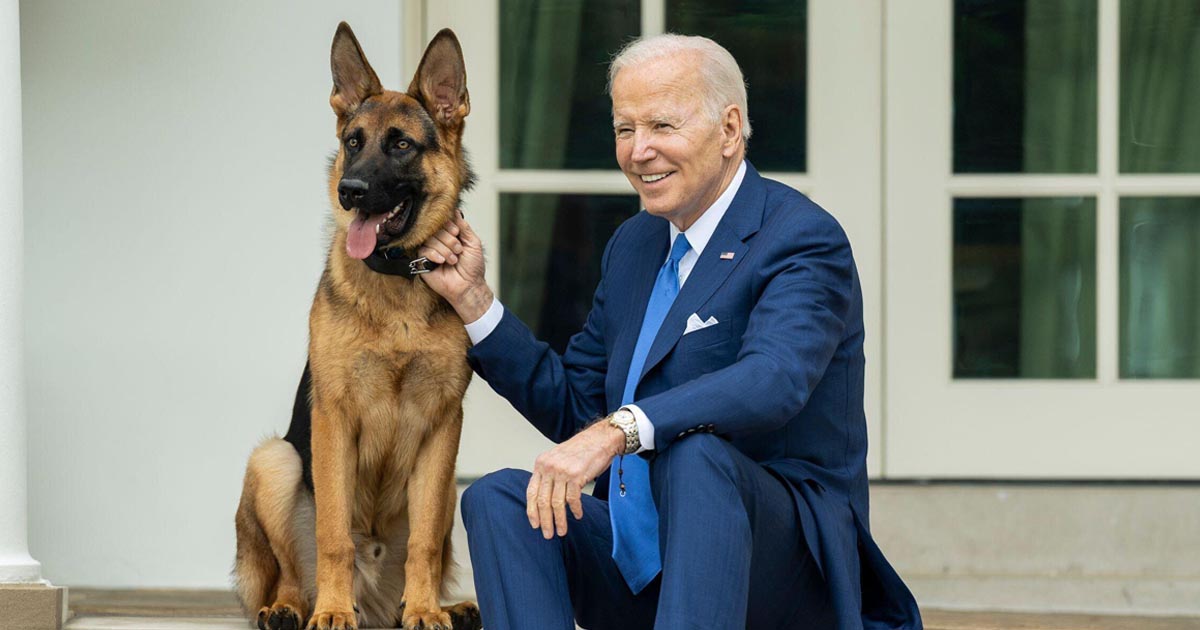 President Joe Biden's younger dog, Commander, bit another US Secret Service agent at the White House Monday evening, CNN has learned, the 11th known biting incident involving the 2-year-old German Shepherd.
"Yesterday around 8 p.m., a Secret Service Uniformed Division police officer came in contact with a First Family pet and was bitten. The officer was treated by medical personnel on complex," USSS chief of communications Anthony Guglielmi told CNN in a statement.
The injured officer spoke with Secret Service Uniformed Division Chief Alfonso M. Dyson Sr. on Tuesday and is doing OK, Guglielmi said.
Commander has been involved in at least 11 biting incidents at the White House and in Delaware, according to CNN reporting and US Secret Service email correspondence, including a November 2022 incident where an officer was hospitalized after the dog clamped down on their arms and thighs.
White House officials said in July that the Bidens were working through new training and leashing protocols for the family pet following the incidents.
Asked by CNN whether the new training had taken place or if any further action would be sought, Elizabeth Alexander, communications director for the first lady, said in a statement that "the First Family continues to work on ways to help Commander handle the often unpredictable nature of the White House grounds."
"The President and First Lady are incredibly grateful to the Secret Service and Executive Residence staff for all they do to keep them, their family, and the country safe," she continued.
Another of Biden's dogs, Major, was involved in biting incidents at the White House. The German Shepherd later moved out of the White House, and Commander arrived at the White House in 2021.
The July email correspondence, obtained through Freedom of Information Act requests by the conservative group Judicial Watch, reflected 10 incidents.
In one incident in October, first lady Dr. Jill Biden "couldn't regain control" of the dog as it charged a member of Secret Service staff.
"I believe it's only a matter of time before an agent/officer is attacked or bit," the staff member warned in an email.
While Secret Service agents are not responsible for the handling of the first family's pets, they can come into frequent contact with the animals.
"This isn't a Secret Service thing. This is a this is a workplace safety issue," CNN contributor and former USSS agent Jonathan Wackrow told CNN.
"There's uniqueness here where it's the residence of the president of the United States, but it's also the workplace for hundreds, thousands of people. And you can't bring a hazard into the workplace. And that's what is essentially happening with this dog. One time you can say it's an accident, but now multiple incidents, it's a serious issue," he added.
Wackrow called it a "significant hazard" for agents on duty at the White House residence.
"I'm sure that the Bidens love the dog. I'm sure that it's a member of the family like every dog is, but you're creating a significant hazard to those who support you – support the office of the president," he said.