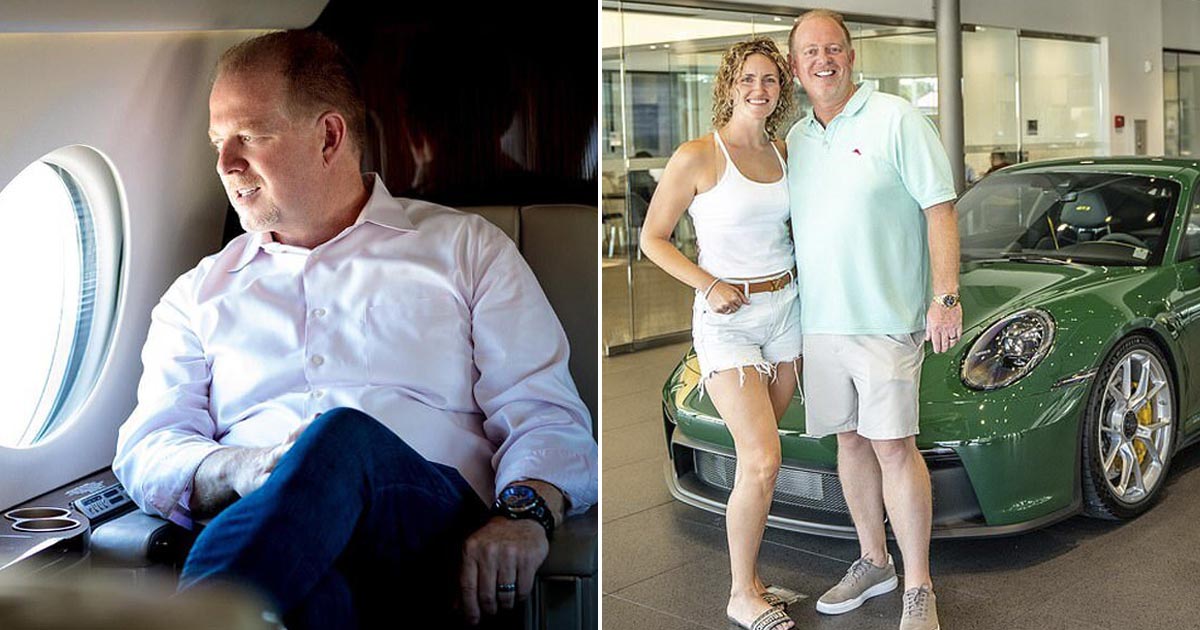 Florida Currency Trader Charged in Staggering $35M Ponzi Scheme Targeting Elderly Church Members for Their Savings
A currency trader in Florida has been charged with running a $35 million Ponzi scheme targeting elderly and retired churchgoers from his congregation.
In a complaint filed by the US Securities and Exchange Commission Thursday, Brent Seaman was accused of fleecing members of the church he actively attends in Naples, Florida.
Seaman falsely promised some 60 investors annual returns ranging between 18 and 48 percent and described the investments as 'safe' and the returns as 'guaranteed,' the complaint alleged.
But instead, he misappropriated millions of dollars for himself to blow on luxury cars and trips on private jets, while using some of the funds to make Ponzi payments to earlier investors after failing to generate a profit, regulators claimed.
'As alleged in our complaint, Seaman targeted church members with false claims of success,' said Eric I. Bustillo, director of the SEC's Miami Regional Office, adding that the agency's suit reflected 'a deep commitment to pursue those who prey on vulnerable investors.'
Seaman and his wife Jana Seaman, who is named in the complaint as a relief defendant, did not immediately respond to messages seeking comment Thursday afternoon.
On social media, Brent Seaman maintains a flashy presence, posting photos of himself and his wife jet-setting on private planes and posing with luxury cars ,including a Ferrari and Porsche.
The father-of-six purports to be a venture capitalist and foreign currency trader as the founder and CEO of Accanito Capital Group in Naples.
The SEC alleged he solicited investors by touting his 'proven success' investing in currencies when, in reality, his currency trading was deeply unprofitable and he lost millions of investor funds.
'Seaman also misappropriated millions of investor funds for his own use, and used millions of additional investor funds to make Ponzi-like distributions to investors,' the complaint alleges.
Seaman, Accanito Capital Group and several related entities were charged in the complaint with a number of violations of securities laws.
The SEC said the fraud defendants had consented to a bifurcated settlement without admitting or denying the allegations and subject to court approval.
Seaman will be barred from serving as an officer or director of any SEC-reporting company under the terms of the settlement.
He agreed a court will determine appropriate restitution and penalties, the SEC said.
Seaman's wife Jana, who was accused of receiving some of the proceeds of the alleged scam, has agreed to pay $757,154 in disgorgement and interest.
Relief defendant Valo Holdings Group also agreed to pay $668,240 in disgorgement and interest.
Court records show that Seaman was more than $14 million in debt when he filed for bankruptcy in Florida in 2014.
He previously pleaded guilty in a federal felony criminal case filed in 2000, though the nature of the charge is unclear from online court records.
In a statement, the SEC encouraged investors to check the backgrounds of people selling investments by using the agency's Investor.gov website to quickly confirm their identity and whether they are registered professionals.

⬇️ Top Picks for You ⬇️
Over 5K Federal-Only Ballots Cast in Arizona 2020 Election Without US Citizenship Proof
More than 5,600 federal-only ballots were cast in the 2020 presidential election in Arizona, without proof of U.S. citizenship required by the voters who cast them, according to data from the state's counties.
Arizona is a state with the unusual situation of bifurcated elections, in which residents who provide proof of U.S. citizenship can vote in all elections while the others may vote only in federal elections, resulting in ballots cast by voters who haven't proven their U.S. citizenship.
Arizona law requires residents registering to vote in the state to provide proof of U.S. citizenship.
However, after the Supreme Court ruled in 2013 that Arizona must accept U.S. voter registration forms because of federal requirements under the 1993 National Voter Registration Act, the state allows residents registering to vote who don't provide proof of citizenship to receive ballots for federal races only.
Federal voter registration forms require those filling them out only to sign a sworn declaration that they are U.S. citizens.
When residents of Arizona register to vote or update their registration, an election system accesses their driver's license records to verify whether they have proof of citizenship.
Those without documentation are ineligible to vote in state elections and registered as "federal-only" voters, according to the Associated Press.
Last year, Arizona enacted a law that requires counties to check federal-only voters for citizenship against multiple databases. The counties must reject any federal applications if they find the individual is not a U.S. citizen, and any official knowingly ignoring the requirement could receive a felony charge.
The Justice Department sued Arizona over the law in July 2022, claiming it is "a textbook violation of the National Voter Registration Act," according to Assistant Attorney General Kristen Clarke of the agency's Civil Rights Division. The agency also claims the law violates the Civil Rights Act of 1964.
Former Arizona Assistant Attorney General Jennifer Wright told Just the News on Thursday that she believes Arizona is "one of the only states to have bifurcated elections" because the U.S. Election Assistance Commission didn't allow the state to require driver's licenses for voter registration, despite other states having the requirement.
Wright said that when a person registers to vote, their name is supposed to be compared to the U.S. Citizenship and Immigration Services' SAVE database by county recorders to determine if they're non-citizens.
While there is not a system in place to ensure that the recorders are checking for non-citizens when registering voters, state law requires them to only register residents and certify that the voter roster is correct, she added, citing A.R.S. 16-183 and A.R.S. 16-169A.
If non-citizens register to vote before becoming naturalized citizens, then it could hinder their naturalization.
In fact, according to a report by the Public Interest Legal Foundation earlier this year, the most likely reason for a foreign national to admit that they have been registered to vote is that "they want to remain in the United States as future naturalized citizens."
In the naturalization application process, foreign nationals are asked whether they have prematurely registered to vote. If there are voter registration records, then "they are often ordered by immigration officials to get said records cancelled," according to the report.
PILF's report also found that in Maricopa County, voter registrations for 222 foreign nationals have been canceled since 2015, with nine of them casting 12 ballots over four federal elections.
Below is a list of 13 of the 15 Arizona counties that provided information to Just the News regarding the number of federal-only ballots cast in the 2020 and 2022 general elections and the number of federal-only voters registered in both elections.
Cochise County required a public records request to obtain the information and informed Just the News on Wednesday that the request for the federal-only ballots and voter information was no. 125 in the queue.
However, according to state law, "the county recorder shall report to the secretary of state and shall prominently post on the recorder's website the number of persons who are registered to vote using the federal or state voter registration form and who have not provided proof of citizenship to the county recorder and, after each general election, shall post on the recorder's website the number of ballots cast by those persons who were eligible to vote a ballot containing federal offices only."
At least 5,697 federal-only ballots were cast in the 2020 presidential election in Arizona, most of which came from Maricopa County. Only some of the counties specified as to whether all the federal-only ballots cast were also accepted.
The 2020 presidential election results showed former President Donald Trump with 10,457 votes less than President Joe Biden in the state.
Information for some counties regarding federal-only registered voters came from the numbers reported to the Arizona Secretary of State's Office about a month before the elections, which includes both active and inactive voters (specified below as "all federal-only voters"). Other counties provided federal-only registered voters that were active. Voters are eventually moved to 'inactive' status if voting materials sent to their address are returned undeliverable.
Apache County:
All federal-only voters registered in 2020: 162
All federal-only voters registered in 2022: 97
Cochise County:
All federal-only voters registered in 2020: 288
All federal-only voters registered in 2022: 297
Coconino County:
Federal-only ballots accepted and counted in 2020: 335
Federal-only ballots accepted and counted in 2022: 116
All federal-only voters registered in 2020: 2,381
All federal-only voters registered in 2022: 2,841
Gila County:
Federal-only ballots cast and accepted in 2020: 23
Federal-only ballots cast and accepted in 2022: 5
All federal-only voters registered in 2020: 88
All federal-only voters registered in 2022: 67
Graham County:
Federal-only ballots cast and counted in 2020: 8
Federal-only ballots cast and counted in 2022: 5
All federal-only voters registered in 2020: 40
All federal-only voters registered in 2022: 45
Greenlee County:
Federal-only ballots cast in 2020 and accepted: 4
Federal-only ballots cast in 2022 and accepted: 1
All federal-only voters registered in 2020: 9
All federal-only voters registered in 2022: 6
La Paz County:
Federal-only ballots cast in 2020: 11
Federal-only ballots cast in 2022: 0
All federal-only voters registered in 2020: 27
All federal-only voters registered in 2022: 16
Maricopa County:
Federal-only ballots cast in 2020: 8,114, with 4,484 of those accepted and counted
Federal-only ballots cast in 2022: 2,749
Federal-only voters registered in 2020: 14,298
All federal-only voters registered in 2022: 27,441
Mohave County:
Federal-only ballots cast in 2020: 257
Federal-only ballots cast in 2022: 80
All federal-only voters registered in 2020: 707
All federal-only voters registered in 2022: 484
Navajo County:
Federal-only ballots cast and counted in 2020: 14
Federal-only ballots cast and counted in 2022: 2
Federal-only voters registered in 2020: 46
Federal-only voters registered in 2022: 82
Pima County:
Federal-only voters in 2020: 1,942
Federal-only ballots cast in 2022: 27 provisional and conditional provisional ballots counted
All federal-only voters registered in 2020: 7,211
All federal-only voters registered in 2022: 9,095
Pinal County:
Federal-only ballots accepted and counted in 2020: 96
Federal-only ballots accepted and counted in 2022: 49
All federal-only voters registered in 2020: 1,369
All federal-only voters registered in 2022: 1,233
Santa Cruz County:
Federal-only ballots cast in 2020: 7
Federal-only ballots cast in 2022: 5
Federal-only voters registered in 2020: 30
Federal-only voters registered in 2022: 30
Yavapai County:
Federal-only ballots cast and accepted in 2020: 279
Federal-only ballots cast and accepted in 2022: 63
Federal-only voters registered in 2020: 509
Federal-only voters registered in 2022: 226
Yuma County:
Federal-only ballots cast in 2020: 179
Federal-only ballots cast in 2022: 53
Federal-only voters registered in 2020: 333
Federal-only voters registered in 2022: 403