Singer Sam Smith is facing criticism for his over-the-top, sexually charged music video, which critics point out is visible to young fans on YouTube.
The 30-year-old U.K.-based performer, who identifies as "non-binary," just dropped a new video for the single "I'm Not Here To Make Friends," which is featured on the recently-released album, "Gloria." The video is rife with sexual imagery, including Smith dancing and wearing pasties while surrounded by scantily clad backup dancers.
There's also one buzzed-about clip of him being sprayed in the mouth with water that some have interpreted to represent a bodily fluid.
YouTube does not have any age restrictions on Sam Smiths degrading sexualised new music video.

5 year olds can search this up and watch it with no content restrictions!

Sam Smith, this is not art. This is not trendy. This is not empowering. This is monstrous! #SamSmith pic.twitter.com/NoDec6rtEE

— Oli London (@OliLondonTV) January 28, 2023
"YouTube does not have any age restrictions on Sam Smiths (sic) degrading sexualized new music video. 5 year olds can search this up and watch it with no content restrictions! Sam Smith, this is not art. This is not trendy. This is not empowering. This is monstrous," one Twitter account posted alongside a GIF from the music video.
"Sam Smith is a perfect example of what degenerate Hollywood culture does to people. It makes celebrities vulgar, hyper-sexualized and obsessed with wearing their sexuality like a costume and shoving it in everyone's face," another account agreed. "And to make matters worse, kids look up to this man!"
"Can I just say I used to love Sam Smith when he made actual music," a third account echoed. "Since then, he's become frankly grotesque, cheapened his talent and turned into a complete joke. Why isn't somebody close to him telling him he looks terrible?"
Smith previously discussed the new album during an interview with CBS Mornings.
"I felt this pressure, that I put on myself mostly, to do that every time and I was like, 'Okay, this is my 'brand,' you know, I am 'this' and then the arts started to suffer because of that," Smith said.
He discussed how risky the album was to make. "I think that you can't blame people for thinking something's not beautiful sometimes. Some people just didn't like it, but it was a case where I had to sit there and be like, 'Wait, maybe you don't like that because you don't understand it.'"
"The music industry is just not used to queer artists," Smith went on.
"I've always been very sexual and very open and loved dancing and moving my body and singing and making songs that allow my body to move in the way that it does in front of people is just so exciting," the "Unholy" singer concluded.

⬇️ Top Picks for You ⬇️
Biden Dog Bites Another Secret Service Agent; 11th Incident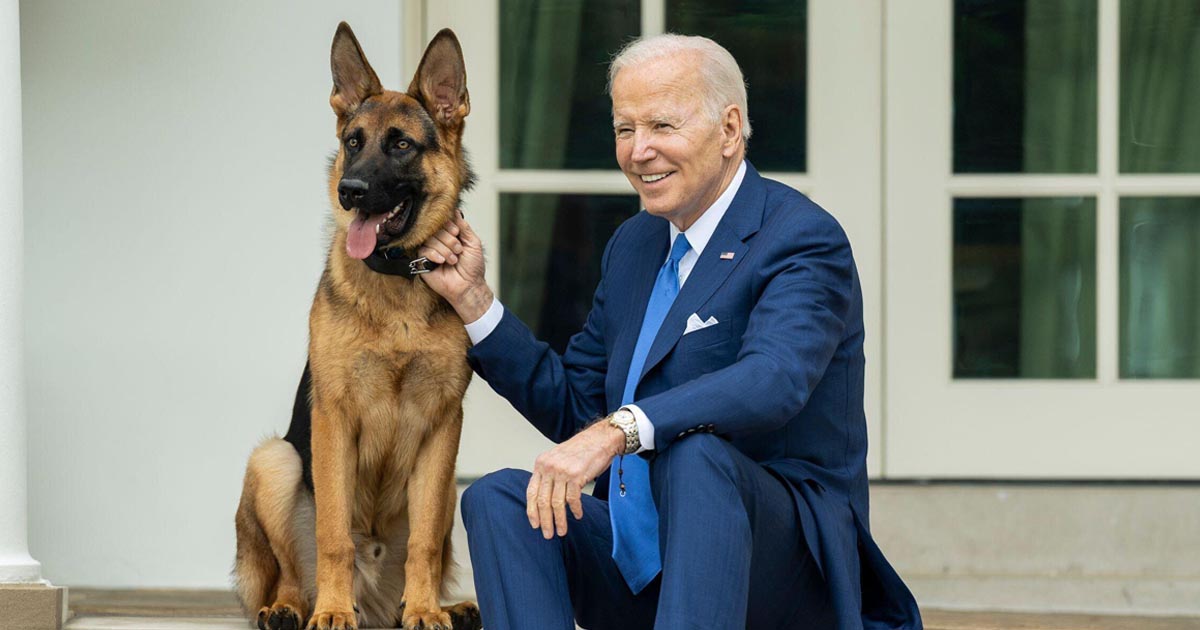 President Joe Biden's younger dog, Commander, bit another US Secret Service agent at the White House Monday evening, CNN has learned, the 11th known biting incident involving the 2-year-old German Shepherd.
"Yesterday around 8 p.m., a Secret Service Uniformed Division police officer came in contact with a First Family pet and was bitten. The officer was treated by medical personnel on complex," USSS chief of communications Anthony Guglielmi told CNN in a statement.
The injured officer spoke with Secret Service Uniformed Division Chief Alfonso M. Dyson Sr. on Tuesday and is doing OK, Guglielmi said.
Commander has been involved in at least 11 biting incidents at the White House and in Delaware, according to CNN reporting and US Secret Service email correspondence, including a November 2022 incident where an officer was hospitalized after the dog clamped down on their arms and thighs.
White House officials said in July that the Bidens were working through new training and leashing protocols for the family pet following the incidents.
Asked by CNN whether the new training had taken place or if any further action would be sought, Elizabeth Alexander, communications director for the first lady, said in a statement that "the First Family continues to work on ways to help Commander handle the often unpredictable nature of the White House grounds."
"The President and First Lady are incredibly grateful to the Secret Service and Executive Residence staff for all they do to keep them, their family, and the country safe," she continued.
Another of Biden's dogs, Major, was involved in biting incidents at the White House. The German Shepherd later moved out of the White House, and Commander arrived at the White House in 2021.
The July email correspondence, obtained through Freedom of Information Act requests by the conservative group Judicial Watch, reflected 10 incidents.
In one incident in October, first lady Dr. Jill Biden "couldn't regain control" of the dog as it charged a member of Secret Service staff.
"I believe it's only a matter of time before an agent/officer is attacked or bit," the staff member warned in an email.
While Secret Service agents are not responsible for the handling of the first family's pets, they can come into frequent contact with the animals.
"This isn't a Secret Service thing. This is a this is a workplace safety issue," CNN contributor and former USSS agent Jonathan Wackrow told CNN.
"There's uniqueness here where it's the residence of the president of the United States, but it's also the workplace for hundreds, thousands of people. And you can't bring a hazard into the workplace. And that's what is essentially happening with this dog. One time you can say it's an accident, but now multiple incidents, it's a serious issue," he added.
Wackrow called it a "significant hazard" for agents on duty at the White House residence.
"I'm sure that the Bidens love the dog. I'm sure that it's a member of the family like every dog is, but you're creating a significant hazard to those who support you – support the office of the president," he said.