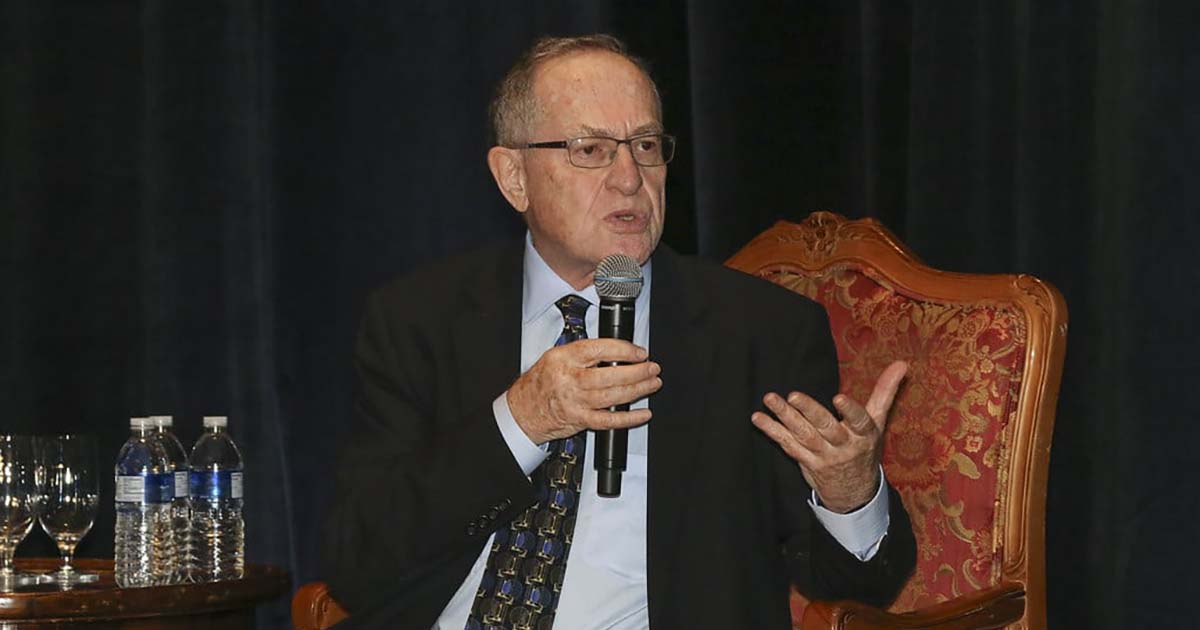 'Game-Changer' Costello Testimony May Have Sunk Manhattan DA's Case Against Trump, Dershowitz Says
Manhattan District Attorney Alvin Bragg's possible criminal case against former President Donald Trump may have derailed this week, according to Harvard Law professor emeritus Alan Dershowitz.
On Monday, former federal prosecutor Robert Costello testified in front of a Manhattan grand jury over matters related to a $130,000 hush money payment to a porn star in 2016. Costello told the jury that former Trump attorney Michael Cohen, expected to be Bragg's main witness in any case against Trump, "couldn't tell the truth if you put a gun to his head."
Dershowitz appeared on Fox News on Tuesday night and told host Sean Hannity that "Bob Costello has changed this case dramatically."
"I think that Bragg now only has two possible results from that. Number one, he can say, 'alright, I'm going to try to make the case without Cohen.' He cannot use Cohen as a witness anymore. That would be unethical because of the testimony that Costello gave," Dershowitz said. "Or he could say, 'look, I have to drop the case.' He may not be able to make it without Cohen. But if he can't make it without Cohen, he can't make it, because no ethical prosecutor is allowed to put on as a witness somebody who has told the lies and has contradicted himself so much."
Bragg is investigating Trump over an alleged hush money payment the former president made to the porn star known as Stormy Daniels in 2016. The payment was made through Cohen, a longtime fixer for Trump, to allegedly keep Daniels from spreading claims that she had sex with Trump in July 2006 after his wife, Melania, had just given birth to their son. The former president allegedly reimbursed Cohen for the payment in 2017.
Cohen was later investigated by federal agents over the hush money payments. He went to Costello for legal counsel and advice, and the two men spent hours meeting and talking over the phone. In August 2018, Cohen pleaded guilty to eight charges involving tax evasion, fraud, and campaign finance violations related to the payment to Daniels and another payment made to former Playboy model Karen McDougal, who also alleged an inappropriate relationship with Trump.
Cohen has said he made the payments at Trump's direction. Trump has denied that claim and the allegations of the two women who accused him of infidelity.
Costello told the grand jury on Monday that Cohen had said that the hush money payments were his idea, not Trump's. Costello also lambasted prosecutors for "cherry-picking" evidence to show the grand jury that gave a false view of what actually happened. "They seemed clearly one-sided and not after the truth," Costello told The New York Times afterward.
While it's unclear what actual charges Bragg may pursue, the legal pathway toward getting to an indictment is complicated, according to POLITICO. Bragg's case likely involves testing a novel legal theory that New York law classifies falsifying business records as a felony if the records were falsified to cover up a federal crime, which in this case would be a campaign finance crime similar to what Cohen pleaded guilty to.
Dershowitz says that Costello's testimony has, at the very least, slowed Bragg's movement toward any potential indictment, if not halted it altogether.
"I think that Bob Costello — it's a game changer. I think maybe that's a reason for the delay here. I think ethical experts are now telling Bragg, 'wait a minute, you cannot use Cohen,'" said Dershowitz. "But if you can't make it without Cohen, you cannot bring this charge."

⬇️ Top Picks for You ⬇️
Republicans Launch Contempt Process Against FBI Director After Viewing Biden 'Bribery' Document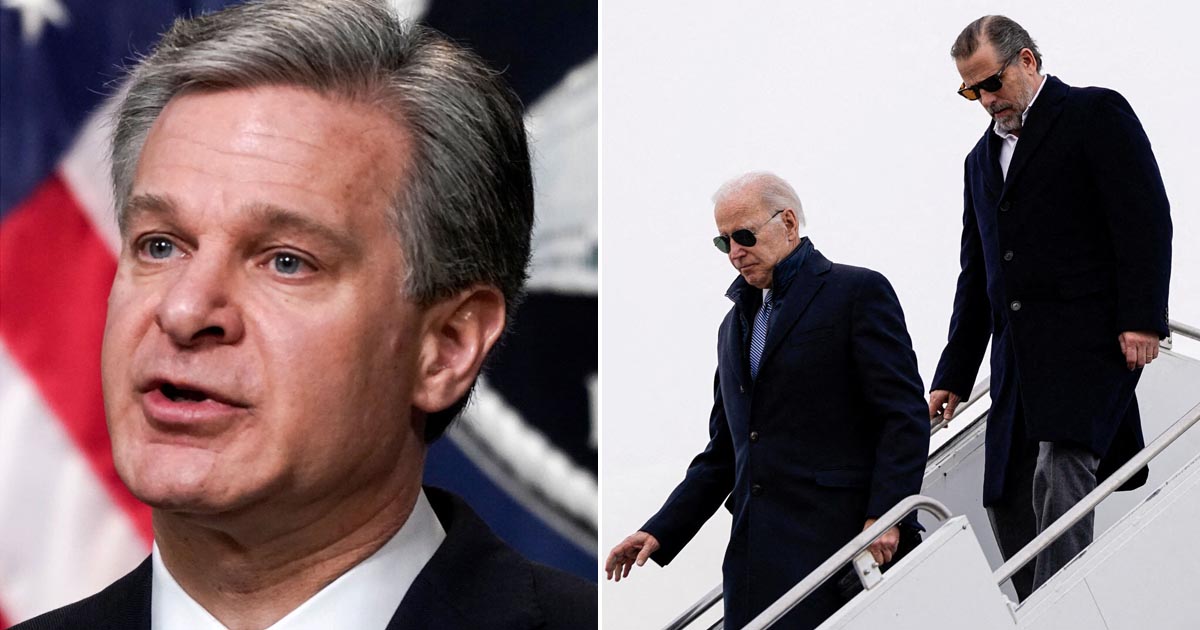 House Republicans are officially starting contempt of Congress charges against FBI Director Chris Wray for failing to turn over Biden 'bribery' document they claim shows then-Vice President Joe Biden was involved in a $5 million 'criminal' scheme with a foreign national.
The escalation comes after the Republican and Democratic leaders of the House Oversight Committee were granted access by the FBI Monday to view the FD-1023 form in a secure facility within the Capitol. The document apparently details an 'arrangement' for an exchange of money for policy decisions.
The Republicans issued a subpoena for the FD-1023 form last month and FBI Director Chris Wray was given a hard deadline of May 30 to hand over the unclassified document, which he did not comply with.
After reviewing the document Monday, Comer told reporters the accusations contained in the form 'suggests a pattern of bribery' consistent with findings the committee has put out publicly.
It's called 'money laundering,' he said, saying it fits within the pattern of over $1 million in Romanian-linked payments to the Biden family revealed last month.
In early May, Republicans released a report digging in on over $10 million received by Biden family members from foreign actors, including previously undisclosed $1 million in Romanian-linked payments, and a 'web' of 20 companies created while President Joe Biden was vice president and pushing anti-corruption efforts abroad.
He also said the FBI record was 'not disproven' and is currently being used in an ongoing investigation that is being conducted by the Department of Justice in Delaware into Hunter Biden's finances.
The 'confidential human source' is a 'trusted, highly credible informant' who has been used by the FBI for over 10 years and has been paid over six figures, continued Comer.
The chairman added that contempt proceedings will begin this Thursday.
'At the briefing, the FBI again refused to hand over the unclassified record to the custody of the House Oversight Committee, and we will now initiate contempt of Congress hearings this Thursday.'
Last week, Comer and Sen. Chuck Grassley, R-Iowa, spoke with Wray by phone and the FBI director offered to let them and Ranking Member Rep. Jamie Raskin, D-Md., view the documents at the FBI headquarters in an attempt to stave off the contempt threat.
'During today's call, Director Wray offered to provide the Committee's Chairman and Ranking Member an opportunity to review information responsive to the subpoena in a secure manner to accommodate the committee, while protecting the confidentiality and safety of sources and important investigative sensitivities,' said the FBI in a statement.
'The FBI has continually demonstrated its commitment to working with the Committee to accommodate its request, from scheduling briefings and calls to now allowing the Chair to review information in person. The FBI remains committed to cooperating with the Committee in good faith.'
Comer also informed Wray that he was also narrowing the breadth of the subpoena for the document by providing two additional terms that may be referenced in the record: 'June 30, 2020' and 'five million.'
Raskin blasted the Republicans' handling of the document in a reporter gaggle following Monday's briefing, calling it 'second-hand hearsay.'
He said former U.S. Attorney Scott Brady for the Western District of Pennsylvania and then-Attorney General Bill Barr did not find any reason to escalate the investigation into all 'allegations related to Ukraine' based on the FD-1023 form.
'I am just surprised that my colleagues want to try to litigate this in public, much less hold the Director of the Federal Bureau of Investigation in contempt for complying with the request when there was a whole process that was undertaken, and that process came to its natural end as I understand it,' Raskin said.
He would not directly confirm that the foreign national alleged in the memo being sought by Republicans is from Ukraine.
Raskin did agree with his Republican colleagues that the whistleblower is considered 'credible.'
The White House has also pushed back, calling the Republican-led investigation 'unfounded' and 'politically motivated.'