Gisele Bundchen looked almost unrecognizable — sporting a red wig — on the first Vogue cover she's landed since she and Tom Brady divorced in 2022.
The 42-year-old retired Victoria's Secret model's career appears to be getting a jump start after the former Tampa Bay Buccaneers star QB announced in February his official retirement from the NFL after 23 seasons in the league, Page Six reported.
On the cover of Vogue Italia's March issue, Bundchen dons a scarlet red wig, a full-length sheer red Valentino gown with matching red lipstick, dramatic smokey eyes, and drawn-on brows. It definitely required a double-take to even notice it was the Brazilian model.
Gisele Bündchen e i colori sono i protagonisti del nostro numero di Marzo. https://t.co/rwOqPdpr1A

— Vogue Italia (@vogue_italia) February 22, 2023
In another shot, Gisele sports the same slicked-back red wig while decked out head-to-toe in black with a black leather jacket and black pants outfit.
"Nessun corpo è perfetto, così come non lo è nessuna anima né, tantomeno, nessuna vita." La storia di Gisele Bündchen, protagonista della cover di Marzo.https://t.co/yFn3d7aDIS pic.twitter.com/kW9vE567P9

— Vogue Italia (@vogue_italia) February 23, 2023
The unique looks don't stop there. In one snap shared by the magazine, Bundchen posed in a fluffy red wig while wearing a black strapless dress and chunky jewelry.
Gisele Bündchen è la nostra cover story di Marzo. "Tutto del suo aspetto trasmette lì e altrove un'idea di perfezione naturale eppure inarrivabile"

—-> https://t.co/VjWDsKB5ZG pic.twitter.com/BL2PQ3tH6o

— Vogue Italia (@vogue_italia) February 23, 2023
There is one snap that does look like the supermodel inside the issue, as she posed sporting curls wearing pink lingerie under a totally sheer dress.
Gisele recently reacted to the news that her ex-husband and seven-time Super Bowl-winning QB had announced his retirement — this time "for good," as previously reported. Bundchen's response could be found in the comments section of Brady's retirement NFL post that later went viral.
"Wishing you only wonderful things in this new chapter of your life," the supermodel wrote, as she included a praying hands emoji in her comment.
The retirement announcement comes a year after Brady first announced he was retiring on February 1, 2022, only to reverse course weeks later. Not long after, reports began surfacing that Bündchen, his wife at the time, was not pleased and had expected the retirement to stick.
Speculation continued for months that the two were headed for divorce. In October, Brady finally confirmed reports that he and Bündchen were officially divorced after 13 years of marriage.
Bündchen and Brady share two kids. She previously made it clear she wanted her husband to be more present following his announcement that he was coming out of retirement in 2022, as The Daily Wire previously reported.

⬇️ Top Picks for You ⬇️
Senate Democrats Authorize Supreme Court Ethics Subpoenas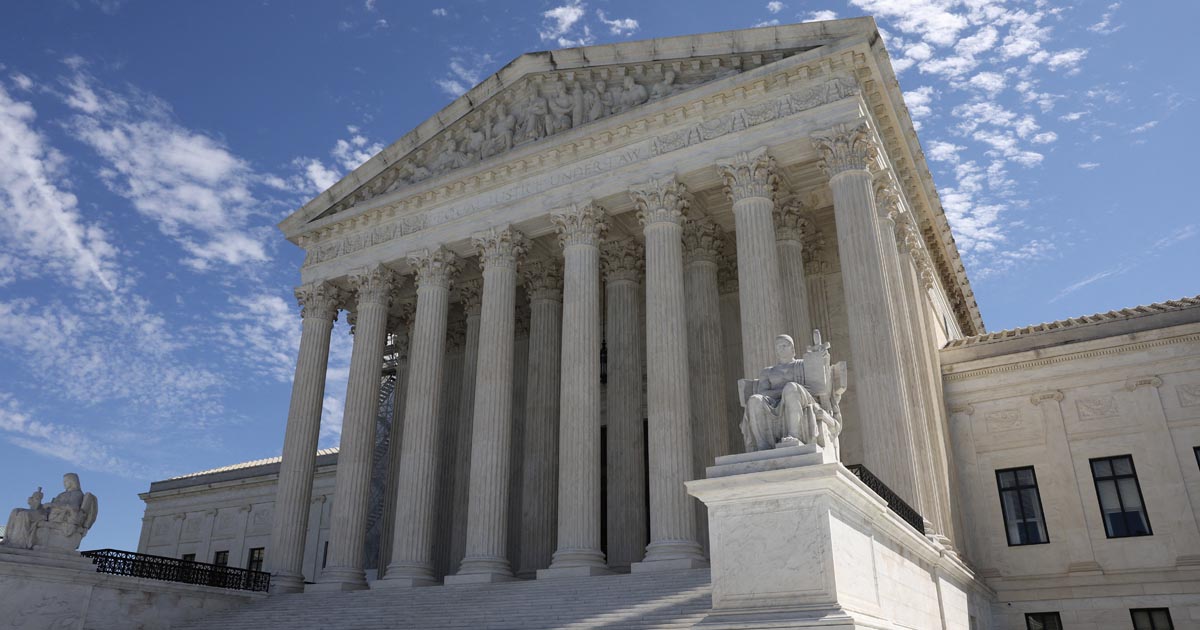 A Democratic-led U.S. Senate panel on Thursday authorized subpoenas to two influential conservatives – Harlan Crow and Leonard Leo – as part of an ethics inquiry spurred by reports of undisclosed largesse directed to some conservative Supreme Court justices.
The Judiciary Committee voted to authorize the subpoenas for Crow, a billionaire Republican donor and benefactor of conservative Justice Clarence Thomas, and Leo, a legal activist who was instrumental in compiling Republican former President Donald Trump's list of potential Supreme Court nominees.
Republican senators walked out of the contentious committee meeting in protest while Democrats cast votes. Some Republicans later questioned the vote's legitimacy, accusing Democrats of violating procedural rules.
"The subpoena clearly wasn't legal," Republican Senator John Kennedy, a committee member, said after the vote.
Senator Dick Durbin, the panel's chairman, said subpoenas were necessary due to the refusal by Crow and Leo for months to voluntarily comply with its previous requests for information. This included itemized lists of all gifts, transportation and lodging provided to any Supreme Court justice.
Durbin also renewed his criticism of a new code of conduct announced by the court on Nov. 13 and promised to continue to pursue the committee's ethics investigation.
"Without an enforcement mechanism, this code of conduct, while a step in a positive direction, cannot restore the public's faith in the court," Durbin said.
Senator Lindsey Graham, the committee's top Republican, told the meeting that Democrats were engaged in a "jihad" against the Supreme Court, whose 6-3 conservative majority has handed major defeats to liberals in recent years on matters including abortion, gun rights and student debt relief.
"When you say you don't want to destroy the Roberts Court, I don't believe you," Graham said, referring to the court under the leadership of conservative Chief Justice John Roberts. "I don't believe a word you're saying."
The committee vote authorized Durbin to issue the subpoenas, which he could do unilaterally, according to a Democratic committee staffer.
If the subpoena recipients fail to comply, Democrats would need 60 votes in the 100-seat Senate to initiate a civil enforcement action, meaning they would need the support of some Republicans. The Democrats also would have the option to make a referral to the U.S. Justice Department, which could choose to pursue criminal contempt proceedings against the subpoena recipients.
Lawyers for Leo and Crow in letters to the committee have criticized the committee's information requests as lacking a proper legal justification. Crow's lawyer had proposed turning over a narrower range of information but Democrats rebuffed that offer, according to the panel's Democratic members.
The news outlet ProPublica reported this year on Thomas's failure to disclose luxury trips and real estate transactions involving Crow, a Texas businessman.
The outlet also reported that Leo helped organize a luxury fishing trip in Alaska attended by conservative Justice Samuel Alito, who failed to disclose taking a private jet provided by billionaire hedge fund manager Paul Singer. Trump chose all three of his appointees to the court from lists of candidates that Leo played a key role in drawing up.
Thomas has said he believed the Crow-funded trips were "personal hospitality" and thus exempt from disclosure requirements, and that his omission of the real estate transaction was inadvertent.
Alito, regarding the flight, said that Singer had "allowed me to occupy what would have otherwise been an unoccupied seat."