Supermodel Gisele Bündchen got everyone's attention when she reacted to the news that her ex-husband, Super Bowl-winning quarterback Tom Brady, was retiring again — this time "for good."
The 42-year-old former Victoria's Secret model's response could be found in the comments section of Brady's post on Wednesday. In the now-viral video on Instagram, Brady first thanked fans and everyone who helped him along the way, before he explained that he was retiring from the NFL after 23 seasons in the league.
"I know the process was a pretty big deal last time, so when I woke up this morning, I figured I'd just press record and let you guys know first," Brady shared, noting his previous retirement announcement on Feb. 1, 2022, before changing his mind.
In response, Bündchen wrote that she wished her ex only the best.
"Wishing you only wonderful things in this new chapter of your life," the supermodel wrote, as she included a praying hands emoji in her comment.
The retirement announcement comes after a rather tumultuous 365 days for Brady, who first announced he was retiring on February 1, 2022, before he reversed course weeks later and said he was coming back to the Buccaneers.
Not long after, reports began surfacing that Bündchen, his wife at the time, was not pleased and had expected the retirement to stick.
Speculation continued for months that the two were headed for divorce. In October, Brady finally confirmed reports that he and Bündchen were officially divorced after 13 years of marriage.
In a lengthy post shared on social media, the Super Bowl champion wrote that in "recent days, my wife and I finalized our divorce from one another after 13 years of marriage."
"We arrived at this decision amicably and with gratitude for the time we spent together," the 7-time Super Bowl-winning quarterback shared. "We are blessed with beautiful and wonderful children who will continue to be the center of our world in every way. We will continue to work together as parents to always ensure they receive the love and attention they deserve."
Bündchen and Brady share two kids. She previously made it clear she wanted her husband to be more present following his announcement that he was coming out of retirement in 2022, as The Daily Wire previously reported.
"Obviously, I have my concerns — this is a very violent sport, and I have my children and I would like him to be more present," Bündchen previously shared. "I have definitely had those conversations with him over and over again. But ultimately, I feel that everybody has to make a decision that works for [them]. He needs to follow his joy, too."
View this post on Instagram

⬇️ Top Picks for You ⬇️
Biden Dog Bites Another Secret Service Agent; 11th Incident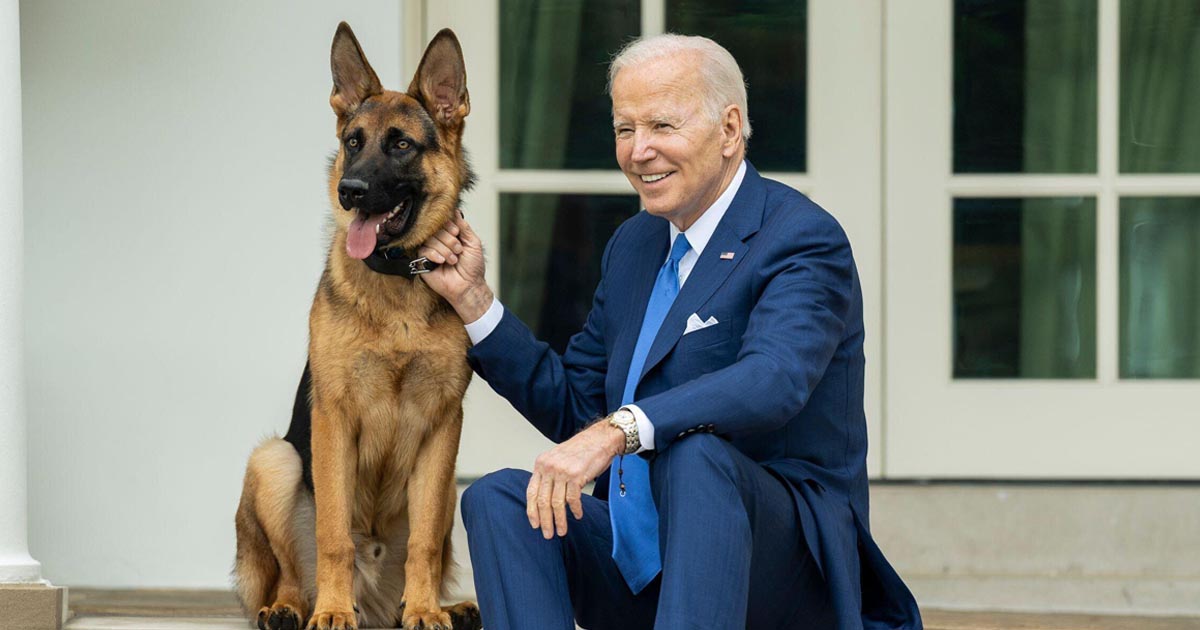 President Joe Biden's younger dog, Commander, bit another US Secret Service agent at the White House Monday evening, CNN has learned, the 11th known biting incident involving the 2-year-old German Shepherd.
"Yesterday around 8 p.m., a Secret Service Uniformed Division police officer came in contact with a First Family pet and was bitten. The officer was treated by medical personnel on complex," USSS chief of communications Anthony Guglielmi told CNN in a statement.
The injured officer spoke with Secret Service Uniformed Division Chief Alfonso M. Dyson Sr. on Tuesday and is doing OK, Guglielmi said.
Commander has been involved in at least 11 biting incidents at the White House and in Delaware, according to CNN reporting and US Secret Service email correspondence, including a November 2022 incident where an officer was hospitalized after the dog clamped down on their arms and thighs.
White House officials said in July that the Bidens were working through new training and leashing protocols for the family pet following the incidents.
Asked by CNN whether the new training had taken place or if any further action would be sought, Elizabeth Alexander, communications director for the first lady, said in a statement that "the First Family continues to work on ways to help Commander handle the often unpredictable nature of the White House grounds."
"The President and First Lady are incredibly grateful to the Secret Service and Executive Residence staff for all they do to keep them, their family, and the country safe," she continued.
Another of Biden's dogs, Major, was involved in biting incidents at the White House. The German Shepherd later moved out of the White House, and Commander arrived at the White House in 2021.
The July email correspondence, obtained through Freedom of Information Act requests by the conservative group Judicial Watch, reflected 10 incidents.
In one incident in October, first lady Dr. Jill Biden "couldn't regain control" of the dog as it charged a member of Secret Service staff.
"I believe it's only a matter of time before an agent/officer is attacked or bit," the staff member warned in an email.
While Secret Service agents are not responsible for the handling of the first family's pets, they can come into frequent contact with the animals.
"This isn't a Secret Service thing. This is a this is a workplace safety issue," CNN contributor and former USSS agent Jonathan Wackrow told CNN.
"There's uniqueness here where it's the residence of the president of the United States, but it's also the workplace for hundreds, thousands of people. And you can't bring a hazard into the workplace. And that's what is essentially happening with this dog. One time you can say it's an accident, but now multiple incidents, it's a serious issue," he added.
Wackrow called it a "significant hazard" for agents on duty at the White House residence.
"I'm sure that the Bidens love the dog. I'm sure that it's a member of the family like every dog is, but you're creating a significant hazard to those who support you – support the office of the president," he said.