Virginia Gov. Glenn Youngkin on Sunday granted an "absolute pardon" to the father who was arrested at a school board meeting after the superintendent lied about his daughter's rape by a skirt-wearing boy.
The pardon says that in June 2021, Scott Smith "exercised his constitutional right to attend a public meeting of the Loudoun County School Board to observe the proceedings, during which time a community member threatened to spread false and malicious information about Mr. Smith's business with the intent to damage his reputation."
"After an ensuing verbal confrontation, Scott Thomas Smith was charged with Obstruction of Justice and Disorderly Conduct," and Smith was quickly convicted, even though an appeals court later disqualified the prosecutor due to concerns about "the integrity of the prosecution," the pardon continues.
"WHEREAS Scott Thomas Smith has been publicly and falsely accused of 'domestic terrorism' and 'hate crimes' for attempting to advocate for his daughter, a victim of sexual assault… I have decided it is just and appropriate to grant this ABSOLUTE PARDON that reflects Scott Thomas Smith's factual innocence," it concludes.
Smith's story galvanized parents who were concerned that schools had sacrificed student safety and academic rigor for ideology. Youngkin's pledge to be a voice for those parents helped usher him into office a month after The Daily Wire revealed Smith's story.
Democrat prosecutor Buta Biberaj bucked her typical soft-on-crime stances and personally argued to put Smith in jail for misdemeanor disorderly conduct. Smith was denied a jury because it was a misdemeanor in General District Court, and a judge quickly convicted him.
He appealed the ruling, and would have been entitled to a jury in appeals court. But the legal saga has dragged on for years, taking a financial and emotional toll on Smith, who says he's grateful Youngkin allowed him to move on.
"I'm thankful that the Youngkin administration gave me an off-ramp to these charges that never should have happened," Smith told The Daily Wire. "It's kind of bittersweet, because I really looked forward to winning this in court. But unfortunately, our justice system is so screwed up right now that I didn't feel that I could potentially get a fair shot in court."
"That's what should scare every American–is that I had to take this, because I could not trust our justice system," Smith said.
As Smith's legal saga dragged on, the same system that prosecuted Smith acquitted Loudoun County Public Schools spokesman Wayde Byard for perjury charges. The day Smith's daughter was raped, Byard wrote an email to parents that falsely blamed Smith for police presence and falsely said that no students were in danger, even as the rapist remained on the loose.
The rapist was eventually convicted in juvenile court, but due to a mistake by Biberaj, will not be placed on the sex offenders registry.
Smith said that on the night of the June 2021 school board meeting, where school board members were discussing passing a policy to allow transgender students to use the restrooms of their choice, his daughter had intended to say through a megaphone how just a few weeks before, she had been raped in a school bathroom by a boy wearing a skirt.
"That's why Jackie attacked us, was to stop [my daughter] from speaking," he said, referring to Jackie Schworm, a radical Leftist who had just spoken to Smith's daughter, then sought out Smith and threatened to use social media to ruin his business. A police officer grabbed Smith from behind, and a struggle ensued.
An appeals court said that the prosecutor may have been biased, but that the fact that he cursed at Schworm was enough to retry him. Smith said that even if his appeal would have prevailed, "radical prosecutors" had already punished him by putting him through a years-long process.
"The damage has already been done," Smith said. "This process has been absolutely brutal, because it took away some of my family treasure that [could have gone to] my daughter's situation."
The media plastered around the world a picture of Smith being dragged away by police, and used him as a symbol of how angry conservative parents were supposedly disrupting school board meetings out of bigotry and ignorance. The National School Boards Association likened him to a domestic terrorist in a letter that the Biden administration used to mobilize anti-terrorism forces against parents.
Only The Daily Wire bothered to ask Smith whether he had a good reason to be mad at the school board. It turned out that not only had his daughter been raped, and the superintendent lied about it, but that the school system kept the rapist in school, where he sexually assaulted a second girl.
"They villainized me and my family from the minute my daughter reported that she was sexually assaulted, pretty much until present time," he said.
Biberaj wanted "to make an example out of me to scare people from speaking out. And quite frankly, it worked," Smith said, noting that far fewer parents have turned out to school board meetings and spoken out since his arrest.
He said his next legal step will be to sue the prosecutor for misconduct, and possibly the National School Boards Association.
The pardon from Youngkin, who enjoys high favorability ratings in what was previously considered a blue state, continues a fulfillment of his campaign promise to focus on parental rights in education. On Tuesday, he will hold a "Parents Matter" conversation in Loudoun–at Cornerstone Chapel, a church that was placed on an enemies list by a group of liberal activists called the Loudoun Love Warriors.
The church's pastor said it's "ironic that those who espouse 'tolerance' the most, are actually some of the most intolerant people toward those of us with different views and values."
A member of the Love Warriors was arrested on felony charges this month. Biberaj has not responded questions about whether she intends to drop charges, prosecute, or recuse herself.

⬇️ Top Picks for You ⬇️
McCarthy to Work with Dems to Pass 45-Day Funding, Avoiding Govt Shutdown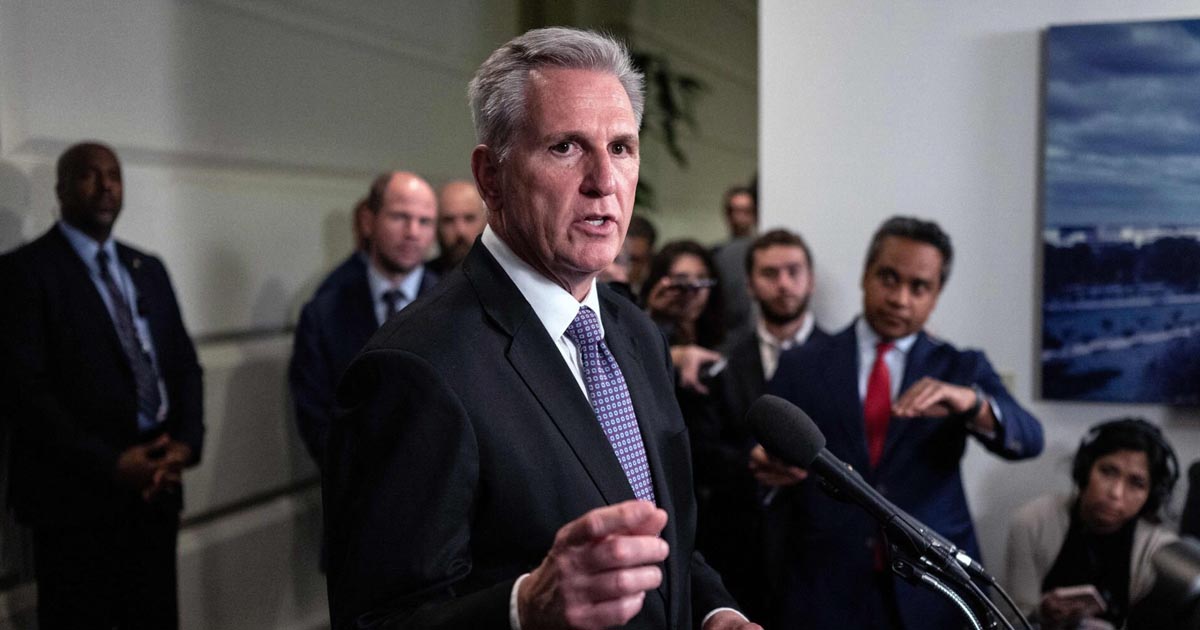 On the brink of a federal government shutdown, Speaker Kevin McCarthy announced a dramatic pivot Saturday, trying to push a 45-day funding bill through the House with Democratic help — a move that could keep government open but most certainly risks his job.
Republican lawmakers met behind closed doors early in the morning with hours to go before the midnight deadline needed to fund government operations or face a disruptive federal closure.
The new approach would leave behind aid to Ukraine, a White House priority opposed by a growing number of GOP lawmakers, but the plan would increase federal disaster assistance by $16 billion, meeting President Joe Biden's full request.
The House was preparing for a quick vote Saturday on the plan, but Democrats hit the brakes, seeking time so they could read the 71-page bill. Across the Capitol, the Senate was opening a rare weekend session and hoping to advance its own stopgap plan, but with money for Ukraine.
"We're going to do our job," McCarthy said after the morning meeting. "We're going to be adults in the room. And we're going to keep government open."
With no deal in place before Sunday, federal workers will face furloughs, more than 2 million active-duty and reserve military troops will work without pay and programs and services that Americans rely on from coast to coast will begin to face shutdown disruptions.
The sudden House action would fund government at current 2023 levels for 45 days, through Nov. 17. It would move closer to the bipartisan approach underway in the Senate, which also would fund the government through that period, while adding $6 billion for Ukraine to fight the war against Russia and $6 billion for U.S. disaster relief.
"A bipartisan, a bicameral solution is the only way forward," said Rep. Rosa DeLauro, the top Democrat on the House Appropriations Committee. She and other Democrats decried cutting Ukraine aid.
McCarthy, R-Calif., will be forced to rely on Democrats for passage because the speaker's hard-right flank has said it will oppose any short-term measure. McCarthy was setting up a process for voting that will require a two-thirds supermajority, about 290 votes in the 435-member House for passage. Republicans hold a 221-212 majority, with two vacancies.
Relying on Democratic votes and leaving his right-flank behind is something that the hard-right lawmakers have warned will risk McCarthy's job as speaker. They are almost certain to quickly file a motion to try to remove McCarthy from that office, though it is not at all certain there would be enough votes to topple the speaker.
"If somebody wants to remove me because I want to be the adult in the room, go ahead and try," McCarthy said of the threat to oust him. "But I think this country is too important."
The quick pivot comes after the collapse Friday of McCarthy's earlier plan to pass a Republican-only bill with steep spending cuts up to 30% to most government agencies that the White House and Democrats rejected as too extreme.
"Our options are slipping away every minute," said one senior Republican, Rep. Mario Diaz-Balart of Florida.
Meanwhile, the Senate was marching ahead on its package with support from both Democrats and Republicans.
"Congress has only one option to avoid a shutdown — bipartisanship," said Senate Majority Leader Chuck Schumer, D-N.Y.
Senate Republican leader Mitch McConnell of Kentucky echoed the sentiment, warning his own hard-right colleagues there is nothing to gain by shutting down the federal government.
"It heaps unnecessary hardships on the American people, as well as the brave men and women who keep us safe," McConnell said.
The federal government is heading straight into a shutdown that poses grave uncertainty for federal workers in states all across America and the people who depend on them — from troops to border control agents to office workers, scientists and others.
Families that rely on Head Start for children, food benefits and countless other programs large and small are confronting potential interruptions or outright closures. At the airports, Transportation Security Administration officers and air traffic controllers are expected to work without pay, but travelers could face delays in updating their U.S. passports or other travel documents.
An earlier McCarthy plan to keep the government open collapsed Friday due to opposition from a faction of 21 hard-right holdouts despite steep spending cuts of nearly 30% to many agencies and severe border security provisions.
The White House has brushed aside McCarthy's overtures to meet with Biden after the speaker walked away from the debt deal they brokered earlier this year that set budget levels.
Catering to his hard-right flank, McCarthy had returned to the spending limits the conservatives demanded back in January as part of the deal-making to help him become the House speaker.
After Friday's vote, McCarthy's chief Republican critic, Rep. Matt Gaetz of Florida, said the speaker's bill "went down in flames as I've told you all week it would."