A former high-ranking Google executive, who was allegedly sexually harassed by his boss, was later fired by the tech giant for failing to be "inclusive" simply because he favored high-performing employees, according to a lawsuit filed in New York federal court.
In August, Google fired Ryan Olohan as managing director of food, beverage, and restaurants, telling him it was because he was not "inclusive" enough, according to the lawsuit.
"In response to Olohan's request during the call for specifics as to why Google believed he was not inclusive, Google's Employee Investigations team explained that he had shown favoritism towards high performers, which it considered 'non-inclusive,' and commented on employees' walking pace and hustle, which it considered 'ableist,'" the suit said.
In February 2022, Adam Stewart, vice president of Google's consumer, government & entertainment division, told Olohan that there were "obviously too many white guys" in the division and in July, Stewart and the company's human resources department "encouraged Olohan to terminate the employment of a male member of his team and replace him with a female hire," the suit said.
The suit said that the vague references to "inclusion" seemed to simply fault Olohan for being a white male. "Defendants discriminated against Olohan because of his gender and race, in violation of his statutory rights," the suit said.
The allegations of non-inclusion against Olohan are notable because his online footprint suggests that he, in fact, had an unusually strong commitment to inclusion.
Olohan has seven children who are racial minorities because his wife is Asian. In his spare time, the ex-tech exec runs an ice cream parlor whose goal is to foster inclusivity by employing people with Down syndrome, according to a 2020 article about his shop—which is called "Seven Scoops" and has the motto "Many Flavors One Community."
The New Jersey ice cream shop donated more than $70,000 to needy people in its first six months, and Olohan organized a camp-out in which dozens of children slept in tents outside the store to raise money and build empathy for the homeless, it said.
"My life revolves around God, family, Google and Seven Scoops – in that order," Olohan said in the article.
The lawsuit says Google lavished praise on Olohan for being a high performer, promoting him rapidly and giving him its "Founders Award" every year, which comes with a $250,000 equity grant.
The lawsuit says that Olohan himself was the victim of sexual harassment at work, which the company did not seem interested in policing. A female employee, Tiffany Miller, allegedly drunkenly "rubbed his stomach" at a work party and told him he had "such a nice body," the lawsuit said. Olohan filed a human resources complaint, but the company did nothing—with an HR rep noting that if the situation was "reversed," with a man coming onto a woman, it would have, the lawsuit said.
Olohan sued Google as well as Miller, saying Miller repeatedly accused him of "microaggressions" in retaliation, but that human resources officials were present for his remarks and confirmed that he had not microaggressed, it said.
Google said in a statement "This employee was terminated with cause after a thorough investigation of complaints by numerous employees. We firmly stand by our decision here and we will vigorously defend ourselves against these claims."
Olohan did not return a request for comment.
A representative for Miller said in a statement that "This lawsuit is a fictional account of events filled with numerous falsehoods, fabricated by a disgruntled ex-employee, who was senior to Ms. Miller at Google. Ms. Miller never made any 'advance' toward Mr. Olohan, which witnesses can readily corroborate. Even more disturbing is the overt sexism and racism in Mr. Olohan's efforts to blame others for his termination."
Google once held "antiracist" trainings for its employees in which a presenter positioned Daily Wire founder Ben Shapiro, an orthodox Jew, as the foundation of a "white supremacy pyramid" that included Donald Trump higher up the chain, and culminated in "mass murder," according to materials obtained by Chris Rufo. The company also doled out cash awards available only to non-white individuals to create "an image-based project that explores and uplifts communities of color."
Campaign finance records in the recent Georgia Senate runoff campaign showed more than 800 donations from Google employees to the Democrat, and only six to the Republican.

⬇️ Top Picks for You ⬇️
Biden Dog Bites Another Secret Service Agent; 11th Incident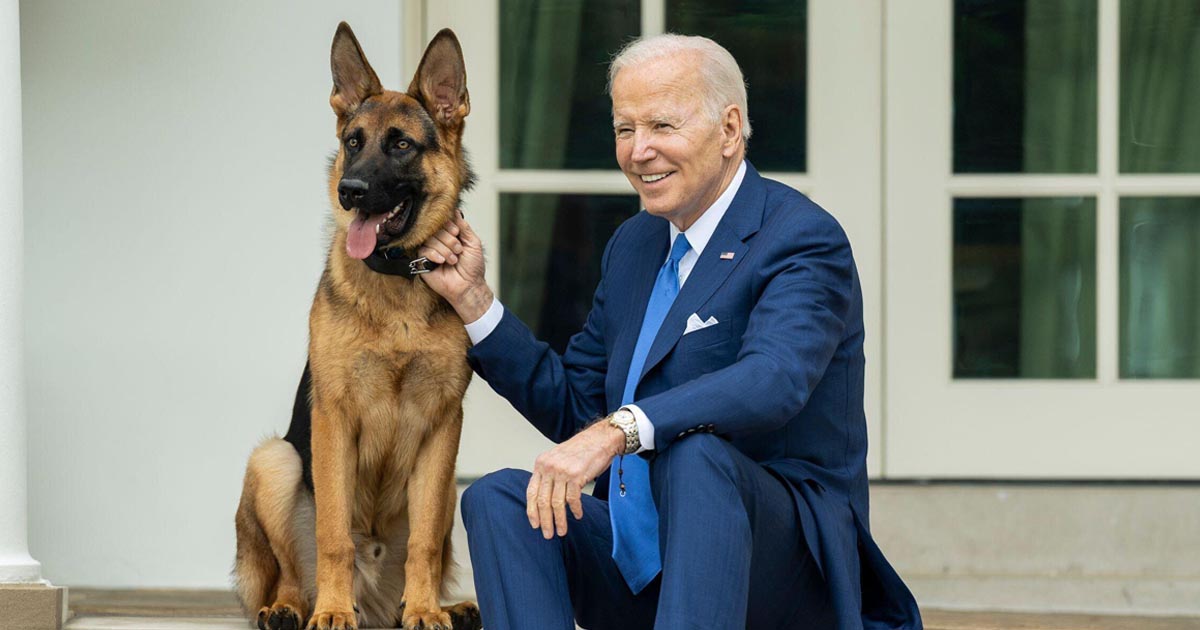 President Joe Biden's younger dog, Commander, bit another US Secret Service agent at the White House Monday evening, CNN has learned, the 11th known biting incident involving the 2-year-old German Shepherd.
"Yesterday around 8 p.m., a Secret Service Uniformed Division police officer came in contact with a First Family pet and was bitten. The officer was treated by medical personnel on complex," USSS chief of communications Anthony Guglielmi told CNN in a statement.
The injured officer spoke with Secret Service Uniformed Division Chief Alfonso M. Dyson Sr. on Tuesday and is doing OK, Guglielmi said.
Commander has been involved in at least 11 biting incidents at the White House and in Delaware, according to CNN reporting and US Secret Service email correspondence, including a November 2022 incident where an officer was hospitalized after the dog clamped down on their arms and thighs.
White House officials said in July that the Bidens were working through new training and leashing protocols for the family pet following the incidents.
Asked by CNN whether the new training had taken place or if any further action would be sought, Elizabeth Alexander, communications director for the first lady, said in a statement that "the First Family continues to work on ways to help Commander handle the often unpredictable nature of the White House grounds."
"The President and First Lady are incredibly grateful to the Secret Service and Executive Residence staff for all they do to keep them, their family, and the country safe," she continued.
Another of Biden's dogs, Major, was involved in biting incidents at the White House. The German Shepherd later moved out of the White House, and Commander arrived at the White House in 2021.
The July email correspondence, obtained through Freedom of Information Act requests by the conservative group Judicial Watch, reflected 10 incidents.
In one incident in October, first lady Dr. Jill Biden "couldn't regain control" of the dog as it charged a member of Secret Service staff.
"I believe it's only a matter of time before an agent/officer is attacked or bit," the staff member warned in an email.
While Secret Service agents are not responsible for the handling of the first family's pets, they can come into frequent contact with the animals.
"This isn't a Secret Service thing. This is a this is a workplace safety issue," CNN contributor and former USSS agent Jonathan Wackrow told CNN.
"There's uniqueness here where it's the residence of the president of the United States, but it's also the workplace for hundreds, thousands of people. And you can't bring a hazard into the workplace. And that's what is essentially happening with this dog. One time you can say it's an accident, but now multiple incidents, it's a serious issue," he added.
Wackrow called it a "significant hazard" for agents on duty at the White House residence.
"I'm sure that the Bidens love the dog. I'm sure that it's a member of the family like every dog is, but you're creating a significant hazard to those who support you – support the office of the president," he said.