A former high-ranking Google executive, who was allegedly sexually harassed by his boss, was later fired by the tech giant for failing to be "inclusive" simply because he favored high-performing employees, according to a lawsuit filed in New York federal court.
In August, Google fired Ryan Olohan as managing director of food, beverage, and restaurants, telling him it was because he was not "inclusive" enough, according to the lawsuit.
"In response to Olohan's request during the call for specifics as to why Google believed he was not inclusive, Google's Employee Investigations team explained that he had shown favoritism towards high performers, which it considered 'non-inclusive,' and commented on employees' walking pace and hustle, which it considered 'ableist,'" the suit said.
In February 2022, Adam Stewart, vice president of Google's consumer, government & entertainment division, told Olohan that there were "obviously too many white guys" in the division and in July, Stewart and the company's human resources department "encouraged Olohan to terminate the employment of a male member of his team and replace him with a female hire," the suit said.
The suit said that the vague references to "inclusion" seemed to simply fault Olohan for being a white male. "Defendants discriminated against Olohan because of his gender and race, in violation of his statutory rights," the suit said.
The allegations of non-inclusion against Olohan are notable because his online footprint suggests that he, in fact, had an unusually strong commitment to inclusion.
Olohan has seven children who are racial minorities because his wife is Asian. In his spare time, the ex-tech exec runs an ice cream parlor whose goal is to foster inclusivity by employing people with Down syndrome, according to a 2020 article about his shop—which is called "Seven Scoops" and has the motto "Many Flavors One Community."
The New Jersey ice cream shop donated more than $70,000 to needy people in its first six months, and Olohan organized a camp-out in which dozens of children slept in tents outside the store to raise money and build empathy for the homeless, it said.
"My life revolves around God, family, Google and Seven Scoops – in that order," Olohan said in the article.
The lawsuit says Google lavished praise on Olohan for being a high performer, promoting him rapidly and giving him its "Founders Award" every year, which comes with a $250,000 equity grant.
The lawsuit says that Olohan himself was the victim of sexual harassment at work, which the company did not seem interested in policing. A female employee, Tiffany Miller, allegedly drunkenly "rubbed his stomach" at a work party and told him he had "such a nice body," the lawsuit said. Olohan filed a human resources complaint, but the company did nothing—with an HR rep noting that if the situation was "reversed," with a man coming onto a woman, it would have, the lawsuit said.
Olohan sued Google as well as Miller, saying Miller repeatedly accused him of "microaggressions" in retaliation, but that human resources officials were present for his remarks and confirmed that he had not microaggressed, it said.
Google said in a statement "This employee was terminated with cause after a thorough investigation of complaints by numerous employees. We firmly stand by our decision here and we will vigorously defend ourselves against these claims."
Olohan did not return a request for comment.
A representative for Miller said in a statement that "This lawsuit is a fictional account of events filled with numerous falsehoods, fabricated by a disgruntled ex-employee, who was senior to Ms. Miller at Google. Ms. Miller never made any 'advance' toward Mr. Olohan, which witnesses can readily corroborate. Even more disturbing is the overt sexism and racism in Mr. Olohan's efforts to blame others for his termination."
Google once held "antiracist" trainings for its employees in which a presenter positioned Daily Wire founder Ben Shapiro, an orthodox Jew, as the foundation of a "white supremacy pyramid" that included Donald Trump higher up the chain, and culminated in "mass murder," according to materials obtained by Chris Rufo. The company also doled out cash awards available only to non-white individuals to create "an image-based project that explores and uplifts communities of color."
Campaign finance records in the recent Georgia Senate runoff campaign showed more than 800 donations from Google employees to the Democrat, and only six to the Republican.

⬇️ Top Picks for You ⬇️
Trump Suggests Manhattan DA Bragg 'Dropped' Case Against Him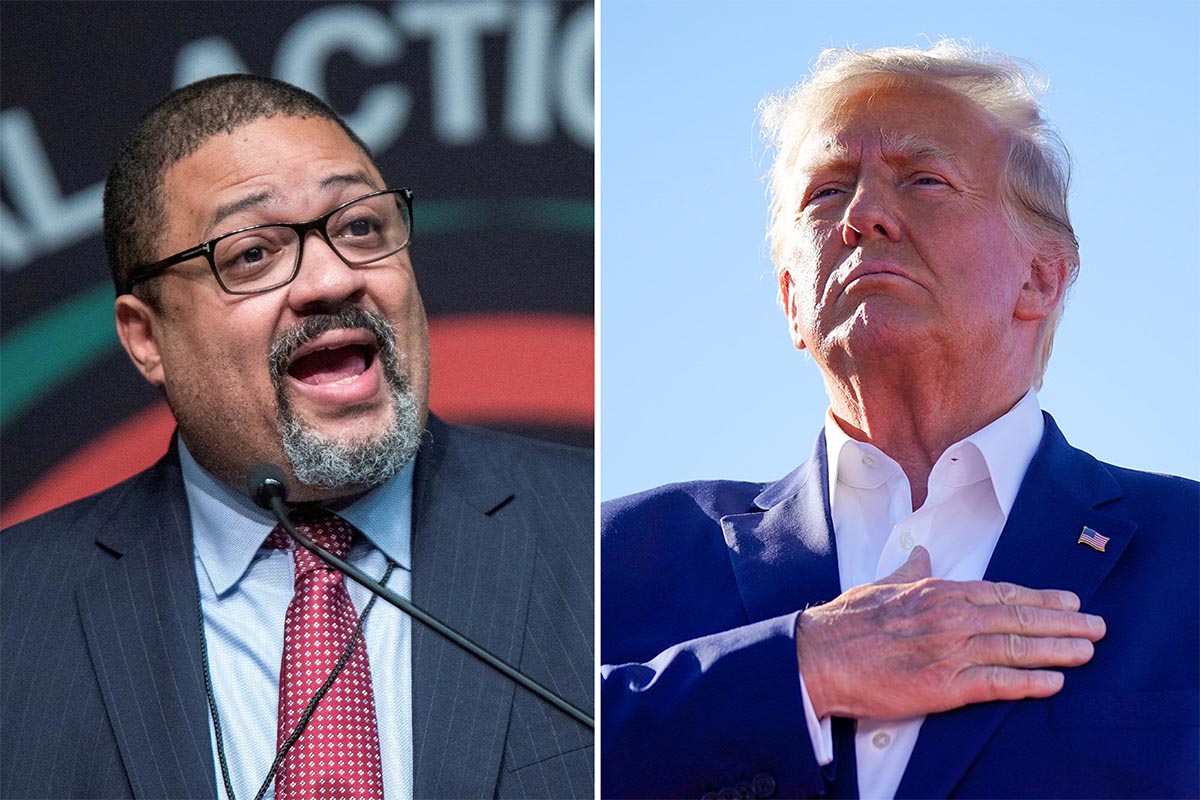 Former President Donald Trump is now suggesting Manhattan District Attorney Alvin Bragg may have dropped his case against him, about a week after he claimed he would be arrested.
After a rally in Waco, Texas, on Saturday, Trump told reporters on his plane, "I think they've already dropped the case … they have absolutely nothing." Trump did not provide evidence for his assertion Saturday.
"It's a fake case. Some fake cases, they have absolutely nothing," the former president said. Trump also reiterated his criticism of Michael Cohen, a former Trump lawyer who has testified against him in the Manhattan grand jury case and previously served time in federal prison on tax fraud and other charges.
Trump also denied mainstream media reports that suggested he was trying to incite violence with his Truth Social posts that criticized Bragg's investigation: "No, I don't like violence and I'm not for violence. But a lot of people are upset."
On Truth Social, the former president made a similar statement regarding his belief Bragg's case is "DEAD." He wrote that the "Witch Hunt against me is DEAD, no evidence at all, & it has been conclusively proven that I did nothing wrong." He dismissed Cohen as a "disbarred lawyer & convicted Felon."
Last week, an attorney in Trump's circle, Robert Costello, told media outlets that he testified before the grand jury and sought to denigrate Cohen's testimony against the 45th president in the investigation, which reportedly is connected to so-called hush money payments that were given to adult performer Stormy Daniels during the 2016 presidential campaign. A lawyer for Cohen, when reached for comment, declined to issue a statement, although Cohen told MSNBC last week that Costello never represented him and disputed his testimony.
Bragg's has not returned a request for comment, and The Epoch Times cannot verify the authenticity of Trump's claims. Previous Epoch Times requests for comment from the DA's office have gone unanswered.
Over the past week, Bragg's office has issued one public statement on the case, and that came in response to a House Republican letter seeking testimony and information about the DA's case or whether his office would arrest Trump. A letter sent by his general counsel said that it was Trump who created a "false expectation" he would be indicted last week, although he provided no other details.
Responding to the House GOP's letter, Bragg's counsel wrote that it "only came after Donald Trump created a false expectation that he would be arrested the next day, and his lawyers reportedly urged you to intervene. Neither fact is a legitimate basis for congressional inquiry."
During the Waco rally, Trump declared that his "enemies are desperate to stop us" and that "our opponents have done everything they can to crush our spirit and to break our will," and that the Manhattan district attorney was investigating him "for something that is not a crime, not a misdemeanor, not an affair."
He added: "But they failed. They've only made us stronger. And 2024 is the final battle, it's going to be the big one. You put me back in the White House, their reign will be over and America will be a free nation once again."
Trump did not make any direct references in his speech to Waco's history, telling the crowd of thousands that he told Lt. Gov Dan Patrick he wanted to hold his rally in a place with overwhelming support, not "one of those 50-50 areas," and said he told Texas officials, "Let's go right into the heart of it."
At several points, Trump criticized Florida Gov. Ron DeSantis, who, despite not announcing it, has long been expected to run for president in 2024 and is seen as Trump's strongest potential challenger for the GOP nomination. Trump called his onetime ally disloyal and said he was "dropping like a rock" in the polls.
In addition to the Manhattan case, Trump is also facing an investigation in Georgia as well as federal investigations into his handling of allegedly classified documents and possible obstruction, as well as statements he made on Jan. 6, 2021. The former president has denied wrongdoing in those instances.