Republican donors are set to gather next month at Virginia Beach's historic Cavalier Hotel to rally behind Gov. Glenn Youngkin. This "Red Vest Retreat" might officially focus on the GOP's efforts in Virginia's upcoming elections, but there's buzz about something bigger: a push to draft Youngkin into the Republican presidential race.
As some Republicans grow restless looking for an alternative to former President Donald Trump, Youngkin, who managed to win Trump voters without the former President's direct involvement, is emerging as a potential savior for the anti-Trump faction. However, the logistics and challenges of a late entry into the race are daunting.
NEW: Some top GOP donors and anti-Trump Republicans are ramping up efforts behind the scenes to draft Virginia Gov. Glenn Youngkin to jump into the 2024 GOP race. Donors are gathering in Virginia Beach Oct. 17-18, where some will push Youngkin to consider it, @costareports… pic.twitter.com/Lh7gUquy0o

— CBS News (@CBSNews) September 28, 2023
Washington Post reported:
Some of the biggest Republican donors in the country will converge next month at the historic Cavalier Hotel in Virginia Beach for a two-day meeting to rally behind Gov. Glenn Youngkin. The closed gathering, named the "Red Vest Retreat" after the fleece Youngkin wore during his 2021 campaign, will begin Oct. 17 and be focused, officially, on the Republican effort to win full control of the General Assembly in Virginia's upcoming elections. But unofficially, several donors tell me, it will be an opportunity for them to try to push, if not shove, Youngkin into the Republican presidential race.
Others say they will be busy prodding Youngkin and his allies in phone calls from afar. "He appears to be leaving the door open," Thomas Peterffy, a billionaire who has already given millions of dollars to Youngkin's PAC, told me this week. "And if Republicans win in Virginia, maybe we can talk him into it. He obviously wants to see what emerges, what the state of play is.
"The money would be there," Peterffy assured me.
Donors and anti-Trump Republicans have been fixated on Youngkin for two years, since his 2021 election impressed them for how he was able to win support from Trump voters while keeping Trump himself at a distance. They also know a direct challenge to Trump would be politically brutal — and that late entries are logistically near-impossible.
Nevertheless, the anti-Trump Republicans carry on, in text messages and emails, and over meals at five-star hotels, talking to friends and megadonors about the need to be prepared to help Youngkin ramp up a robust national campaign. They want to be ready.
"I'm for whoever can beat Trump in the primary and, while I still think some of the current candidates can do this, I'd welcome Youngkin putting his oar in," William P. Barr, Trump's former attorney general, told me. "If the governor indicated he'd to it, I believe he would draw serious support and be a strong candidate," Barr said.
Rupert Murdoch, the new chairman emeritus of Fox Corporation and News Corp., has encouraged Youngkin in at least two face-to-face meetings, as The Post reported last month. And Murdoch has continued to speak highly of a possible Youngkin campaign to colleagues, according to a person familiar with his comments.
"The search for other people is very real," Trump's former national security adviser John Bolton told me, recounting how he went to Atlanta in August to try to recruit Georgia Gov. Brian Kemp, who resisted Trump's pressure campaign in the aftermath of the 2020 election. Bolton left unconvinced that Kemp would do it. "A lot of people put Youngkin in the category of a kind of fresh face who could make a difference," he said. (Bolton hasn't ruled out his own late run if others decide against it.)
Of course, many other donors and anti-Trump Republicans hope that Florida Gov. Ron DeSantis, former U.N. ambassador Nikki Haley, Sen. Tim Scott (S.C.) or former vice president Mike Pence, among others, could eventually pull even with Trump. But the experience of DeSantis has dampened spirits. If someone who thundered to national prominence couldn't overtake Trump by now, who can?
"DeSantis has faltered and failed to meet expectations and donors know it," Ed Rollins, Ronald Reagan's former campaign manager, told me. "No one has a real opening right now, but people are trying to figure out what to do."
The various Youngkin 2024 theories go something like this: If Virginia's state legislature goes Republican on Nov. 7, Youngkin could claim he flipped a state that Joe Biden won in 2020. If the governor then signaled interest in exploring a run, supporters could rush to collect signatures for him to get on the ballot in delegate-rich states, many of which have December deadlines. If he got in, he'd make a play for Iowa and build a campaign with an eye on staying in until the convention.
If that isn't daunting enough, he would have to do it all while Trump takes aim. There are some around Youngkin who say the prospect of relentless attacks from the GOP front-runner could be what keeps him on the sidelines, with one person close to him saying, "Glenn cringes when he thinks about what Trump would do."
The ballot deadlines would present huge hurdles for Youngkin. He would likely miss some key contests in Nevada and South Carolina, which have October filing deadlines, forcing supporters to scramble to get him on the ballot in delegate-rich states holding primaries throughout March, beginning with Super Tuesday on March 5.
"If he misses some, it's going to compromise the number of delegates he'd be eligible for," the nonpartisan elections expert Josh Putnam told me. "While there are some contests after April 2, there are not too many heavy hitters after that."

⬇️ Top Picks for You ⬇️
Biden Got Recurring $1,380 Payment from Hunter's Firm Starting in 2018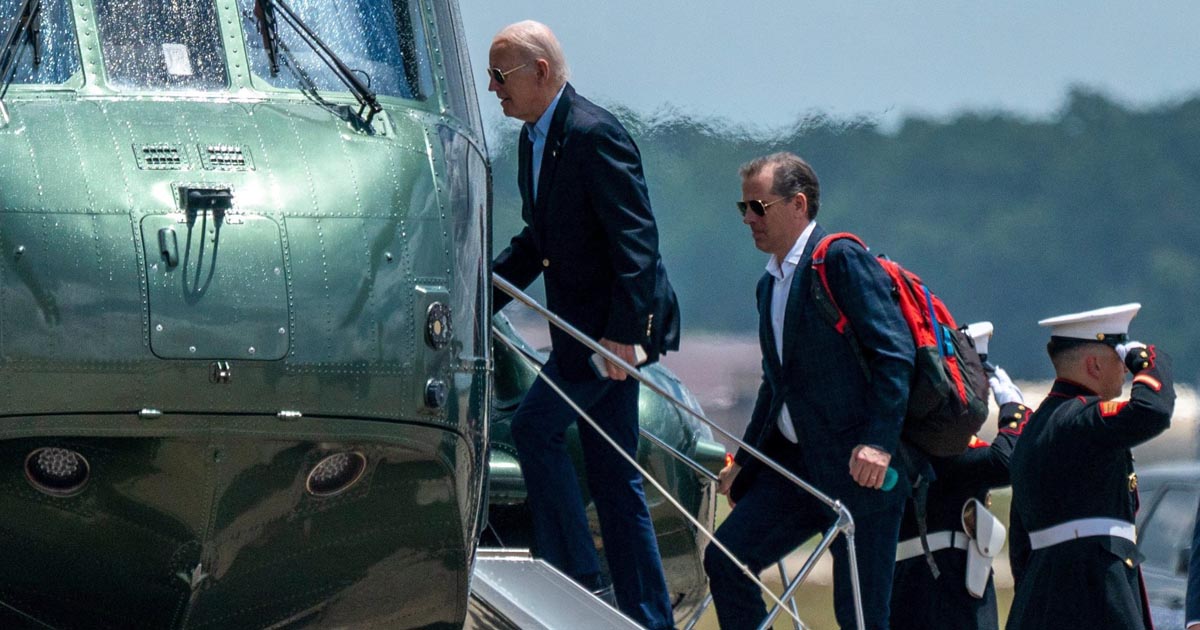 President Biden received a recurring payment of $1,380 from his son Hunter's law firm beginning in late 2018 shortly after a bank money laundering officer warned that the same account was receiving millions of dollars in Chinese government-linked funds without "any services rendered."
A bank order shows that Owasco PC set up a "monthly" transfer to then-former Vice President Joseph R. Biden Jr., with a voided check for the future president included in the documentation, which was released Monday by the House Oversight Committee.
A source told The Post that at least three recurring payments were made — on Sept. 17, Oct. 15 and Nov. 15, 2018 — totaling $4,140 to the elder Biden from Owasco PC, according to the bank records of the firm.
"President Biden and his family must be held accountable for this blatant corruption," Oversight Committee Chairman James Comer (R-Ky.) said in a video release.
"Today, the House Oversight Committee is releasing subpoenaed bank records that show Hunter Biden's business entity, Owasco PC, made direct monthly payments to Joe Biden. This wasn't a payment from Hunter Biden's personal account but an account for his corporation that received payments from China and other shady corners of the world," Comer said.
"At this moment, Hunter Biden is under an investigation by the Department of Justice for using Owasco PC for tax evasion and other serious crimes. And based on whistleblower testimony, we know the Justice Department made a concerted effort to prevent investigators from asking questions about Joe Biden. I wonder why?"
Earlier that year, a January 2019 email from assistant Katie Dodge to Hunter Biden annotated various expenses including "Ford Raptor — Reimbursement to JRB — $1380."
The provenance of the funds is unclear, however, and additional records show that Hunter Biden was knee-deep in two of his most controversial business relationships at the time, with Ukraine's Burisma Holdings and CEFC China Energy.
The evidence emerged as House Republicans prepare to question first brother James Biden on Wednesday and Hunter next week about the president's role in his family's dealings in countries such as China and Ukraine — with a possible floor vote to authorize the ongoing impeachment inquiry this month.
While a presidential candidate, Joe Biden denied that he ever discussed business with his relatives, but evidence has since shown that he met with his relatives' associates from both the Burisma and CEFC ventures.
Documents from the first son's abandoned laptop show that Burisma board adviser Vadym Pozharskyi sought "bank reference" information on Sept. 14, 2018 — one day before the initial transfer to Joe Biden was sought. However, the transaction was not executed for another two days, apparently due to a later-than-expected form submission.
Joe Biden met Pozharskyi at an April 17, 2015, dinner at DC's Café Milano. An unproven FBI informant tip said that Burisma owner Mykola Zlochevsky claimed in 2016 he was "coerced" into paying $10 million in bribes to the Bidens for their assistance in ousting prosecutor Viktor Shokin.
Hunter also was on the tail end of disbursing millions of dollars received from CEFC China Energy — one of two major Biden family dealings with Chinese government-linked firms.
On June 26, 2018 — less than three months before Joe Biden began to receive the monthly transfers — an internal Bank Secrecy Act expert warned colleagues that the institution should reconsider its relationship with Hunter as a result of Owasco PC seeming to receive Chinese funds without "any services rendered."
CEFC transferred $5 million to another Biden family-linked entity, Hudson West III, in August 2017 after Hunter warned a China-based associate of his father's wrath if a business deal was aborted. Much of the large transfer later went to Hunter's Owasco PC.
Prior bank records released by the Oversight Committee indicate that Joe Biden received payments of $40,000 and $200,000 from his brother James, who also was involved in the CEFC venture and other foreign-focused enterprises.
Comer alleged that the $40,000 transferred to Joe Biden's bank account on Sept 3, 2017, was from "laundered" Chinese funds.
James Biden paid Joe Biden $200,000 on March 1, 2018 — the same day that James received a $200,000 transfer from troubled rural hospital company Americore after pledging to use his political connections to secure a Middle Eastern investor, according to bankruptcy filings.
The White House says there's evidence that both transfers were loan repayments, but Republicans argue they have not seen loan agreement documents and note that the funds distributed to James came from a law firm, rather than Joe Biden himself, further clouding the picture.