The forewoman of a special grand jury investigating former President Donald Trump's alleged attempts to overturn the 2020 presidential election results in Georgia revealed Tuesday that the panel recommended multiple indictments to the Atlanta-area district attorney leading the probe.
Forewoman Emily Kohrs told the New York Times that the special grand jury's recommendations are "not going to be some giant plot twist," but wouldn't name specific individuals the panel suggested be charged with crimes.
"It is not a short list," Kohrs told the outlet.
When asked whether Trump, 76, was recommended for indictment, Kohrs responded: "You're not going to be shocked. It's not rocket science," before adding, "You won't be too surprised."
The special grand jury, empaneled in May of last year, subpoenaed dozens of witnesses over the course of its investigation into alleged attempts by Trump and his allies to interfere in the state's 2020 election, including Trump's lawyer and former Mayor Rudy Giuliani, Sen. Lindsey Graham (R-SC), former Trump White House chief of staff Mark Meadows, Georgia Gov. Brian Kemp, and Georgia Secretary of State Brad Raffensperger.
Special grand juries in Georgia do not have indictment powers; the ultimate charging decisions will be up to Willis.
Fulton County Superior Court Judge Robert McBurney dissolved the special grand jury last month and recommended that its report be made public.
Sections of the report were released last week and indicated that "perjury may have been committed by one or more witnesses testifying."
The group of 26 jurors also said they unanimously found no evidence to back the 45th president's claims that widespread voter fraud cost him Georgia's 16 electoral votes.
Trump commented on the Georgia investigation in a Truth Social post on Tuesday, calling Willis, who is black, a "Racist in Reverse," and arguing that the probe is an attempt to stifle free speech.
"This is the real crime that took place in Georgia, with a Racist in Reverse D.A., who presides over the most dangerous city per capita in our Nation (by far!), Atlanta, does nothing but harass me for making two absolutely PERFECT phone calls, and for any other fake reason that the Department of Injustice in D.C. tells her to pursue," Trump said.
"They are demanding silence from people from protesting, or even discussing, Election results, because that's the place they just don't want to get anywhere near!"
A Backstory:
Georgia Secretary of State Opens Formal Inquiry into Trump Phone Call
The recording was published by the Washington Post on January, 2, 2021.
On February 8, 2021, Georgia Secretary of State Brad Raffensperger opened formal inquiry into Trump phone call about 2020 election results.
Washington Post Outs Source Who Gave Them Fake Quotes From Trump, Georgia Phone Call
The Post's media critic, Erik Wemple, reported that the original story was "based on an account from Jordan Fuchs, the deputy secretary of state, whom Watson briefed on his comments."
Both the Post and CNN issued corrections for their stories. The Post's correction read:
Correction: Two months after publication of this story, the Georgia secretary of state released an audio recording of President Donald Trump's December phone call with the state's top elections investigator. The recording revealed that The Post misquoted Trump's comments on the call, based on information provided by a source. Trump did not tell the investigator to "find the fraud" or say she would be "a national hero" if she did so. Instead, Trump urged the investigator to scrutinize ballots in Fulton County, Ga., asserting she would find "dishonesty" there. He also told her that she had "the most important job in the country right now." The headline and text of this story have been corrected to remove quotes misattributed to Trump.
CNN's correction read:
An earlier version of this story, published January 9, presented paraphrasing of the President's comments to the Georgia elections investigator as direct quotes. The story has been updated following the discovery of an audio recording of the call.
New Audio of Phone Call that Vindicates Trump Was Deleted by Georgia Investigator
An audio recording that forced multiple major news outlets to issue corrections to stories that attributed fraudulent quotes to former President Donald Trump was reportedly found on the device of the chief investigator of the Georgia secretary of state's office.
Officials reportedly located the file in a trash folder on Watson's device, according to CNN.

⬇️ Top Picks for You ⬇️
Trump Suggests Manhattan DA Bragg 'Dropped' Case Against Him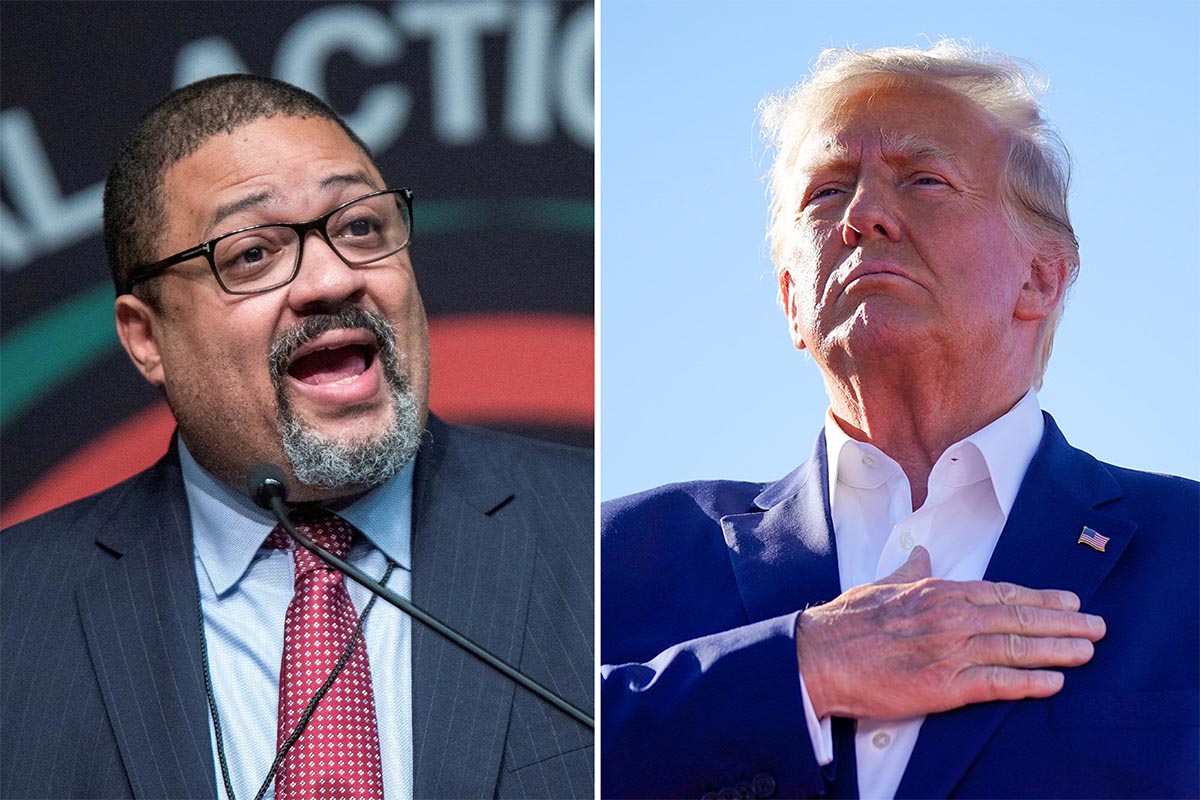 Former President Donald Trump is now suggesting Manhattan District Attorney Alvin Bragg may have dropped his case against him, about a week after he claimed he would be arrested.
After a rally in Waco, Texas, on Saturday, Trump told reporters on his plane, "I think they've already dropped the case … they have absolutely nothing." Trump did not provide evidence for his assertion Saturday.
"It's a fake case. Some fake cases, they have absolutely nothing," the former president said. Trump also reiterated his criticism of Michael Cohen, a former Trump lawyer who has testified against him in the Manhattan grand jury case and previously served time in federal prison on tax fraud and other charges.
Trump also denied mainstream media reports that suggested he was trying to incite violence with his Truth Social posts that criticized Bragg's investigation: "No, I don't like violence and I'm not for violence. But a lot of people are upset."
On Truth Social, the former president made a similar statement regarding his belief Bragg's case is "DEAD." He wrote that the "Witch Hunt against me is DEAD, no evidence at all, & it has been conclusively proven that I did nothing wrong." He dismissed Cohen as a "disbarred lawyer & convicted Felon."
Last week, an attorney in Trump's circle, Robert Costello, told media outlets that he testified before the grand jury and sought to denigrate Cohen's testimony against the 45th president in the investigation, which reportedly is connected to so-called hush money payments that were given to adult performer Stormy Daniels during the 2016 presidential campaign. A lawyer for Cohen, when reached for comment, declined to issue a statement, although Cohen told MSNBC last week that Costello never represented him and disputed his testimony.
Bragg's has not returned a request for comment, and The Epoch Times cannot verify the authenticity of Trump's claims. Previous Epoch Times requests for comment from the DA's office have gone unanswered.
Over the past week, Bragg's office has issued one public statement on the case, and that came in response to a House Republican letter seeking testimony and information about the DA's case or whether his office would arrest Trump. A letter sent by his general counsel said that it was Trump who created a "false expectation" he would be indicted last week, although he provided no other details.
Responding to the House GOP's letter, Bragg's counsel wrote that it "only came after Donald Trump created a false expectation that he would be arrested the next day, and his lawyers reportedly urged you to intervene. Neither fact is a legitimate basis for congressional inquiry."
During the Waco rally, Trump declared that his "enemies are desperate to stop us" and that "our opponents have done everything they can to crush our spirit and to break our will," and that the Manhattan district attorney was investigating him "for something that is not a crime, not a misdemeanor, not an affair."
He added: "But they failed. They've only made us stronger. And 2024 is the final battle, it's going to be the big one. You put me back in the White House, their reign will be over and America will be a free nation once again."
Trump did not make any direct references in his speech to Waco's history, telling the crowd of thousands that he told Lt. Gov Dan Patrick he wanted to hold his rally in a place with overwhelming support, not "one of those 50-50 areas," and said he told Texas officials, "Let's go right into the heart of it."
At several points, Trump criticized Florida Gov. Ron DeSantis, who, despite not announcing it, has long been expected to run for president in 2024 and is seen as Trump's strongest potential challenger for the GOP nomination. Trump called his onetime ally disloyal and said he was "dropping like a rock" in the polls.
In addition to the Manhattan case, Trump is also facing an investigation in Georgia as well as federal investigations into his handling of allegedly classified documents and possible obstruction, as well as statements he made on Jan. 6, 2021. The former president has denied wrongdoing in those instances.