A graphic sex education program endorsed by Planned Parenthood continues to be promulgated in some Idaho middle schools, despite outrage expressed by parents, according to the Idaho Freedom Foundation.
The program, entitled "Reducing the Risk," is meant primarily for ninth-graders, according to its website, and it consists of a 16-part curriculum that aims "to help high school students delay the initiation of sex or increase the use of protection against pregnancy and STI/HIV if they choose to have sex." The website later claims, "The major focus is the development of attitudes and skills that will help teens prevent pregnancy and the transmission of STIs, including HIV," hinting that the program subordinates abstinence and prevention education in favor of mitigating the risks associated with promiscuity.
The sexual behaviors the program mentions are laid out in minute detail. One video included in RTR is called "Condom Sense," which was produced by the Trojan Condoms brand ten years ago. The cartoon video features an unmarried man and woman engaging in a series of sexual activities and a disembodied narrator who warns against condom misuse.
"Keep your condom on until you ejaculate," the narrator advises at one point, as a cuckoo bird suggestively shoots out of a nearby wall clock.
The video even shows the fornicating couple engaging in sex underneath bed covers and inside a car with obscured windows. The bed and car are rocking rhythmically to assure all viewers that the two are having sex, in case there was any doubt.
Both "Condom Sense" and RTR in general subtly endorse LGTBQ+ lifestyles. The logo Trojan opts to use for its YouTube account features the silhouette of a trojan helmet colored to match the latest gay and transgender flag, and screenshots of slides included in the fifth edition of the RTR program indicate that it encourages students to participate in "roleplay activities" that may make them uncomfortable, especially for those who are "sensitive" to same-sex relationships or who are gay, "transgender or gender nonconforming."
The program also manipulates language to confuse students and mislead parents. In perhaps the most egregious example, "Reducing the Risk" does not use "abstinence" to refer to refraining from sex until marriage. When used in the program, "abstinence" refers to avoiding pregnancy and guarding against sexually transmitted diseases. The Idaho Freedom Foundation claimed that creators of the program changed the definition of "abstinence" so that RTR would comport with Idaho law and standards, which require schools to teach "abstinence-only" or "until marriage" sex ed curricula.
The Center for American Education, affiliated with IFF, also made other observations about the language used in "Reducing the Risk." According to a slideshow presentation CAE obtained via information request, the word "marriage" was used only once in 120 slides. However, the presentation freely used terms like "vaginal sex," "oral sex," "anal sex," "dental dams," "condoms," and "masturbation." It also suggested that behaviors such as "anal sex using a condom and water-based lubricant" and "having sex while drunk or high" carry only "some risk."
https://twitter.com/EITC_Official/status/1615500721113427970?ref_src=twsrc%5Etfw%7Ctwcamp%5Etweetembed%7Ctwterm%5E1615500721113427970%7Ctwgr%5E74316dbc669a1d540cef7741350b1947e1caf618%7Ctwcon%5Es1_c10&ref_url=https%3A%2F%2Fwww.theblaze.com%2Fnews%2Fgraphic-sex-ed-program-endorsed-by-planned-parenthood-taught-in-some-idaho-middle-schools
When parents in Potlatch, Idaho, a small town of about 800 people located an hour south of Coeur d'Alene, discovered the contents of RTR, they became outraged and expressed their concerns at a school board meeting last November. That night, the board voted to remove the program for eighth-graders for this semester. It also voted to permit parents to opt their children out of such programs going forward and to have access to all materials that will be taught.
While Potlatch parents scored a small victory in the fight to keep graphic sexual material from their young children, other Idaho districts are still continuing to implement the program. As of last fall, the "Condom Sense" video and other RTR material are still being shown in 14 different Idaho schools, and the program website boasts that it is being taught in other supposedly conservative areas of the country, such as Montana; Duval County, Florida; Wyoming; San Antonio, Texas; Sedgwick County, Kansas; and West Virginia. Idaho is likewise a solidly red state, with a Republican governor, a Republican state legislature, two Republican U.S. congressmen, and two Republican U.S. senators.
IFF did not say whether any of the state or federal officials in Idaho had a comment about RTR. The "Supporting Education" initiative listed on the official website for Gov. Brad Little (R) makes no mention of "Reducing the Risk" or sex education at all. While it does claim that the state has a "moral obligation to our students in Idaho," it did not specify what that "moral obligation" means or what it might look like in practical form.

⬇️ Top Picks for You ⬇️
Pro-Life Father Arrested by FBI Acquitted on Federal Charges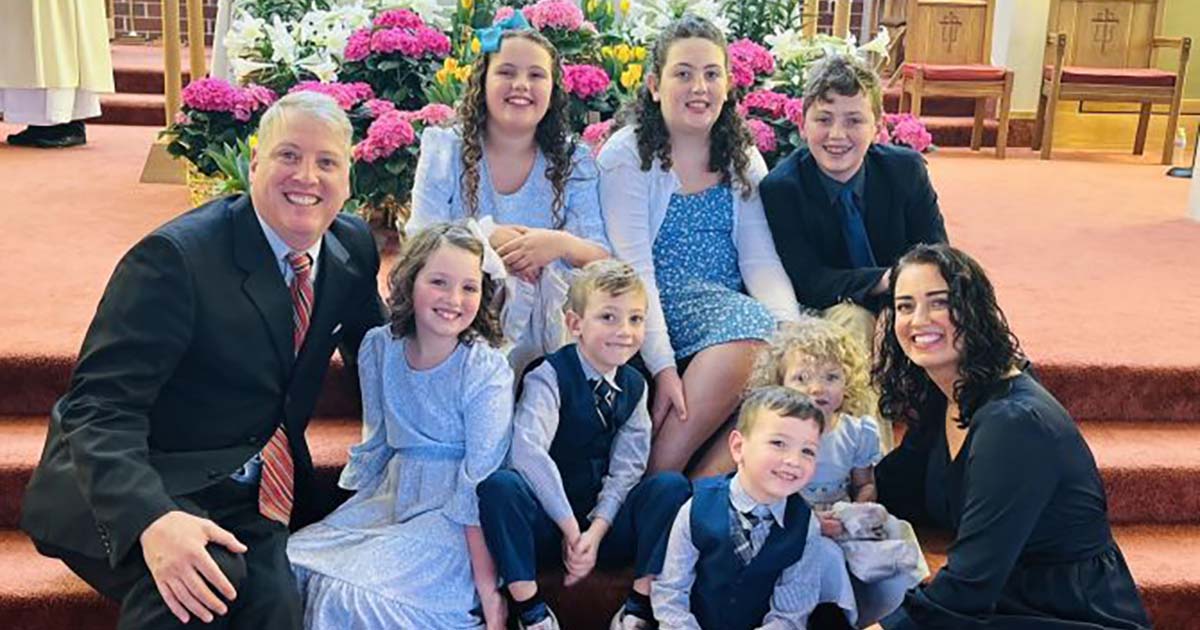 A Catholic pro-life activist facing 11 years in prison for allegedly violating a federal law prohibiting people from blocking others from entering an abortion clinic was acquitted on Monday following a week-long trial.
Mark Houck leads a nonprofit group that counsels women outside of abortion clinics in Philadelphia, Pennsylvania. He was providing sidewalk counseling when, the Department of Justice says, he assaulted an abortion escort twice "because he was a volunteer reproductive health care clinic escort."
"Assault is always a serious offense, and under the [Freedom of Access to Clinic Entrances] FACE Act, if the victim is targeted because of their association with a reproductive healthcare clinic, it is a federal crime," U.S. Attorney Jacqueline Romero said in a DOJ press release. "Our Office and the Department of Justice are committed to prosecuting crimes which threaten the safety and rights of all individuals."
The FACE Act makes it a federal crime to injure, intimidate, or interfere with anyone due to their status as a provider of reproductive health care.
Houck and his attorneys at the Thomas More Society argued, however, that this was "a political prosecution" meant to "send a message" to pro-life Americans.
"And what's clear from the Department of Justice at its highest levels, which is directing this case, [is] that they are trying to send a message to pro-life and people of faith: 'Don't mess with us,'" Thomas More Society vice president Peter Breen told Fox News. "They want to intimidate — they want to cause good people like Mark to stop praying and counseling at the abortion clinics of our country. And that's not going to happen."
Breen told the outlet that the case was thrown out of state court but revived by the Biden administration nearly a year after the incident. Further, Breen said, some 20 FBI agents raided Houck's home when they arrested him, treating him "as if he was a drug lord or a mafia boss."
"If he was truly a danger to the community, they wouldn't have waited a year to prosecute," Breen said. "Serious questions need to be asked of the attorney general. What was he thinking? Why did they do this obscene show of force against a peaceful pillar of the community?"
Houck's lawyers also argued that the DOJ's claim that the FACE Act protects anyone associated with an abortion clinic is inaccurate.
"The FACE Act was never intended to cover disputes between advocates on the public sidewalks outside of our nation's abortion clinics," Breen said in a statement earlier this month. "This new evidence shows clearly that Congress intended to limit the FACE Act to patients and staff working in the clinic, and not to take sides between pro-life and pro-choice counselors and escorts on the sidewalk. The Biden Department of Justice's prosecution of Mark Houck is pure harassment, meant solely to intimidate our nation's pro-life sidewalk counselors who provide vital resources to help pregnant women at risk for abortion."
Houck pleaded not guilty to the charges against him and testified at trial that he and the clinic escort, Bruce Love, had two altercations on the day in question. The first occurred while Houck was counseling two women crossing the street who left Planned Parenthood, Catholic News Agency reported. Love allegedly chased Houck about 100 feet in an attempt to stop him from counseling the women, Life News reported. Houck claimed that Love surprised and made contact with him, causing him to ask, "What are you doing?" and reflexively elbow the escort in the hip to move him out of the way. The prosecution argued that Houck elbowed Love unprovoked because of his status as a clinic escort.
After this, Houck said Love left the clinic and stood near Houck's 12-year-old son while taunting Houck Sr., saying, "You're hurting women. You don't care about women."
Houck said Love also repeatedly disparaged him to his son, who testified on Friday that Love stood about an arm's length away from him near the clinic.
"I moved away… because I was scared," the younger Houck testified, adding that Love told him, "Your dad's a bad person. Your dad's harassing women."
It was after Houck repeatedly told Love to stop harassing his son that Houck said he pushed Love away.
The jury deadlocked on Friday after two-and-a-half hours of deliberation, telling U.S. District Judge Gerald Pappert that they didn't think they could come to a conclusion given more time. Pappert sent the jury home but instructed them to return Monday morning and continue deliberations anyway.
On Monday, the jury acquitted Houck. Following the verdict, Breen released a statement condemning the Biden administration for pursuing his client.
"We are, of course, thrilled with the outcome," Breen said. "Mark and his family are now free of the cloud that the Biden administration threw upon them. We took on Goliath – the full might of the United States government – and won. The jury saw through and rejected the prosecution's discriminatory case, which was harassment from day one. This is a win for Mark and the entire pro-life movement. The Biden Department of Justice's intimidation against pro-life people and people of faith has been put in its place."