Hadassah-University Medical Center in Jerusalem's Ein Kerem has announced an "unprecedented achievement" in the treatment of multiple myeloma cancer – the second-most common hematological disease. It accounts for one-tenth of all blood cancers and 1% of all types of malignancies.
The innovative treatment against the disease, which has long been considered incurable, was developed after a series of experiments carried out in the hospital's bone-marrow transplant and immunotherapy department in recent years.
"We have a waiting list of over 200 patients from Israel and various parts of the world at any given time."
Polina Stepansky
"Now, in light of the impressive results of CAR-T treatments, it seems that they have many more years to live – and with an excellent quality of life," said Prof. Polina Stepansky, head of the department.
The treatment is based on genetic engineering technology, which is an effective and groundbreaking solution for patients whose life expectancy was only two years until a few years ago. They have used a genetic engineering technology called CAR-T, or Chimeric Antigen Receptor T-Cell Therapy, which boosts the patient's own immune system to destroy the cancer. More than 90% of the 74 patients treated at Hadassah went into complete remission, the oncologists said.
"We have a waiting list of more than 200 patients from Israel and various parts of the world at any given time," Stepansky said. "Due to the complexity of the production and the complexity of the treatment itself, only one patient a week enters the treatment, which is still being conducted as an experiment."
According to Prof. (emeritus) Yechezkel Barenholz, a world leader in oncology research and head of the membrane and liposome research lab at Hebrew University-Hadassah Medical School, the CAR-T technology is a major achievement that will make the diagnosis much easier and simpler and treatment possible.
The CAR-T cell treatment was developed and produced by Hadassah in collaboration with Prof. Cyrille Cohen, head of the immunology and immunotherapy laboratory at Bar-Ilan University in Ramat Gan.
"We have evidence of a very positive overall response rate with minimal side effects, and they are mild," Stepansky said. "These are dramatic results. This is a huge hope for patients with a disease that has not yet had a cure."
The experimental treatment will also be provided throughout the US in the coming months.
What is the blood cancer known as multiple myeloma?
Multiple myeloma is a type of cancer of the bone marrow, which is the spongy tissue at the center of some bones that produces the body's blood cells. The disease was named multiple myeloma because cancer often affects several areas of the body, including the skull, pelvis, ribs and spine. Many times, it is suspected or diagnosed after a routine blood or urine test.
At first, it may not produce any symptoms, but as it develops, myeloma causes a wide variety of problems, including chronic bone pain; weakness, shortness of breath and fatigue resulting from anemia; high levels of calcium in the blood that can trigger symptoms, including extreme thirst, stomach pain, needing to urinate frequently, confusion and constipation; weight loss, dizziness, blurred vision and headaches; repeated infections, bruising and unusual bleeding; weak bones that fracture easily; and kidney problems.
The disease is more common in people over the age of 60. It is usually diagnosed after the age of 70 and rarely under the age of 40, in men more than women and in people with a family history of multiple myeloma
The American company "Immix Bio has acquired a patent license, and we are about to open a clinical trial in the US," Stepansky said. "The plan is to reach commercialization and FDA approval as a drug within a year."
The groundbreaking idea of using immune-system cells to fight cancer cells was born several decades ago at the Weizmann Institute of Science in Rehovot by Prof. Zelig Eshhar's immunology department. The development and promotion of CAR-T treatments, whose function is to program the patient's white blood cells by collecting healthy cells from the immune system, has since been led by Stepansky. As part of the treatment, a process is performed to isolate the T cells, which are the active cells in the immune system that can fight tumors by themselves.
This is carried out by apheresis, which takes donated blood components and separates the red and white blood cells. The process takes two to four hours and is similar to a regular blood donation. The T cells are then engineered in the Hadassah laboratory, which was built especially for this purpose, according to the strictest international standards in clean rooms.
In the next step, a genetic engineering procedure is performed by adding a virus along with a genetic segment that encodes a receptor against the cancer cells. Many engineered cells are then injected into the patient. Ultimately, the engineered T cells target the tumors and destroy the cancer.
Until now, this treatment has been available only in China and the US for nearly $400,000 per patient treatment, and it is very limited in its availability.
Only 20% of those who need to receive it in these countries actually get it," Stepansky said. "With the development led by the researchers at our Danny Cunniff Leukemia Research Laboratory, we were able to reduce the price dramatically and make the treatment affordable and accessible.
"Moreover, Hadassah developed a more sophisticated and advanced treatment than that offered in the world. As the first and only institution in Israel that develops, manufactures and delivers CAR-T treatment, Hadassah is actually leading the field that will enable the development of future treatments with CAR T cells for the benefit of patients with other types of cancer," Stepansky said.

⬇️ Top Picks for You ⬇️
McCarthy to Work with Dems to Pass 45-Day Funding, Avoiding Govt Shutdown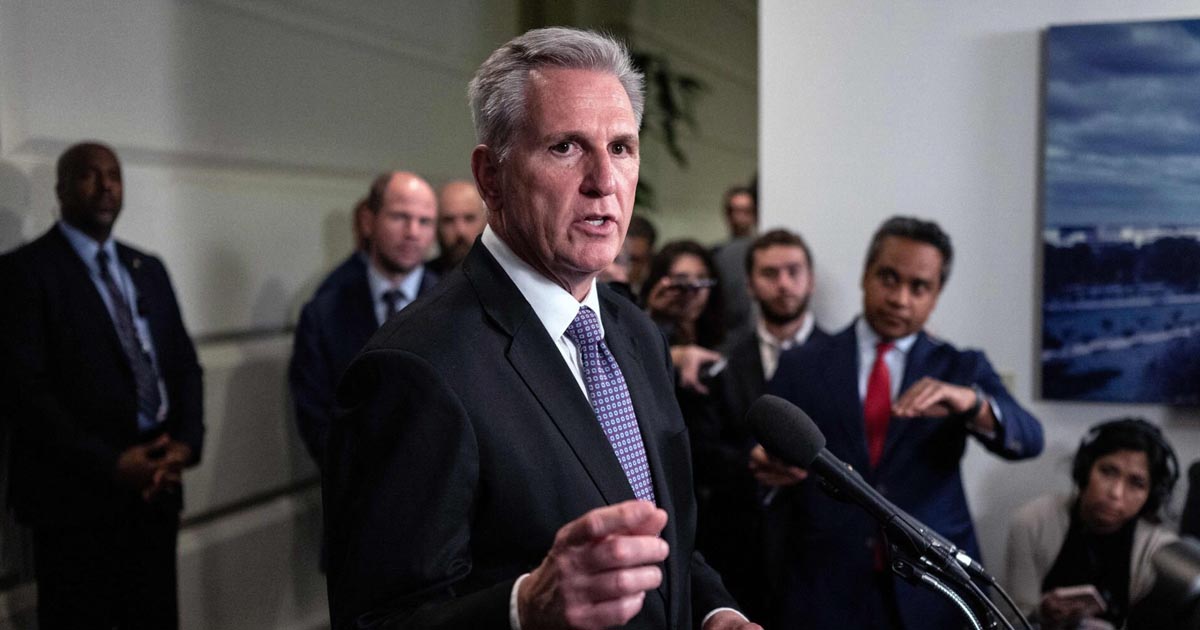 On the brink of a federal government shutdown, Speaker Kevin McCarthy announced a dramatic pivot Saturday, trying to push a 45-day funding bill through the House with Democratic help — a move that could keep government open but most certainly risks his job.
Republican lawmakers met behind closed doors early in the morning with hours to go before the midnight deadline needed to fund government operations or face a disruptive federal closure.
The new approach would leave behind aid to Ukraine, a White House priority opposed by a growing number of GOP lawmakers, but the plan would increase federal disaster assistance by $16 billion, meeting President Joe Biden's full request.
The House was preparing for a quick vote Saturday on the plan, but Democrats hit the brakes, seeking time so they could read the 71-page bill. Across the Capitol, the Senate was opening a rare weekend session and hoping to advance its own stopgap plan, but with money for Ukraine.
"We're going to do our job," McCarthy said after the morning meeting. "We're going to be adults in the room. And we're going to keep government open."
With no deal in place before Sunday, federal workers will face furloughs, more than 2 million active-duty and reserve military troops will work without pay and programs and services that Americans rely on from coast to coast will begin to face shutdown disruptions.
The sudden House action would fund government at current 2023 levels for 45 days, through Nov. 17. It would move closer to the bipartisan approach underway in the Senate, which also would fund the government through that period, while adding $6 billion for Ukraine to fight the war against Russia and $6 billion for U.S. disaster relief.
"A bipartisan, a bicameral solution is the only way forward," said Rep. Rosa DeLauro, the top Democrat on the House Appropriations Committee. She and other Democrats decried cutting Ukraine aid.
McCarthy, R-Calif., will be forced to rely on Democrats for passage because the speaker's hard-right flank has said it will oppose any short-term measure. McCarthy was setting up a process for voting that will require a two-thirds supermajority, about 290 votes in the 435-member House for passage. Republicans hold a 221-212 majority, with two vacancies.
Relying on Democratic votes and leaving his right-flank behind is something that the hard-right lawmakers have warned will risk McCarthy's job as speaker. They are almost certain to quickly file a motion to try to remove McCarthy from that office, though it is not at all certain there would be enough votes to topple the speaker.
"If somebody wants to remove me because I want to be the adult in the room, go ahead and try," McCarthy said of the threat to oust him. "But I think this country is too important."
The quick pivot comes after the collapse Friday of McCarthy's earlier plan to pass a Republican-only bill with steep spending cuts up to 30% to most government agencies that the White House and Democrats rejected as too extreme.
"Our options are slipping away every minute," said one senior Republican, Rep. Mario Diaz-Balart of Florida.
Meanwhile, the Senate was marching ahead on its package with support from both Democrats and Republicans.
"Congress has only one option to avoid a shutdown — bipartisanship," said Senate Majority Leader Chuck Schumer, D-N.Y.
Senate Republican leader Mitch McConnell of Kentucky echoed the sentiment, warning his own hard-right colleagues there is nothing to gain by shutting down the federal government.
"It heaps unnecessary hardships on the American people, as well as the brave men and women who keep us safe," McConnell said.
The federal government is heading straight into a shutdown that poses grave uncertainty for federal workers in states all across America and the people who depend on them — from troops to border control agents to office workers, scientists and others.
Families that rely on Head Start for children, food benefits and countless other programs large and small are confronting potential interruptions or outright closures. At the airports, Transportation Security Administration officers and air traffic controllers are expected to work without pay, but travelers could face delays in updating their U.S. passports or other travel documents.
An earlier McCarthy plan to keep the government open collapsed Friday due to opposition from a faction of 21 hard-right holdouts despite steep spending cuts of nearly 30% to many agencies and severe border security provisions.
The White House has brushed aside McCarthy's overtures to meet with Biden after the speaker walked away from the debt deal they brokered earlier this year that set budget levels.
Catering to his hard-right flank, McCarthy had returned to the spending limits the conservatives demanded back in January as part of the deal-making to help him become the House speaker.
After Friday's vote, McCarthy's chief Republican critic, Rep. Matt Gaetz of Florida, said the speaker's bill "went down in flames as I've told you all week it would."
Some of the Republican holdouts, including Gaetz, are allies of former President Donald Trump, who is Biden's chief rival in the 2024 race. Trump has been encouraging the Republicans to fight hard for their priorities and even to "shut it down."