A top nonpartisan political handicapper is forecasting that Democrats face a serious challenge holding on to four crucial Senate seats as they attempt to protect their razor-thin majority in the chamber in the 2024 elections.
The first Senate race ratings of the new cycle by Sabato's Crystal Ball at the University of Virginia's Center for Politics are the latest by a leading election handicapper to point to a rough road ahead for the Democrats.
Democrats flipped a GOP Senate seat in Pennsylvania in November's midterm elections, and they currently hold a 51-49 majority in the chamber – which includes three independent senators who caucus with the Democratic conference.
But Republicans are energized by a very favorable Senate map in 2024, with Democrats defending 23 of the 34 seats up for grabs. Three of those seats are in red states former President Donald Trump easily carried over President Biden in 2020: Ohio, West Virginia and Montana. Five other Democratic seats are in key swing states narrowly carried by Biden in the 2020 presidential election: Arizona, Michigan, Nevada, Pennsylvania and Wisconsin. In Michigan, longtime Democratic Sen Debbie Stabenow announced she'll retire after next year rather than seek re-election.
According to Sabato's Crystal Ball, three Democratic held seats are toss-ups while one is ranked as lean Republican.
"Democrats are playing much more defense than Republicans," Kyle Kondik, Sabato's Crystal Ball managing editor, highlighted. "Of the current Democratic seats, West Virginia starts as the clearest Republican takeover opportunity, with Arizona, Montana, and Ohio as Toss-ups."
And Kondik notes that "the GOP has no Toss-up or Leans Republican seats to defend at the starting gate."
Here are the four Democratic senators who face challenging re-elections.
Sen. Joe Manchin of West Virginia
Manchin, a former governor and moderate Democrat who hails from one-time Democratic leaning state that's turned overwhelmingly red in recent cycles, has yet to announce if he'll seek another term next year. Manchin won re-election in 2018 by three points in a state then-President Donald Trump carried by nearly 40 points two years later. Sabato's Crystal Ball ranks this race as lean Republican.
"It is fairly unusual for us to start an incumbent as an underdog, but we think it's warranted in this instance," Kondik emphasized.
Sen. Jon Tester of Montana
Tester, a farmer, three-term senator, and the only Democrat to hold statewide office in the red state of Montana, has yet to say if he'll run for re-election in 2024.
Trump carried Montana by 16 points in 2020 and Sabato's Crystal Ball ranks this race a toss-up.
Sen. Sherrod Brown of Ohio
Brown, who's served nearly a half century as an elected state and federal office holder, has already said he'll run next year for a fourth six-year term in the Senate.
Ohio, which was once a premier general election battleground state, has shifted red in recent cycles, and this race is also ranked a toss-up.
"Brown should be able to get at least some crossover support, but will that be enough to overcome a GOP margin of, say, 8 points for president (Trump's margin in both 2016 and 2020)?" Kondik wrote.
Republicans are already taking aim at all three senators. As Fox News first reported earlier this month, the National Republican Senatorial Committee (NRSC) launched a "retire or get fired" digital campaign targeting Manchin, Tester and Brown, and tying them to President Biden.
Sen. Kyrsten Sinema of Arizona
Sinema, a moderate Democratic lawmaker, last month announced she was leaving the party and registering as an Independent. Sinema has yet to announce if she'll seek another term in 2024.
But she already faces a challenge from the left, as earlier this month progressive Rep. Ruben Gallego launched a bid for the Democratic Senate nomination in the key southwestern battleground.
"The Arizona situation is fascinating, given the possibility of a true three-way race," Kondik highlighted.

⬇️ Top Picks for You ⬇️
Trump Suggests Manhattan DA Bragg 'Dropped' Case Against Him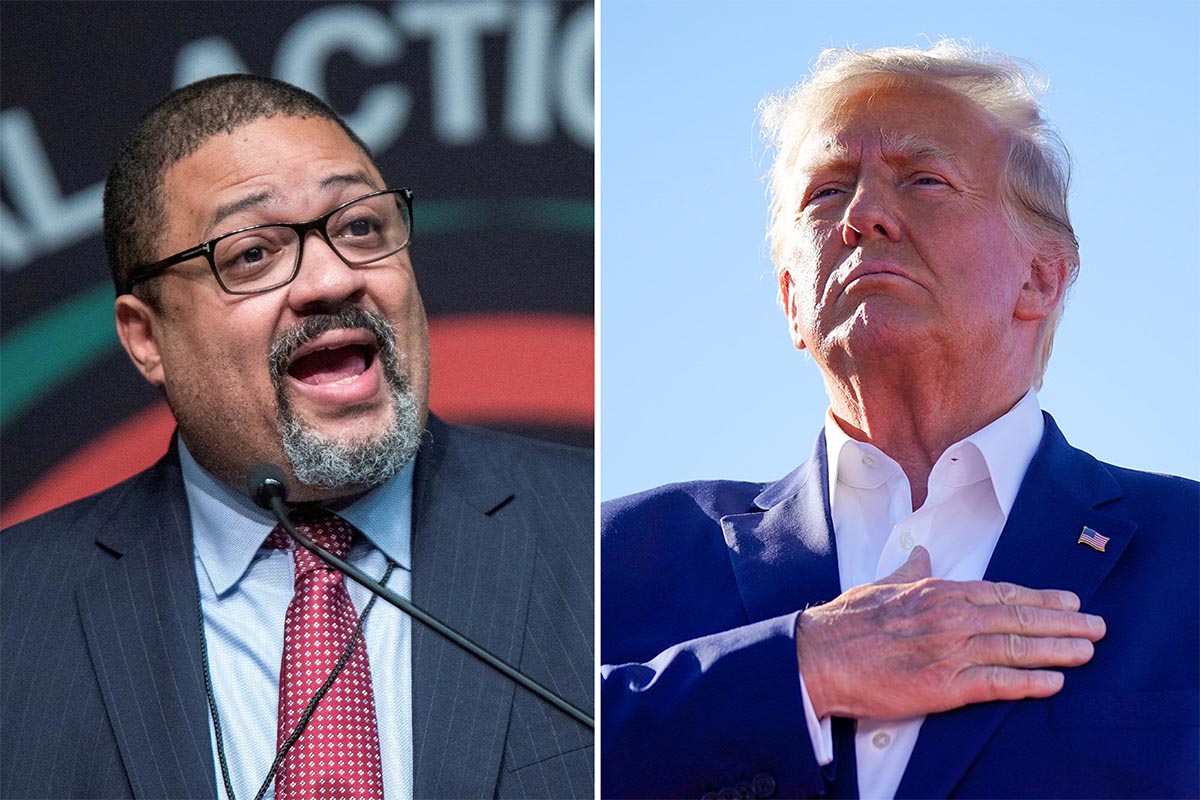 Former President Donald Trump is now suggesting Manhattan District Attorney Alvin Bragg may have dropped his case against him, about a week after he claimed he would be arrested.
After a rally in Waco, Texas, on Saturday, Trump told reporters on his plane, "I think they've already dropped the case … they have absolutely nothing." Trump did not provide evidence for his assertion Saturday.
"It's a fake case. Some fake cases, they have absolutely nothing," the former president said. Trump also reiterated his criticism of Michael Cohen, a former Trump lawyer who has testified against him in the Manhattan grand jury case and previously served time in federal prison on tax fraud and other charges.
Trump also denied mainstream media reports that suggested he was trying to incite violence with his Truth Social posts that criticized Bragg's investigation: "No, I don't like violence and I'm not for violence. But a lot of people are upset."
On Truth Social, the former president made a similar statement regarding his belief Bragg's case is "DEAD." He wrote that the "Witch Hunt against me is DEAD, no evidence at all, & it has been conclusively proven that I did nothing wrong." He dismissed Cohen as a "disbarred lawyer & convicted Felon."
Last week, an attorney in Trump's circle, Robert Costello, told media outlets that he testified before the grand jury and sought to denigrate Cohen's testimony against the 45th president in the investigation, which reportedly is connected to so-called hush money payments that were given to adult performer Stormy Daniels during the 2016 presidential campaign. A lawyer for Cohen, when reached for comment, declined to issue a statement, although Cohen told MSNBC last week that Costello never represented him and disputed his testimony.
Bragg's has not returned a request for comment, and The Epoch Times cannot verify the authenticity of Trump's claims. Previous Epoch Times requests for comment from the DA's office have gone unanswered.
Over the past week, Bragg's office has issued one public statement on the case, and that came in response to a House Republican letter seeking testimony and information about the DA's case or whether his office would arrest Trump. A letter sent by his general counsel said that it was Trump who created a "false expectation" he would be indicted last week, although he provided no other details.
Responding to the House GOP's letter, Bragg's counsel wrote that it "only came after Donald Trump created a false expectation that he would be arrested the next day, and his lawyers reportedly urged you to intervene. Neither fact is a legitimate basis for congressional inquiry."
During the Waco rally, Trump declared that his "enemies are desperate to stop us" and that "our opponents have done everything they can to crush our spirit and to break our will," and that the Manhattan district attorney was investigating him "for something that is not a crime, not a misdemeanor, not an affair."
He added: "But they failed. They've only made us stronger. And 2024 is the final battle, it's going to be the big one. You put me back in the White House, their reign will be over and America will be a free nation once again."
Trump did not make any direct references in his speech to Waco's history, telling the crowd of thousands that he told Lt. Gov Dan Patrick he wanted to hold his rally in a place with overwhelming support, not "one of those 50-50 areas," and said he told Texas officials, "Let's go right into the heart of it."
At several points, Trump criticized Florida Gov. Ron DeSantis, who, despite not announcing it, has long been expected to run for president in 2024 and is seen as Trump's strongest potential challenger for the GOP nomination. Trump called his onetime ally disloyal and said he was "dropping like a rock" in the polls.
In addition to the Manhattan case, Trump is also facing an investigation in Georgia as well as federal investigations into his handling of allegedly classified documents and possible obstruction, as well as statements he made on Jan. 6, 2021. The former president has denied wrongdoing in those instances.