A top nonpartisan political handicapper is forecasting that Democrats face a serious challenge holding on to four crucial Senate seats as they attempt to protect their razor-thin majority in the chamber in the 2024 elections.
The first Senate race ratings of the new cycle by Sabato's Crystal Ball at the University of Virginia's Center for Politics are the latest by a leading election handicapper to point to a rough road ahead for the Democrats.
Democrats flipped a GOP Senate seat in Pennsylvania in November's midterm elections, and they currently hold a 51-49 majority in the chamber – which includes three independent senators who caucus with the Democratic conference.
But Republicans are energized by a very favorable Senate map in 2024, with Democrats defending 23 of the 34 seats up for grabs. Three of those seats are in red states former President Donald Trump easily carried over President Biden in 2020: Ohio, West Virginia and Montana. Five other Democratic seats are in key swing states narrowly carried by Biden in the 2020 presidential election: Arizona, Michigan, Nevada, Pennsylvania and Wisconsin. In Michigan, longtime Democratic Sen Debbie Stabenow announced she'll retire after next year rather than seek re-election.
According to Sabato's Crystal Ball, three Democratic held seats are toss-ups while one is ranked as lean Republican.
"Democrats are playing much more defense than Republicans," Kyle Kondik, Sabato's Crystal Ball managing editor, highlighted. "Of the current Democratic seats, West Virginia starts as the clearest Republican takeover opportunity, with Arizona, Montana, and Ohio as Toss-ups."
And Kondik notes that "the GOP has no Toss-up or Leans Republican seats to defend at the starting gate."
Here are the four Democratic senators who face challenging re-elections.
Sen. Joe Manchin of West Virginia
Manchin, a former governor and moderate Democrat who hails from one-time Democratic leaning state that's turned overwhelmingly red in recent cycles, has yet to announce if he'll seek another term next year. Manchin won re-election in 2018 by three points in a state then-President Donald Trump carried by nearly 40 points two years later. Sabato's Crystal Ball ranks this race as lean Republican.
"It is fairly unusual for us to start an incumbent as an underdog, but we think it's warranted in this instance," Kondik emphasized.
Sen. Jon Tester of Montana
Tester, a farmer, three-term senator, and the only Democrat to hold statewide office in the red state of Montana, has yet to say if he'll run for re-election in 2024.
Trump carried Montana by 16 points in 2020 and Sabato's Crystal Ball ranks this race a toss-up.
Sen. Sherrod Brown of Ohio
Brown, who's served nearly a half century as an elected state and federal office holder, has already said he'll run next year for a fourth six-year term in the Senate.
Ohio, which was once a premier general election battleground state, has shifted red in recent cycles, and this race is also ranked a toss-up.
"Brown should be able to get at least some crossover support, but will that be enough to overcome a GOP margin of, say, 8 points for president (Trump's margin in both 2016 and 2020)?" Kondik wrote.
Republicans are already taking aim at all three senators. As Fox News first reported earlier this month, the National Republican Senatorial Committee (NRSC) launched a "retire or get fired" digital campaign targeting Manchin, Tester and Brown, and tying them to President Biden.
Sen. Kyrsten Sinema of Arizona
Sinema, a moderate Democratic lawmaker, last month announced she was leaving the party and registering as an Independent. Sinema has yet to announce if she'll seek another term in 2024.
But she already faces a challenge from the left, as earlier this month progressive Rep. Ruben Gallego launched a bid for the Democratic Senate nomination in the key southwestern battleground.
"The Arizona situation is fascinating, given the possibility of a true three-way race," Kondik highlighted.

⬇️ Top Picks for You ⬇️
Biden Dog Bites Another Secret Service Agent; 11th Incident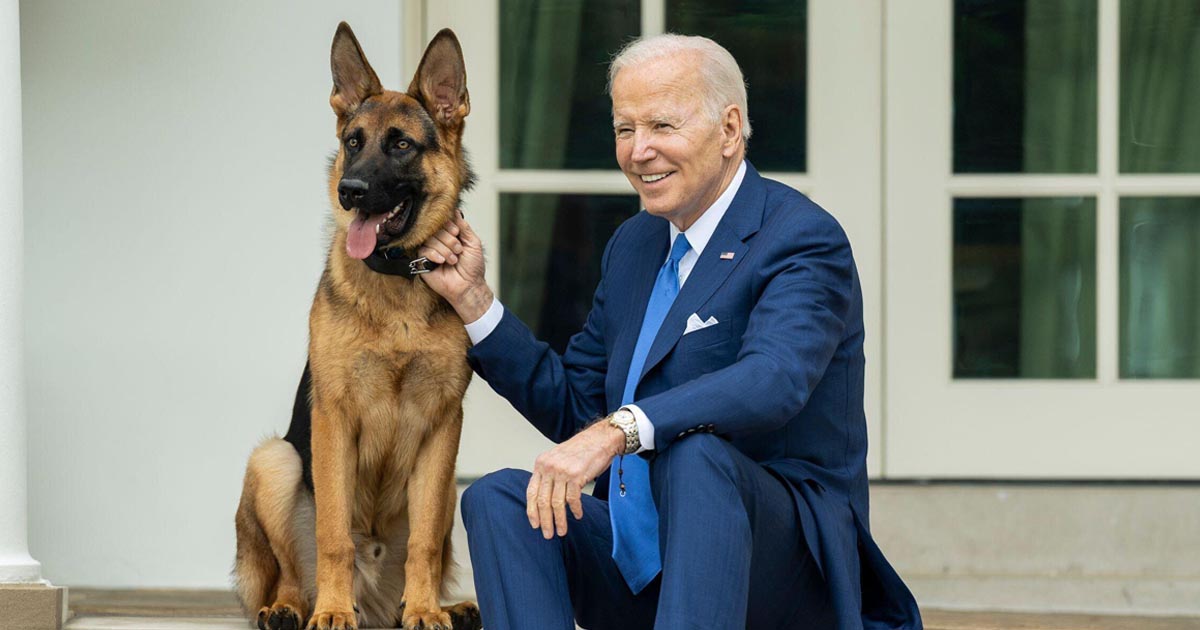 President Joe Biden's younger dog, Commander, bit another US Secret Service agent at the White House Monday evening, CNN has learned, the 11th known biting incident involving the 2-year-old German Shepherd.
"Yesterday around 8 p.m., a Secret Service Uniformed Division police officer came in contact with a First Family pet and was bitten. The officer was treated by medical personnel on complex," USSS chief of communications Anthony Guglielmi told CNN in a statement.
The injured officer spoke with Secret Service Uniformed Division Chief Alfonso M. Dyson Sr. on Tuesday and is doing OK, Guglielmi said.
Commander has been involved in at least 11 biting incidents at the White House and in Delaware, according to CNN reporting and US Secret Service email correspondence, including a November 2022 incident where an officer was hospitalized after the dog clamped down on their arms and thighs.
White House officials said in July that the Bidens were working through new training and leashing protocols for the family pet following the incidents.
Asked by CNN whether the new training had taken place or if any further action would be sought, Elizabeth Alexander, communications director for the first lady, said in a statement that "the First Family continues to work on ways to help Commander handle the often unpredictable nature of the White House grounds."
"The President and First Lady are incredibly grateful to the Secret Service and Executive Residence staff for all they do to keep them, their family, and the country safe," she continued.
Another of Biden's dogs, Major, was involved in biting incidents at the White House. The German Shepherd later moved out of the White House, and Commander arrived at the White House in 2021.
The July email correspondence, obtained through Freedom of Information Act requests by the conservative group Judicial Watch, reflected 10 incidents.
In one incident in October, first lady Dr. Jill Biden "couldn't regain control" of the dog as it charged a member of Secret Service staff.
"I believe it's only a matter of time before an agent/officer is attacked or bit," the staff member warned in an email.
While Secret Service agents are not responsible for the handling of the first family's pets, they can come into frequent contact with the animals.
"This isn't a Secret Service thing. This is a this is a workplace safety issue," CNN contributor and former USSS agent Jonathan Wackrow told CNN.
"There's uniqueness here where it's the residence of the president of the United States, but it's also the workplace for hundreds, thousands of people. And you can't bring a hazard into the workplace. And that's what is essentially happening with this dog. One time you can say it's an accident, but now multiple incidents, it's a serious issue," he added.
Wackrow called it a "significant hazard" for agents on duty at the White House residence.
"I'm sure that the Bidens love the dog. I'm sure that it's a member of the family like every dog is, but you're creating a significant hazard to those who support you – support the office of the president," he said.