House Republicans passed an education bill on Friday that emphasizes parental rights in the classroom, leaning into a hot-button, culture war issue that has gained popularity in GOP politics across the country.
The legislation, titled the Parents Bill of Rights, passed in a 213-208 vote, and it now heads to the Senate for consideration. It is highly unlikely, however, that the Democratic-controlled chamber will take up the measure, with House Democrats dubbing the bill the "Politics over Parents Act."
Republican Reps. Andy Biggs (Ariz.), Ken Buck (Colo.), Matt Gaetz (Fla.), Mike Lawler (N.Y.) and Matt Rosendale (Mont.) sided with all voting Democrats in opposing the measure.
The measure would require schools to publish their curricula publicly, mandate that parents be allowed to meet with their children's teachers and make schools give information to parents when violence occurs on school grounds.
It would also demand that parents receive a list of books and reading materials accessible at the school library and give parents a say when schools are crafting or updating their policies and procedures for student privacy, among other tenets.
At a time when Republicans have accused Democrats of painting parents as a threat and in the wake of contentious school board meetings around the country, the legislation also says school and government officials "should never seek to use law enforcement to criminalize the lawfully expressed concerns of parents about their children's education," and that the "First Amendment guarantees parents and other stakeholders the right to assemble and express their opinions on decisions affecting their children and communities."
"This bill is not complex or complicated," the bill's sponsor Rep. Julia Letlow (R-La.) said during debate on the House floor Thursday. "Nor should it be partisan or polarizing, and contrary to what you may hear from my colleagues on the other side of the aisle, it is not an attack on our hard-working teachers, who will always be the heroes in my eyes."
"It is not an attempt to have Congress dictate their curriculum or determine the books in the library," she continued. "Instead, this bill aims to bring more transparency and accountability to education, allowing parents to be informed and when they have questions and concerns to lawfully bring them to their local school boards."
The chamber also approved a number of amendments to the bill, including one sponsored by Rep. Lauren Boebert (R-Colo.) that says parents have a right to know if the school their child attends operates, sponsors or facilitates athletic programs or activities that allow transgender girls or women to participate in a sport that does not correspond with their sex assigned at birth.
Another approved amendment, also sponsored by Boebert, says parents have a right to know if their child's school allows a transgender girl or woman to use a bathroom or changing room that does not correspond with the sex assigned at birth.
Letlow first introduced the legislation in 2021, when education emerged as a controversial issue amid protests at school board meetings that railed against COVID-19 restrictions, curricula and books pertaining to gender and sexuality, and diversity and inclusion initiatives. She proposed the measure after Virginia Gov. Glenn Youngkin (R) won his race on a platform that emphasized education and parental rights, making him the first Republican to win a statewide election in the Old Dominion in more than a decade.
The measure, however, did not receive a vote in the Democratic-controlled House during the last Congress, leading Letlow to reintroduce it at the beginning of March. House Republicans during the 2022 campaign cycle vowed to advance the legislation if they were to win the majority that November.
Although the bill is unlikely to get attention in the Democratic-controlled Senate, the House vote on the measure will almost certainly be used by Republicans to fuel attacks against Democrats on education, which has become an issue of heightened importance heading into the 2024 election cycle. Republicans have sought to paint Democrats as working to cut parents out of their children's education.
House Democrats this week argued the GOP's bill does not give parents any new rights in education and that it could make it easier for books to be banned in schools.
More than 1,600 books were banned in schools and libraries during the 2021-2022 school year, according to a report from PEN America, with the majority of the prohibitions occurring in Texas and Florida. A number of the books banned included LGBTQ themes and addressed issues of race and racism.
"This legislation has nothing to do with parental involvement, parental engagement," House Minority Leader Hakeem Jeffries (D-N.Y.) said on the House floor Thursday. "Parental empowerment has everything to do with jamming the extreme MAGA Republican ideology down the throats of the children and the parents of the United States of America."
"I think what we're seeing here today is the Republicans' attempt, Republican Party's attempt, to take some of the most heinous legislation that we are seeing passed on the state level to attack our trans and LGBT as well as people from marginalized communities right to exist in schools," Rep. Alexandria Ocasio-Cortez (D-N.Y.) said during Thursday's debate.
Republicans, however, pushed back on the idea that this bill will ban books. Rep. Virginia Foxx (R-N.C.), the chairwoman for the House Committee on Education, noted on a number of occasions that the legislation mentions nothing about banning books.
"The context here matters that we're talking about legislation in this body to just ensure that parents know what's in the libraries and what's in the curriculum," Rep. Chip Roy (R-Texas) said. "It does nothing more."
"Yet, that's the great offense, but in trying to perpetuate this myth about federal perpetuation of so-called book banning — and let me be clear, yes, some local jurisdictions removing certain books, absolutely, and God bless them for it," he added. "Books about explicit sex acts. Let that hang over the chamber."
Democrats also highlighted their support for student-parent engagement, but said they don't believe the legislation does anything to promote it.
"First, let me be clear, the House Democrats believe parental engagement is central to student success," said Rep. Bobby Scott (D-Va.), the ranking member of the Committee on Education and Workforce. "Parental engagement is, in schools is closely linked to better student behavior, higher academic achievement and enhanced social skills, but, unfortunately, the Politics over Parents act does not take meaningful steps to increase or support parental engagement."
"Congress has a constitutional authority to write laws. What a mockery and betrayal of that duty it would be to pass this stunt of a bill that doesn't address a single priority of parents, bans books, undermines teachers and hurts our kids, Democrats are the party of parents and families," Rep. Pramila Jayapal (D-Wash.) said.

⬇️ Top Picks for You ⬇️
Republicans Launch Contempt Process Against FBI Director After Viewing Biden 'Bribery' Document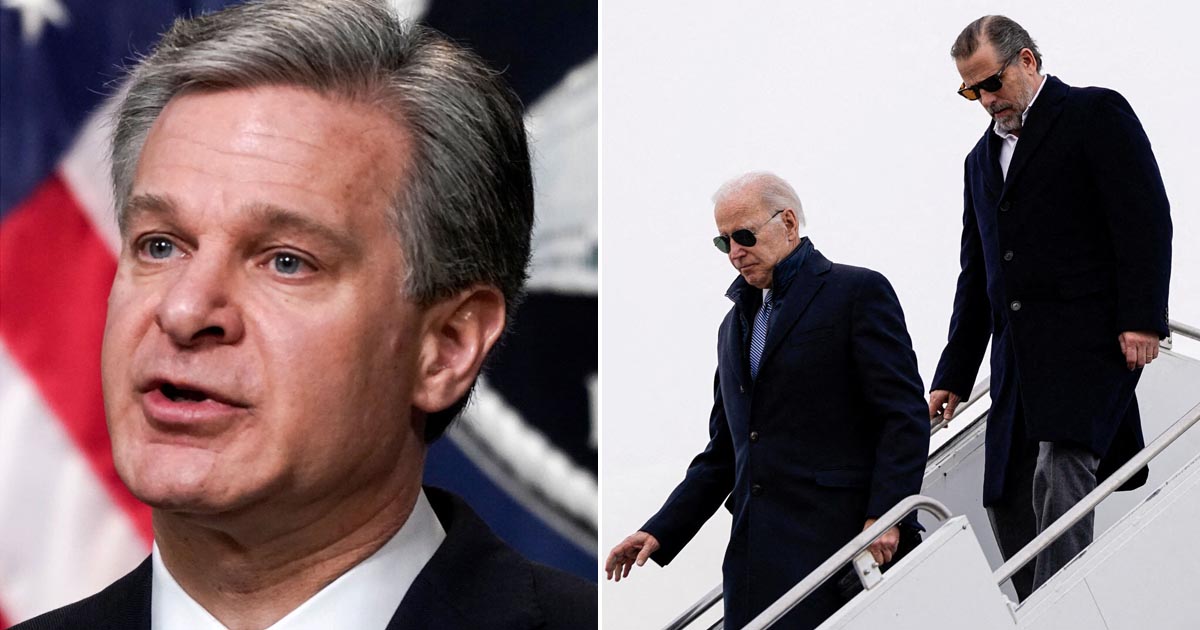 House Republicans are officially starting contempt of Congress charges against FBI Director Chris Wray for failing to turn over Biden 'bribery' document they claim shows then-Vice President Joe Biden was involved in a $5 million 'criminal' scheme with a foreign national.
The escalation comes after the Republican and Democratic leaders of the House Oversight Committee were granted access by the FBI Monday to view the FD-1023 form in a secure facility within the Capitol. The document apparently details an 'arrangement' for an exchange of money for policy decisions.
The Republicans issued a subpoena for the FD-1023 form last month and FBI Director Chris Wray was given a hard deadline of May 30 to hand over the unclassified document, which he did not comply with.
After reviewing the document Monday, Comer told reporters the accusations contained in the form 'suggests a pattern of bribery' consistent with findings the committee has put out publicly.
It's called 'money laundering,' he said, saying it fits within the pattern of over $1 million in Romanian-linked payments to the Biden family revealed last month.
In early May, Republicans released a report digging in on over $10 million received by Biden family members from foreign actors, including previously undisclosed $1 million in Romanian-linked payments, and a 'web' of 20 companies created while President Joe Biden was vice president and pushing anti-corruption efforts abroad.
He also said the FBI record was 'not disproven' and is currently being used in an ongoing investigation that is being conducted by the Department of Justice in Delaware into Hunter Biden's finances.
The 'confidential human source' is a 'trusted, highly credible informant' who has been used by the FBI for over 10 years and has been paid over six figures, continued Comer.
The chairman added that contempt proceedings will begin this Thursday.
'At the briefing, the FBI again refused to hand over the unclassified record to the custody of the House Oversight Committee, and we will now initiate contempt of Congress hearings this Thursday.'
Last week, Comer and Sen. Chuck Grassley, R-Iowa, spoke with Wray by phone and the FBI director offered to let them and Ranking Member Rep. Jamie Raskin, D-Md., view the documents at the FBI headquarters in an attempt to stave off the contempt threat.
The FBI confirmed to DailyMail.com last week that it would allow committee leadership to view the document.
'During today's call, Director Wray offered to provide the Committee's Chairman and Ranking Member an opportunity to review information responsive to the subpoena in a secure manner to accommodate the committee, while protecting the confidentiality and safety of sources and important investigative sensitivities,' said the FBI in a statement.
'The FBI has continually demonstrated its commitment to working with the Committee to accommodate its request, from scheduling briefings and calls to now allowing the Chair to review information in person. The FBI remains committed to cooperating with the Committee in good faith.'
Comer also informed Wray that he was also narrowing the breadth of the subpoena for the document by providing two additional terms that may be referenced in the record: 'June 30, 2020' and 'five million.'
Raskin blasted the Republicans' handling of the document in a reporter gaggle following Monday's briefing, calling it 'second-hand hearsay.'
He said former U.S. Attorney Scott Brady for the Western District of Pennsylvania and then-Attorney General Bill Barr did not find any reason to escalate the investigation into all 'allegations related to Ukraine' based on the FD-1023 form.
'I am just surprised that my colleagues want to try to litigate this in public, much less hold the Director of the Federal Bureau of Investigation in contempt for complying with the request when there was a whole process that was undertaken, and that process came to its natural end as I understand it,' Raskin said.
He would not directly confirm that the foreign national alleged in the memo being sought by Republicans is from Ukraine.
Raskin did agree with his Republican colleagues that the whistleblower is considered 'credible.'
The White House has also pushed back, calling the Republican-led investigation 'unfounded' and 'politically motivated.'
Last week, House Speaker Kevin McCarthy backed up Comer's contempt threat – saying he is 'prepared' to move forward with the charge.
'We have jurisdiction over the FBI, which they seem to act like we do not,' said McCarthy.
The FBI's latest stonewalling also comes after a second IRS whistleblower came forward, claiming he was sidelined from the Hunter Biden probe when he spoke up about the president's son getting preferential treatment.
The case agent, who has not been identified, says he was fired recently without any explanation after working on the Hunter Biden investigation since 2018, according to documents sent to congressional leaders obtained by DailyMail.com.
This is the second whistleblower to come forward in recent days on the matter.
According to documents, he informed Congress last week about backlash he suffered for acting as a whistleblower and alleged unfair retaliatory treatment.
He sent an email in recent weeks to senior IRS Commissioner Daniel Werfel and several other officials alleging that he was ousted for raising concerns that the Department of Justice was 'acting inappropriately' in its handling of the investigation into the president's son.
His complaint comes days after the Department of Justice removed the entire team probing Hunter Biden's tax returns, according to attorneys representing an initial supervisory whistleblower – Gary Shapley.
Shapley testified before the GOP-led Ways and Means Committee for six hours and answered all questions from both Republicans and Democrats, DailyMail.com learned.