Several Republican lawmakers plan to attend the annual meeting of the controversial World Economic Forum next week in Davos, Switzerland.
The World Economic Forum draws many of the most powerful government officials and corporate leaders on the planet for its yearly conference, where speakers promote an array of global initiatives that conservatives say infringe on mankind's fundamental liberties. The group, which is led by German economist Klaus Schwab, is a leading proponent of stakeholder capitalism, an approach to investing that says executives must consider the needs of employees, communities, and other parties in addition to shareholders, and the use of corporate power to advance political agendas in the global economy.
The event includes a panel regarding the "reshaped legislative landscape in the United States as it relates to domestic and foreign policy." Governor Brian Kemp (R-GA) and Rep. Maria Elvira Salazar (R-FL) will speak alongside Governor J.B. Pritzker (D-IL), Sen. Chris Coons (D-DE), Sen. Joe Manchin (D-WV), Sen. Kyrsten Sinema (I-AZ), and Rep. Mikie Sherrill (D-NJ).
Kemp, who decisively won reelection at the end of last year, will "share with leaders how the state of Georgia's long record of conservative governance, protecting individual liberty, and championing opportunity can serve as a model for economic success across the country and around the world," a spokesperson remarked in a statement to Georgia Public Broadcasting.
Other public figures from the United States planning to attend the event include Rep. Darrell Issa (R-CA), Sen. James Risch (R-ID), and Rep. Mike Gallagher (R-WI), as well as Governor Gretchen Whitmer (D-MI), Sen. Maria Cantwell (D-WA), Rep. Seth Moulton (D-MA), and Rep. Greg Meeks (D-NY), according to a list of speakers posted by the World Economic Forum.
A statement from Issa criticized many policies advanced by the World Economic Forum and said the lawmaker would attend the event despite his disagreements with many attendees. "No conservative should be unwilling to go where progressive activists, world leaders, and the mainstream media are gathered and tell them when they are wrong," Issa commented. "Anyone who thinks Darrell Issa would go anywhere overseas and not have America's back doesn't know him at all," Issa communications director Jonathan Wilcox told The Daily Wire in a separate statement.
A spokesman from Salazar's team told The Daily Wire that she "was invited to participate in a bipartisan congressional delegation to this year's World Economic Forum to ensure American interests are protected," adding that "she will highlight American exceptionalism and opportunities available under a free-market economy."
The Daily Wire reached out to the other aforementioned Republican lawmakers for comment. This article will be updated with any response.
Several officials from the Biden administration, including Special Presidential Envoy for Climate John Kerry, Trade Representative Katherine Tai, Labor Secretary Marty Walsh, USAID Administrator Samantha Power, and Director of National Intelligence Avril Haines, also plan to attend the conference. The Biden administration has partnered with the World Economic Forum through the First Movers Coalition, a "public-private partnership to commercialize clean technologies through advance purchase commitments."
The World Economic Forum conference will "reaffirm the value and imperative of dialogue and public-private cooperation, not only to navigate the current cascading crises but, more importantly, to drive tangible, system-positive change for the long term," according to the event's website. The conference will feature discussions about renewable energy, economic challenges such as record inflation, and tensions arising from the Russian invasion of Ukraine. Kerry will speak on a panel about public and private actors using "the power of catalytic philanthropy" for climate investments, while Whitmer is scheduled to discuss the future of global manufacturing.
"Energy transition and climate change are inextricably linked, with its impact being felt in recent months. While a global energy transition is under way, further action is needed to reduce carbon emissions and mitigate the effects of climate change," the website said. "Critical measures to accelerate energy transition include decoupling economic growth from energy consumption, particularly in emerging economies, mainstreaming breakthrough technological innovations and addressing equity."
Schwab, who has led the controversial organization for decades, garnered worldwide notoriety for suggesting that the lockdown-induced recession presents an opportunity for elites to craft a "Great Reset" of the planet's economic and social systems. The three components of the plan are governments promoting "fairer outcomes" in the marketplace, channeling investments toward "equality and sustainability" efforts such as those promoted through the ESG movement, and using medical technology to address "health and social challenges."

⬇️ Top Picks for You ⬇️
Pro-Life Father Arrested by FBI Acquitted on Federal Charges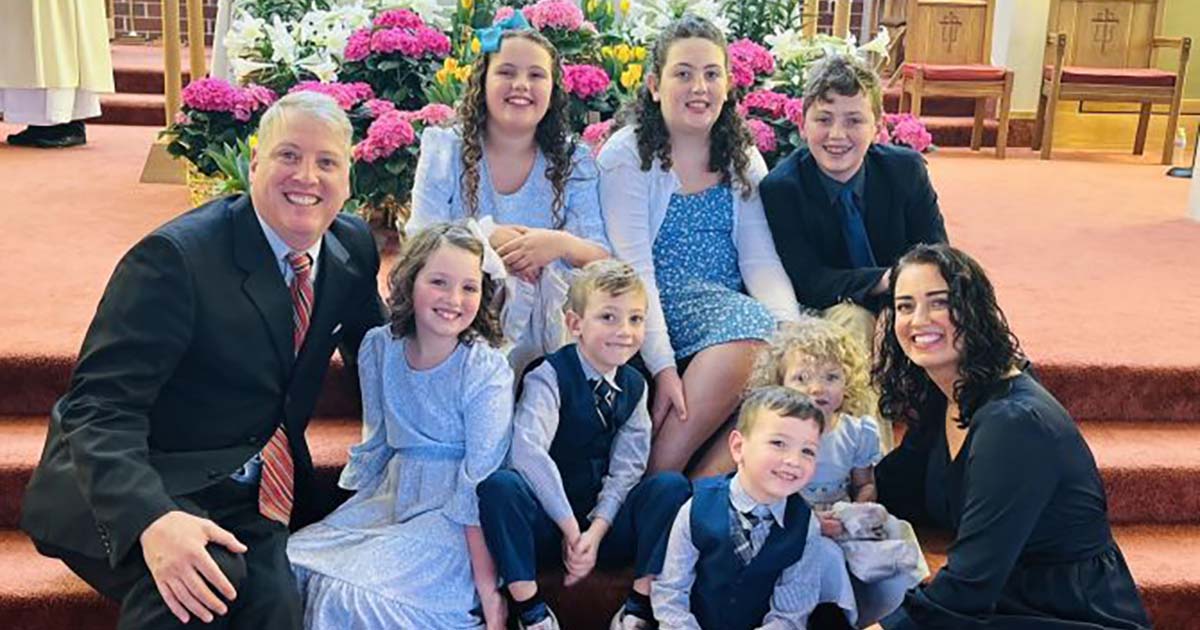 A Catholic pro-life activist facing 11 years in prison for allegedly violating a federal law prohibiting people from blocking others from entering an abortion clinic was acquitted on Monday following a week-long trial.
Mark Houck leads a nonprofit group that counsels women outside of abortion clinics in Philadelphia, Pennsylvania. He was providing sidewalk counseling when, the Department of Justice says, he assaulted an abortion escort twice "because he was a volunteer reproductive health care clinic escort."
"Assault is always a serious offense, and under the [Freedom of Access to Clinic Entrances] FACE Act, if the victim is targeted because of their association with a reproductive healthcare clinic, it is a federal crime," U.S. Attorney Jacqueline Romero said in a DOJ press release. "Our Office and the Department of Justice are committed to prosecuting crimes which threaten the safety and rights of all individuals."
The FACE Act makes it a federal crime to injure, intimidate, or interfere with anyone due to their status as a provider of reproductive health care.
Houck and his attorneys at the Thomas More Society argued, however, that this was "a political prosecution" meant to "send a message" to pro-life Americans.
"And what's clear from the Department of Justice at its highest levels, which is directing this case, [is] that they are trying to send a message to pro-life and people of faith: 'Don't mess with us,'" Thomas More Society vice president Peter Breen told Fox News. "They want to intimidate — they want to cause good people like Mark to stop praying and counseling at the abortion clinics of our country. And that's not going to happen."
Breen told the outlet that the case was thrown out of state court but revived by the Biden administration nearly a year after the incident. Further, Breen said, some 20 FBI agents raided Houck's home when they arrested him, treating him "as if he was a drug lord or a mafia boss."
"If he was truly a danger to the community, they wouldn't have waited a year to prosecute," Breen said. "Serious questions need to be asked of the attorney general. What was he thinking? Why did they do this obscene show of force against a peaceful pillar of the community?"
Houck's lawyers also argued that the DOJ's claim that the FACE Act protects anyone associated with an abortion clinic is inaccurate.
"The FACE Act was never intended to cover disputes between advocates on the public sidewalks outside of our nation's abortion clinics," Breen said in a statement earlier this month. "This new evidence shows clearly that Congress intended to limit the FACE Act to patients and staff working in the clinic, and not to take sides between pro-life and pro-choice counselors and escorts on the sidewalk. The Biden Department of Justice's prosecution of Mark Houck is pure harassment, meant solely to intimidate our nation's pro-life sidewalk counselors who provide vital resources to help pregnant women at risk for abortion."
Houck pleaded not guilty to the charges against him and testified at trial that he and the clinic escort, Bruce Love, had two altercations on the day in question. The first occurred while Houck was counseling two women crossing the street who left Planned Parenthood, Catholic News Agency reported. Love allegedly chased Houck about 100 feet in an attempt to stop him from counseling the women, Life News reported. Houck claimed that Love surprised and made contact with him, causing him to ask, "What are you doing?" and reflexively elbow the escort in the hip to move him out of the way. The prosecution argued that Houck elbowed Love unprovoked because of his status as a clinic escort.
After this, Houck said Love left the clinic and stood near Houck's 12-year-old son while taunting Houck Sr., saying, "You're hurting women. You don't care about women."
Houck said Love also repeatedly disparaged him to his son, who testified on Friday that Love stood about an arm's length away from him near the clinic.
"I moved away… because I was scared," the younger Houck testified, adding that Love told him, "Your dad's a bad person. Your dad's harassing women."
It was after Houck repeatedly told Love to stop harassing his son that Houck said he pushed Love away.
The jury deadlocked on Friday after two-and-a-half hours of deliberation, telling U.S. District Judge Gerald Pappert that they didn't think they could come to a conclusion given more time. Pappert sent the jury home but instructed them to return Monday morning and continue deliberations anyway.
On Monday, the jury acquitted Houck. Following the verdict, Breen released a statement condemning the Biden administration for pursuing his client.
"We are, of course, thrilled with the outcome," Breen said. "Mark and his family are now free of the cloud that the Biden administration threw upon them. We took on Goliath – the full might of the United States government – and won. The jury saw through and rejected the prosecution's discriminatory case, which was harassment from day one. This is a win for Mark and the entire pro-life movement. The Biden Department of Justice's intimidation against pro-life people and people of faith has been put in its place."