Former President Trump was indicted in Georgia late Monday night on 13 charges ranging from making false statements and impersonating a public officer to conspiracy and racketeering — a charge generally reserved for organized crime.
Eighteen Trump lawyers, advisers and affiliates are charged alongside the leading GOP 2024 hopeful in the most wide-ranging indictment he's yet to face. Each of them face the racketeering charge, linking the multitude of alleged crimes together.
The shared charge alleges the defendants participated in a "criminal enterprise in Fulton County, Georgia — and elsewhere — to accomplish the illegal goal" of keeping Trump in office, Fulton County District Attorney Fani Willis (D) said Monday.
Here's what to know about the other 18 people charged with Trump in the Georgia probe.
High-ranking Trump officials
Mark Meadows
Former White House chief of staff Mark Meadows and the other 18 indicted individuals face racketeering charges under Georgia's Racketeer Influenced and Corrupt Organizations (RICO) Act, a charge usually reserved for organized crime.
Last year, Meadows was ordered by a judge to to speak before the Georgia special grand jury. Ahead of the Jan. 6, 2021, Capitol attack, he joked about false claims of voter fraud via votes cast by dead people, according to the Washington Post.
But after Jan. 6, the former chief of staff went largely off the grid, particularly amid damning testimony of his actions that day, causing some to speculate he has played a role in special counsel Jack Smith's federal investigation into Trump's actions after losing the 2020 election.
Meadows also faces a charge of solicitation of violation of oath by a public officer.
Trump attorneys
John Eastman
Trump lawyer John Eastman engineered the legal strategy Trump and his allies allegedly used to try to overturn the 2020 election results.
The strategy relied on slates of fake electors in battleground states — including Georgia — to swing the election's outcome in Trump's favor, and on then-Vice President Mike Pence to toss out the real electors.
Eastman faces nine charges stemming from that plot. They range from conspiring to commit false statements and writings, and forgery, to state RICO charges.
In California State Bar court filings, Eastman indicated that he expects to be federally charged in connection with those efforts. He's also been identified as a possible co-conspirator in the federal Jan. 6 case.
Kenneth Chesebro
Lawyer Kenneth Chesebro, a key coordinator of the fake electors plan, faces seven charges in connection with efforts to keep Trump in power.
He became involved with the Trump campaign first through its legal efforts in Wisconsin, another state where fake electors met. He drafted several memos devising a strategy for the plot, including ideas for how the fake electors could mimic the real ones.
He has also been identified as a possible co-conspirator in Trump's federal Jan. 6 case.
Rudy Giuliani
Rudy Giuliani, Trump's personal attorney and longtime ally, played a key role in Trump's post-election efforts and, like Trump, faces 13 charges.
The former New York City mayor faces six charges in connection with a scheme to submit the false slate of pro-Trump electors and the racketeering charge.
The indictment takes aim at three Georgia state Legislature committee hearings at which Giuliani and other Trump allies appeared and promoted false claims of mass electoral fraud.
For each hearing, Giuliani is charged with a count of soliciting lawmakers to violate their oaths of office by encouraging them to help send a slate of Trump electors, and a count of making false statements.
Giuliani has also been identified as a possible target of Smith's federal Jan. 6 probe.
Jenna Ellis
Jenna Ellis, a Trump-aligned attorney, faces two charges.
Beyond the racketeering charge, she is also charged with soliciting a public officer to violate their oath in connection with her attendance at a Dec. 3 Georgia Senate Judiciary Subcommittee hearing, the first of the three.
Ray Smith
Ray Smith was a member of Trump's legal team in Georgia who appeared at all three of the hearings.
He played an extensive role, both speaking to lawmakers himself and questioning some of the Trump team's witnesses. In connection with the hearings, Smith faces three counts of soliciting a public officer to violate their oath and two counts of making false statements.
He also faces six counts in regard to the scheme to submit a false slate of electors, including counts of forgery, two false statement charges and multiple conspiracy counts.
Jeffrey Clark
Jeffrey Clark, though not a lawyer for the Trump campaign, was tapped by Trump to fulfill a vital role — planning to appoint the Justice Department (DOJ) attorney as attorney general for the DOJ, so he could launch an investigation into his baseless claims of election fraud.
Clark was fixated on sending a letter to Georgia authorities asking them to hold off on certifying their election results while the department investigated.
Like the others, Clark is charged under RICO, but he also faces an additional charge for criminal attempt to commit false statements and writings.
The indictment includes text of the correspondence, pointing to the line that the DOJ had "identified significant concerns that may have impacted the outcome of the election in multiple states, including the State of Georgia," as the basis for the charge.
Robert Cheeley
Robert Cheeley, an attorney, faces 10 charges in connection with the alleged plot, including the sole perjury charge on the indictment.
A proponent of Trump's false election fraud claims, Cheeley is accused of "knowingly, willfully and unlawfully" making at least one false statement to the Fulton County special purpose grand jury in connection with the fake electors scheme and his communications with Eastman.
Cheeley's other charges are tied to the fake electors plot.
Trump staffers and allies
Michael Roman
Michael Roman served as director of Election Day operations for Trump's 2020 reelection campaign, according to the Philadelphia Inquirer.
The senior Trump campaign staffer faces seven charges in connection with the fake elector scheme, for which he allegedly helped coordinate logistics.
Stephen Lee
Stephen Lee is charged with influencing witnesses by allegedly traveling to the home of Georgia election worker Ruby Freeman on Dec. 14 and Dec. 15 and trying to influence her testimony.
Lee is also accused of soliciting the help of Harrison Floyd in his efforts after becoming concerned that Freeman was afraid to talk to Lee because he is a white man.
Harrison Floyd
A leader of Black Voices for Trump, Harrison Floyd allegedly tried to convince Fulton County election worker Ruby Freeman to make false statements about election operations on Election Day 2020, under the guise of offering her help.
He is charged with racketeering, influencing witnesses and conspiring to solicit false statements and writings.
Trevian Kutti
Trevian Kutti, a former publicist for rapper Ye, previously known as Kanye West, is charged in connection with pressuring Freeman to make false statements about her role in helping administer the election.
Her involvement prompted charges for influencing witnesses as well as conspiracy to commit solicitation of false statements and writings.
Fake electors
Sixteen pro-Trump individuals met in the state capitol Dec. 14 and signed documents purporting to be Georgia's presidential electors, despite Joe Biden's victory. Three of the individuals were charged. Some were previously known to have accepted immunity deals.
Shawn Still
Shawn Still was a Georgia Republican Party official who signed the Electoral College documents.
Still had served as the state party's finance chairman and is now a sitting state senator. He is charged with seven counts, including impersonating a public officer, forgery, false statements and attempting to file false documents.
David Shafer
David Shafer, who served as the chairman of the Georgia Republican Party, was another individual who signed the documents.
He faces the same charges as Still, and an additional count of making false statements.
Beyond his alleged involvement in the electors scheme, Shafer is accused of lying to Fulton County prosecutors during a April 25, 2022, interview by saying he didn't call the other fake electors to notify them of the state capitol meeting and indicating that a court reporter was not present at the meeting.
Coffee County breach
The indictment in part focuses on a Jan. 7, 2021, breach at an elections office in Coffee County, a rural area south of Atlanta. Footage that surfaced in September 2022 showed a forensics team working for Sidney Powell, an attorney allied with Trump, gaining access to the office that day and copying data from voting machines.
Sidney Powell
Beyond RICO charges, Sidney Powell is one of the handful of Trump associates to be charged with violating Georgia election law statutes, conspiracy to commit election fraud.
Much of that stems from Powell's involvement in accessing voting equipment in Coffee County. Forensics experts copied the data from the county, using it to create a website that could be accessed by those looking for election issues.
That likewise sparked charges for conspiracy to commit computer theft, conspiracy to commit computer trespass, and conspiracy to commit computer invasion of privacy.
Powell is also charged with conspiracy to defraud the state, detailing it as theft of data as voter data is "property which was under the control of Georgia Secretary of State Brad Raffensperger."
Cathy Latham
Cathy Latham, a retired teacher, served as the chairwoman of the Coffee County Republican Party and was spotted on surveillance footage welcoming employees of technology solutions firm SullivanStrickler — which was allegedly paid by Powell — into the county's elections office on the day of the breach.
Latham was also one of the 16 pro-Trump individuals who signed documents purporting to be Georgia's presidential electors.
Misty Hampton
Misty Hampton, Coffee County's election supervisor, posted a viral video claiming Dominion Voting System machines could be manipulated, according to the Washington Post.
According to CNN, she allegedly helped facilitate an early January 2021 voting system breach in Coffee County by sending a "written invitation" to some of Trump's attorneys. In addition to a racketeering charge, she faces six charges connected to that effort.
Scott Hall
Scott Hall, who owns a bail bond business, was reportedly another one of the individuals Latham welcomed into the election office on Jan. 7. He faces six charges linked to that effort, plus the racketeering charge.

⬇️ Top Picks for You ⬇️
"Allahu Akbar": Paris Attack Near Eiffel Tower Leaves One Dead and Two Injured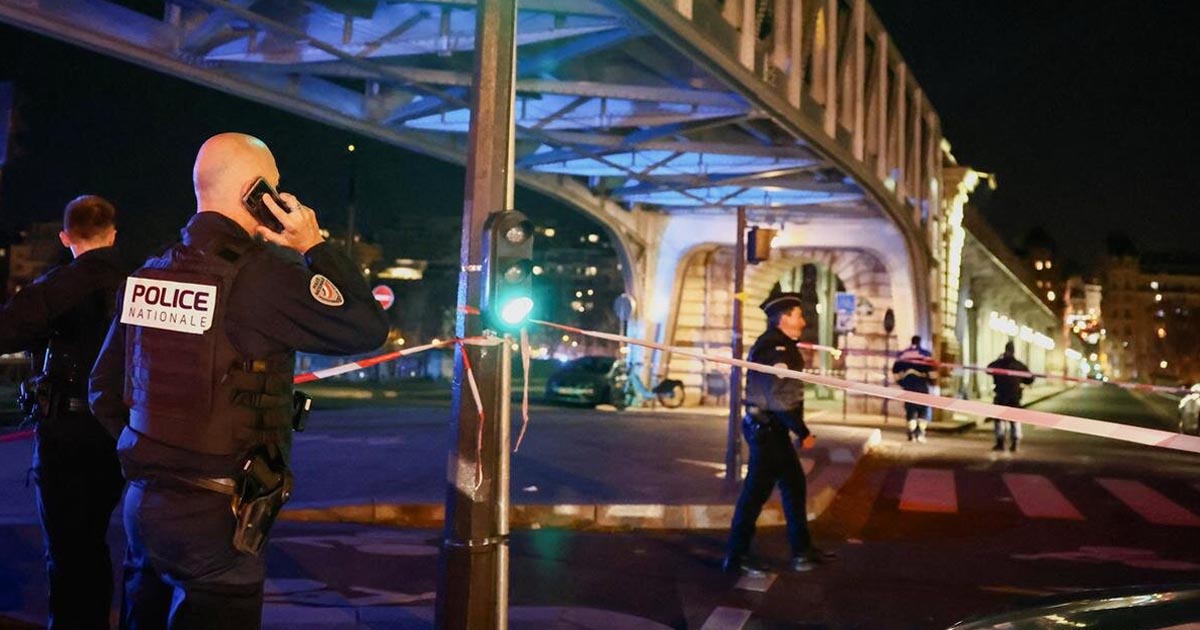 A tourist has been stabbed to death while a British man is reportedly among two others badly injured after a knifeman screaming 'Allahu Akbar' launched a frenzied attack in central Paris last night.
Witnesses reported hearing people screaming for 'help' as they ran away from the hammer and knife-wielding man.
One victim, a tourist with dual German and Filipino nationality, was slashed in the back and shoulder by the attacker last night. The man, who had not been named, was found in cardiorespiratory arrest before he passed away.
The second victim of the attack was British, and was out walking with his wife when Armand R. attacked him from behind.
'The family were on the Avenue President Kennedy when they were set upon,' said an investigating source, who added: 'A hammer was used to hit the man over the head.'
The Englishman was rushed to hospital, where his condition was later described as 'stable'. A third victim was also badly hurt in a hammer attack, said the source.
Sources said the arrested man was 'immobilised with an electric stun gun' as he ran up the Avenue du Parc de Passy – as French prime minister Elisabeth Borne vowed: 'We will not give in to terrorism. Never.'
The bloodbath happened on the Grenelle quay, close to the Eiffel Tower in the 15th arrondissement of the French capital.
Joseph S., 37 years old, a supermarket manager who asked not to give his last name, was sat in a bar when he heard screams and people shouting 'help, help' as they ran.
A man wielding an object attacked a man who had fallen down, and within 10 minutes the police arrived, he told AFP.
The Paris prosecutor's office said the attacker is French and was born in 1997, and has been arrested in an investigation into murder and attempted murder. The anti-terrorism prosecutor's office has been put in charge of an investigation.
The suspect had already been sentenced to four years in prison in 2016 for planning another attack, French Interior Minister Gerald Darmanin revealed.
'A man attacked a couple who were foreign tourists. A German tourist who was born in the Philippines died from the stabbing,' he said.
A taxi driver who witnessed the scene intervened, Darmanin said. The attacker then crossed the Seine attacking others and injuring one with a hammer, while police chased in pursuit.
'He had threatened them very violently… he will now have to answer for his actions before justice,' Darmanin said.
The attacker was reportedly known to police for 'radical Islamism'. He was on an 'S-File' which means he should have been under surveillance, after telling people that he wanted to die as a martyr.
A police source said that the attacker was known for psychiatric disorders and had said he could not stand Muslims being killed in the world. It's understood he was upset about the situation in Gaza between Israel and Hamas.
In 2016, he was arrested by the French national security agency before carrying out an attack.
Interior Minister Gerald Darmanin confirmed last night that one person died and another was injured. The minister wrote on X: 'The police have just courageously arrested an assailant attacking passersby in Paris, around the Quai de Grenelle.
'One deceased person and one injured person treated by the Paris fire brigade. Please avoid the area.'
French President Emmanuel Macron on Saturday said he was sending his condolences to the family of a German killed in a 'terror attack' in Paris.
The suspected attacker was 'quickly' arrested and justice should now be done 'in the name of the French people', he wrote on X.
Transport Minister Clement Beaune said that Paris was 'in mourning'. He wrote on X: 'Thoughts and solidarity with the families and loved ones of the victims. Thank you to our security and emergency forces for their rapid and decisive intervention.'
The attacker was arrested soon afterwards, and is currently in custody and facing a possible murder charge.
Officers said there was no early indication as to the motive of the stabbing, but it follows a series of bomb, gun and knife attacks carried out by Islamic State and al-Qaeda operatives in France, dating back to early 2015 – many of whom have shouted 'Allahu Akbar' while carrying out their crimes.
The deadliest single terrorist attack ever in the country came in November 2015 when 130 people were killed in Paris.
Suicide bombers pledging allegiance to ISIS targeted the Stade de France, cafes, restaurants and the Bataclan music venue, where 90 died.
Earlier in the year, two Paris-born gunmen linked to Al-Qaeda broke into the offices of the Charlie Hebdo satirical magazine, leaving 17 people dead inside and three outside.
In July 2016, 86 people were called and more than 400 injured when a 19 tonne truck was deliberately driven into crowds on the seafront promenade at Nice, which is just 20 miles from Cannes.
The terrorist turned out to be a Tunisian immigrant who was shot dead by police.
During the same month, two Isis terrorists murdered an 86-year-old Catholic priest during a church service in Normandy.
And in October 2020, three people were stabbed to death by a Tunisian immigrant in the Notre Dame basilica in Nice.
There have also been frequent knife attacks on the forces of law and order, leading to the deaths of serving police.
Saturday night's incident in central Paris occurred less than eight months before the French capital hosts the Olympic Games and could raise questions about security at the global sporting event.
Paris plans an unprecedented opening ceremony on the Seine river that may draw as many as 600,000 spectators.