Senate Majority Leader Chuck Schumer (D-NY) accepted more donations in the last election cycle from BlackRock and individuals affiliated with the firm than any other member of Congress.
The connection between the lawmaker and the asset management company was noted by the American Accountability Foundation, a non-profit government oversight and research organization, after Schumer rebuked efforts to scrap a Labor Department rule that would allow retirement fiduciaries to allocate funds in accordance with the environmental, social, and corporate governance movement, also known as ESG. Both the House and Senate passed a resolution opposed to the rule, which President Joe Biden is expected to veto.
BlackRock is a leading proponent of the ESG movement, which critics say mingles political and social causes such as decreasing carbon emissions and achieving racial diversity in a manner that compromises or distracts from profitability. Schumer nevertheless accepted $103,950 from individuals associated with BlackRock and $10,000 from a political action committee controlled by the company, according to data compiled by OpenSecrets.
"ESG opponents are trying to turn it into a dirty acronym, deploying attacks they've used for elements of a so-called woke agenda," Schumer said on social media this week as the resolution moved through Congress. "They call ESG wokeness. They call it a cult. They call it an incursion into free markets. I say ESG is just common sense."
Candidates from both parties benefit from BlackRock money, with Republicans getting $639,000 and Democrats getting $453,000 in the most recent midterm election cycle. Sen. Lisa Murkowski (R-AK) and Sen. Raphael Warnock (D-GA) were the second and third-largest individual recipients of funds from BlackRock and individuals associated with BlackRock.
A previous Labor Department rule established by the Trump administration prohibited retirement fund managers from "selecting investments based on non-pecuniary considerations" and required them to "base investment decisions on financial factors" alone. Under the new rule from the Biden administration, which reverses the prohibition on ESG investments for retirement fiduciaries, investment managers are allowed to weigh "the economic effects of climate change and other ESG considerations" as long as they are relevant to a risk-and-return analysis.
Members of the House voted 216-204 in favor of a resolution to scrap the rule, while members of the Senate approved the resolution 50-46. Sen. Jon Tester (D-MT), Sen. Joe Manchin (D-WV), and Rep. Jared Golden (D-ME) voted with Republicans to advance the measure, which was introduced by Sen. Mike Brain (R-IN) and Rep. Andy Biggs (R-AZ).
Schumer meanwhile contended in an opinion piece for the Wall Street Journal that Republicans are inconsistent with their own principles by opposing the new rule. "Republicans talk about their love of the free market, small government and letting the private sector do its work," he wrote. "But their obsession with eliminating ESG would do the opposite, forcing their own views down the throats of every company and investor. Republicans would prevent investors from adapting to the future, for their own good and the good of the country."
Schumer also asserted that ESG investments "minimize risk and maximize their clients' returns" and are used by "America's most successful asset managers and financial institutions." The claim occurs after ESG funds suffered amid last year's underperformance in the technology sector, which ESG managers tend to favor because of their emphasis on corporate social responsibility, and overperformance in the energy sector, which ESG managers tend to shirk because of their avoidance of industries with heavy carbon emissions.
BlackRock's assets under management declined from $10 trillion in the fourth quarter of 2021 to $8.6 trillion in the fourth quarter of 2022, according to the firm's most recent earnings report. Executives introduced the first mass layoffs at BlackRock in four years.

⬇️ Top Picks for You ⬇️
Biden Got Recurring $1,380 Payment from Hunter's Firm Starting in 2018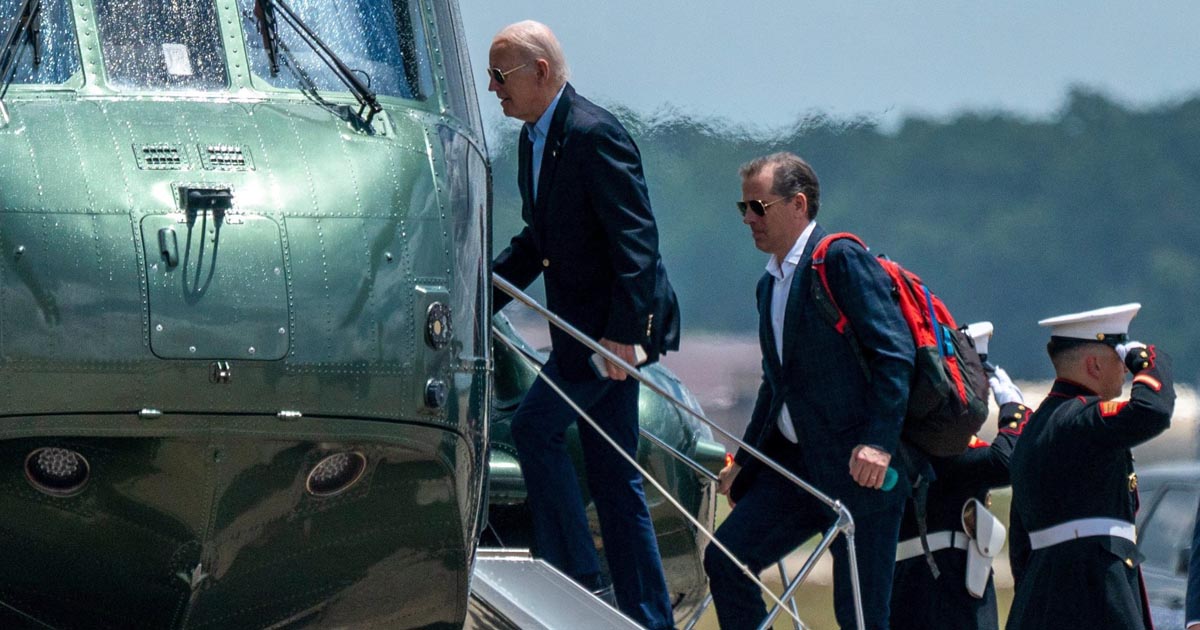 President Biden received a recurring payment of $1,380 from his son Hunter's law firm beginning in late 2018 shortly after a bank money laundering officer warned that the same account was receiving millions of dollars in Chinese government-linked funds without "any services rendered."
A bank order shows that Owasco PC set up a "monthly" transfer to then-former Vice President Joseph R. Biden Jr., with a voided check for the future president included in the documentation, which was released Monday by the House Oversight Committee.
A source told The Post that at least three recurring payments were made — on Sept. 17, Oct. 15 and Nov. 15, 2018 — totaling $4,140 to the elder Biden from Owasco PC, according to the bank records of the firm.
"President Biden and his family must be held accountable for this blatant corruption," Oversight Committee Chairman James Comer (R-Ky.) said in a video release.
"Today, the House Oversight Committee is releasing subpoenaed bank records that show Hunter Biden's business entity, Owasco PC, made direct monthly payments to Joe Biden. This wasn't a payment from Hunter Biden's personal account but an account for his corporation that received payments from China and other shady corners of the world," Comer said.
"At this moment, Hunter Biden is under an investigation by the Department of Justice for using Owasco PC for tax evasion and other serious crimes. And based on whistleblower testimony, we know the Justice Department made a concerted effort to prevent investigators from asking questions about Joe Biden. I wonder why?"
Earlier that year, a January 2019 email from assistant Katie Dodge to Hunter Biden annotated various expenses including "Ford Raptor — Reimbursement to JRB — $1380."
The provenance of the funds is unclear, however, and additional records show that Hunter Biden was knee-deep in two of his most controversial business relationships at the time, with Ukraine's Burisma Holdings and CEFC China Energy.
The evidence emerged as House Republicans prepare to question first brother James Biden on Wednesday and Hunter next week about the president's role in his family's dealings in countries such as China and Ukraine — with a possible floor vote to authorize the ongoing impeachment inquiry this month.
While a presidential candidate, Joe Biden denied that he ever discussed business with his relatives, but evidence has since shown that he met with his relatives' associates from both the Burisma and CEFC ventures.
Documents from the first son's abandoned laptop show that Burisma board adviser Vadym Pozharskyi sought "bank reference" information on Sept. 14, 2018 — one day before the initial transfer to Joe Biden was sought. However, the transaction was not executed for another two days, apparently due to a later-than-expected form submission.
Joe Biden met Pozharskyi at an April 17, 2015, dinner at DC's Café Milano. An unproven FBI informant tip said that Burisma owner Mykola Zlochevsky claimed in 2016 he was "coerced" into paying $10 million in bribes to the Bidens for their assistance in ousting prosecutor Viktor Shokin.
Hunter also was on the tail end of disbursing millions of dollars received from CEFC China Energy — one of two major Biden family dealings with Chinese government-linked firms.
On June 26, 2018 — less than three months before Joe Biden began to receive the monthly transfers — an internal Bank Secrecy Act expert warned colleagues that the institution should reconsider its relationship with Hunter as a result of Owasco PC seeming to receive Chinese funds without "any services rendered."
CEFC transferred $5 million to another Biden family-linked entity, Hudson West III, in August 2017 after Hunter warned a China-based associate of his father's wrath if a business deal was aborted. Much of the large transfer later went to Hunter's Owasco PC.
Prior bank records released by the Oversight Committee indicate that Joe Biden received payments of $40,000 and $200,000 from his brother James, who also was involved in the CEFC venture and other foreign-focused enterprises.
Comer alleged that the $40,000 transferred to Joe Biden's bank account on Sept 3, 2017, was from "laundered" Chinese funds.
James Biden paid Joe Biden $200,000 on March 1, 2018 — the same day that James received a $200,000 transfer from troubled rural hospital company Americore after pledging to use his political connections to secure a Middle Eastern investor, according to bankruptcy filings.
The White House says there's evidence that both transfers were loan repayments, but Republicans argue they have not seen loan agreement documents and note that the funds distributed to James came from a law firm, rather than Joe Biden himself, further clouding the picture.