President Joe Biden will deliver his second State of the Union address tonight, and aims to promote "unity," eschew partisan attacks, tout his successes and make some policy announcements, according to Politico.
This year, instead of Nancy Pelosi standing over his shoulder, a new Republican Speaker of the House, Kevin McCarthy, will do so instead, reminding the nation of the shift in leadership, Politico reported. Those close to Biden said this year's speech aims to deliver a traditional, unifying address, without the usual rhetoric of a campaign-like speech.
Biden's speech "explains in very plain terms to Americans watching at home exactly what we have gotten done," an individual close to the administration told Politico.
The speech will address the administration's accomplishments. The White House said their successes include lowering inflation and unemployment, as well as economic growth, and plans to also highlight bipartisanship in Congress to help achieve them.
Phrases like "MAGA Republicans" and other language critical of the GOP will not be a part of the State of the Union, the official told Politico, which comes after McCarthy's meeting with Biden last week. McCarthy told Politico he expressed to the president that it wouldn't be "appropriate" to include that sort of rhetoric.
Biden rehearsed his speech over the weekend at Camp David with top officials from his administration, according to Politico.
In last year's State of the Union, Biden made promises to help Ukraine in the then newly started war with Russia. He also pledged to take on infrastructure, immigration and abortion rights.
"Together with our allies, we are providing support to the Ukrainians in their fight for freedom. Military assistance, economic assistance, humanitarian assistance. We are giving more than a $1 billion of direct assistance to Ukraine and will continue to aid Ukrainian people as they defend their country and help ease their suffering," Biden said in his first State of the Union.
Several Republicans have already criticized what they believe will be included in the president's address tonight. Republican Rep. Jim Jordan of Ohio questioned in a tweet the strength of the union when the president allowed an alleged Chinese spy balloon to stay afloat for several days.
"I will not be attending Biden's State of the Union to listen to him lie about the damage he has caused to our country while the left-wing media and members of Congress applaud his lies," Republican Rep. Mary Miller of Illinois said in a tweet.
Arkansas Governor Sarah Huckabee Sanders will deliver the GOP's rebuttal to the State of the Union address directly after the president. Sanders' "Republican Address to the Nation" will be broadcast from Little Rock, Arkansas, and will highlight the current administration's failures, she said.
I'm delivering my second State of the Union address on Tuesday, February 7 at 9 PM ET.

I'll report on the progress we've made together over the last two years and on the state of our nation. Tune in at https://t.co/GPBtrLBCvT. pic.twitter.com/Aq7tcOSc60

— President Biden (@POTUS) February 6, 2023

⬇️ Top Picks for You ⬇️
Biden Dog Bites Another Secret Service Agent; 11th Incident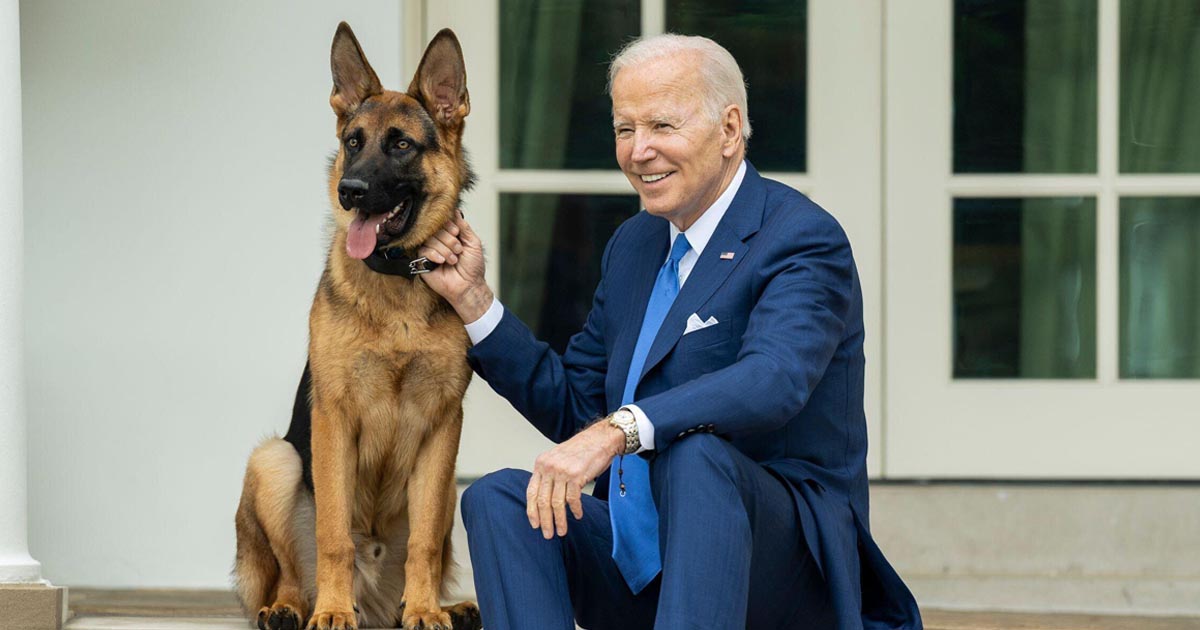 President Joe Biden's younger dog, Commander, bit another US Secret Service agent at the White House Monday evening, CNN has learned, the 11th known biting incident involving the 2-year-old German Shepherd.
"Yesterday around 8 p.m., a Secret Service Uniformed Division police officer came in contact with a First Family pet and was bitten. The officer was treated by medical personnel on complex," USSS chief of communications Anthony Guglielmi told CNN in a statement.
The injured officer spoke with Secret Service Uniformed Division Chief Alfonso M. Dyson Sr. on Tuesday and is doing OK, Guglielmi said.
Commander has been involved in at least 11 biting incidents at the White House and in Delaware, according to CNN reporting and US Secret Service email correspondence, including a November 2022 incident where an officer was hospitalized after the dog clamped down on their arms and thighs.
White House officials said in July that the Bidens were working through new training and leashing protocols for the family pet following the incidents.
Asked by CNN whether the new training had taken place or if any further action would be sought, Elizabeth Alexander, communications director for the first lady, said in a statement that "the First Family continues to work on ways to help Commander handle the often unpredictable nature of the White House grounds."
"The President and First Lady are incredibly grateful to the Secret Service and Executive Residence staff for all they do to keep them, their family, and the country safe," she continued.
Another of Biden's dogs, Major, was involved in biting incidents at the White House. The German Shepherd later moved out of the White House, and Commander arrived at the White House in 2021.
The July email correspondence, obtained through Freedom of Information Act requests by the conservative group Judicial Watch, reflected 10 incidents.
In one incident in October, first lady Dr. Jill Biden "couldn't regain control" of the dog as it charged a member of Secret Service staff.
"I believe it's only a matter of time before an agent/officer is attacked or bit," the staff member warned in an email.
While Secret Service agents are not responsible for the handling of the first family's pets, they can come into frequent contact with the animals.
"This isn't a Secret Service thing. This is a this is a workplace safety issue," CNN contributor and former USSS agent Jonathan Wackrow told CNN.
"There's uniqueness here where it's the residence of the president of the United States, but it's also the workplace for hundreds, thousands of people. And you can't bring a hazard into the workplace. And that's what is essentially happening with this dog. One time you can say it's an accident, but now multiple incidents, it's a serious issue," he added.
Wackrow called it a "significant hazard" for agents on duty at the White House residence.
"I'm sure that the Bidens love the dog. I'm sure that it's a member of the family like every dog is, but you're creating a significant hazard to those who support you – support the office of the president," he said.