A military recruit who was allegedly forced to shower with and sleep alongside two trans-identifying men considered resigning after the situation caused her significant distress, according to a Republican senator.
Senator Mike Rounds (R-SD) said during a congressional hearing last week that he was alerted to the situation by the attorney general of the South Dakota National Guard.
"A young woman in the South Dakota National Guard experienced a situation at basic training where she was sleeping in open bays and showering with biological males who had not had gender reassignment surgery but were documented as females because they had begun the drug therapy process," Rounds said at the July 11 Senate Armed Services Committee hearing.
Rounds said the anonymous 18-year-old recruit was "uncomfortable with her situation but had limited options on how to deal with it."
"If she raised her hand, she feared she'd be targeted for retaliation," Rounds said. "She could have recycled, which would have delayed her freshman college start and would not have provided a guarantee of a different situation. She could request to leave the Guard for religious purposes and not be able to pursue her dream of serving our country."
The committee met for the confirmation hearing of General Charles "CQ" Brown Jr., President Joe Biden's pick for Joint Chiefs of Staff chairman. Rounds asked Brown how he would handle "challenging" situations like this.
"If confirmed as the chairman, how do you propose to handle situations like this, which I truly believe may be impacting recruitment and morale by placing a disproportionate emphasis on gender-related ideology?" Rounds asked.
"Senator, one of the things I've thought about throughout my career, as you're being inclusive, you also don't want to make other individuals uncomfortable," Brown responded, adding that as the military gets feedback like this, "we have to take a look to see if we can improve on how we approach situations like this."
The Justice Department said in a statement that the recruit should raise her concerns with her superiors.
"DoD policy is that all Service members must be treated with dignity and respect. We would encourage any troop who's feeling uncomfortable or has concerns about privacy in shared spaces to work through their chain of command. Commanders may employ reasonable accommodations to respect the privacy interests of Service members," the Pentagon said in a statement to Fox News.
The Army, Navy, and Air Force have all said they expect to miss their recruiting goals by thousands this year.
Over the last few years, the dismal recruitment numbers have prompted the military to develop colorful campaigns to boost recruitment.
Last year, the U.S. Navy hired "Harpy Daniels," an active-duty sailor and drag queen who identifies as non-binary, to be the face of the Navy's campaign to fight dropping recruitment.
In 2021, the U.S. Army released a series of cartoon recruitment ads saturated with themes like advocating for LGBT issues just days after the CIA caught flack for a similarly woke recruitment ad campaign. One of the Army's video ads featured an LGBT rights march and a lesbian wedding.

⬇️ Top Picks for You ⬇️
4th Republican Debate Highlights: GOP Rivals Clash on Stage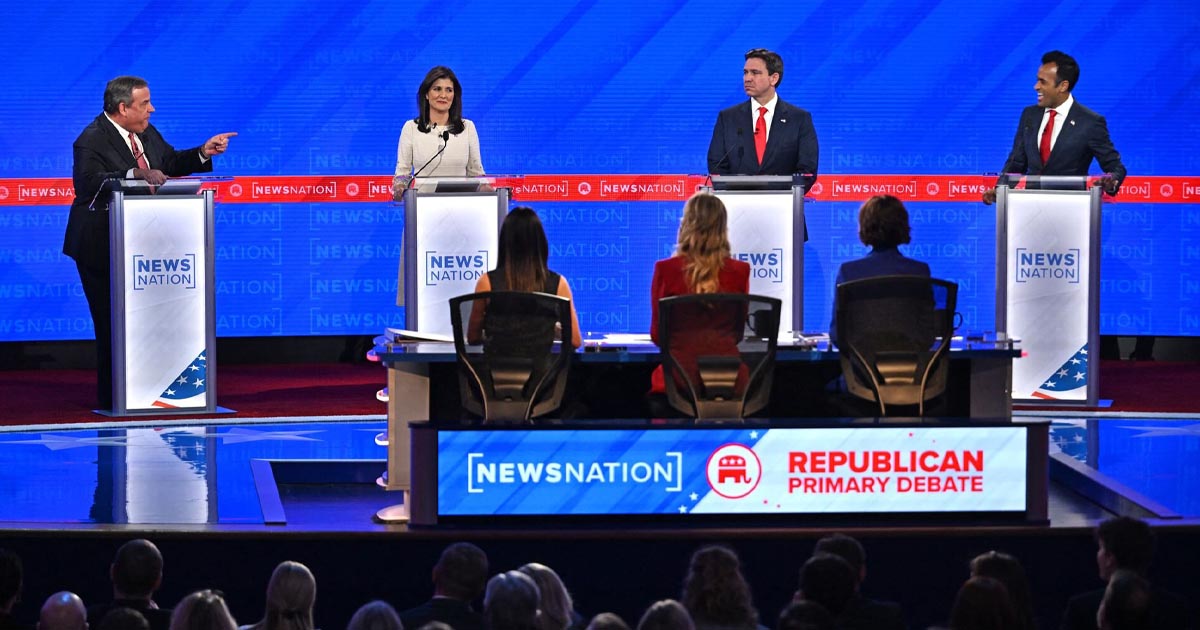 The smallest field yet of GOP candidates faced off Wednesday in the fourth Republican presidential debate of 2023 in Tuscaloosa, Alabama, with the first salvos of the night aimed at former Ambassador to the U.N. Nikki Haley, while former President Donald Trump, who leads the field by a wide margin in the polls, held a closed campaign fundraiser in Florida.
NewsNation hosted the fourth debate with three moderators: NewsNation's Elizabeth Vargas, former Fox News host Megyn Kelly and the Washington Free Beacon's Eliana Johnson.
Four candidates appeared on stage:
Former New Jersey Gov. Chris Christie
Florida Gov. Ron DeSantis
Former U.N. Ambassador Nikki Haley
Businessman Vivek Ramaswamy
The first three debates have not done much to change the dynamics of the race among Republican primary voters. The latest CBS News poll, from early November, showed Trump winning 61% of likely GOP primary voters nationwide, more than all the other candidates combined. DeSantis polled at 18%, Haley at 9%, Ramaswamy at 5%, Sen. Tim Scott at 4% and Christie at 2%.
Here are the highlights from the debate below.
DeSantis and Ramaswamy team up to attack Haley: "I love all the attention, fellas"
DeSantis and Ramaswamy were quick to take shots at Haley, who is rising in the polls as the race for second place heats up.
"She caves anytime the Left comes after her, anytime the media comes after her," DeSantis said.
Ramaswamy later joined in, questioning Haley's wealth since she left government service.
"Nikki, you were bankrupt when you left the U.N. After you left the U.N., you became a military contractor," he said, referring to Haley's stint on the board of Boeing, "whose back you scratched for a very long time and then get foreign multinational speeches like Hillary Clinton is, and now you're a multimillionaire. That math does not add up. It adds up to the fact that you are corrupt."
Ramaswamy also criticized wealthy donors to Haley's campaign, saying they're funding "left-wing causes."
"In terms of these donors that are supporting me, they're just jealous," Haley responded. "They wish that they were supporting them."
DeSantis said, "Nikki will cave to those big donors when it counts."
The pair also went after Haley for proposing that all social media users should be verified by their names online.
"I love all the attention, fellas," Haley said. "Thank you for that."
Christie hammers Ramaswamy in defense of Haley: "The most obnoxious blowhard in America"
Christie offered a forceful defense of Haley against Ramaswamy's insults of her intelligence.
After Ramaswamy claimed that Haley could not name three provinces in eastern Ukraine where she would send U.S. troops, Christie accused the entrepreneur of habitually backing away from comments he makes on the campaign trail when he's confronted by political opponents about his positions.
"This is the fourth debate that you would've been voted in the first 20 minutes as the most obnoxious blowhard in America, so shut the hell up," Christie told Ramaswamy.
The former New Jersey governor accused Ramaswamy of insulting Haley's intelligence, rather than her policy positions — claiming, for example, that she can't identify regions in Ukraine or find Israel on a map.
"If you want to disagree on issues, that's fine, and Nikki and I disagree on some issues," Christie said. "I've known her for 12 years, which is longer than he's even started to vote in the Republican primary, and while we disagree about some issues and disagree about who should be president of the United States, what we don't disagree on is this is a smart, accomplished woman and you should stop insulting her."
Christie went on to criticize Ramaswamy's lack of experience and claimed that while he was serving as the top federal prosecutor in New Jersey, Ramaswamy was "learning about the provinces in Ukraine sitting with his smarta** mouth at Harvard."
"All he knows how to do is insult good people who have committed their lives to public service and not say anything that moves the ball down the field for the United States," Christie said.
Divisions emerge among Republican candidates on parental rights
A question about parental rights and gender-affirming care for young people showed a split between Christie and DeSantis over an issue that has gained traction with Republican voters.
Christie said he favors limited involvement from the government and believes parents should be empowered to make decisions about their children.
"I trust parents," he said.
The former New Jersey governor, who opposes state restrictions on gender-affirming care for transgender youth, asserted it's parents who should be making the decisions about this for their children. He made the point that he and his wife care more for their four children than a government official in a dysfunctional Congress.
"You look at these jokers in Congress — it takes them three weeks to pick a speaker, and up until two days ago, they couldn't promote somebody in the military in the United States Senate who earned their new rank. And we're going to put my children's health and my decisions in their hands for them to make those decisions? For Joe Biden to make those decisions?" Christie said.
He warned parents that if they cede those rights on gender-affirming care for their children to states, it would just be the beginning.
"You start to turn over just a little bit of this authority, the authority they're going to take from you next, you're not going to like," Christie said.
But DeSantis defended restrictions on gender-affirming treatment for minors he signed into law as governor of Florida and warned surgical procedures are "mutilating minors."
"We cannot allow this to happen in this country," he said.
Ramaswamy, meanwhile, suggested the federal government should take action on the issue of gender-affirming surgery.