Hospitals within America's largest Catholic nonprofit health system perform sex change operations, according to a bombshell new report.
The 64-page report, which details CommonSpirit Health's promotion of transgenderism, was published by the Lepanto Institute, a Catholic organization "dedicated to the defense of the Catholic Church against assaults from without as well as from within."
"The largest Catholic health system in the United States, CommonSpirit Health, is acting directly against Catholic moral teaching in direct defiance of its Catholic identity," the institute states. "This report will provide indisputable proof of gross defiance of Catholic moral teaching on the part of CommonSpirit Health."
The report specifically focuses on CommonSpirit, the nation's largest Catholic nonprofit health system. CommonSpirit was formed when Dignity Health and Catholic Health Initiatives merged in 2019 after going through an approval process involving multiple Archbishops. CommonSpirit now boasts that it is "one of the nation's largest nonprofit health care systems, with more than 1,000 care sites and 140 hospitals in 21 states."
One of the network's hospitals is St. Francis Memorial Hospital, located in San Francisco. St. Francis Memorial Hospital has a facility it calls "The Gender Institute," where it provides "gender affirming care." The program is openly associated with CommonSpirit, with the Gender Institute's email account ending in "@commonspirit.org."
"Saint Francis Memorial Hospital is a part of CommonSpirit Health, a national health care ministry that shares the above mission, vision, and values," their website reads.
"From our entire hospital staff undergoing pronoun training to following the guidelines set by The Human Rights Campaign Foundation, The Saint Francis Memorial Hospital Gender Institute's best-in-class surgeons and specialists are dedicated to the gender-affirming individual experience," the hospital states on its website.
The hospital even produced a YouTube video with a transgender-identified individual who underwent a sex change operation at Saint Francis Memorial Hospital. The video promotes sex change surgeries as a way to live as your "authentic self."
A list of surgeries available at the hospital includes "hysterectomy," "vaginoplasty," "phalloplasty," "scrotoplasty," and even a "penile preserving vaginoplasty," as well as numerous others.
The hospital even brags on its website that "Dignity Health's Saint Francis Memorial Hospital has become the first hospital internationally to achieve accreditation as a Center of Excellence in Gender Confirmation Surgery by globally-recognized Surgical Review Corporation." The site further states that the accreditation was given "based on the number of surgeries performed at the hospital."
Meanwhile, Saint Francis Memorial Hospital received a perfect score from the Human Rights Campaign (HRC), a leftist organization that received sponsorship from the pharmaceutical industry to create a grading system for LGBT acceptance at hospitals.
Dignity Health, which oversees Saint Francis Memorial Hospital and is one of the merger partners that formed CommonSpirit Health, backed the San Francisco Trans March as a Platinum Sponsor.
Dignity Health states on its website that "some sterilizing procedures, including some surgeries, are not performed at our Catholic facilities" before going on to note that only some of the hospitals in the Dignity Health Network identify as Catholic. But even hospitals that do not claim a Catholic identity, such as St. Francis Memorial Hospital, exist under the umbrella of Dignity Health, a 2019 merger partner of the Catholic nonprofit CommonSpirit, which files taxes as a religious organization and went through an approval process with the Catholic Church, according to the Lepanto Institute report.
In the event that Catholic hospital within the Dignity Health network does not provide "sterilizing procedures," the network transitions "a patient's care to other providers within a reasonable distance, including our non-Catholic facilities."
Though Saint Francis Memorial Hospital is identified as an "other than Catholic" facility, the report found it received a total of $2,128,662 from CommonSpirit in 2019 and 2020.
St. Francis Memorial Hospital is just one of many hospitals affiliated with CommonSpirit that attempts to modify peoples' gender through chemical and surgical interventions.
There's also Virginia Mason Franciscan Health (VMFH) in Washington State, a Catholic health network under the umbrella of CommonSpirit, which provides puberty blockers to minors, according to the report. VMFH lists their "pediatric primary care" services, which include "puberty blockers" as well as "gender-affirming hormone therapy."
On the FAQ portion of its website, VMFH's Transgender Health department states that, "In most circumstances, our providers see patients 18 years of age and older. Our pediatricians do see patients under the age of 18." In addition to providing puberty blockers and cross-sex hormone therapy, VMFH also performs irreversible sex change operations like double mastectomies.
Meanwhile, VMFH directs potential patients to at least 31 different health professionals who provide "transgender health" services intended to change patients' sex, according to the report. Like St. Francis Memorial Hospital, VMFH was lauded as a "LGBTQ+ Healthcare Equality Leader" by the Human Rights Campaign in 2022.
At least 13 different hospitals in the CommonSpirit Health network received perfect scores from the HRC, including Sierra Nevada Memorial Hospital, Northridge Hospital Medical Center, Woodland Memorial Hospital, Sequoia Hospital, and several other hospitals in California.
The ranking system is predicated on a number of different factors, including hospitals' approach to gender transition attempts and their support for "pro-equality legislation."
Lloyd Dean, the former chief executive of CommonSpirit Health, celebrated the favorable ratings from the HRC in a June 2021 LinkedIn post.
"I am proud to say that several of our hospitals have been designated as LGBTQ Healthcare Equality Leaders by the Human Rights Campaign," he wrote.
CommonSpirit Health is sponsored by the Catholic Health Care Federation, which is legally defined as a "public juridic person within the meaning of the code of Canon law for the Roman Catholic Church," according to Page 28 of CommonSpirit's 990 IRS form.
It goes on to read:
As a public juridic person in the Church, CHCF is the juridical equivalent of a diocese or parish or religious order in the Catholic Church. As a public juridic person, CHCF is not merely affiliated with the Catholic Church; it is the Catholic Church, an official part of the Church itself, with a munus or duty assigned to it by the Church, and able to act publicly in the name of the Church.
In an article on the Catholic Health Association of the United States website, Thomas Kopfensteiner, the chief mission officer of CommonSpirit Health, stated that the organization formed in 2019 after an approval process with Archbishops in "consultation with Rome."
Kopfensteiner explains that CommonSpirit Health required "declarations from Archbishop Salvatore Cordileone of San Francisco and Archbishop Samuel Aquila of Denver, that nothing hindered the joining of Dignity Health and Catholic Health Initiatives, allowing for the creation of CommonSpirit Health."
The Archbishops requested that the nonprofit adopt a name highlighting its Catholic identity before they would provide "nihil obstats," declarations that they didn't object to the merger. The article reads, "In providing their nihil obstats after a thorough moral analysis of the alignment that included consultation with Rome, the Archbishops added another reasonable, but unanticipated, condition. They wanted the name of the new system to be recognizably Catholic."
Critically, the Catholic Health Care Federation was listed as the sponsorship organization for CommonSpirit and was given authority through the Catholic Church in Rome.
Meanwhile, a sponsorship document from the Catholic Health Care Federation explains the process behind the approval of CommonSpirit by Catholic authorities in Rome. The Catholic Health Care Federation explains that it is accountable to the Congregation for the Institutes of Consecrated Life and Societies of Apostolic Life, "the ecclesiastical authority that granted Catholic Health Care Federation Public juridic personality."
The document goes on to explain the significance of juridic personality, explaining that "a public juridic person may acquire, retain, administer, and alienate property in the name of the Roman Catholic Church.
The document defines sponsorship as "The canonical/Catholic Church relationship between a civil corporation and a ministry, which enables that ministry to have Catholic identity."
Rather than just claiming a Catholic identity, CommonSpirit is able to identify as Catholic because it was sponsored by an organization given authority by the Congregation for the Institutes of Consecrated Life and Societies of Apostolic Life, located "in front of St. Peter's Basilica in Rome."
Meanwhile, the United States Conference of Catholic Bishops has spoken out against medical attempts to modify peoples' sex. The USCCB specifically addressed transgender medical interventions in a statement earlier this year, where they unambiguously stated that "Catholic health care services must not perform interventions, whether surgical or chemical, that aim to transform the sexual characteristics of a human body into those of the opposite sex or take part in the development of such procedures."

⬇️ Top Picks for You ⬇️
Senate Democrats Authorize Supreme Court Ethics Subpoenas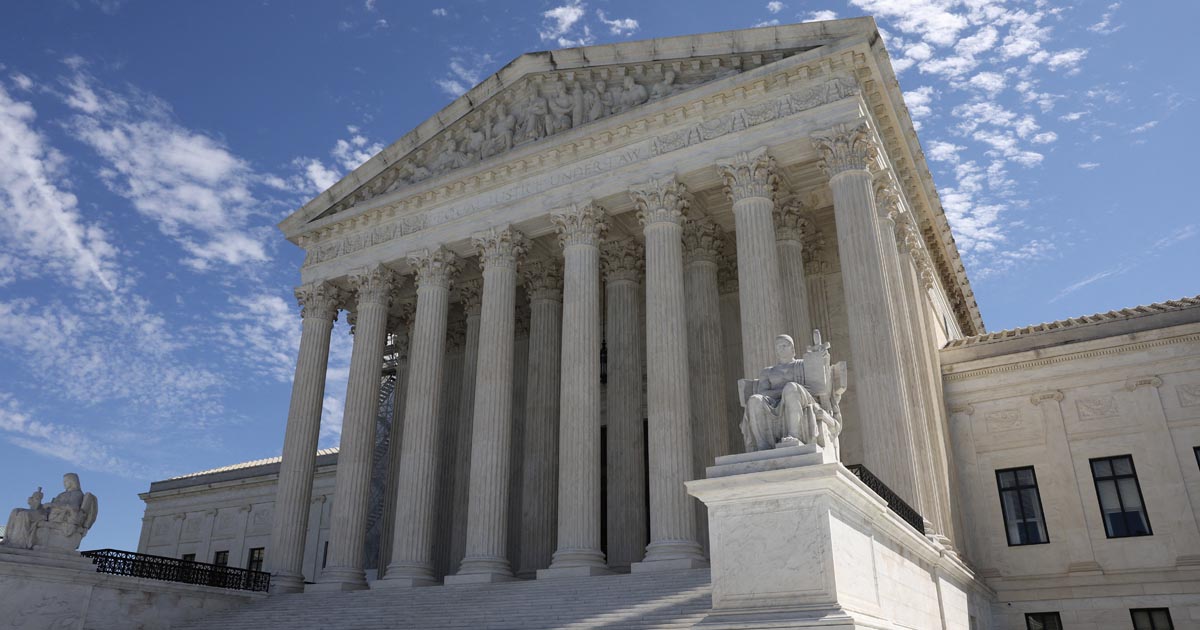 A Democratic-led U.S. Senate panel on Thursday authorized subpoenas to two influential conservatives – Harlan Crow and Leonard Leo – as part of an ethics inquiry spurred by reports of undisclosed largesse directed to some conservative Supreme Court justices.
The Judiciary Committee voted to authorize the subpoenas for Crow, a billionaire Republican donor and benefactor of conservative Justice Clarence Thomas, and Leo, a legal activist who was instrumental in compiling Republican former President Donald Trump's list of potential Supreme Court nominees.
Republican senators walked out of the contentious committee meeting in protest while Democrats cast votes. Some Republicans later questioned the vote's legitimacy, accusing Democrats of violating procedural rules.
"The subpoena clearly wasn't legal," Republican Senator John Kennedy, a committee member, said after the vote.
Senator Dick Durbin, the panel's chairman, said subpoenas were necessary due to the refusal by Crow and Leo for months to voluntarily comply with its previous requests for information. This included itemized lists of all gifts, transportation and lodging provided to any Supreme Court justice.
Durbin also renewed his criticism of a new code of conduct announced by the court on Nov. 13 and promised to continue to pursue the committee's ethics investigation.
"Without an enforcement mechanism, this code of conduct, while a step in a positive direction, cannot restore the public's faith in the court," Durbin said.
Senator Lindsey Graham, the committee's top Republican, told the meeting that Democrats were engaged in a "jihad" against the Supreme Court, whose 6-3 conservative majority has handed major defeats to liberals in recent years on matters including abortion, gun rights and student debt relief.
"When you say you don't want to destroy the Roberts Court, I don't believe you," Graham said, referring to the court under the leadership of conservative Chief Justice John Roberts. "I don't believe a word you're saying."
The committee vote authorized Durbin to issue the subpoenas, which he could do unilaterally, according to a Democratic committee staffer.
If the subpoena recipients fail to comply, Democrats would need 60 votes in the 100-seat Senate to initiate a civil enforcement action, meaning they would need the support of some Republicans. The Democrats also would have the option to make a referral to the U.S. Justice Department, which could choose to pursue criminal contempt proceedings against the subpoena recipients.
Lawyers for Leo and Crow in letters to the committee have criticized the committee's information requests as lacking a proper legal justification. Crow's lawyer had proposed turning over a narrower range of information but Democrats rebuffed that offer, according to the panel's Democratic members.
The news outlet ProPublica reported this year on Thomas's failure to disclose luxury trips and real estate transactions involving Crow, a Texas businessman.
The outlet also reported that Leo helped organize a luxury fishing trip in Alaska attended by conservative Justice Samuel Alito, who failed to disclose taking a private jet provided by billionaire hedge fund manager Paul Singer. Trump chose all three of his appointees to the court from lists of candidates that Leo played a key role in drawing up.
Thomas has said he believed the Crow-funded trips were "personal hospitality" and thus exempt from disclosure requirements, and that his omission of the real estate transaction was inadvertent.
Alito, regarding the flight, said that Singer had "allowed me to occupy what would have otherwise been an unoccupied seat."