After a week of internal sniping, House Republicans on Wednesday approved legislation in a 217-215 vote that would slash federal spending and extend the government's borrowing authority into next year.
The package has no chance of becoming law in the face of opposition from the Senate and White House, both of which are controlled by Democrats, but it nonetheless represents a hard-fought victory for Speaker Kevin McCarthy (R-Calif.) and his leadership team.
McCarthy and his conference have demanded budget-cutting negotiations with President Biden in return for raising the debt ceiling and now have specific policy proposals — and more political leverage — heading into that fight.
Here are key takeaways.
McCarthy squeaks out another win
In an important sense, Wednesday's vote marked a victory for McCarthy in his first real legislative test, proving he and his leadership team can unite a discordant conference on massive budget bills despite their slim majority.
Leaders successfully wooed Midwestern Republicans and fiscal hawks whose opposition had threatened to sink the bill, which combined $4.8 trillion in spending cuts with a $1.5 trillion debt ceiling hike.
McCarthy's projection of confidence followed by a flurry of meetings behind closed doors and last-minute changes was not so different from the environment leading up to and during McCarthy's five-day, 15-ballot Speaker election in January.
"You've underestimated us," McCarthy told reporters after the vote. "Just as it took me 15 rounds to win Speaker, the one thing I have promised the American public: I will never give up on you. So what we did today was raise the debt limit, stop the wasteful Washington spending and curb inflation and put us on a path that we can control."
"Not only did we offer a plan, we passed it," McCarthy said.
And members involved in crafting and getting agreement on the debt bill credited their success to relationships built during the Speaker election saga.
"It forced some unlikely bedfellows into a room together. It forced people to get to know one another," said Rep. Garret Graves (R-La.). "This House is much more functional as a result [of the Speaker's election]."
Ball now in Biden's court
Republicans' debt limit bill amounts to an black-and-white opening offer in debt limit negotiations – which President Biden has so far refused to have.
Biden has called for a "clean" debt ceiling increase not tied to any policy changes or spending reductions, and has not met with McCarthy on the matter since Feb. 1. For months, he called on Republicans to release a 10-year budget proposal before sitting down to discuss spending as a separate issue.
"We are empowering Speaker McCarthy to negotiate," said Rep. Stephanie Bice (R-Okla.). "He has a clear vision on what this conference wants to see."
Key members backing the debt limit bill have declined, though, to get specific with any "red lines" for debt limit negotiations with the president and Senate Democrats.
"The red line is that we're not going to do a clean debt ceiling, period," said Rep. Garret Graves (R-La.), a leader of McCarthy's debt limit negotiations strategy. "We are going to demand changing the trajectory of this country's financial situation."
It gets tougher from here
For all the victory celebration, Wednesday's legislation was merely a Republican messaging bill — written by GOP leaders and passed solely with GOP votes — that will be dead-on-arrival in a Senate chamber controlled by Democrats.
With that in mind, the GOP struggles to pass their own policy priorities take on greater significance, highlighting the divisions in the conference, underscoring the difficulties of managing a tiny majority and foreshadowing the much tougher task McCarthy faces when it comes time to pass a bipartisan debt-ceiling bill.
That legislation will need to win Biden's signature and prevent a government default without infuriating House conservatives to the extent that they want to remove McCarthy from the Speakership.
Some conservatives are already warning that they'll oppose any debt-limit increase that lacks the deficit-reduction provisions of the House GOP proposal.
"I'm not interested in anything coming back – anything but what we voted on," said Rep. Ralph Norman (R-S.C.)
It remains unclear if such opposition would be enough to cause McCarthy to keep a bipartisan debt-ceiling bill from reaching the floor at all.
'Technical changes' vs. 'major concessions'
House GOP leaders had pledged on Wednesday that they would not make any changes to the bill despite concerns from Midwestern Republicans in the "corn belt" about provisions that would end ethanol biofuel tax credits.
Conservatives had also pushed for more on work requirements for public assistance programs.
Then in the wee hours of the morning on Wednesday, leaders changed the bill to remove a provision that would have eliminated the biofuel tax credits and hasten implementation of new work requirements provisions from fiscal year 2025 to fiscal year 2024.
Rep. Matt Gaetz (R-Fla.) had threatened to vote against the bill unless the work requirements were moved up.
House Majority Whip Steve Scalise (R-La.) said that the adjustments were mere "technical changes," while House Majority Whip Tom Emmer (R-Minn.) said "nothing of substance" was changed in the bill.
The draft bill, Rep. Chip Roy (R-Texas) said, had "cut some things that were not intended in our agreement to do."
But a joint release from all four Iowa Republicans — Mariannette Miller-Meeks, Ashley Hinson, Zach Nunn and Randy Feenstra — boasted of securing "major concessions" after negotiating with McCarthy.
"Having successfully amended the bill to protect funding for these tax credits, our delegation will vote for this legislation, which is a starting point to avoid a default and cut wasteful spending," the Iowa members said in a joint statement.

⬇️ Top Picks for You ⬇️
Tucker Carlson Returns With New Show: 'Tucker on Twitter'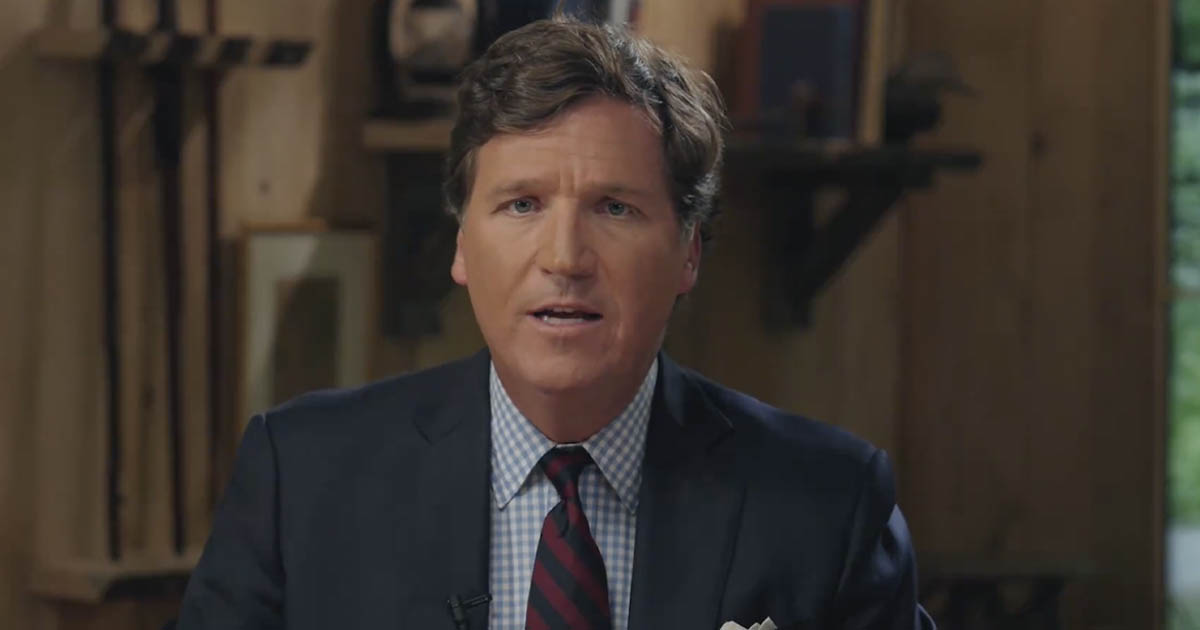 Former Fox News host and Daily Caller co-founder Tucker Carlson brought his show to Twitter for the first time Tuesday by posting a monologue about the Ukraine war and how the media is covering it.
Carlson spoke about the latest developments in the Russian war against Ukraine, beginning with a major dam explosion inside Russian-occupied territory Tuesday morning.
"This morning, it looks like somebody blew up the Kakhovka Dam in southern Ukraine. The rushing wall of water wiped out entire villages, destroyed a critical hydropower plant, and as of tonight, puts the largest nuclear reactor in Europe in danger of melting down. So, if this was intentional, it was not a military tactic — it was an act of terrorism," Carlson began.
The Ukrainian and Russian governments accused each other of intentionally destroying the dam as an act of sabotage, according to The Washington Post.
"Blowing up the dam may be bad for Ukraine, but it hurts Russia more. And for precisely that reason, the Ukrainian government has considered destroying it. In December, The Washington Post quoted a Ukrainian general saying his men had fired American-made rockets at the dam's floodgate, as a test strike," Carlson stated.
Carlson transitioned to discussing The Washington Post's story showing the U.S. knew about Ukrainian plans to attack the Nord Stream 2 gas pipeline months before it was destroyed. The Post's story was based on an intelligence leak on social media platform Discord.
"So, really, once the facts start coming in, it becomes much less of a mystery what might have happened to the dam. Any fair person would conclude that the Ukrainians probably blew it up — just as you would assume they blew up Nord Stream, the Russian natural gas pipeline, last fall. And in fact, the Ukrainians did do that, as we now know. It's not like Vladimir Putin is anxious to wage war on himself," he said.
Carlson proceeded to mock the corporate media's coverage of the Nordstream 2 explosion for immediately blaming Russia for the attack without considering whether Ukraine blew up the pipeline.
"Oh, but that's where you're wrong, Mr. and Mrs. Cable News Consumer. Vladimir Putin is exactly that sort of man — the sort of man who'd shoot himself to death in order to annoy you. We know this from the American media, which wasted no time this morning in accusing the Russians of sabotaging their own infrastructure," Carlson remarked.
"No one who's paid to cover these things seemed to entertain even the possibility it could have been the Ukrainians who did it. No chance of that. Ukraine, as you may have heard, is led by a man called Zelensky, and we can say for a dead certain fact that he was not involved. He couldn't have been. Zelensky is too decent for terrorism," Carlson added.
He followed up by ridiculing Republican South Carolina Sen. Lindsey Graham and Republican Presidential candidate Nikki Haley because of their unwavering support for Ukrainian President Volodymyr Zelenskyy and his country. Afterwards, he broadened his media criticism beyond the scope of the Ukraine war to other issues where narratives must never be questioned.
"But mostly they just ignore the stories that matter. What's happened to the hundreds of billions of US dollars we've sent to Ukraine? No clue. Who organized those BLM riots three years ago? No one's gotten to the bottom of that. What exactly happened on 9/11? Well, it's still classified. How did Jeffrey Epstein make all that money? How did he die? How about JFK? And so endlessly on. Not only are the media not interested in any of this, they're actively hostile to anybody who is. In journalism, curiosity is the gravest crime," Carlson said.
Carlson pointed to the intelligence officer who blew the whistle Monday on alleged UFOs possessed by the U.S. government as a recent example of the pressing stories the media ignores.
"So if you're wondering why our country seems so dysfunctional, this is a big part of the reason. Nobody knows what's happening. A small group of people control accesses to all relevant information. And the rest of us don't know. We're allowed to yap all we want about racism, but go ahead and talk about something that really matters and see what happens. If you keep it up, they'll make you be quiet. Trust us. That's how they maintain control," he continued.
Carlson concluded his monologue with a teaser about future Twitter broadcasts if the platform maintains its commitment to free speech under owner Elon Musk.
"That's how most of us now live here in the United States — manipulated by lies, silenced by taboos. It is unhealthy and is dehumanizing, and we're tired of it. As of today, we've come to Twitter, which we hope will be the shortwave radio under the blankets. We're told there are no gatekeepers here. If that turns out to be false, we'll leave. But in the meantime, we are grateful to be here. We'll be back with much more very soon."
Watch:
Ep. 1 pic.twitter.com/O7CdPjF830

— Tucker Carlson (@TuckerCarlson) June 6, 2023