Oliver Anthony's family are breaking their silence on the viral sensation, telling The Post how he is a fine father who quit his job selling aluminum siding to pursue music — to spectacular effect.
Anthony gave his first major interview to podcaster Joe Rogan on Wednesday. In a free-wheeling two-hour appearance he laughed off attempts to pigeonhole him politically and decried how hard life has become for people in forgotten rural areas.
He largely stayed clear of talking about his own family and background, apart from saying he is hoping someone will buy his battered truck, and alluding to his own personal struggles with substance abuse.
But his wife Tiffany's grandfather, Arthur Brogdon, told The Post of their pride at his success, calling him a dedicated family man.
The "Rich Men North of Richmond" singer's real name is Chris Lunsford. He took his stage from his late grandfather Anthony Oliver Ingle, who died in 2019.
Brogdon told The Post that Anthony met Tiffany online, after difficult times for both of them. Anthony had a "bad first marriage," Brogdon said, while Tiffany had had a boyfriend who was badly injured in a car accident.
"She and Chris define happiness. They're happy. They're something else," he said.
"Chris is a religious type person. He doesn't cuss or make threats. He is just a fine person."
Anthony has an 18-month-old daughter with Tiffany, 35, and the couple is expecting a son in November. "Her name is June. I call her Junebug," the grandfather said of the toddler. "She'll be 2 in February."
The two now live in Ingle's former home in south-central Virginia. Anthony, 31, has an older daughter from his first marriage.
Brogdon remembered Anthony and Tiffany's wedding as a stellar affair – even though Anthony did not treat the guests to a performance.
"The wedding was wonderful. It was outside. Around 100 people were there on a farm in Dinwiddie County," he said. Chris and Tiffany had their dogs there and afterward, they went down to the lodge and fed everyone. There was a food truck. We ordered our meals ahead of time; I had a Philadelphia cheese steak."
When Anthony is not performing, he and his wife do more than just hang around the home or the trailer. "They are an outdoor couple," Brogdon said. "They go kayaking; they have horses; they ride ATVs. They love each other."
And there is no stress in dealing with the dogs that populate the videos that Anthony has posted to social media. Tiffany, said Brogdon, "wants to be a veterinarian. The dogs are trained to the max. She feeds them individually. They don't eat until she tells them to."
Before "Rich Men North of Richmond" topped the Billboard charts, said Brogdon, Anthony "sold [materials] for buildings and stuff. He made a good living. He is dedicated to everything he does."
The singer quit his job with construction supplier Chesterfield Trading Co., of Richmond, Va., last year to work full-time on his music. He had been part of its sales team, responsible for selling aluminum siding.
Anthony became an overnight sensation at the start of August with "Rich Men North of Richmond" thanks to YouTube, although he told Rogan he largely steers clear of social media.
He attracted fierce support for his heart-felt lyrics and was embraced by conservatives for his demand for less government dependency, but rejected being conscripted by one side or the other after Republican presidential candidates were asked about his song at last week's first primary debate.
On Rogan's show he said he wanted people to understand that "Throughout rural Virginia, that poverty is a big issue, and drugs are a big issue, and I mean it's not just even in the rural areas, and you go into downtown Richmond or any downtown anywhere for that matter."
He also offered some insight into his own mental health journey, saying he "went on a run with SSRIs" but the side effects weren't worth it.
Anthony has said he lives in a camper covered with a tarp which he bought for $750. His grandfather-in-law said he lived on the home he inherited from his own grandfather, but had been so mobbed by fans he had been unable to go home at times.
"Because everybody is infringing on his privacy, he had to put in a security system. Hell, he couldn't even go home," Brogden said.
"Chris is a laid-back type person who doesn't say much. He says more on stage than he does to us. When he comes here, he doesn't say much."
Asked about how Anthony got so good on the guitar, Brogdon isn't sure that musicianship is a factor to his success: "I don't think he can play good. If you listen, he mixes in the words with the plunking."
As Brogdon sees it, the words are the point. "I listen to Chris's music every day. I didn't like it at first," he said. But his view changed when he learned more about the subject matter.
"It's all true," he said. "He goes up to Farmville to play and I listen to it on the phone."

⬇️ Top Picks for You ⬇️
Senate Democrats Authorize Supreme Court Ethics Subpoenas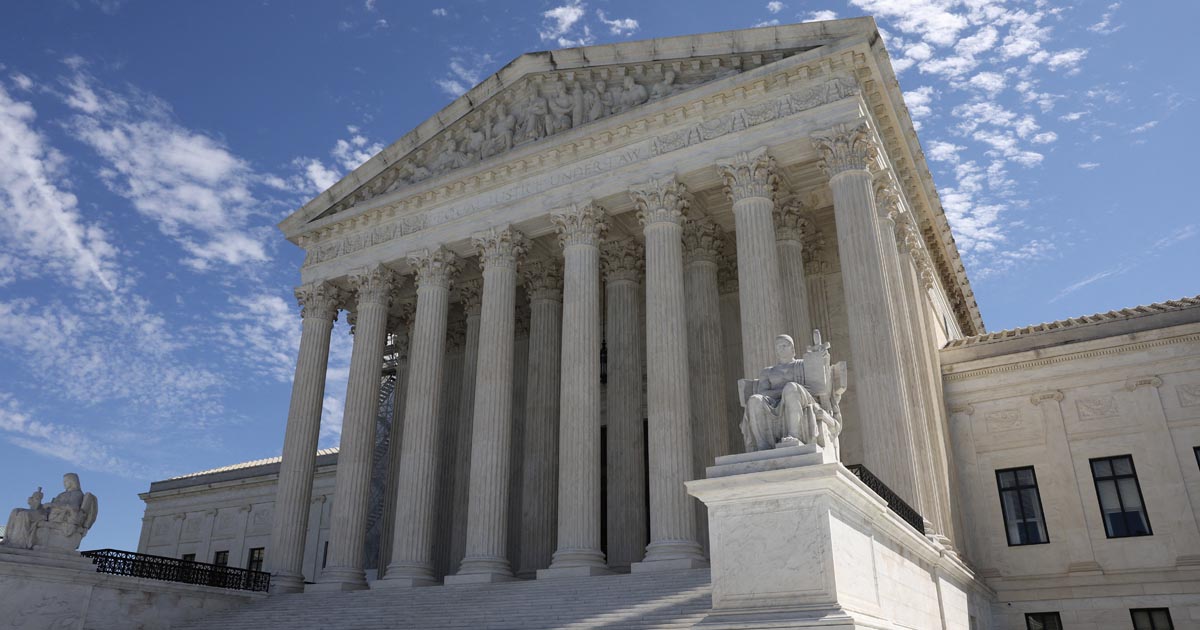 A Democratic-led U.S. Senate panel on Thursday authorized subpoenas to two influential conservatives – Harlan Crow and Leonard Leo – as part of an ethics inquiry spurred by reports of undisclosed largesse directed to some conservative Supreme Court justices.
The Judiciary Committee voted to authorize the subpoenas for Crow, a billionaire Republican donor and benefactor of conservative Justice Clarence Thomas, and Leo, a legal activist who was instrumental in compiling Republican former President Donald Trump's list of potential Supreme Court nominees.
Republican senators walked out of the contentious committee meeting in protest while Democrats cast votes. Some Republicans later questioned the vote's legitimacy, accusing Democrats of violating procedural rules.
"The subpoena clearly wasn't legal," Republican Senator John Kennedy, a committee member, said after the vote.
Senator Dick Durbin, the panel's chairman, said subpoenas were necessary due to the refusal by Crow and Leo for months to voluntarily comply with its previous requests for information. This included itemized lists of all gifts, transportation and lodging provided to any Supreme Court justice.
Durbin also renewed his criticism of a new code of conduct announced by the court on Nov. 13 and promised to continue to pursue the committee's ethics investigation.
"Without an enforcement mechanism, this code of conduct, while a step in a positive direction, cannot restore the public's faith in the court," Durbin said.
Senator Lindsey Graham, the committee's top Republican, told the meeting that Democrats were engaged in a "jihad" against the Supreme Court, whose 6-3 conservative majority has handed major defeats to liberals in recent years on matters including abortion, gun rights and student debt relief.
"When you say you don't want to destroy the Roberts Court, I don't believe you," Graham said, referring to the court under the leadership of conservative Chief Justice John Roberts. "I don't believe a word you're saying."
The committee vote authorized Durbin to issue the subpoenas, which he could do unilaterally, according to a Democratic committee staffer.
If the subpoena recipients fail to comply, Democrats would need 60 votes in the 100-seat Senate to initiate a civil enforcement action, meaning they would need the support of some Republicans. The Democrats also would have the option to make a referral to the U.S. Justice Department, which could choose to pursue criminal contempt proceedings against the subpoena recipients.
Lawyers for Leo and Crow in letters to the committee have criticized the committee's information requests as lacking a proper legal justification. Crow's lawyer had proposed turning over a narrower range of information but Democrats rebuffed that offer, according to the panel's Democratic members.
The news outlet ProPublica reported this year on Thomas's failure to disclose luxury trips and real estate transactions involving Crow, a Texas businessman.
The outlet also reported that Leo helped organize a luxury fishing trip in Alaska attended by conservative Justice Samuel Alito, who failed to disclose taking a private jet provided by billionaire hedge fund manager Paul Singer. Trump chose all three of his appointees to the court from lists of candidates that Leo played a key role in drawing up.
Thomas has said he believed the Crow-funded trips were "personal hospitality" and thus exempt from disclosure requirements, and that his omission of the real estate transaction was inadvertent.
Alito, regarding the flight, said that Singer had "allowed me to occupy what would have otherwise been an unoccupied seat."