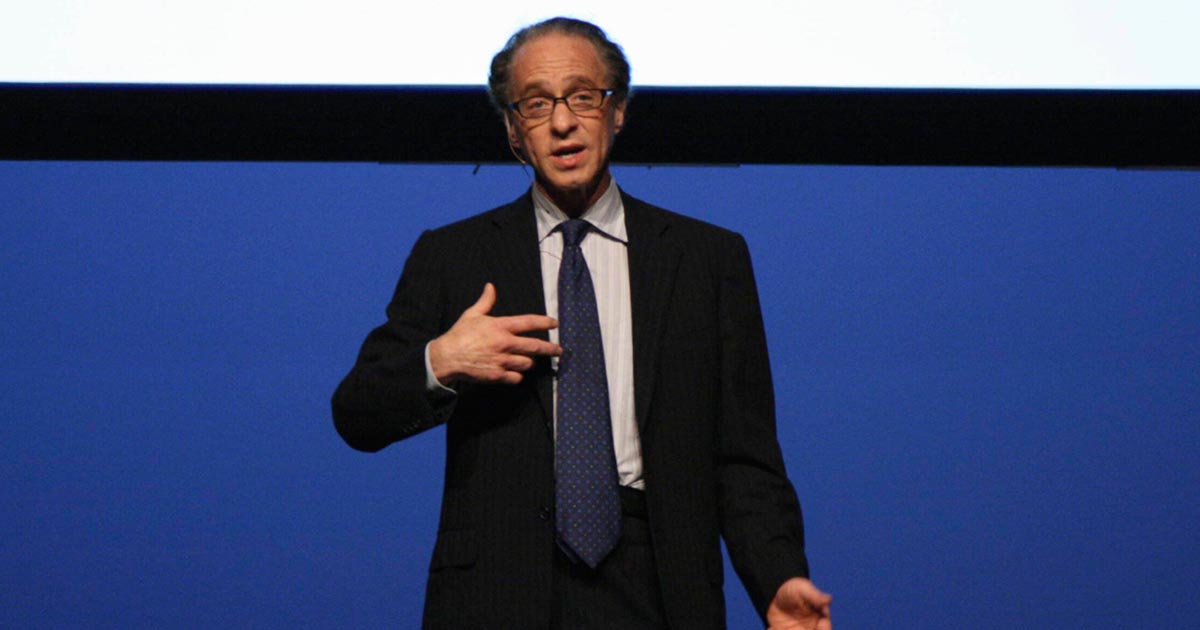 Humans Will Achieve Immortality in 8 Years: Ex-Google Engineer Has Predicted Future with Astonishing Accuracy
A former Google engineer has made a stark realization that humans will achieve immortality in eight years – and 86 percent of his 147 predictions have been correct.
Ray Kurzweil spoke with the YouTube channel Adagio, discussing the expansion in genetics, nanotechnology, and robotics, which he believes will lead to age-reversing 'nanobots.'
These tiny robots will repair damaged cells and tissues that deteriorate as the body ages and make us immune to diseases like cancer.
The predictions that such a feat is achievable by 2030 have been met with excitement and skepticism, as curing all deadly diseases seems far out of reach.
Kurzweil was hired by Google in 2012 to 'work on new projects involving machine learning and language processing,' but he was making predictions in technological advances long before.
In 1990, he predicted the world's best chess player would lose to a computer by 2000, and it happened in 1997 when Deep Blue beat Gary Kasparov.
Kurzweil made another startling prediction in 1999: he said that by 2023 a $1,000 laptop would have a human brain's computing power and storage capacity.
Now the former Google engineer believes technology is set to become so powerful it will help humans live forever, in what is known as the singularity.
Singularity is a theoretical point when artificial intelligence surpasses human intelligence and changes the path of our evolution, LifeBoat reports.
Kurzweil, an author who describes himself as a futurist, predicted that technological singularity would happen by 2045, with AI passing a valid Turing test in 2029.
It is a test of a machine's ability to exhibit intelligent behavior equivalent to, or indistinguishable from, that of a human
He said that machines are already making us more intelligent and connecting them to our neocortex will help people think more smartly.
Contrary to the fears of some, he believes that implanting computers in our brains will improve us.
'We're going to get more neocortex, we're going to be funnier, we're going to be better at music. We're going to be sexier', he said.
'We're really going to exemplify all the things that we value in humans to a greater degree.'
Rather than a vision of the future where machines take over humanity, Kurzweil believes we will create a human-machine synthesis that will make us better.
The concept of nanomachines being inserted into the human body has been in science fiction for decades.
In Star Trek, tiny molecular robots called nanites were used to help repair damaged cells in the body.
More than ten years ago, the US National Science Foundation predicted 'network-enhanced telepathy' – sending thoughts over the internet – would be practical by the 2020s.
'Ultimately, it will affect everything,' Kurzweil said.
'We're going to be able to meet the physical needs of all humans. We're going to expand our minds and exemplify these artistic qualities that we value.'
The process began centuries ago with simple devices such as eyeglasses and ear trumpets that could dramatically improve human lives.
Then came better machines, such as hearing aids and devices that could save lives, including pacemakers and dialysis machines.
By the second decade of the 21st Century, we have become used to organs grown in laboratories, genetic surgery and designer babies.

⬇️ Top Picks for You ⬇️
The 9 U.S Cities Where Home Owners Are Losing Thousands on Their House Values
The US housing market is currently in the midst of an unprecedented decline in home prices – with properties in some cities selling for hundreds of thousands of dollars less than they were just a year ago.
The concerning data was revealed last week by Redfin, and marks a significant shift in the American real estate landscape following a historic surge seen during the Covid-19 pandemic.
Two cities in the Bay Area – Oakland and San Francisco – are among the worst offenders when it comes to decline by dollar amount, a phenomenon researched said is fueled in part by diminishing demand and the looming possibility of a recession.
Other notable declines occurred in major metros like Austin, Boise, Salt Lake City, Seattle, and Los Angeles – all of which saw their median home price shed at least $60,000 since April of last year.
San Francisco and Oakland both saw price drops into six figures with the median value decreasing by $220,000 and $174,000 respectively.
'Pandemic boomtowns and pricey coastal markets are seeing historic home-price declines,' the report published on May 22 discerned, before noting nationwide, the median home sale price has dropped nearly $18,000 – the most since January 2012.
In addition, researchers who looked at more than 91 American metro areas with populations of at least 750,00 observed the decline marked the third month of declines following roughly a decade of increases.
The steepest declines, though, were recorded in California markets commonly thought to be expensive – as well as towns that experienced an uptick in demand during the pandemic.
Such towns, including prime pandemic hotspot Austin, recorded dramatic losses that also neared the six-figures – with the Texas town where Elon Musk's Tesla's recently relocated to losing $85,000 in value since April.
In terms of percentages, the decrease amounted to 15.3 percent – equity that researchers revealed said has all but evaporated over the past year.
When taking into account overall he drop was the second most pronounced out of all the metropolitan areas analyzed by the real estate firm – bested only by Oakland, whose decrease erased 16.1% of listed homes' overall median value.
The city sporting the third worst reduction rate was Boise, Idaho, are selling for $80,000 less than they were this time last year.
The percentage drop also came as nearly identical to the one associated with the Texas capital, at 15.1 percent. Both sport average listing prices around $500,000 – a number well under the half the average price of homes on the West Coast.
Last year, an analysis determined that both cities had the most overpriced real estate in the country, propelled by post pandemic demand.
Pricing history for the locales showed 2022 median homes should cost around $299,202 in Boise, but were still selling for 72 percent higher at $516,548.
Austin homes, meanwhile were 67.70 percent overpriced, the study from Florida Atlantic University found.
Researchers' polling efforts found the historically costly locale surrounding San Francisco sported the fourth-worst rate for its mean sale price – despite its drop being by far the most pronounced when measured in dollars.
The distinction of fifth-most rapid percent decline was achieved by Salt Lake City, a locale whose downtown has seen a 40 percent spike in activity since February 2020, according to a May report.
As is the case with other pandemic boomtowns, that increase led to higher housing demand and, ultimately, more costly homes.
Per the new data from Redfin, it appears those prices are now coming back to earth – with it now costing $60,000 on average to purchase a home in the rising Utah city.
Other metropolitan areas to record decreases over the past year according to Redfin included Seattle, Los Angeles, Philadelphia, and Washington, DC – all of which boast a cost of living well above the national average.
Another characteristic the lived-in districts share is a high rate of crime – rates that worsened in double-digits during the pandemic and, in most cases, have continued to persist.
Higher mortgage rates have also played a part in the decreases seen in these heavily populated areas – as they continue to deter both buyers and sellers from moving forward with potential transactions.
As a result, new listings, on average, dropped 26.1 percent year over year – the largest decline on record aside from April 2020, when the onset of the pandemic effectively brought the housing market to a standstill.