The recent reports reveal the involvement of Hunter Biden's business partner in transferring sensitive papers from Joe Biden's vice presidential office to the University of Delaware.
The papers are said to include Obama-Biden presidential transition team papers and White House lawyers raised concerns about their handling.
Senator Ted Cruz has called for the FBI to examine the 1,850 boxes of Senate records to check for any classified documents.
Meanwhile, Senator Ron Johnson has requested information about access to these sensitive records, but so far neither the White House nor the National Archives have responded.
Daily Mail reported:
Hunter Biden's business partner was tasked with transferring sensitive papers from Joe Biden's vice presidential office to the University of Delaware – papers that were sensitive enough to require the involvement of White House lawyers, DailyMail.com can reveal.
The revelation is the latest piece of evidence tying Hunter to the president's potential mishandling of classified documents.
Eric Schwerin, Hunter's Rosemont Seneca partner who handled Joe's taxes and personal affairs, was in charge of moving an archive of 1,850 boxes of files from the vice president's DC office that were being donated to the University of Delaware in 2010.
Those documents, mainly from Biden's time as a Delaware senator, also included Obama-Biden presidential transition team papers and raised the hackles of White House lawyers.
In a March 2010 email from Hunter's laptop, Joe's deputy counsel Katherine Oyama wrote to Schwerin warning that the 'Deed of Gift' document to the university 'appears to include Obama-Biden transition papers, which the vice president likely does not own.'
She recommended the inclusion of language about 'the University's duty to comply with … classified information procedures'.
Schwerin forwarded the correspondence to Hunter, saying: 'FYI – if you want to be in the loop. I sent to Mel who is going to talk to your Dad about this and decide who should work on it between him and Jamie.'
'Mel' likely refers to attorney Melvyn Monzack, who handled Hunter and Joe's brother Jim's taxes and other Biden family affairs.
Monzack also sent Hunter emails directly about Joe's gift of sensitive papers to the University of Delaware in October 2010.
According to the University of Delaware website, 'more than 1,850 boxes of archival records from the President's Senate career arrived at the Library on June 6, 2012.'
A Newark Post report from the time said the records arrived on 33 pallets carried by two trucks, and also included 415 gigabytes of electronic records.
It is still unclear whether the thousands of papers given to UDel ended up including any classified documents.
Republican senator Ted Cruz called this week for the FBI to examine the boxes.
'I am right now calling for the Department of Justice, for the FBI, to examine all 1,850 boxes of those Senate records to see how many additional classified documents are in those records,' Cruz said on his podcast, Verdict with Ted Cruz.
'The answer should be none. But given Biden's pattern, we should have zero reason to have any confidence that there are not multiple classified documents within those 1,850 boxes of Senate records,' the senator claimed.
The revelation follows the growing scandal over several classified files found at Joe's home, where Hunter lived in 2018 and 2019, at a Washington DC private office which Hunter helped set up, and a search at the president's Rohobeth Beach home.
Republican Wisconsin Senator Ron Johnson, who led a four-year investigation into Hunter with fellow Senator Chuck Grassley, told DailyMail.com government officials had failed to answer his questions about who had access to the classified files.
'Because we now know President Biden has a history of improperly handling classified material, it is incumbent upon him to be transparent about who had access to those documents,' Johnson said.
'So far, neither the White House or the National Archives have responded to my requests for this information. The American people deserve to know whether Hunter Biden or his business partners had access to these sensitive records.'
The scandal over Joe's alleged mishandling of classified documents first broke on January 9, when CBS revealed that the president's lawyers had found 10 files at the Penn Biden Center for Diplomacy and Global Engagement in DC on November 2 – six days before the mid-terms.
Biden's attorneys notified the Department of Justice, which launched an investigation but kept it secret until after the election.
Since then, six more files have been found in a garage at Joe's lakeside mansion in Wilmington, Delaware.
CNN reported claims from an anonymous source close to the investigation that the documents contained intelligence material relating to Ukraine, Iran and the UK, and that Joe's personal notebooks from his time as Vice President were also retrieved from the home in case they contained classified information.
Hunter served on the board of allegedly corrupt Ukrainian gas company Burisma, worked with Russian oligarchs, and had a multi-million-dollar deal with a Chinese government-linked oil company, raising fears that he could have had access to restricted files while dealing with foreign adversaries of the United States.
It is unclear whether Hunter viewed Joe's files, but some appear to have been stored in the garage of the family home in Wilmington where Hunter lived for several months in 2018.
A photo obtained by DailyMail.com shows a box labeled 'Important Doc's + Photos', which appears to have been left unsealed on a table in Joe's mansion.

⬇️ Top Picks for You ⬇️
Biden Dog Bites Another Secret Service Agent; 11th Incident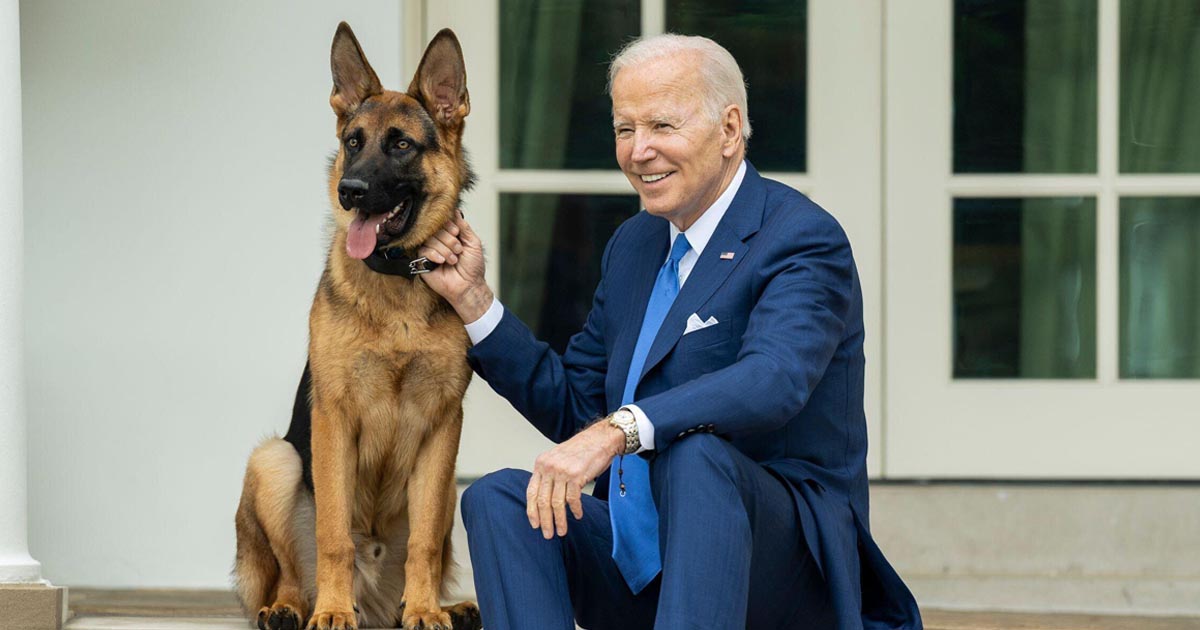 President Joe Biden's younger dog, Commander, bit another US Secret Service agent at the White House Monday evening, CNN has learned, the 11th known biting incident involving the 2-year-old German Shepherd.
"Yesterday around 8 p.m., a Secret Service Uniformed Division police officer came in contact with a First Family pet and was bitten. The officer was treated by medical personnel on complex," USSS chief of communications Anthony Guglielmi told CNN in a statement.
The injured officer spoke with Secret Service Uniformed Division Chief Alfonso M. Dyson Sr. on Tuesday and is doing OK, Guglielmi said.
Commander has been involved in at least 11 biting incidents at the White House and in Delaware, according to CNN reporting and US Secret Service email correspondence, including a November 2022 incident where an officer was hospitalized after the dog clamped down on their arms and thighs.
White House officials said in July that the Bidens were working through new training and leashing protocols for the family pet following the incidents.
Asked by CNN whether the new training had taken place or if any further action would be sought, Elizabeth Alexander, communications director for the first lady, said in a statement that "the First Family continues to work on ways to help Commander handle the often unpredictable nature of the White House grounds."
"The President and First Lady are incredibly grateful to the Secret Service and Executive Residence staff for all they do to keep them, their family, and the country safe," she continued.
Another of Biden's dogs, Major, was involved in biting incidents at the White House. The German Shepherd later moved out of the White House, and Commander arrived at the White House in 2021.
The July email correspondence, obtained through Freedom of Information Act requests by the conservative group Judicial Watch, reflected 10 incidents.
In one incident in October, first lady Dr. Jill Biden "couldn't regain control" of the dog as it charged a member of Secret Service staff.
"I believe it's only a matter of time before an agent/officer is attacked or bit," the staff member warned in an email.
While Secret Service agents are not responsible for the handling of the first family's pets, they can come into frequent contact with the animals.
"This isn't a Secret Service thing. This is a this is a workplace safety issue," CNN contributor and former USSS agent Jonathan Wackrow told CNN.
"There's uniqueness here where it's the residence of the president of the United States, but it's also the workplace for hundreds, thousands of people. And you can't bring a hazard into the workplace. And that's what is essentially happening with this dog. One time you can say it's an accident, but now multiple incidents, it's a serious issue," he added.
Wackrow called it a "significant hazard" for agents on duty at the White House residence.
"I'm sure that the Bidens love the dog. I'm sure that it's a member of the family like every dog is, but you're creating a significant hazard to those who support you – support the office of the president," he said.