Working furiously to take control of a House in disarray, allies of Speaker Kevin McCarthy implored their Republican colleagues Saturday to drop their hardline tactics and work together to approve a conservative spending plan to prevent a federal shutdown.
In public overtures and private calls, Republican lieutenants of the embattled speaker pleaded with a handful of right-flank holdouts to resist further disruptions that have ground the House to a halt and back McCarthy's latest plan to keep government open before next weekend's Sept. 30 deadline for a shutdown.
Republican Rep. Garrett Graves of Louisiana said the holdouts are "absolutely hallucinating" if they think they can wrap up work without the need for a temporary measure that many of them have shunned before time runs out.
"An important part of this strategy is going to be ensuring that we do everything we can to avoid a government shutdown," Graves said after a Saturday afternoon conference call with lawmakers.
But in a sign of the deep divisions still ahead, one of the conservative holdouts, Rep. Matt Rosendale, R-Mont., walked past the McCarthy allies' news conference at the Capitol, telling reporters he remained firm in his position.
Asked if he was worried about a potential shutdown, Rosendale said: "Life is going to go on."
President Joe Biden on Saturday chided the "small group of extreme Republicans" who were threatening a shutdown in which "everyone in America could be forced to pay the price."
"If the government shuts down, that means members of the U.S. military are going to have to continue to work and not get paid," he told a Congressional Black Caucus Foundation dinner. "A government shutdown could impact everything from food safety to cancer research to Head Start programs for children. Funding the government is one of the most basic responsibilities of Congress. It's time for Republicans to start doing the job America elected them to do."
Congress had largely emptied out for the weekend as the House ground to a standstill, and the White House instructed federal agencies to begin preparing for a possible shutdown. The House Rules Committee held a rare Saturday session to begin setting up the process for next week's voting.
Time is running out for Congress to act, but McCarthy is pushing ahead with plan urged on by his right flank to start voting on some of the dozen bills needed to fund the various government departments.
Under the current strategy, the House would start voting as soon as Tuesday to advance some of the dozen bills needed to fund the government. Then, with time running short, the House would turn toward a stopgap measure to keep government open for about a month while work continues.
"Well, people have been holding back, not wanting to do anything — now is not the time," McCarthy said before an afternoon call with his Republican colleagues.
McCarthy said his message to the holdouts was: "You've got to stop that."
At issue is the House conservatives' drive to undo the deal McCarthy reached with Biden earlier this year setting government funding levels. They are insisting on the lower spending levels McCarthy promised the Republican hardliners in January during his own race to become House speaker. But that would require severe budget cuts to government services and programs even other Republicans don't want to make.
Even if McCarthy can secure Republican support to move forward next week on the first four bills for the Defense Department, Homeland Security, Agriculture and State and Foreign Operations — and it's not at all certain he has the votes to do it — it's a laborious task.
Usually it takes weeks, if not months, to process the big bills and hundreds of amendments. And once those House bills are approved, often in round-the-clock voting, they still would go for negotiations with the Senate, which has its own legislation.
One big issue for debate will be amendments to strip funding for the war in Ukraine being pushed by allies of Donald Trump, the Republican frontrunner in the 2024 race for the White House.
As the floor debate potentially grinds on next week, McCarthy and his allies want the holdouts to be prepared to consider a stopgap measure, called a continuing resolution, or CR, to keep the government funded while talks continue.
His plan is for the CR to be at lower levels than the government currently spends, and it would include provisions important to Republicans, including to beef up border security and establish a new debt commission.
But many of the holdouts notably Rep. Matt Gaetz, R-Fla., a top Trump ally, say they will never vote for any CR — all but ensuring a shutdown, as the former president urges them on.
Exasperated McCarthy's allies used the megaphone Saturday to broadcast their case to their colleagues, and to Americans watching the standoff in Congress.
"Folks can go out there and create these imaginary solutions," Graves said. "Anyone who says that we're going to finish all 12 appropriations bills between now and Saturday is absolutely hallucinating."
The other option is for McCarthy to work with Democrats to pass a continuing resolution with their votes, and the Senate is preparing such a bipartisan measure that could be sent to the House in a matter of days.
But if McCarthy joins with Democrats, he will almost certainly face a vote from Gaetz and others for his ouster.

⬇️ Top Picks for You ⬇️
Biden Got Recurring $1,380 Payment from Hunter's Firm Starting in 2018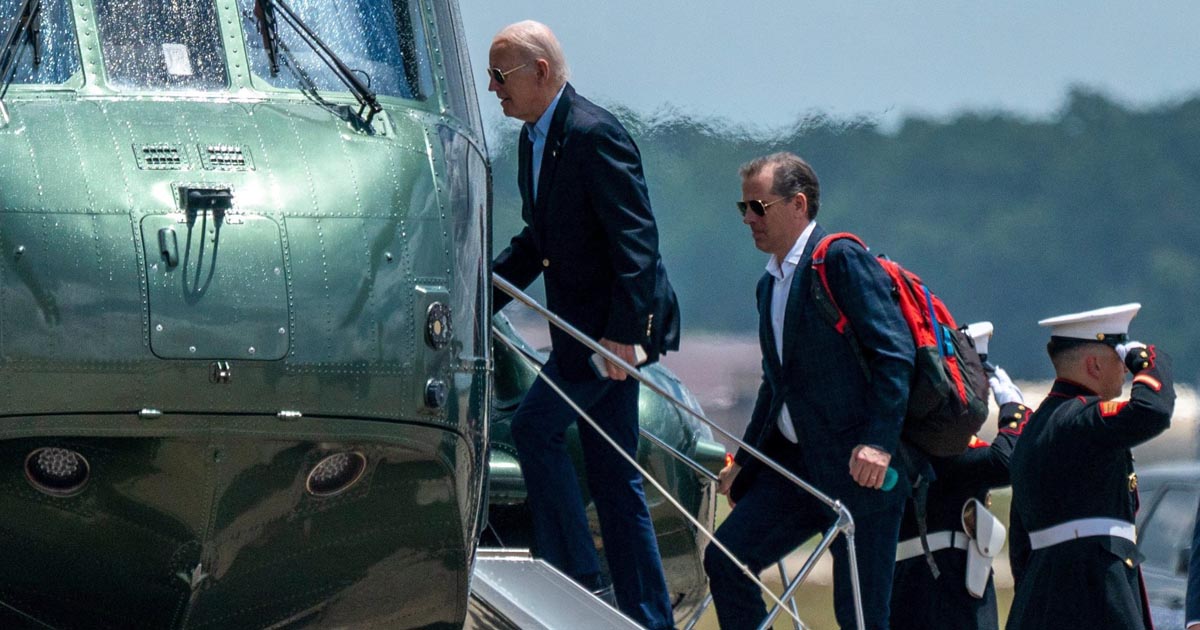 President Biden received a recurring payment of $1,380 from his son Hunter's law firm beginning in late 2018 shortly after a bank money laundering officer warned that the same account was receiving millions of dollars in Chinese government-linked funds without "any services rendered."
A bank order shows that Owasco PC set up a "monthly" transfer to then-former Vice President Joseph R. Biden Jr., with a voided check for the future president included in the documentation, which was released Monday by the House Oversight Committee.
A source told The Post that at least three recurring payments were made — on Sept. 17, Oct. 15 and Nov. 15, 2018 — totaling $4,140 to the elder Biden from Owasco PC, according to the bank records of the firm.
"President Biden and his family must be held accountable for this blatant corruption," Oversight Committee Chairman James Comer (R-Ky.) said in a video release.
"Today, the House Oversight Committee is releasing subpoenaed bank records that show Hunter Biden's business entity, Owasco PC, made direct monthly payments to Joe Biden. This wasn't a payment from Hunter Biden's personal account but an account for his corporation that received payments from China and other shady corners of the world," Comer said.
"At this moment, Hunter Biden is under an investigation by the Department of Justice for using Owasco PC for tax evasion and other serious crimes. And based on whistleblower testimony, we know the Justice Department made a concerted effort to prevent investigators from asking questions about Joe Biden. I wonder why?"
Earlier that year, a January 2019 email from assistant Katie Dodge to Hunter Biden annotated various expenses including "Ford Raptor — Reimbursement to JRB — $1380."
The provenance of the funds is unclear, however, and additional records show that Hunter Biden was knee-deep in two of his most controversial business relationships at the time, with Ukraine's Burisma Holdings and CEFC China Energy.
The evidence emerged as House Republicans prepare to question first brother James Biden on Wednesday and Hunter next week about the president's role in his family's dealings in countries such as China and Ukraine — with a possible floor vote to authorize the ongoing impeachment inquiry this month.
While a presidential candidate, Joe Biden denied that he ever discussed business with his relatives, but evidence has since shown that he met with his relatives' associates from both the Burisma and CEFC ventures.
Documents from the first son's abandoned laptop show that Burisma board adviser Vadym Pozharskyi sought "bank reference" information on Sept. 14, 2018 — one day before the initial transfer to Joe Biden was sought. However, the transaction was not executed for another two days, apparently due to a later-than-expected form submission.
Joe Biden met Pozharskyi at an April 17, 2015, dinner at DC's Café Milano. An unproven FBI informant tip said that Burisma owner Mykola Zlochevsky claimed in 2016 he was "coerced" into paying $10 million in bribes to the Bidens for their assistance in ousting prosecutor Viktor Shokin.
Hunter also was on the tail end of disbursing millions of dollars received from CEFC China Energy — one of two major Biden family dealings with Chinese government-linked firms.
On June 26, 2018 — less than three months before Joe Biden began to receive the monthly transfers — an internal Bank Secrecy Act expert warned colleagues that the institution should reconsider its relationship with Hunter as a result of Owasco PC seeming to receive Chinese funds without "any services rendered."
CEFC transferred $5 million to another Biden family-linked entity, Hudson West III, in August 2017 after Hunter warned a China-based associate of his father's wrath if a business deal was aborted. Much of the large transfer later went to Hunter's Owasco PC.
Prior bank records released by the Oversight Committee indicate that Joe Biden received payments of $40,000 and $200,000 from his brother James, who also was involved in the CEFC venture and other foreign-focused enterprises.
Comer alleged that the $40,000 transferred to Joe Biden's bank account on Sept 3, 2017, was from "laundered" Chinese funds.
James Biden paid Joe Biden $200,000 on March 1, 2018 — the same day that James received a $200,000 transfer from troubled rural hospital company Americore after pledging to use his political connections to secure a Middle Eastern investor, according to bankruptcy filings.
The White House says there's evidence that both transfers were loan repayments, but Republicans argue they have not seen loan agreement documents and note that the funds distributed to James came from a law firm, rather than Joe Biden himself, further clouding the picture.