It's one of the defining photos in the history of the White House.
A tense Barack Obama leans forward and stares at the screen showing every heart-stopping moment of the Navy SEAL raid on 9/11 mastermind Osama Bin Laden in Pakistan.
Moments later, the room erupts as military commanders confirm the Al Qaeda leader has been shot and killed – and May 1, 2011, becomes a day America will never forget.
Now, that conference room has been removed as part of a $ 50 million makeover to the secretive Situation Room in the West Wing basement.
Construction workers dug five feet below the secure 5,500-square-foot complex to install cutting-edge wiring and upgrade the facility JFK wanted after the 1961 Bay of Pigs Invasion.
The maze of offices, conference rooms and computer banks has new screens, LED lights, clocks and high-tech communications infrastructure to monitor threats from China and the war in Ukraine. See-through glass offices fade to opaque with the press of a button.
The modern finish replaces the old floors and furniture worn down over more than 50 years while history unfolded.
Donald Trump monitored the 2019 operation that killed Islamic State leader Abu Bakr al-Baghdadi. Lyndon Johnson went over Vietnam War plans.
President Biden watched in February 2022 when Abu Ibrahim al-Hashimi al-Qurayshi blew himself and his family up inside a Syrian hideout during a raid by U.S. forces.
More recently, cocaine was discovered in a cubby used to store phones in the corridor outside.
The White House opened the classified space to a group of reporters this week for a rare visit to check out the new look.
Biden got a tour on Tuesday and then received an intelligence briefing in the space, said Marc Gustafson, the Situation Room director.
'He loved it, he thought the update was fantastic,' Gustafson said.
Folks, the newly renovated White House Situation Room is up and running.

My thanks to everyone who worked on this incredible facility. pic.twitter.com/81sEvKV5Ma

— President Biden (@POTUS) September 8, 2023
Access is tightly controlled and generally restricted to the president's national security and military advisers.
Anyone listening in on classified briefings needs clearance. Even the contractors working on the renovation had to get temporary security clearances. Illuminated signs flash green for declassified and red for classified.
The complex was created in 1961 by the Kennedy administration after the Bay of Pigs invasion.
President John F. Kennedy believed there should be a dedicated crisis management center where officials could coordinate intelligence faster and better.
Nixon administration official Henry Kissinger described the space as 'uncomfortable, unaesthetic and essentially oppressive.'
After the September 11, 2001, terrorist attacks, the White House did a significant Situation Room update, along with a broader upgrade to presidential communications on Air Force One and the presidential helicopter.
Presidents used the complex for secure video conferences before such tech became more portable. The last renovation was in 2007.
The complex is staffed around the clock by military and civilian personnel who monitor breaking developments worldwide.
It has a reception area with a U.S. seal in stonework. Behind that is the main conference room, the 'JFK room.' To the right are a smaller conference room and two soundproof 'breakout rooms.' To the left is the 'watch floor,' a 24-7 operations center.
'It's a marriage of the traditional and the modern,' Gustafson said of the new space.

⬇️ Top Picks for You ⬇️
McCarthy to Work with Dems to Pass 45-Day Funding, Avoiding Govt Shutdown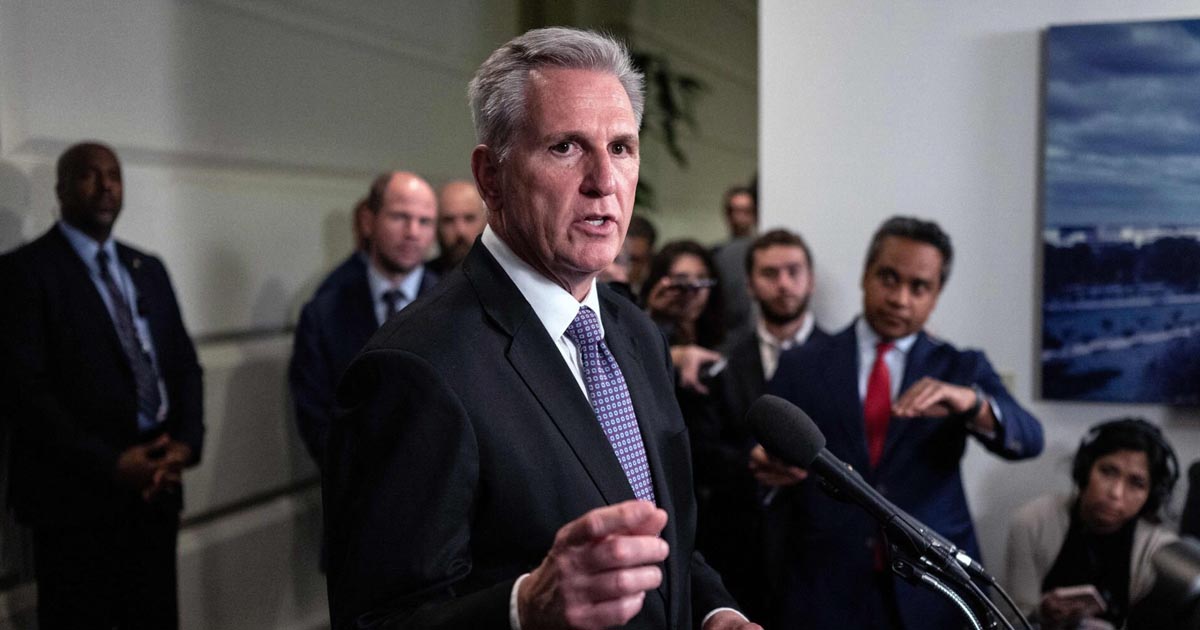 On the brink of a federal government shutdown, Speaker Kevin McCarthy announced a dramatic pivot Saturday, trying to push a 45-day funding bill through the House with Democratic help — a move that could keep government open but most certainly risks his job.
Republican lawmakers met behind closed doors early in the morning with hours to go before the midnight deadline needed to fund government operations or face a disruptive federal closure.
The new approach would leave behind aid to Ukraine, a White House priority opposed by a growing number of GOP lawmakers, but the plan would increase federal disaster assistance by $16 billion, meeting President Joe Biden's full request.
The House was preparing for a quick vote Saturday on the plan, but Democrats hit the brakes, seeking time so they could read the 71-page bill. Across the Capitol, the Senate was opening a rare weekend session and hoping to advance its own stopgap plan, but with money for Ukraine.
"We're going to do our job," McCarthy said after the morning meeting. "We're going to be adults in the room. And we're going to keep government open."
With no deal in place before Sunday, federal workers will face furloughs, more than 2 million active-duty and reserve military troops will work without pay and programs and services that Americans rely on from coast to coast will begin to face shutdown disruptions.
The sudden House action would fund government at current 2023 levels for 45 days, through Nov. 17. It would move closer to the bipartisan approach underway in the Senate, which also would fund the government through that period, while adding $6 billion for Ukraine to fight the war against Russia and $6 billion for U.S. disaster relief.
"A bipartisan, a bicameral solution is the only way forward," said Rep. Rosa DeLauro, the top Democrat on the House Appropriations Committee. She and other Democrats decried cutting Ukraine aid.
McCarthy, R-Calif., will be forced to rely on Democrats for passage because the speaker's hard-right flank has said it will oppose any short-term measure. McCarthy was setting up a process for voting that will require a two-thirds supermajority, about 290 votes in the 435-member House for passage. Republicans hold a 221-212 majority, with two vacancies.
Relying on Democratic votes and leaving his right-flank behind is something that the hard-right lawmakers have warned will risk McCarthy's job as speaker. They are almost certain to quickly file a motion to try to remove McCarthy from that office, though it is not at all certain there would be enough votes to topple the speaker.
"If somebody wants to remove me because I want to be the adult in the room, go ahead and try," McCarthy said of the threat to oust him. "But I think this country is too important."
The quick pivot comes after the collapse Friday of McCarthy's earlier plan to pass a Republican-only bill with steep spending cuts up to 30% to most government agencies that the White House and Democrats rejected as too extreme.
"Our options are slipping away every minute," said one senior Republican, Rep. Mario Diaz-Balart of Florida.
Meanwhile, the Senate was marching ahead on its package with support from both Democrats and Republicans.
"Congress has only one option to avoid a shutdown — bipartisanship," said Senate Majority Leader Chuck Schumer, D-N.Y.
Senate Republican leader Mitch McConnell of Kentucky echoed the sentiment, warning his own hard-right colleagues there is nothing to gain by shutting down the federal government.
"It heaps unnecessary hardships on the American people, as well as the brave men and women who keep us safe," McConnell said.
The federal government is heading straight into a shutdown that poses grave uncertainty for federal workers in states all across America and the people who depend on them — from troops to border control agents to office workers, scientists and others.
Families that rely on Head Start for children, food benefits and countless other programs large and small are confronting potential interruptions or outright closures. At the airports, Transportation Security Administration officers and air traffic controllers are expected to work without pay, but travelers could face delays in updating their U.S. passports or other travel documents.
An earlier McCarthy plan to keep the government open collapsed Friday due to opposition from a faction of 21 hard-right holdouts despite steep spending cuts of nearly 30% to many agencies and severe border security provisions.
The White House has brushed aside McCarthy's overtures to meet with Biden after the speaker walked away from the debt deal they brokered earlier this year that set budget levels.
Catering to his hard-right flank, McCarthy had returned to the spending limits the conservatives demanded back in January as part of the deal-making to help him become the House speaker.
After Friday's vote, McCarthy's chief Republican critic, Rep. Matt Gaetz of Florida, said the speaker's bill "went down in flames as I've told you all week it would."