A Palestinian freelancer working for NBC News was arrested in Israel on suspicion of inciting terror and identifying with a terrorist organization, according to local reports.
Mirvat al-Azzeh, who lives in East Jerusalem, was jailed Thursday after sharing four recent Facebook posts regarding Hamas' sneak attack on Israel on Oct. 7 that killed more than 1,200 people, according to The Jerusalem Post.
It's unclear what al-Azzeh, 45, wrote in those posts, though police described them at a hearing at the Jerusalem Magistrate Court as "inciting and glorying the horrible acts committed against civilians," per the outlet.
NBC, owned by Comcast, said Monday it has cut ties with the journalist.
"Before we recently retained Marwat Azza for services as a freelance producer, we were not aware of her personal social media activity that provided the basis for the Israeli investigation," an NBC spokesperson told The Post, using an alternate spelling of her name.
"We understand the material under investigation is not related to any services she provided to NBC News."
Israeli authorities said al-Azzeh "arrived ready for arrest," without her cell phone but with phone numbers written on her leg, The Jerusalem Post reported.
Al-Azzeh reportedly cooperated fully with Israeli police, who first requested permission from the prosecutor's office to interrogate the journalist last month.
Permission was granted last week, according to The Jerusalem Post, when al-Azzeh admitted to the offenses.
"The woman in question is an ordinary woman, who works as a journalist and whose work is important to us all," al-Azzeh's attorney said, according to The Jerusalem Post.
"She was asked during her investigation about her employment. I believe she admitted to all the deeds described to her, and cooperated fully with the investigation. She did not attempt to conceal the offenses or claim that her accounts had been hacked. Even when she didn't have a mobile phone, which is the main tool involved, she still said, 'Yes, those are my posts.'"
After being arrested on Thursday, al-Azzeh was held until a Friday hearing, at which her detention was extended an extra four days, per the outlet.
It wasn't immediately clear how much jail time al-Azzeh could be facing.
Back in April, al-Azzeh shared a 24-minute post to YouTube titled "See the full story: An x-ray technician harasses journalist Mervat Al-Azza and grabs her breasts!!"
In the video, al-Azzeh describes, in Arabic, how she was assaulted at a West Bank hospital, but felt pressured by authorities to drop her complaint against her attacker and ordered her to undergo a mental health evaluation, according to a report of the incident in Middle East Eye.
"I cannot find a reason for this, I just see them making things harder for me," al-Azzeh told the outlet at the time.
According to al-Azzeh's LinkedIn page, she has been a freelance journalist since September 2018.
Her recent stories on NBC News — where she goes by Marvat Azzeh — deal with the Israel-Hamas war.
Her most recent byline on Nov. 12 reported that newborns at the Al-Shifa hospital in Gaza City were dying as the facility ran out of resources.
It's unclear if NBC plans to keep al-Azzeh on its payroll once she's released from custody.
Her arrest comes as other mainstream US outlets have sparked outrage over relying on journalists who have expressed antisemitic sentiments in the past.
The New York Times recently rehired a Hitler-praising filmmaker to cover the Israeli-Palestinian war.
Soliman Hijjy — who hailed the Nazi leader as recently as 2018 in a post on Facebook — boasted a byline at The Times nearly every day between Oct. 12 and Oct. 19, reporting from Gaza.
Hijjy's 2018 post — including a 2012 Facebook post where he wrote, "How great you are, Hitler" in Arabic alongside a photoshopped image of Hitler seemingly taking a selfie — were unearthed last year, when pro-Israel outlets called out the Times for hiring antisemitic journalists as freelancers.
At the time, Hijjy didn't appear to be working for the Times anymore, and had since taken down his controversial pro-Hitler posts.
Last week, Israeli Prime Minister Benjamin Netanyahu ripped mainstream Western media — including Reuters, The Associated Press, CNN, and The New York Times — for working with photojournalists embedded with Hamas during the Oct. 7 massacre.
CNN ended up severing ties with a freelancer who was photographed getting a kiss from the terror group's leader.

⬇️ Top Picks for You ⬇️
Biden Got Recurring $1,380 Payment from Hunter's Firm Starting in 2018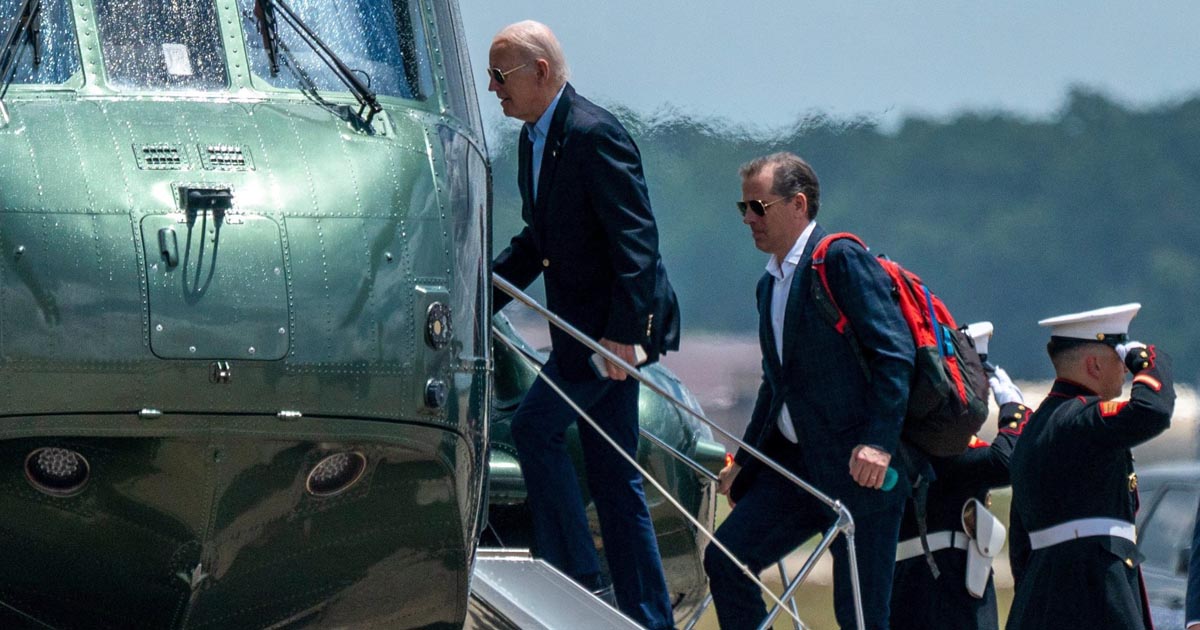 President Biden received a recurring payment of $1,380 from his son Hunter's law firm beginning in late 2018 shortly after a bank money laundering officer warned that the same account was receiving millions of dollars in Chinese government-linked funds without "any services rendered."
A bank order shows that Owasco PC set up a "monthly" transfer to then-former Vice President Joseph R. Biden Jr., with a voided check for the future president included in the documentation, which was released Monday by the House Oversight Committee.
A source told The Post that at least three recurring payments were made — on Sept. 17, Oct. 15 and Nov. 15, 2018 — totaling $4,140 to the elder Biden from Owasco PC, according to the bank records of the firm.
"President Biden and his family must be held accountable for this blatant corruption," Oversight Committee Chairman James Comer (R-Ky.) said in a video release.
"Today, the House Oversight Committee is releasing subpoenaed bank records that show Hunter Biden's business entity, Owasco PC, made direct monthly payments to Joe Biden. This wasn't a payment from Hunter Biden's personal account but an account for his corporation that received payments from China and other shady corners of the world," Comer said.
"At this moment, Hunter Biden is under an investigation by the Department of Justice for using Owasco PC for tax evasion and other serious crimes. And based on whistleblower testimony, we know the Justice Department made a concerted effort to prevent investigators from asking questions about Joe Biden. I wonder why?"
Earlier that year, a January 2019 email from assistant Katie Dodge to Hunter Biden annotated various expenses including "Ford Raptor — Reimbursement to JRB — $1380."
The provenance of the funds is unclear, however, and additional records show that Hunter Biden was knee-deep in two of his most controversial business relationships at the time, with Ukraine's Burisma Holdings and CEFC China Energy.
The evidence emerged as House Republicans prepare to question first brother James Biden on Wednesday and Hunter next week about the president's role in his family's dealings in countries such as China and Ukraine — with a possible floor vote to authorize the ongoing impeachment inquiry this month.
While a presidential candidate, Joe Biden denied that he ever discussed business with his relatives, but evidence has since shown that he met with his relatives' associates from both the Burisma and CEFC ventures.
Documents from the first son's abandoned laptop show that Burisma board adviser Vadym Pozharskyi sought "bank reference" information on Sept. 14, 2018 — one day before the initial transfer to Joe Biden was sought. However, the transaction was not executed for another two days, apparently due to a later-than-expected form submission.
Joe Biden met Pozharskyi at an April 17, 2015, dinner at DC's Café Milano. An unproven FBI informant tip said that Burisma owner Mykola Zlochevsky claimed in 2016 he was "coerced" into paying $10 million in bribes to the Bidens for their assistance in ousting prosecutor Viktor Shokin.
Hunter also was on the tail end of disbursing millions of dollars received from CEFC China Energy — one of two major Biden family dealings with Chinese government-linked firms.
On June 26, 2018 — less than three months before Joe Biden began to receive the monthly transfers — an internal Bank Secrecy Act expert warned colleagues that the institution should reconsider its relationship with Hunter as a result of Owasco PC seeming to receive Chinese funds without "any services rendered."
CEFC transferred $5 million to another Biden family-linked entity, Hudson West III, in August 2017 after Hunter warned a China-based associate of his father's wrath if a business deal was aborted. Much of the large transfer later went to Hunter's Owasco PC.
Prior bank records released by the Oversight Committee indicate that Joe Biden received payments of $40,000 and $200,000 from his brother James, who also was involved in the CEFC venture and other foreign-focused enterprises.
Comer alleged that the $40,000 transferred to Joe Biden's bank account on Sept 3, 2017, was from "laundered" Chinese funds.
James Biden paid Joe Biden $200,000 on March 1, 2018 — the same day that James received a $200,000 transfer from troubled rural hospital company Americore after pledging to use his political connections to secure a Middle Eastern investor, according to bankruptcy filings.
The White House says there's evidence that both transfers were loan repayments, but Republicans argue they have not seen loan agreement documents and note that the funds distributed to James came from a law firm, rather than Joe Biden himself, further clouding the picture.