Israel has ordered a total blockade on Gaza after Hamas terrorists unleashed a bloodbath dubbed "Israel's 9/11".
More than 1,100 people in Israel and Gaza have been killed since the Palestinian militant group stormed across the border on Saturday and massacred hundreds at a music festival.
Israel is now massing tanks and troops on the border with Gaza in the town of Sderot – with some 300,000 reserve troops deployed to the south.
Prime minister Benjamin Netanyahu has vowed to reduce Gaza to "rubble" as he blitzes Hamas strongholds in revenge for Saturday's surprise attack.
He has brought in special forces as his troops pound the Gaza Strip with relentless air strikes after officially declaring war on Hamas.
The US is also moving several warships – including USS Gerald Ford – to the Mediterranean after Joe Biden pledged Washington's "rock solid" support to Tel Aviv.
US officials expect Israel to invade the Gaza Strip within the "next 48 hours", Washington Post reports.
This morning, Israel imposed a "complete siege" on the area – including a sweeping ban on food and fuel moving into Gaza and an immediate cut-off of the water supply.
"There will be no electricity, no food, no fuel, everything is closed," Defence Minister Yoav Gallant said.
"We are fighting human animals and we act accordingly."
So far, at least 700 people have been killed in Israel while more than 500 are confirmed dead in Gaza – with the death toll set to soar on both sides.
Rishi Sunak has called an urgent COBRA meeting today following the brutal attacks – and Downing Street said supports Israel taking "proportionate action" in response to the attacks by Hamas.
Israeli rescue service Zaka said its paramedics recovered about 260 bodies from the Supernova music festival in Sukkot, southern Israel.
Hundreds of revellers were slaughtered by gunmen on paragliders and a barrage of rockets.
It was one of the first targets of Hamas militants who stormed over Gaza's border early on Saturday.
Shocking footage showed terrified ravers fleeing the site – with some 750 people reported missing.
More than ten Brits are now among those feared dead or missing, according to The Times.
Corporal Nathanel Young, 20, who was serving in the 13th battalion of the Israeli Defence Forces, was confirmed dead on Saturday.
And yesterday, Scot Bernard Cowan, 57, is reported to have been murdered by the Palestinian militant group.
His brother Colin shared the news on Facebook today, stating that "we are all devastated".
The missing Brits include Jake Marlowe, 26, who was working as a security guard at the festival.
Another Brit, photographer Dan Darlington, who was visiting from his home in Berlin, is also missing according to his dad David.
He was pictured laughing with his German girlfriend Carolin Bohl – who is also missing – shortly before they vanished during the festival massacre.
His family said he had been "full of life and the life of the party".
Nine Americans have also been killed in Israel, the US government confirmed.
One-eyed Hamas terror boss Mohammed Deif masterminded the carefully planned and deadly assault.
The wheelchair-bound 58-year-old has survived five assassination attempts that killed his wife and two children.
Deif ordered the militants to use explosives and bulldozers to break through the fences surrounding Gaza.
And Hamas insiders claimed that Iran helped them plot the brutal attack.
They said top officers from Iran's Islamic Revolutionary Guard Corps had worked on the plot since August – and reportedly gave the go-ahead at a meeting in Beirut, Lebanon.
Militants from Hezbollah, an Iranian-backed militia that runs much of Lebanon and has often clashed with Israel, also said Iran helped plot the slaughter.
Revolutionary Guard leader Ismail Qaani reportedly led the meetings – which were attended by Hezbollah chief Hassan Nasrallah and Hamas's Saleh al-Arouri.
The Hamas and Hezbollah insiders said the attacks were aimed at disrupting US-brokered talks between Israel and Saudi Arabia to establish normal diplomatic relations.
Hezbollah and Israel exchanged artillery and rocket fire today, while Israel said it killed a "number of armed suspects" who entered Israel from Lebanon.
Iran has for many years tried to build influence in countries around Israel by funnelling cash and weapons to the likes of Hamas, Hezbollah and Syria's Assad regime.
Meanwhile, Kyiv claimed Nato weapons gathered as war-spoils from fallen Ukrainian troops were shipped to Hamas militants to use in the Israeli onslaught.
Dr Nimrod Goren, senior fellow for Israeli affairs at the Middle East Institute, told The Sun: "This is not in a short thing, and it will not be over very quickly.
"It's evident that the first goal of Israel is to push Hamas out of its territory. And whenever there are still Hamas people inside Israeli towns then the effort is to clean [them] out.
"The Israeli government [will] want to cast a large price and toll from Hamas.
"Whether or not a ground offensive will happen – it's a big question."
Israeli army spokesman Lieutenant Colonel Jonathan Conricus said some 1,000 Palestinian militants took part in Hamas's attack on Saturday – which he called "by far the worst day in Israeli history".
"Never before have so many Israelis been killed by one single thing, let alone enemy activity in one day," he said.
He likened it to "a 9/11 and a Pearl Harbour wrapped into one".
Israel was stunned when Hamas launched its multi-pronged offensive on Saturday – with at least 3,000 rockets raining down as fighters infiltrated towns and stormed the music festival.
Panicked Israelis hiding in their homes said militants were going door to door and shooting civilians or dragging them away.
At least 100 citizens were captured by Hamas and abducted into Gaza – with images circulating on social media of bloodied hostages.
Israel also came under attack on Sunday when Lebanon's Hezbollah launched missiles "in solidarity" with Hamas.
Israeli attacks have decimated several residential tower blocks in Gaza and destroyed a number of mosques.

⬇️ Top Picks for You ⬇️
Venezuela Is Preparing to Invade Oil-Rich Neighbor Guyana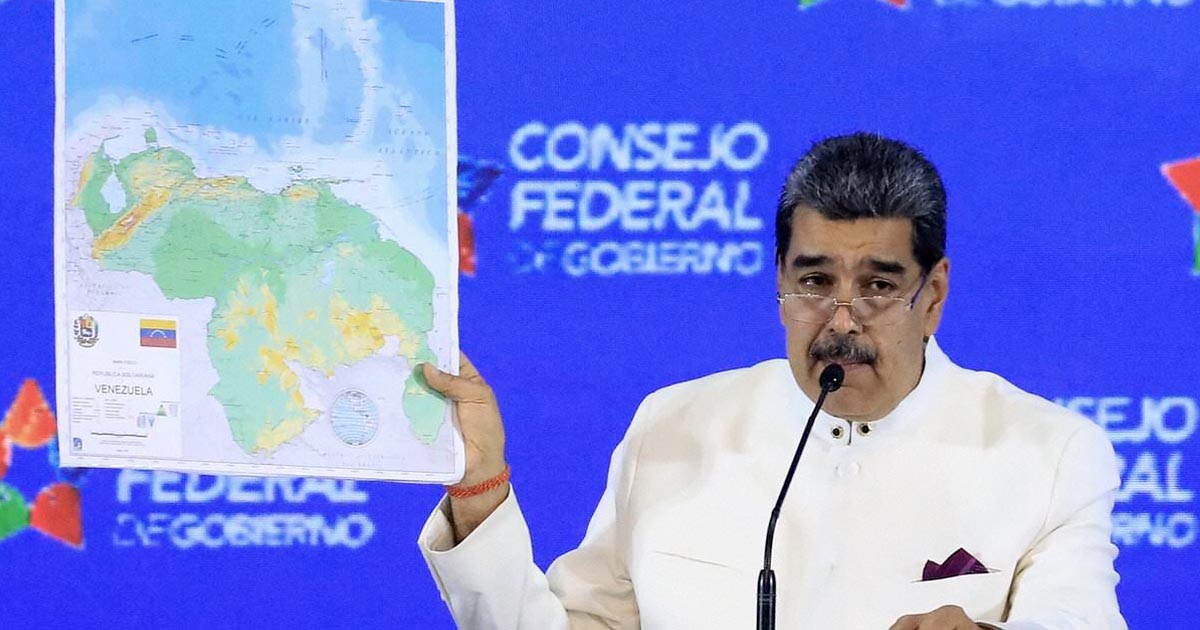 Venezuela's president on Tuesday published a new map of the region showing two thirds of neighboring Guyana 'reclaimed' by Caracas and ordered the state-owned energy companies to 'immediately' begin exploration in the area, as fears rose that Nicolas Maduro could start a war.
Venezuela has claimed Guyana's Esequiba region for over 100 years – ever since the border of the present-day country was drawn up, in 1899. But on Sunday, with his own popularity falling in the face of a newly-unified opposition, Maduro organized a 'referendum' on whether to pursue Venezuela's claim to the territory.
Voters were asked if they agreed with creating a Venezuelan state in the Esequiba region, providing its population with Venezuelan citizenship, and 'incorporating that state into the map of Venezuelan territory.'
The Maduro-controlled Venezuelan National Electoral Council said voters chose 'yes' more than 95 percent of the time on each of five questions on the ballot, and on Tuesday Maduro published his new map.
He has appointed a general, Alexis Rodríguez Cabello, as head of the region and on Tuesday dispatched him to the town of Tumeremo, a remote mining town in the jungle, 120 miles from the border.
Esequiba, about the size of Florida, is rich in minerals and accounts for two thirds of the territory of Guyana – an English speaking nation, which gained its independence from Britain in 1966. Guyana is the only English-speaking country in South America.
Venezuela protested an oil tender announced by Guyana in September, arguing that the offshore areas are subject to dispute and the companies awarded the fields will not have the rights to explore them.
Guyana has denounced Sunday's referendum as pretext to annex the land: in the days running up to it, the Venezuelan defense minister Vladimir Padrino Lopez, known for his ties to his counterparts in Russia and Iran, posted a video of Venezuela troops on parade, waving flags saying 'Guyana Esequiba', colored in the Venezuelan flag.
President Irfaan Ali called the move by Maduro 'reckless' and said his country plans to alert both regional and world leaders of Maduro's attempt to disrupt the peace in the hemisphere.
'It is unfortunate that President Maduro would choose the road of defying an international court order. This speaks volumes about the way in which President Maduro prefers to operate and also points to the fact that he's unconcerned about the peace and security of this region,' he told The Miami Herald.
'The order of the [U.N. court] made it very clear that Venezuela cannot act or take any action that would disrupt the status quo and the status quo is that Guyana exercises governance and control of Essequibo,' he said.
He added that he is seeking the support of the United Nations Security Council, the United States, the Caribbean Community, the Organization of American States and other countries to ensure Guyana's territory is 'not violated.'
'We once again call on Venezuela to retract from this reckless, adventurous move and to allow international law and the ruling of the [U.N. court] to guide our action,' Ali added.
El pueblo y su #FANB están movilizados, decididos e imperturbables a recuperar nuestra Guayana Esequiba, nos mueve el amor infinito a la patria y a cada milímetro del sagrado territorio venezolano, el cual defenderemos por todas las vías y por todos los medios que estén a nuestro… pic.twitter.com/B60slT8xSs

— Vladimir Padrino L. (@vladimirpadrino) November 29, 2023
Guyana has appealed to the International Court of Justice, the United Nations' top court, which on Friday ordered Venezuela not to take any action to change the status quo until the panel can rule on the two countries' competing claims. Any decision could take years.
Meanwhile, Guyana is nervously eyeing its giant neighbor to the north.
Venezuela's military, backed by Russia, Iran and Cuba, massively outnumbers tiny Guyana's: the Venezuelan military counts 123,000 active personnel versus only 3,400 for Guyana, according to an analysis in Brazil's Folha de Sao Paulo newspaper.
Guyana is also dwarfed by Venezuela in weaponry, with Venezuela having 514 armored vehicles compared to only six owned by Guyana.
Such an attack would draw a strong international response, with the lead likely played by Brazil, which borders both Venezuela and Guyana and whose military is significantly larger and more professional than either country's.
At the end of November, Brazil's defense ministry said it 'has intensified defensive actions' along its northern border.
'The Ministry of Defense has been monitoring the situation. Defensive actions have been intensified in the northern border region of the country, promoting a greater military presence,' it said in a statement.