Jamie Lee Curtis just issued a statement responding to criticism earlier this week about a strange piece of art in her home.
"Last week I posted a picture of some chairs that included a photograph on the wall by an artist that was gifted to me 20 years ago," she wrote as an explanation. "I understand it has disturbed some people. As I have said, I am a truth teller, so here's the truth."
She went on to defend the photo.
"It's a picture of a child, taken by her mother, of her playing in their backyard in a tub of water. Nothing more, nothing less. I took down the post because I didn't want to keep something up that upset anyone," she wrote.
The image in question showed a child in what appeared to be a plastic tub of water. It was created by artist Betsy Schneider, who social media users discovered had several other photos of nude children in her image portfolio.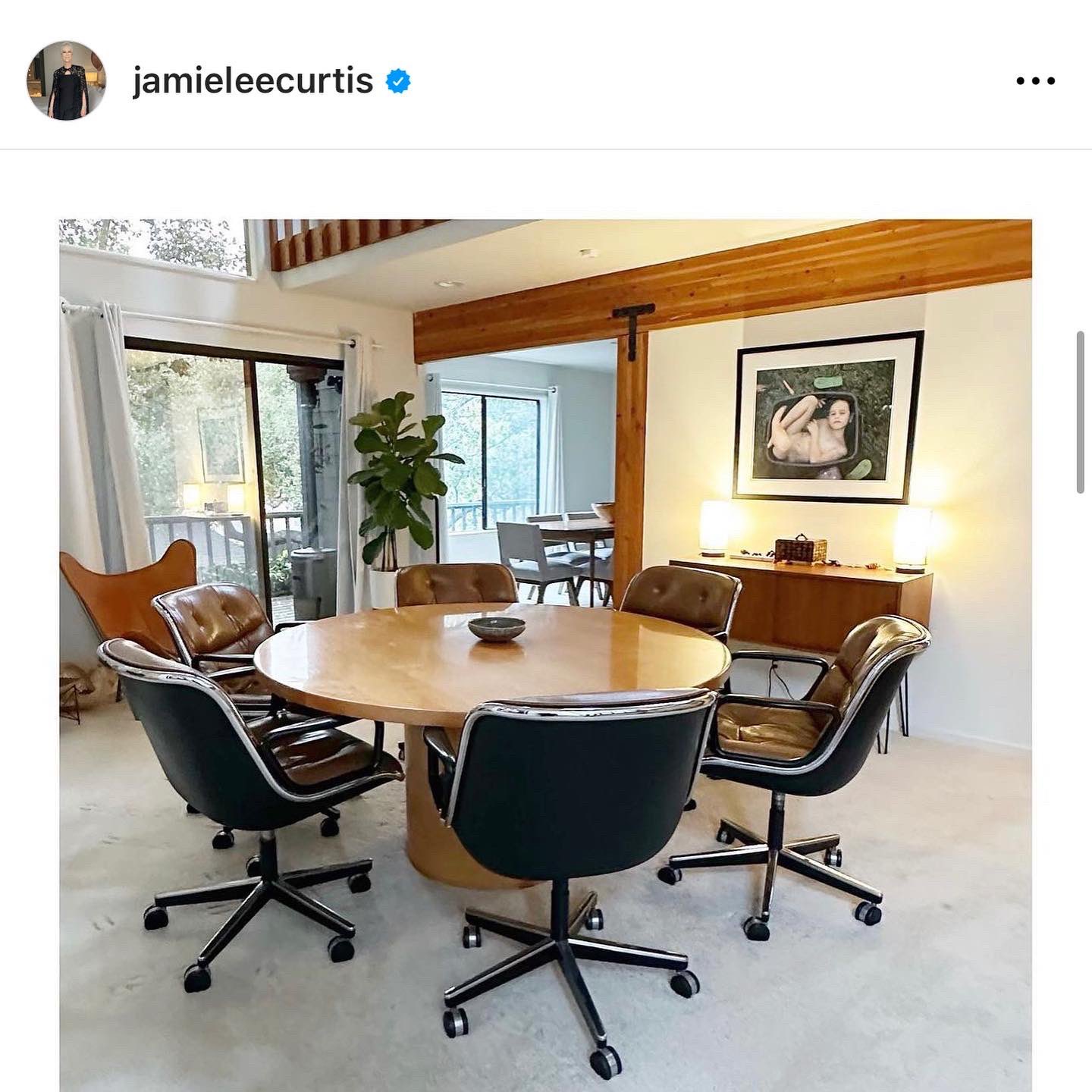 An image of the photo hanging on Curtis' wall originally went viral when it was shared on Twitter.
"Why does Jamie Lee Curtis have a picture of a naked child stuffed inside a suitcase on her wall? Strong Epstein vibes," podcast host Stew Peters shared alongside a screenshot of Curtis' original Instagram post.
"5 days ago Hollywood has-been Jamie Lee Curtis posted a vaccine ad for Pfizer on Instagram," Rogan O'Handley shared with his followers. "3 days ago she posted an extremely disturbing picture she has in her home of a child stuffed in a suitcase. We have serious questions."
Curtis's explanation about the art on her wall isn't sitting well with some of her followers, who claim it's still creepy.
"Jamie Lee Curtis clarifies THAT artwork on her wall by revealing it's an image of a naked child taken by the kid's mother 'playing' in a tub of water, which was then gifted to Curtis," one response said. "Well, that explains it then. Totally normal. I prefer landscapes."
"Nah sis, there ain't no logical explanation for having a picture of a naked child contorted in a tub of water in your home," an Instagram user wrote in the comments.
"Especially a child you don't know. And there's no logical explanation for a mother selling a picture of their naked child in a tub of water. I don't see how it's in any way cute or appropriate. I wouldn't even post a picture like that of my child on social media. And if someone gifted me that, I'd be concerned about their thought process."

⬇️ Top Picks for You ⬇️
WATCH: Footage Of Attack On Paul Pelosi Released
San Francisco law enforcement officials released body camera footage Friday from the October attack on Rep. Nancy Pelosi's (D-CA) husband, Paul Pelosi.
A San Francisco judge ordered that the footage be made public after a coalition of news outlets filed a motion to release the footage on January 11.
The footage shows police knocking on the door of the home before either Pelosi or DePape opened it.
"What's going on man?" an officer asks.
"Everything is good," DePape responds as he wrestled for control of a hammer with Pelosi.
"Drop the hammer!" the officer then says.
"Umm, nope," DePape responded before gaining control of the hammer and striking Pelosi.
"Oh, s—!" one of the officers says as police rushed in to stop DePape during the attack.
#EXCLUSIVE
Just released police body camera video shows moments David DePape attacked Paul Pelosi at his# San Francisco home

WARNING: VIDEO IS GRAPHIC#PaulPelosi #BREAKING@Nbcbayarea pic.twitter.com/rQZriBvOCm

— Bigad Shaban (@BigadShaban) January 27, 2023
Paul Pelosi was attacked on October 28 by a nudist activist who broke into the Pelosi residence seeking to kidnap the then-House speaker, prosecutors said in a pretrial hearing. The activist, who prosecutors identified as 42-year-old David DePape, attacked Paul Pelosi after not being able to locate his wife.
DePape has pleaded not guilty on all charges, which include both state and federal charges. He is expected to appear in state court on February 23 to set a date for his trial. He is being held in jail without bail.
Authorities said that San Francisco police entered the Pelosi residence around 2:30 a.m. local time on the night of the attack. An assailant and Pelosi struggled over a hammer, and then the assailant "violently" assaulted Pelosi, the police said.
After the attack, Pelosi was taken to a hospital where he underwent "successful surgery to repair a skull fracture and serious injuries to his right arm and hands," a spokesman for Nancy Pelosi said at the time.
DePape broke into the house shouting "Where's Nancy?" a court affidavit said.
DePape told first responders at the scene that he was sick of the "level of lies" from politicians in Washington, D.C., and "came here to have a little chat with [Paul Pelosi's] wife," according to a court filing.
"I didn't really want to hurt him, but you know this was a suicide mission. I'm not going to stand here and do nothing even if it cost me my life," DePape said, according to the filing.
DePape allegedly intended to attack other high profile figures as well. Police said DePape intended to target President Joe Biden's son Hunter, Democratic California Gov. Gavin Newsom, and actor Tom Hanks.