The Food and Drug Administration (FDA) has revoked authorization of Johnson & Johnson's Covid vaccine after it was paused over rare blood clot concerns, which sent demand plummeting.
The move was not unexpected because J&J's parent company Jannsen had requested that federal regulators at the FDA withdraw authorization for its vaccine after it was revealed that the last tranche of doses – about 12.5 million – had expired.
As of year three of the Covid pandemic, nearly 231 million Americans have received either one J&J shot or two doses of an mRNA vaccine from Pfizer or Moderna.
Vaccination fatigue has swept the US, with millions of Americans frustrated by the fact that a shot does not guarantee immunity from the virus but rather protects against severe illness, and all those who had planned on getting fully vaccinated are believed to have done so by now.
With a renewed wave of demand for J&J's single-dose vaccine highly unlikely, coupled with a beleaguered history of production hiccups and health concerns that severely eroded public trust, the pharmaceutical company has opted to step away from the Covid vaccine field.
Citing ever-shrinking demand, J&J told the FDA it would not update formulations of its shot to confront emerging strains better, a step that Moderna and Pfizer took last year to address the devastating omicron variant.
Dr Peter Marks, Director of the FDA's Center for Biologics Evaluation and Research said: 'Because FDA understands that… Janssen Biotech, Inc. has requested that FDA withdraw the EUA for the Janssen COVID-19 Vaccine, FDA has determined that it is appropriate to protect the public health or safety to revoke this authorization.'
A fraction of Americans have received J&J's vaccine compared to the other vaccines approved for use in the US.
Nearly 367 million Americans have received a Pfizer shot while over 232 million have received a dose of Moderna's vaccine. A paucity of the total shots administered in the US since early 2021 – just over 19 million – were made by J&J.
Johnson & Johnson's vaccine was plagued by controversy since it entered the market in February 2021. By that time, more than 2.1 million mRNA shots had already been administered and those from Pfizer and Moderna became the gold standard.
Less than a month after the J&J vaccine was granted emergency use authorization from the FDA, it became mired in controversy over a small but growing number of severe blood clotting disorders called thrombosis with thrombocytopenia syndrome (TTS) in people who got the shot.
Thrombosis with thrombocytopenia syndrome is a severe condition characterized by thrombosis formation, or blood clots, combined with thrombocytopenia, a severely low platelet count that hinders the body's ability to stop a wound from bleeding.
Symptoms of TTS, also known as Vaccine-induced prothrombotic immune thrombocytopenia (VIPIT) or vaccine-induced immune thrombotic thrombocytopenia (VITT), typically come on between four and 42 days following vaccination.
The FDA and the Centers for Disease Control and Prevention (CDC) issued a sweeping pause on administering the shots in April 2021, citing six cases of the rare clotting disorder.
The agencies performed an investigation into the cases and re-assessed the risk-to-benefit ratio, concluding that they 'have confidence that this vaccine is safe and effective in preventing COVID-19' and that 'the available data show that the vaccine's known and potential benefits outweigh its known and potential risks in individuals 18 years of age and older.'
Meanwhile, it had been revealed that the Baltimore-based Emergent BioSolutions manufacturing plant making the J&J vaccines had inadvertently ruined about 15 million doses after cross-contamination between that vaccine and a similar one from AstraZeneca meant for the UK.
US regulators stripped Emergent of its responsibility to produce the AstraZeneca vaccine and granted J&J full control over the manufacturing process of its shots at the Baltimore plant. When all was said and done, J&J was ordered to toss out 60 million doses of its vaccine out of contamination concerns.
Despite the federal government lifting the recommended pause on J&J's shot after about a week and a half, the damage to its reputation had been done. Public trust in the single-dose vaccine eroded drastically and it soon became the object of derision.
Comedy superstar Dave Chappelle, for instance, quipped that he chose the 'third best option' when it came time to get vaccinated, adding, 'I'll have what the homeless people are having.'
The J&J vaccine was widely expected at first to be a boon for people experiencing homelessness and other disenfranchised people who could not guarantee to be able to get the requisite second shot of Moderna or Pfizer.
One online jokester quipped, 'Johnson and johnson made the temporary tattoo of vaccines,' and another said: Johnson and Johnson is The Godfather Part 3 of vaccinations.'
In December 2021, the panel of vaccine experts at the CDC voted to recommend the use of the Moderna and Pfizer mRNA vaccines over the J&J amid growing reports of TTS. They pointed out that the problem is rare, occurring in about one case in every 100,000 doses given to women aged 30 to 49, the group at highest risk for TTS.
Subsequently, in May of 2022, the FDA limited its use to adults 18 and older who were unable to get an mRNA vaccine due to an allergy to it or lack of availability.

⬇️ Top Picks for You ⬇️
McCarthy to Work with Dems to Pass 45-Day Funding, Avoiding Govt Shutdown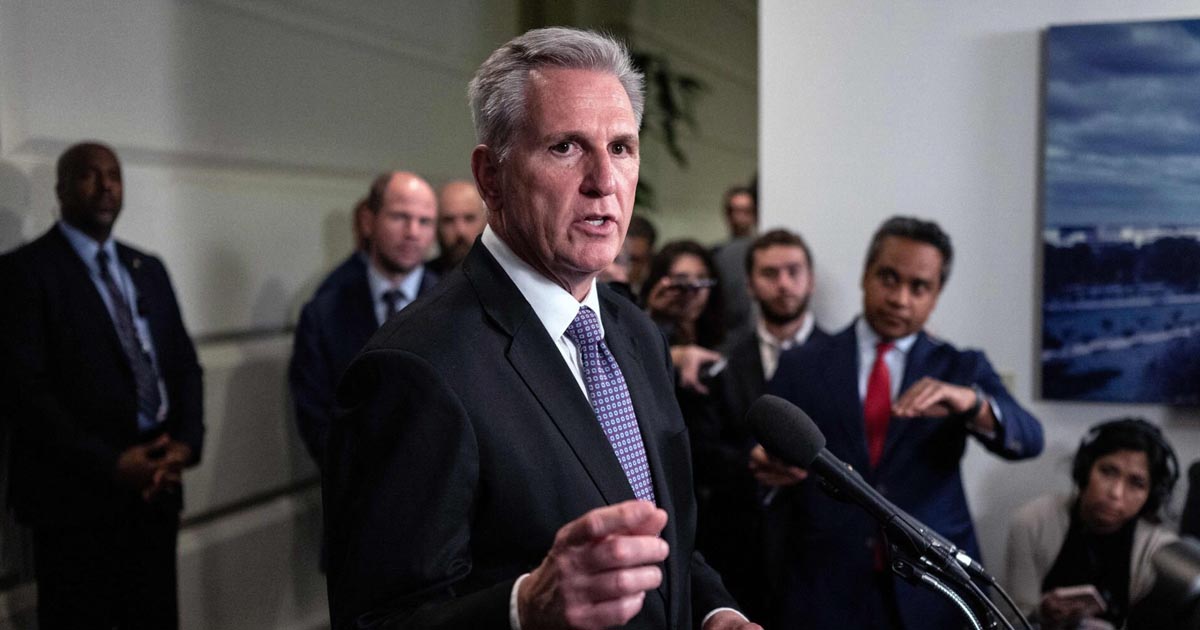 On the brink of a federal government shutdown, Speaker Kevin McCarthy announced a dramatic pivot Saturday, trying to push a 45-day funding bill through the House with Democratic help — a move that could keep government open but most certainly risks his job.
Republican lawmakers met behind closed doors early in the morning with hours to go before the midnight deadline needed to fund government operations or face a disruptive federal closure.
The new approach would leave behind aid to Ukraine, a White House priority opposed by a growing number of GOP lawmakers, but the plan would increase federal disaster assistance by $16 billion, meeting President Joe Biden's full request.
The House was preparing for a quick vote Saturday on the plan, but Democrats hit the brakes, seeking time so they could read the 71-page bill. Across the Capitol, the Senate was opening a rare weekend session and hoping to advance its own stopgap plan, but with money for Ukraine.
"We're going to do our job," McCarthy said after the morning meeting. "We're going to be adults in the room. And we're going to keep government open."
With no deal in place before Sunday, federal workers will face furloughs, more than 2 million active-duty and reserve military troops will work without pay and programs and services that Americans rely on from coast to coast will begin to face shutdown disruptions.
The sudden House action would fund government at current 2023 levels for 45 days, through Nov. 17. It would move closer to the bipartisan approach underway in the Senate, which also would fund the government through that period, while adding $6 billion for Ukraine to fight the war against Russia and $6 billion for U.S. disaster relief.
"A bipartisan, a bicameral solution is the only way forward," said Rep. Rosa DeLauro, the top Democrat on the House Appropriations Committee. She and other Democrats decried cutting Ukraine aid.
McCarthy, R-Calif., will be forced to rely on Democrats for passage because the speaker's hard-right flank has said it will oppose any short-term measure. McCarthy was setting up a process for voting that will require a two-thirds supermajority, about 290 votes in the 435-member House for passage. Republicans hold a 221-212 majority, with two vacancies.
Relying on Democratic votes and leaving his right-flank behind is something that the hard-right lawmakers have warned will risk McCarthy's job as speaker. They are almost certain to quickly file a motion to try to remove McCarthy from that office, though it is not at all certain there would be enough votes to topple the speaker.
"If somebody wants to remove me because I want to be the adult in the room, go ahead and try," McCarthy said of the threat to oust him. "But I think this country is too important."
The quick pivot comes after the collapse Friday of McCarthy's earlier plan to pass a Republican-only bill with steep spending cuts up to 30% to most government agencies that the White House and Democrats rejected as too extreme.
"Our options are slipping away every minute," said one senior Republican, Rep. Mario Diaz-Balart of Florida.
Meanwhile, the Senate was marching ahead on its package with support from both Democrats and Republicans.
"Congress has only one option to avoid a shutdown — bipartisanship," said Senate Majority Leader Chuck Schumer, D-N.Y.
Senate Republican leader Mitch McConnell of Kentucky echoed the sentiment, warning his own hard-right colleagues there is nothing to gain by shutting down the federal government.
"It heaps unnecessary hardships on the American people, as well as the brave men and women who keep us safe," McConnell said.
The federal government is heading straight into a shutdown that poses grave uncertainty for federal workers in states all across America and the people who depend on them — from troops to border control agents to office workers, scientists and others.
Families that rely on Head Start for children, food benefits and countless other programs large and small are confronting potential interruptions or outright closures. At the airports, Transportation Security Administration officers and air traffic controllers are expected to work without pay, but travelers could face delays in updating their U.S. passports or other travel documents.
An earlier McCarthy plan to keep the government open collapsed Friday due to opposition from a faction of 21 hard-right holdouts despite steep spending cuts of nearly 30% to many agencies and severe border security provisions.
The White House has brushed aside McCarthy's overtures to meet with Biden after the speaker walked away from the debt deal they brokered earlier this year that set budget levels.
Catering to his hard-right flank, McCarthy had returned to the spending limits the conservatives demanded back in January as part of the deal-making to help him become the House speaker.
After Friday's vote, McCarthy's chief Republican critic, Rep. Matt Gaetz of Florida, said the speaker's bill "went down in flames as I've told you all week it would."