Journalist Andy Ngo 'Vindicated' as Antifa Thugs Ordered to Pay for Infamous 'Milkshake' Attack
Independent journalist Andy Ngo has claimed vindication after Antifa members he claims attacked him and left him with a brain bleed in 2019 were ordered to pay him $300,000 in damages.
Katherine Belyea, Madison Allen, and Sammich Overkill Schott-Deputy (formerly known as Joseph Evans) are on the hook for damages Ngo requested for alleged assault, battery, and intentional infliction of emotional distress, even though they never turned up to answer his charges against them.
He accused the trio of provoking a mob to descend upon him, bashing him over the head with a sign and dousing him with milkshakes, which Portland police warned might contain quick-drying concrete.
Each were ordered to pay $100,000. "It was a small vindication after a traumatic experience," Ngo told The Post. "The judge awarded me the full amount that she could, and perhaps that is telling."
He says the outcome is a relief as he fights for justice for others victimized by Antifa.
"I owed it to myself and to all the people who have supported me over the years to pursue justice. I was fighting not just for me, but for the many, many others who have been victimized by this violent extremist movement," he said.
Ngo, who is the author of the 2021 book "Unmasked: Inside Antifa's Plan to Destroy Democracy," rose to prominence for his on-the-ground coverage of Antifa.
The Portland native, 36, has frequently gone undercover and infiltrated Antifa's ranks, exposing their tactics and live-streaming protests.
"The legacy media… provided either biased or incomplete reporting on the political violence happening in Portland," Ngo said. "So I went out and just recorded on my phone because I thought it was important for the public to see what was happening on the streets with their own eyes."
The ruling was announced by Multnomah County Circuit Court judge Chanpone Sinlapasai on Monday. Ngo won the case by default and was awarded the full settlement he requested after the three defendants did not respond to summons and failed to show up to court.
According to his lawsuit, Allen, Belyea, and Schott-Deputy were among a mob of assailants who kicked, punched, and threw eggs and milkshakes at him during a June 2019 protest. Part of the altercation was captured on video.
The complaint claims Schott-Deputy was among the first to strike Ngo, thus inciting more violence. Allen allegedly hit him over the head with a sign, while Belyea threw a milkshake at him.
Ngo was subsequently hospitalized overnight for a subarachnoid brain hemorrhage. He claims to have lasting brain injuries as a result of the altercation.
Schott-Deputy was ultimately convicted of a felony for bashing a man on the head with a tool at the protests that same day.
Although he's satisfied with the settlement, Ngo worries it will be "extremely difficult" to actually get the money.
"For years now we've seen documented evidence of many Americans suffering at the hands of so-called Antifa, but really none of them pursue civil claims because these [Antifa] losers often don't have any of their own assets to collect from," he said.
The compensation order comes after Ngo had a disappointing day in court earlier this month, when alleged Antifa members John Colin Hacker and Elizabeth Renee Richter were found not liable in the same civil suit.
Although the complaint claimed the pair were among a mob who yanked off his mask, hit him in the head, and chased him into a hotel during a 2021 protest, a Portland jury found them not liable for assault and battery after a week-long trial.
"It's shocking to me still," Ngo said of the outcome. "I froze when the judge read out the verdict. I thought that maybe I had misheard her."
Looking back, he is concerned chaos during the trial may have influenced the jury, who he says were "quite scared." The Oregonian reported multiple disruptions and heightened security at the court.
"There were threats online, and there were allegedly dangerous people who attempted to get inside the courtroom," he said. "And unfortunately some of these incidents played out in front of the jurors."
After his reporting led to multiple hospitalizations and ongoing harassment, Ngo left Portland and moved to London earlier this year for personal safety. But he says he's still in contact with Portland police to keep his family safe.
He said Antifa members have shown up to his mother's home and place of work on multiple occasions, including recently.
"She came here as a refugee after the Vietnam war, and she always thought of America as a very safe place where people's civil rights were protected," he said. "I think she's confused now. And she's scared for herself and for me."

⬇️ Top Picks for You ⬇️
Biden Got Recurring $1,380 Payment from Hunter's Firm Starting in 2018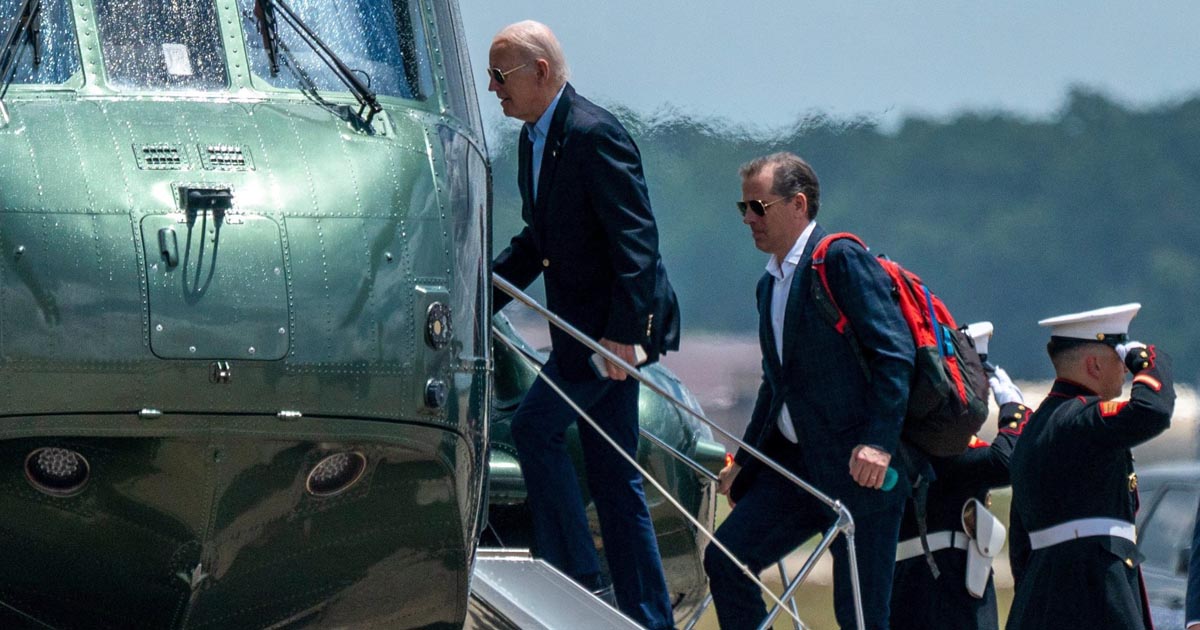 President Biden received a recurring payment of $1,380 from his son Hunter's law firm beginning in late 2018 shortly after a bank money laundering officer warned that the same account was receiving millions of dollars in Chinese government-linked funds without "any services rendered."
A bank order shows that Owasco PC set up a "monthly" transfer to then-former Vice President Joseph R. Biden Jr., with a voided check for the future president included in the documentation, which was released Monday by the House Oversight Committee.
A source told The Post that at least three recurring payments were made — on Sept. 17, Oct. 15 and Nov. 15, 2018 — totaling $4,140 to the elder Biden from Owasco PC, according to the bank records of the firm.
"President Biden and his family must be held accountable for this blatant corruption," Oversight Committee Chairman James Comer (R-Ky.) said in a video release.
"Today, the House Oversight Committee is releasing subpoenaed bank records that show Hunter Biden's business entity, Owasco PC, made direct monthly payments to Joe Biden. This wasn't a payment from Hunter Biden's personal account but an account for his corporation that received payments from China and other shady corners of the world," Comer said.
"At this moment, Hunter Biden is under an investigation by the Department of Justice for using Owasco PC for tax evasion and other serious crimes. And based on whistleblower testimony, we know the Justice Department made a concerted effort to prevent investigators from asking questions about Joe Biden. I wonder why?"
Earlier that year, a January 2019 email from assistant Katie Dodge to Hunter Biden annotated various expenses including "Ford Raptor — Reimbursement to JRB — $1380."
The provenance of the funds is unclear, however, and additional records show that Hunter Biden was knee-deep in two of his most controversial business relationships at the time, with Ukraine's Burisma Holdings and CEFC China Energy.
The evidence emerged as House Republicans prepare to question first brother James Biden on Wednesday and Hunter next week about the president's role in his family's dealings in countries such as China and Ukraine — with a possible floor vote to authorize the ongoing impeachment inquiry this month.
While a presidential candidate, Joe Biden denied that he ever discussed business with his relatives, but evidence has since shown that he met with his relatives' associates from both the Burisma and CEFC ventures.
Documents from the first son's abandoned laptop show that Burisma board adviser Vadym Pozharskyi sought "bank reference" information on Sept. 14, 2018 — one day before the initial transfer to Joe Biden was sought. However, the transaction was not executed for another two days, apparently due to a later-than-expected form submission.
Joe Biden met Pozharskyi at an April 17, 2015, dinner at DC's Café Milano. An unproven FBI informant tip said that Burisma owner Mykola Zlochevsky claimed in 2016 he was "coerced" into paying $10 million in bribes to the Bidens for their assistance in ousting prosecutor Viktor Shokin.
Hunter also was on the tail end of disbursing millions of dollars received from CEFC China Energy — one of two major Biden family dealings with Chinese government-linked firms.
On June 26, 2018 — less than three months before Joe Biden began to receive the monthly transfers — an internal Bank Secrecy Act expert warned colleagues that the institution should reconsider its relationship with Hunter as a result of Owasco PC seeming to receive Chinese funds without "any services rendered."
CEFC transferred $5 million to another Biden family-linked entity, Hudson West III, in August 2017 after Hunter warned a China-based associate of his father's wrath if a business deal was aborted. Much of the large transfer later went to Hunter's Owasco PC.
Prior bank records released by the Oversight Committee indicate that Joe Biden received payments of $40,000 and $200,000 from his brother James, who also was involved in the CEFC venture and other foreign-focused enterprises.
Comer alleged that the $40,000 transferred to Joe Biden's bank account on Sept 3, 2017, was from "laundered" Chinese funds.
James Biden paid Joe Biden $200,000 on March 1, 2018 — the same day that James received a $200,000 transfer from troubled rural hospital company Americore after pledging to use his political connections to secure a Middle Eastern investor, according to bankruptcy filings.
The White House says there's evidence that both transfers were loan repayments, but Republicans argue they have not seen loan agreement documents and note that the funds distributed to James came from a law firm, rather than Joe Biden himself, further clouding the picture.