A federal judge has ordered a reporter to disclose her sources for an investigative series on an FBI investigation into a Chinese scientist named Yanping Chen, in a rare move that has triggered pushback from press groups.
Catherine Herridge, currently with CBS News but with Fox News when she reported the stories, must sit for a deposition and answer questions under oath about the identity and intent of the sources for the series, U.S. District Judge Christopher Cooper ruled.
"The Court recognizes both the vital importance of a free press and the critical role that confidential sources play in the work of investigative journalists like Herridge," Judge Cooper, an appointee of former President Barack Obama, said in a 28-page ruling. "But applying the binding case law of this Circuit, the Court concludes that Chen's need for the requested evidence overcomes Herridge's qualified First Amendment privilege in this case."
Lawyers representing Ms. Herridge and Fox had argued that the U.S. Constitution's First Amendment protects journalists from most requests and that Ms. Chen had not met the threshold to override the protection.
'Balance of Interests'
While previous rulings have found that journalists are protected by the First Amendment, a party may compel information by proving that the information they seek is critical to their case and that they've exhausted all other options.
"The balance of interests overwhelmingly favors protecting sources," the lawyers said. "Plaintiff's private interest in Privacy Act damages carries no broader public interest. Moreover, given the infirmities in the merits of her case, it is unlikely that Plaintiff can ever establish significant damages at all."
Since filing the lawsuit against the FBI and other federal agencies, Ms. Chen has been able to take 18 depositions of current and former government employees and obtained declarations from others but has still been unable to confirm Ms. Herridge's sources. She believes an FBI agent, an alleged FBI informant, or other government agents leaked an internal FBI presentation created by the agent to Ms. Herridge.
"The identity of Herridge's source is central to Chen's claim, and despite exhaustive discovery, Chen has been unable to ferret out his or her identity. The only reasonable option left is for Chen to ask Herridge herself," the judge wrote.
Fox, CBS, and a lawyer representing Fox and Ms. Herridge did not respond to requests for comment.
Press groups decried the ruling.
"Investigative journalism cannot function without credible assurances of confidentiality to sources," Gabe Rottman, a director at the Reporters Committee for Freedom of the Press, told CNN. "While the Privacy Act provides essential protections for the public, using it to breach reporter-source confidentiality poses significant risks to a free press."
Caitlin Vogus, deputy director of advocacy at Freedom of the Press Foundation, added that the decision emphasizes the need for a bill called the Protect Reporters from Exploitive State Spying (PRESS) Act, which would ban judges from forcing journalists to reveal their sources. The bill has support from members of both parties, including Rep. Jamie Raskin (D-Md.) and Sen. Mike Lee (R-Utah).
Background on Case
Ms. Chen, a naturalized U.S. citizen, founded and owned the University of Management and Technology. Multiple military members attended the university, with the Department of Defense helping pay their tuition.
The FBI, starting in 2010, investigated Ms. Chen. Agents searched Ms. Chen's home and the university's main office. In 2016, prosecutors told Ms. Chen's attorney she would not be charged.
Reporting by Ms. Herridge had focused on Ms. Chen's alleged ties to the Chinese military, but Ms. Chen had said on immigration documents that she had never been affiliated with the military of the Chinese Communist Party. The stories also detailed the FBI investigation and said that agents and prosecutors disagreed over how the case was handled.
The Department of Defense moved in 2018 to stop helping pay the tuition of military members to attend Ms. Chen's university.
Ms. Chen sued the FBI, alleging the leak of information was illegal, violating the Privacy Act.
"Soon after … Chen was informed that no charges would be brought against her, and in violation of federal law," the suit stated, "one or more agents of the Defendants, who possessed or had access to confidential FBI records pertaining to the investigation, caused the Leaked Records to be disclosed to one or more employees or agents of Fox News."

⬇️ Top Picks for You ⬇️
4th Republican Debate Highlights: GOP Rivals Clash on Stage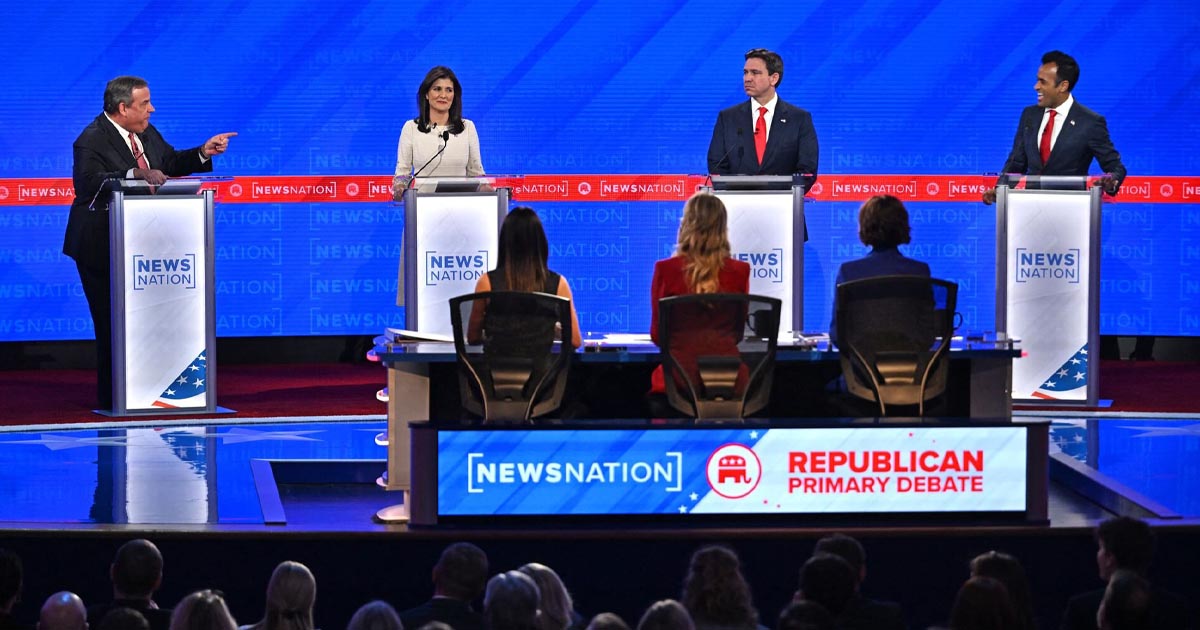 The smallest field yet of GOP candidates faced off Wednesday in the fourth Republican presidential debate of 2023 in Tuscaloosa, Alabama, with the first salvos of the night aimed at former Ambassador to the U.N. Nikki Haley, while former President Donald Trump, who leads the field by a wide margin in the polls, held a closed campaign fundraiser in Florida.
NewsNation hosted the fourth debate with three moderators: NewsNation's Elizabeth Vargas, former Fox News host Megyn Kelly and the Washington Free Beacon's Eliana Johnson.
Four candidates appeared on stage:
Former New Jersey Gov. Chris Christie
Florida Gov. Ron DeSantis
Former U.N. Ambassador Nikki Haley
Businessman Vivek Ramaswamy
The first three debates have not done much to change the dynamics of the race among Republican primary voters. The latest CBS News poll, from early November, showed Trump winning 61% of likely GOP primary voters nationwide, more than all the other candidates combined. DeSantis polled at 18%, Haley at 9%, Ramaswamy at 5%, Sen. Tim Scott at 4% and Christie at 2%.
Here are the highlights from the debate below.
DeSantis and Ramaswamy team up to attack Haley: "I love all the attention, fellas"
DeSantis and Ramaswamy were quick to take shots at Haley, who is rising in the polls as the race for second place heats up.
"She caves anytime the Left comes after her, anytime the media comes after her," DeSantis said.
Ramaswamy later joined in, questioning Haley's wealth since she left government service.
"Nikki, you were bankrupt when you left the U.N. After you left the U.N., you became a military contractor," he said, referring to Haley's stint on the board of Boeing, "whose back you scratched for a very long time and then get foreign multinational speeches like Hillary Clinton is, and now you're a multimillionaire. That math does not add up. It adds up to the fact that you are corrupt."
Ramaswamy also criticized wealthy donors to Haley's campaign, saying they're funding "left-wing causes."
"In terms of these donors that are supporting me, they're just jealous," Haley responded. "They wish that they were supporting them."
DeSantis said, "Nikki will cave to those big donors when it counts."
The pair also went after Haley for proposing that all social media users should be verified by their names online.
"I love all the attention, fellas," Haley said. "Thank you for that."
Christie hammers Ramaswamy in defense of Haley: "The most obnoxious blowhard in America"
Christie offered a forceful defense of Haley against Ramaswamy's insults of her intelligence.
After Ramaswamy claimed that Haley could not name three provinces in eastern Ukraine where she would send U.S. troops, Christie accused the entrepreneur of habitually backing away from comments he makes on the campaign trail when he's confronted by political opponents about his positions.
"This is the fourth debate that you would've been voted in the first 20 minutes as the most obnoxious blowhard in America, so shut the hell up," Christie told Ramaswamy.
The former New Jersey governor accused Ramaswamy of insulting Haley's intelligence, rather than her policy positions — claiming, for example, that she can't identify regions in Ukraine or find Israel on a map.
"If you want to disagree on issues, that's fine, and Nikki and I disagree on some issues," Christie said. "I've known her for 12 years, which is longer than he's even started to vote in the Republican primary, and while we disagree about some issues and disagree about who should be president of the United States, what we don't disagree on is this is a smart, accomplished woman and you should stop insulting her."
Christie went on to criticize Ramaswamy's lack of experience and claimed that while he was serving as the top federal prosecutor in New Jersey, Ramaswamy was "learning about the provinces in Ukraine sitting with his smarta** mouth at Harvard."
"All he knows how to do is insult good people who have committed their lives to public service and not say anything that moves the ball down the field for the United States," Christie said.
Divisions emerge among Republican candidates on parental rights
A question about parental rights and gender-affirming care for young people showed a split between Christie and DeSantis over an issue that has gained traction with Republican voters.
Christie said he favors limited involvement from the government and believes parents should be empowered to make decisions about their children.
"I trust parents," he said.
The former New Jersey governor, who opposes state restrictions on gender-affirming care for transgender youth, asserted it's parents who should be making the decisions about this for their children. He made the point that he and his wife care more for their four children than a government official in a dysfunctional Congress.
"You look at these jokers in Congress — it takes them three weeks to pick a speaker, and up until two days ago, they couldn't promote somebody in the military in the United States Senate who earned their new rank. And we're going to put my children's health and my decisions in their hands for them to make those decisions? For Joe Biden to make those decisions?" Christie said.
He warned parents that if they cede those rights on gender-affirming care for their children to states, it would just be the beginning.
"You start to turn over just a little bit of this authority, the authority they're going to take from you next, you're not going to like," Christie said.
But DeSantis defended restrictions on gender-affirming treatment for minors he signed into law as governor of Florida and warned surgical procedures are "mutilating minors."
"We cannot allow this to happen in this country," he said.
Ramaswamy, meanwhile, suggested the federal government should take action on the issue of gender-affirming surgery.