A judge is set to rule soon on the first Georgia 2020 election co-defendant's attempt to move their charges to federal court, a decision that could prove decisive for the future of Fulton County, Ga., District Attorney Fani Willis's (D) criminal case.
Former Trump White House chief of staff Mark Meadows wants U.S. District Judge Steve Jones to allow him to switch courts to attempt to get his charges thrown out on immunity grounds. It would also widen the jury pool to less Democrat-heavy areas and likely prevent a televised trial allowed by state law.
If Meadows succeeds, legal experts say it would make it easier for former President Trump, who on Thursday pleaded not guilty to the Georgia charges, to follow in his footsteps.
"If Jones does permit Meadows to remove, it won't be on the strength of Meadows's legal argumentation. It will be because of the atmospherics of the case," said Lee Kovarsky, a law professor at the University of Texas.
"And because it will be because of the atmospherics of the case, it seems likely that he would also permit Trump to remove, notwithstanding the specifics of the legal argument," Kovarsky added.
Meadows and his 18 co-defendants are charged with racketeering, which enabled prosecutors to weave together an alleged months-long conspiracy to overturn Georgia's 2020 election result to help keep Trump in power.
Prosecutors outlined 161 acts they say are part of the conspiracy, and Meadows is mentioned in eight. The list includes meetings with state legislators, Meadows's attempt to observe a signature match audit during a Georgia trip and calls he set up between state election officials and Trump.
Meadows has disputed the substance of some of the allegations.
In connection with one of those calls — in which Trump asked the state's top election official to help "find 11,780 votes" — Meadows also faces a count of soliciting a public officer to violate their oath.
He isn't the first federal official to attempt to move their criminal prosecution, but legal experts say Jones is confronting a novel issue with limited case law.
As Jones mulls his decision, he has signaled some, but not all, of the allegations against Meadows may meet the criteria to proceed in federal court.
It has left Meadows and prosecutors battling over whether that is enough to make the switch.
"[B]ased on the Notice of Removal and the record before the Court, each one of these charged acts has a sufficient connection to Mr. Meadow's official duties to support removal," his attorneys wrote in court filings Thursday.
"But based on the black-letter law outlined above, the Court need not reach that conclusion to permit removal. If the Court finds that any charged conduct relates to Mr. Meadow's official duties, that is the end of the inquiry; removal must be permitted," they continued.
The legal dispute turns on three prongs: Meadows must show he was a federal officer, that the allegations relate to an act taken "under color of such office" and that he has a plausible federal defense.
Both sides agree Meadows's White House job means he clears the first prong, but on the last two, they split sharply.
Jones held a hearing last Monday to resolve the dispute. But a day later, he appeared to still have uncertainty, as he asked both sides to submit their views in writing on a singular question.
"Count 1 of the Indictment (pertaining to Georgia's Racketeer Influenced and Corrupt Organizations Act (RICO), O.C.G.A. § 16-14-4(c)) contains a number of overt acts attributed to Mr. Meadows. Would a finding that at least one (but not all) of the overt acts charged occurred under the color of Meadows's office, be sufficient for federal removal of a criminal prosecution," Jones asked in the order.
Responding to the judge's inquiry, Meadows and prosecutors unsurprisingly fell on opposite sides.
"The State also cannot avoid removal by charging a mix of removable and nonremovable conduct. Any contrary rule would lead to absurd results; a State could charge even the most quintessential official act and defeat removal by tacking on unofficial conduct," Meadows's attorneys wrote.
Willis, on the other hand, said Meadows's counts should remain in state court, contending the racketeering charge is not because of one specific act in the indictment and is instead over Meadows agreeing to join the broader conspiracy.
"A finding that some of the overt acts attributed to the defendant occurred under color of office would not suffice to show that the defendant's joining in the conspiracy was itself under color of office or even related to it," Willis's office wrote.

⬇️ Top Picks for You ⬇️
Venezuela Is Preparing to Invade Oil-Rich Neighbor Guyana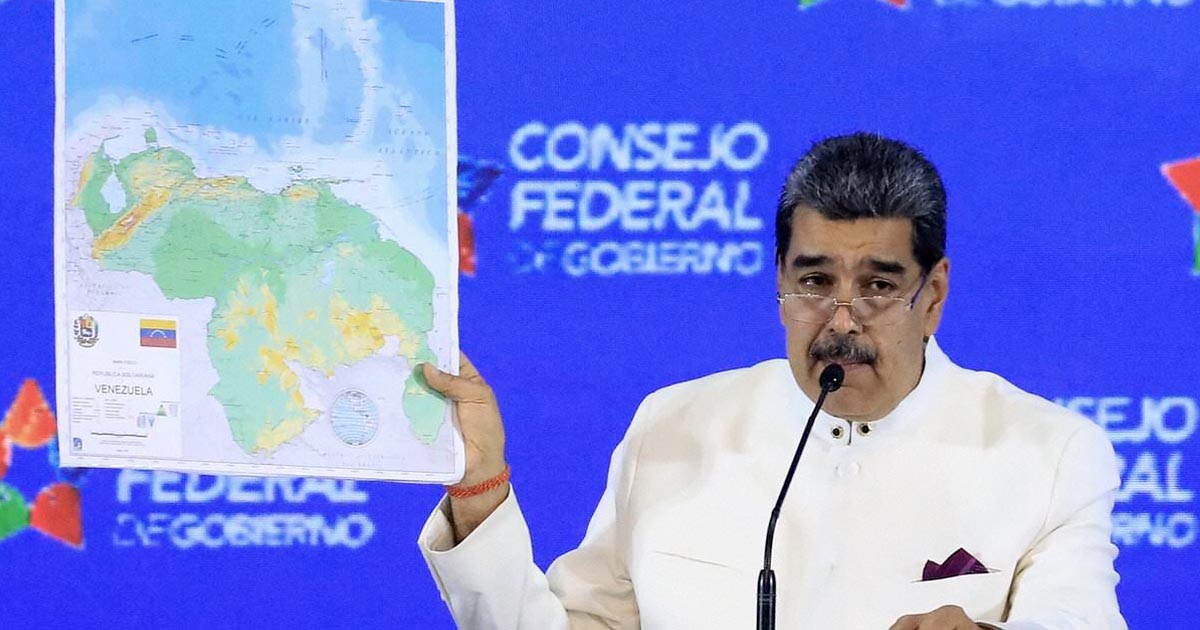 Venezuela's president on Tuesday published a new map of the region showing two thirds of neighboring Guyana 'reclaimed' by Caracas and ordered the state-owned energy companies to 'immediately' begin exploration in the area, as fears rose that Nicolas Maduro could start a war.
Venezuela has claimed Guyana's Esequiba region for over 100 years – ever since the border of the present-day country was drawn up, in 1899. But on Sunday, with his own popularity falling in the face of a newly-unified opposition, Maduro organized a 'referendum' on whether to pursue Venezuela's claim to the territory.
Voters were asked if they agreed with creating a Venezuelan state in the Esequiba region, providing its population with Venezuelan citizenship, and 'incorporating that state into the map of Venezuelan territory.'
The Maduro-controlled Venezuelan National Electoral Council said voters chose 'yes' more than 95 percent of the time on each of five questions on the ballot, and on Tuesday Maduro published his new map.
He has appointed a general, Alexis Rodríguez Cabello, as head of the region and on Tuesday dispatched him to the town of Tumeremo, a remote mining town in the jungle, 120 miles from the border.
Esequiba, about the size of Florida, is rich in minerals and accounts for two thirds of the territory of Guyana – an English speaking nation, which gained its independence from Britain in 1966. Guyana is the only English-speaking country in South America.
Venezuela protested an oil tender announced by Guyana in September, arguing that the offshore areas are subject to dispute and the companies awarded the fields will not have the rights to explore them.
Guyana has denounced Sunday's referendum as pretext to annex the land: in the days running up to it, the Venezuelan defense minister Vladimir Padrino Lopez, known for his ties to his counterparts in Russia and Iran, posted a video of Venezuela troops on parade, waving flags saying 'Guyana Esequiba', colored in the Venezuelan flag.
President Irfaan Ali called the move by Maduro 'reckless' and said his country plans to alert both regional and world leaders of Maduro's attempt to disrupt the peace in the hemisphere.
'It is unfortunate that President Maduro would choose the road of defying an international court order. This speaks volumes about the way in which President Maduro prefers to operate and also points to the fact that he's unconcerned about the peace and security of this region,' he told The Miami Herald.
'The order of the [U.N. court] made it very clear that Venezuela cannot act or take any action that would disrupt the status quo and the status quo is that Guyana exercises governance and control of Essequibo,' he said.
He added that he is seeking the support of the United Nations Security Council, the United States, the Caribbean Community, the Organization of American States and other countries to ensure Guyana's territory is 'not violated.'
'We once again call on Venezuela to retract from this reckless, adventurous move and to allow international law and the ruling of the [U.N. court] to guide our action,' Ali added.
El pueblo y su #FANB están movilizados, decididos e imperturbables a recuperar nuestra Guayana Esequiba, nos mueve el amor infinito a la patria y a cada milímetro del sagrado territorio venezolano, el cual defenderemos por todas las vías y por todos los medios que estén a nuestro… pic.twitter.com/B60slT8xSs

— Vladimir Padrino L. (@vladimirpadrino) November 29, 2023
Guyana has appealed to the International Court of Justice, the United Nations' top court, which on Friday ordered Venezuela not to take any action to change the status quo until the panel can rule on the two countries' competing claims. Any decision could take years.
Meanwhile, Guyana is nervously eyeing its giant neighbor to the north.
Venezuela's military, backed by Russia, Iran and Cuba, massively outnumbers tiny Guyana's: the Venezuelan military counts 123,000 active personnel versus only 3,400 for Guyana, according to an analysis in Brazil's Folha de Sao Paulo newspaper.
Guyana is also dwarfed by Venezuela in weaponry, with Venezuela having 514 armored vehicles compared to only six owned by Guyana.
Such an attack would draw a strong international response, with the lead likely played by Brazil, which borders both Venezuela and Guyana and whose military is significantly larger and more professional than either country's.
At the end of November, Brazil's defense ministry said it 'has intensified defensive actions' along its northern border.
'The Ministry of Defense has been monitoring the situation. Defensive actions have been intensified in the northern border region of the country, promoting a greater military presence,' it said in a statement.