Former gubernatorial candidate Kari Lake is calling attention to a recent ruling in Georgia ordering a new election after officials identified a number of "systemic irregularities" that potentially impacted the result, just days after she lost her own effort to overturn the result of her race in Arizona or hold a new election in Maricopa County.
The case involved a rural county commission race in Screven County, where several candidates filed a lawsuit alleging incorrect ballots were issued to at least two dozen voters, potentially altering the outcome of a county commission race decided by just seven votes, The Georgia Virtue reported.
Several voters, it was later found, had been assigned ballots to districts they did not live in, meaning voters of a certain district were effectively disenfranchised from the vote in their home districts—an argument Lake made after up to 1,000 Arizona voters were provided with incorrect ballots in early voting in the fall.
The judge ultimately ordered a new election in Screven County—something Lake has been pushing for in Arizona after alleging, and failing to prove, instances of rampant fraud and irregularities in her own election.
"WORTH NOTING," Lake wrote on Twitter, without saying why.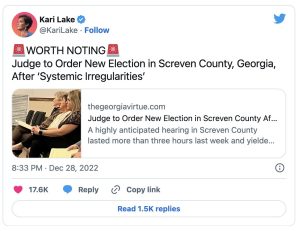 Screven County has just over 14,000 residents; Arizona has nearly 7.3 million. The ballots in question were just several doors away from the district boundary; Lake's race was statewide, and had no resemblance to the dynamics seen in a rural county commission race about 2,000 miles away. Screven County was also decided by seven votes; Arizona by more than 17,000.
Lake's attorneys claimed in court that a printer malfunction caused some ballots not to be counted by machine, ballots that were submitted were ultimately counted by hand, and did not have any impact on people's ability to vote.
The case in Screven County, however, did, and a judge needed only 17 minutes to determine that the apparently accidental distribution of ballots might have caused an incorrect outcome.
According to the law there, a new election is warranted if the number of illegal votes exceeds the margin of the results, or if it is proven there were systemic irregularities in the election process determined to be "sufficiently egregious" to cast doubt on the result.
In this case, plaintiffs challenging the elections process identified more than 20 illegal votes that were cast for the wrong candidate, a margin wide enough to be considered "sufficiently egregious" and cast doubt on the result. Lake's attorneys failed to prove that a similar situation occurred in Arizona.

⬇️ Top Picks for You ⬇️
'Where's Doug?' — Biden Repeatedly Calls Dem Pol by Wrong Name in Echo of 'Where's Jackie?' Gaffe
President Biden called Rep. Don Beyer (D-Va.) by the name "Doug" four times Thursday during a gaffe-filled visit to the congressman's district.
"Where's Doug? Congressman?" the 80-year-old president asked while giving a speech on the economy.
"He's around here somewhere," Biden said as he searched the crowd. "Oh, there you are. Doug, thanks for the passport into town. Doug and I have something in common, we both married way above our station."
Biden is the oldest-ever president, and his mental acuity is frequently a matter of debate as he prepares to launch a 2024 re-election campaign.
The uncomfortable moment recalled the infamous September exchange when Biden asked "Where's Jackie?" as he searched for the late Rep. Jackie Walorski (R-Ind.) in a crowd, despite publicly mourning her death and even calling her family to offer his condolences in August.
About five minutes into his remarks Thursday, Biden appeared to recognize his error when he called Beyer "Doug" for a fourth time and seemed to grasp for his actual name.
"Doug knows, Do —," Biden said haltingly, before launching into an attack on House Republicans, claiming: "Look, here's the deal … They want to cut your Social Security and Medicare. Now, this is the God's truth. It's almost unbelievable."
Contrary to Biden's remark, House Speaker Kevin McCarthy (R-Calif.) said repeatedly this week he doesn't want to cut the social safety nets.
Beyer, a House member since 2015, is a wealthy car dealership owner who became a popular Democratic designate for proxy votes during the COVID-19 pandemic because his urban northern Virginia district abuts DC.
White House press secretary Karine Jean-Pierre said Wednesday that Biden would receive his annual physical before Feb. 1. It's unclear if the exam will feature a cognitive test.
Biden stumbled at other points in his remarks Thursday, including when he said that a train tunnel in Baltimore goes under the Potomac River although the body of water is about a one-hour drive from Maryland's largest city.
"Next week, I'm visiting Baltimore and New York. We're going to replace a 150-year-old tunnel, the Baltimore Potomac Tunnel, under the Potomac River, which will allow rail traffic to move up and down the East Coast," Biden said.
The president appeared to be confused about the physical location of the tunnel because of its name, a legacy of its construction in the 1870s by the Baltimore and Potomac Railroad.
"I'm probably the only non-rail guy who's walked that tunnel," Biden added. "No, I'm not joking … last time I walked it, they still had lights that were on a string hanging down, leaks in the roof — folks, 150 years old, nothing has been done to it. Everything has to slow down. And there's a great worry that part of it could collapse."
Biden also claimed in his remarks that COVID-19 vaccinations were mass-deployed by his administration and not by former President Donald Trump "because the other guy and the other team didn't think it mattered a whole lot" — despite the Trump administration overseeing the rapid development and initial month of deployment of vaccines.
The point of Biden's speech was to promote his economic agenda amid a standoff with House Republicans on increasing the national debt ceiling.
Biden said that "a distinct minority of 30 to 40%" of Republicans were "determined to be the party of chaos and catastrophe."
Although the White House has thus far refused to negotiate in the debt ceiling standoff, Biden appeared to hint he was open to talks.
"Look," he said. "I'm ready to work with Republicans, and I've demonstrated — to the chagrin sometimes of my Democratic friends who want to make progress for the American people — I'm ready to compromise if there's something good we want to deal with."