Two days after news broke that Fox News host Tucker Carlson received access to tens of thousands of hours of January 6 U.S. Capitol surveillance footage, House Speaker Kevin McCarthy (R-CA) opened up about why he made the disclosure.
"I promised," McCarthy told The New York Times on Wednesday. "I was asked in the press about these tapes, and I said they do belong to the American public. I think sunshine lets everybody make their own judgment."
The speaker said last month he was looking to release the tapes because of the "politicization" he believed had been fostered by former Speaker Nancy Pelosi (D-CA) and the January 6 Committee, which focused heavily on former President Donald Trump in its investigation and final report, but McCarthy did not divulge how he was planning to do so.
Axios first reported on Monday that McCarthy shared with Carlson 41,000 hours of surveillance footage from January 6, 2021, the day a crowd of people entered the U.S. Capitol, disrupting lawmakers who were meeting to certify President Joe Biden's 2020 election victory. A Fox News spokesperson told The Daily Wire that the report from Axios was accurate.
Hours later, Carlson said on his show, "Tucker Carlson Tonight," that his team has been granted what they believe to be "unfettered" access to the tapes, and he plans to start sharing what they have found next week.
"Some of our smartest producers have been there looking at this stuff, trying to figure out what it means and how it contradicts, or not, the story that we've been told for more than two years," Carlson said. "We think already that in some ways it does contradict that story."
Tucker Carlson Announces That His Show Has Been Granted Access To 44k Hours Of Footage From January 6th

"We believe that access is unfettered. We believe we have secured the right to see whatever we want to see."

"We're going to spend the rest of this week taking a look at it,… pic.twitter.com/GnPvtbENg5

— The Columbia Bugle 🇺🇸 (@ColumbiaBugle) February 21, 2023
Some Republicans cheered the move, including Rep. Lauren Boebert (R-CO), who had opposed McCarthy's bid for speaker earlier this year. "Thank you [McCarthy] for following through on this!" she tweeted Monday. "The public deserves to see everything that was hidden."
But silence from McCarthy's camp up until now gave Democrats room to issue myriad alarming statements about the nature of the disclosure and risks to Capitol security without any pushback from the source.
In a letter to House Democrats on Tuesday, Minority Leader Hakeem Jeffries (D-NY) said his team is "working to confirm the precise nature of the video transfer," which he called a "reported breach," and he stated there was "no indication" that McCarthy and Carlson followed the same protocols adopted by the January 6 Committee in handling the footage.
Senate Majority Leader Chuck Schumer (D-NY) followed with a letter to his colleagues on Wednesday that warned McCarthy is making available "a treasure trove of closely held information about how the Capitol complex is protected and its public release would compromise the safety of the Legislative Branch and allow those who want to commit another attack to learn how Congress is safeguarded."
McCarthy boasted of giving Carlson the tapes in a fundraising email reported Wednesday by a Bloomberg Government journalist. "I promised I would give you the truth regarding Jan. 6, and now I am delivering," he said.
McCarthy fundraising off of giving Tucker Carlson access to 1/6 Surveillance tapes pic.twitter.com/raptge3F5C

— Emily Wilkins (@emrwilkins) February 22, 2023
That appeal to donors led to a rebuke from at least one of McCarthy's Democratic colleagues.
"Kevin McCarthy undermines security on Capitol Hill – in ways officials say could endanger the safety of Capitol Police officers – to feed January 6 footage to a propagandist who downplayed the attack on the Capitol," tweeted Rep. Don Beyer (D-VA). "Now McCarthy is using that to raise money. Absolutely appalling."
The New York Times report said McCarthy stated that he planned to share the footage with other news outlets after Carlson's exclusive. In addition, McCarthy insisted to the newspaper that his team staff members were taking the matter "very seriously."

⬇️ Top Picks for You ⬇️
Trump Suggests Manhattan DA Bragg 'Dropped' Case Against Him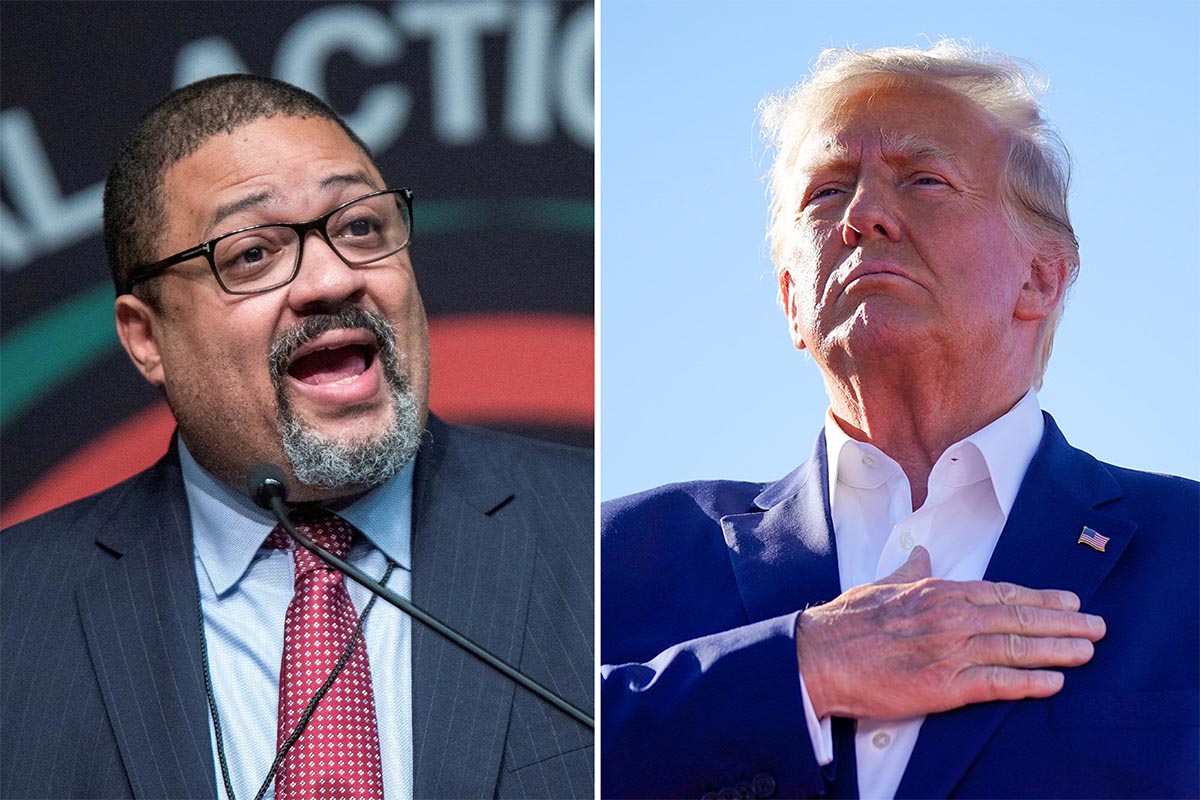 Former President Donald Trump is now suggesting Manhattan District Attorney Alvin Bragg may have dropped his case against him, about a week after he claimed he would be arrested.
After a rally in Waco, Texas, on Saturday, Trump told reporters on his plane, "I think they've already dropped the case … they have absolutely nothing." Trump did not provide evidence for his assertion Saturday.
"It's a fake case. Some fake cases, they have absolutely nothing," the former president said. Trump also reiterated his criticism of Michael Cohen, a former Trump lawyer who has testified against him in the Manhattan grand jury case and previously served time in federal prison on tax fraud and other charges.
Trump also denied mainstream media reports that suggested he was trying to incite violence with his Truth Social posts that criticized Bragg's investigation: "No, I don't like violence and I'm not for violence. But a lot of people are upset."
On Truth Social, the former president made a similar statement regarding his belief Bragg's case is "DEAD." He wrote that the "Witch Hunt against me is DEAD, no evidence at all, & it has been conclusively proven that I did nothing wrong." He dismissed Cohen as a "disbarred lawyer & convicted Felon."
Last week, an attorney in Trump's circle, Robert Costello, told media outlets that he testified before the grand jury and sought to denigrate Cohen's testimony against the 45th president in the investigation, which reportedly is connected to so-called hush money payments that were given to adult performer Stormy Daniels during the 2016 presidential campaign. A lawyer for Cohen, when reached for comment, declined to issue a statement, although Cohen told MSNBC last week that Costello never represented him and disputed his testimony.
Bragg's has not returned a request for comment, and The Epoch Times cannot verify the authenticity of Trump's claims. Previous Epoch Times requests for comment from the DA's office have gone unanswered.
Over the past week, Bragg's office has issued one public statement on the case, and that came in response to a House Republican letter seeking testimony and information about the DA's case or whether his office would arrest Trump. A letter sent by his general counsel said that it was Trump who created a "false expectation" he would be indicted last week, although he provided no other details.
Responding to the House GOP's letter, Bragg's counsel wrote that it "only came after Donald Trump created a false expectation that he would be arrested the next day, and his lawyers reportedly urged you to intervene. Neither fact is a legitimate basis for congressional inquiry."
During the Waco rally, Trump declared that his "enemies are desperate to stop us" and that "our opponents have done everything they can to crush our spirit and to break our will," and that the Manhattan district attorney was investigating him "for something that is not a crime, not a misdemeanor, not an affair."
He added: "But they failed. They've only made us stronger. And 2024 is the final battle, it's going to be the big one. You put me back in the White House, their reign will be over and America will be a free nation once again."
Trump did not make any direct references in his speech to Waco's history, telling the crowd of thousands that he told Lt. Gov Dan Patrick he wanted to hold his rally in a place with overwhelming support, not "one of those 50-50 areas," and said he told Texas officials, "Let's go right into the heart of it."
At several points, Trump criticized Florida Gov. Ron DeSantis, who, despite not announcing it, has long been expected to run for president in 2024 and is seen as Trump's strongest potential challenger for the GOP nomination. Trump called his onetime ally disloyal and said he was "dropping like a rock" in the polls.
In addition to the Manhattan case, Trump is also facing an investigation in Georgia as well as federal investigations into his handling of allegedly classified documents and possible obstruction, as well as statements he made on Jan. 6, 2021. The former president has denied wrongdoing in those instances.