A man who posed as an undercover police officer kidnapped a woman in Seattle, drove her hundreds of miles to his home in Oregon and locked her in a cinder block cell until she bloodied her hands breaking the door to escape, the FBI said Wednesday.
Negasi Zuberi, 29, faces federal charges that include interstate kidnapping, and authorities said they are looking for additional victims after linking him to violent sexual assaults in at least four more states.
"This woman was kidnapped, chained, sexually assaulted, and locked in a cinderblock cell," Stephanie Shark, the assistant special agent in charge of the FBI's Portland field office, said in a news release. "Police say she beat the door with her hands until they were bloody in order to break free. Her quick thinking and will to survive may have saved other women from a similar nightmare."
After the woman escaped from his home in Klamath Falls, Zuberi fled the southern Oregon city of roughly 22,000 people but was arrested by state police in Reno, Nevada, the next afternoon, the FBI said.
Court records don't list an attorney who might speak on Zuberi's behalf. He hasn't been assigned a public defender in Oregon yet, as he's still being transferred from Nevada, which can take several weeks, said Kevin Sonoff, a spokesman for the U.S. attorney's office in Oregon.
A grand jury in Portland on Wednesday returned an indictment charging Zuberi with interstate kidnapping and transporting an individual across state lines with intent to engage in criminal sexual activity. He could face up to life in prison if convicted.
According to the FBI, Zuberi also went by the names Sakima, Justin Hyche and Justin Kouassi, and he has lived in multiple states since 2016, possibly including California, Washington, Oregon, Colorado, Utah, Florida, New York, New Jersey, Alabama, and Nevada.
According to a criminal complaint filed in U.S. District Court in Oregon, Zuberi solicited the woman, identified only as Adult Victim 1, in the early-morning hours of July 15 to engage in prostitution along Aurora Avenue in Seattle, an area known for sex work. Afterward, Zuberi told the woman he was an undercover officer, showed her a badge, pointed a stun gun at her, and placed her in handcuffs and leg irons before putting her in the back of his vehicle, the complaint says.
He then drove the woman to his home in Oregon, stopping along the way to sexually assault her, the complaint states. When they arrived, about seven hours after he first encountered her in Seattle, he put her in a makeshift cell he had built in his garage — a cinder block cell with a door of metal bars — and said he was leaving to do paperwork.
The woman "briefly slept and awoke to the realization that she would likely die if she did not attempt to escape," the complaint says.
She started punching the metal door and broke some of its welded joints, creating a small opening which she climbed through, Klamath Falls Police Capt. Rob Reynolds said at a news conference.
"When she was trying to escape the cell itself, she repeatedly punched the door with her own hands," Reynolds said. "She had several lacerations along her knuckles."
The victim saw Zuberi's vehicle parked in the garage, opened it, grabbed his gun and then took off, leaving blood on a wooden fence she climbed over to escape, the complaint says. She flagged down a passing driver, who called 911.
Two Nevada State Patrol officers tracked Zuberi down at a Walmart parking lot in Reno the next day, July 16, the complaint says. He was in his car holding one of his children in the front seat while talking to his wife, who was standing outside the vehicle. He initially refused to get out of the car when the officers asked and instead cut himself with a sharp object and tried to destroy his phone, according to the complaint, which notes that Zuberi eventually surrendered and that the child wasn't harmed.
According to the complaint, investigators interviewed Zuberi's wife and neighbors. Authorities declined to say if there was any indication that any of them had been aware of the Seattle woman's abduction.
Investigators said that when they searched Zuberi's home and garage, they found the makeshift cell, the woman's purse and handwritten notes. One of the notes was titled "Operation Take Over," and included a bullet list with entries that read "Leave phone at home" and "Make sure they don't have a bunch of ppl (sic) in their life. You don't want any type of investigation."

⬇️ Top Picks for You ⬇️
4th Republican Debate Highlights: GOP Rivals Clash on Stage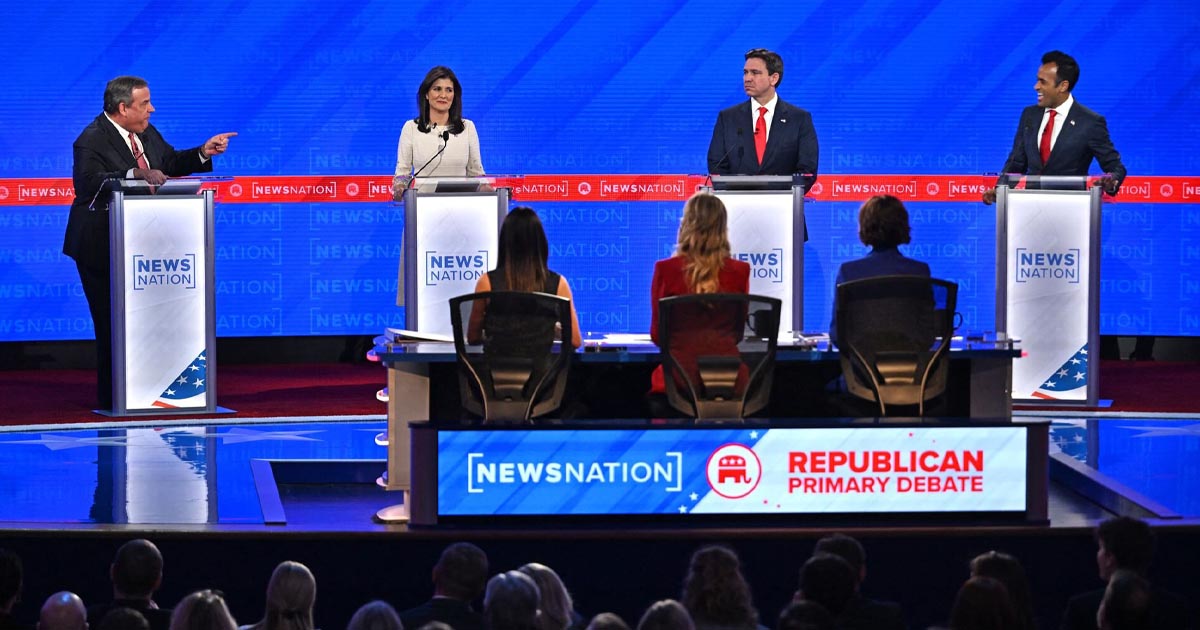 The smallest field yet of GOP candidates faced off Wednesday in the fourth Republican presidential debate of 2023 in Tuscaloosa, Alabama, with the first salvos of the night aimed at former Ambassador to the U.N. Nikki Haley, while former President Donald Trump, who leads the field by a wide margin in the polls, held a closed campaign fundraiser in Florida.
NewsNation hosted the fourth debate with three moderators: NewsNation's Elizabeth Vargas, former Fox News host Megyn Kelly and the Washington Free Beacon's Eliana Johnson.
Four candidates appeared on stage:
Former New Jersey Gov. Chris Christie
Florida Gov. Ron DeSantis
Former U.N. Ambassador Nikki Haley
Businessman Vivek Ramaswamy
The first three debates have not done much to change the dynamics of the race among Republican primary voters. The latest CBS News poll, from early November, showed Trump winning 61% of likely GOP primary voters nationwide, more than all the other candidates combined. DeSantis polled at 18%, Haley at 9%, Ramaswamy at 5%, Sen. Tim Scott at 4% and Christie at 2%.
Here are the highlights from the debate below.
DeSantis and Ramaswamy team up to attack Haley: "I love all the attention, fellas"
DeSantis and Ramaswamy were quick to take shots at Haley, who is rising in the polls as the race for second place heats up.
"She caves anytime the Left comes after her, anytime the media comes after her," DeSantis said.
Ramaswamy later joined in, questioning Haley's wealth since she left government service.
"Nikki, you were bankrupt when you left the U.N. After you left the U.N., you became a military contractor," he said, referring to Haley's stint on the board of Boeing, "whose back you scratched for a very long time and then get foreign multinational speeches like Hillary Clinton is, and now you're a multimillionaire. That math does not add up. It adds up to the fact that you are corrupt."
Ramaswamy also criticized wealthy donors to Haley's campaign, saying they're funding "left-wing causes."
"In terms of these donors that are supporting me, they're just jealous," Haley responded. "They wish that they were supporting them."
DeSantis said, "Nikki will cave to those big donors when it counts."
The pair also went after Haley for proposing that all social media users should be verified by their names online.
"I love all the attention, fellas," Haley said. "Thank you for that."
Christie hammers Ramaswamy in defense of Haley: "The most obnoxious blowhard in America"
Christie offered a forceful defense of Haley against Ramaswamy's insults of her intelligence.
After Ramaswamy claimed that Haley could not name three provinces in eastern Ukraine where she would send U.S. troops, Christie accused the entrepreneur of habitually backing away from comments he makes on the campaign trail when he's confronted by political opponents about his positions.
"This is the fourth debate that you would've been voted in the first 20 minutes as the most obnoxious blowhard in America, so shut the hell up," Christie told Ramaswamy.
The former New Jersey governor accused Ramaswamy of insulting Haley's intelligence, rather than her policy positions — claiming, for example, that she can't identify regions in Ukraine or find Israel on a map.
"If you want to disagree on issues, that's fine, and Nikki and I disagree on some issues," Christie said. "I've known her for 12 years, which is longer than he's even started to vote in the Republican primary, and while we disagree about some issues and disagree about who should be president of the United States, what we don't disagree on is this is a smart, accomplished woman and you should stop insulting her."
Christie went on to criticize Ramaswamy's lack of experience and claimed that while he was serving as the top federal prosecutor in New Jersey, Ramaswamy was "learning about the provinces in Ukraine sitting with his smarta** mouth at Harvard."
"All he knows how to do is insult good people who have committed their lives to public service and not say anything that moves the ball down the field for the United States," Christie said.
Divisions emerge among Republican candidates on parental rights
A question about parental rights and gender-affirming care for young people showed a split between Christie and DeSantis over an issue that has gained traction with Republican voters.
Christie said he favors limited involvement from the government and believes parents should be empowered to make decisions about their children.
"I trust parents," he said.
The former New Jersey governor, who opposes state restrictions on gender-affirming care for transgender youth, asserted it's parents who should be making the decisions about this for their children. He made the point that he and his wife care more for their four children than a government official in a dysfunctional Congress.
"You look at these jokers in Congress — it takes them three weeks to pick a speaker, and up until two days ago, they couldn't promote somebody in the military in the United States Senate who earned their new rank. And we're going to put my children's health and my decisions in their hands for them to make those decisions? For Joe Biden to make those decisions?" Christie said.
He warned parents that if they cede those rights on gender-affirming care for their children to states, it would just be the beginning.
"You start to turn over just a little bit of this authority, the authority they're going to take from you next, you're not going to like," Christie said.
But DeSantis defended restrictions on gender-affirming treatment for minors he signed into law as governor of Florida and warned surgical procedures are "mutilating minors."
"We cannot allow this to happen in this country," he said.
Ramaswamy, meanwhile, suggested the federal government should take action on the issue of gender-affirming surgery.