North Korea said Friday its new submarine has nuclear attack capabilities after years of development. Leader Kim Jong Un described the milestone as crucial in his efforts to build a nuclear-armed navy to counter the United States and its Asian allies.
The North's official Korean Central News Agency said the vessel, named "Hero Kim Kun Ok," is designed to launch tactical nuclear weapons from underwater but did not specify the number of missiles it could carry and fire.
South Korean officials were skeptical that the submarine would work as North Korea described and said it likely wasn't ready for operational duty. Still, the vessel's development underscored how the North continues to potentially extend the range of its nuclear arsenal with systems that are harder to detect in advance.
Based on Kim Jong Un's comments and photos by North Korean state media, it's likely the submarine is the same one Kim inspected in 2019 while it was under construction. At the time, experts assessed it as an effort to convert an existing Romeo-class submarine.
The submarine appears to have at least 10 launch tubes — four of them apparently larger than the other six — that are possibly designed for missiles.
"This submarine, though heavily modified, is based on 1950s Soviet-origin technology and will have inherent limitations. Nevertheless, in terms of complicating the targeting challenges that the U.S. and its allies will face, the submarine will serve North Korea's purposes," said Ankit Panda, an expert with the Carnegie Endowment for International Peace.
In recent years, North Korea tested a variety of missiles designed to be fired from submarines as it pursued the ability to conduct nuclear strikes from underwater. In theory, such capacity would bolster its deterrent by ensuring a survivable capability to retaliate after absorbing a nuclear attack on land.
Ballistic missile submarines would also add a maritime threat to the North's growing collection of solid-fuel weapons fired from land vehicles that are designed to overwhelm missile defenses in South Korea and Japan.
Still, it would take considerable time, resources and technological improvements for the heavily sanctioned nation to build a fleet of at least several submarines that could travel quietly and execute attacks reliably, analysts say.
Satellite photos analyzed by The Associated Press on Friday placed the submarine and the ceremony that Kim took part in the eastern port city of Sinpo, where North Korea runs a major shipyard developing submarines.
The images, taken just before 8 a.m. local time Thursday by Planet Labs PBC, showed the submarine alongside a dock. The submarine appeared to bear the red-white-and-blue bunting seen in photographs released by North Korean state media on Friday. Other details of the state-released photographs matched known features surrounding the facility.
The submarine still appeared to be at port Friday morning, according to other images taken by Planet. The James Martin Center for Nonproliferation Studies first identified the submarine's location.
In speeches at the vessel's launching ceremony Wednesday and an onboard inspection Thursday, Kim expressed satisfaction that the country has acquired its own nuclear attack submarine to counter the advanced naval assets of the U.S., KCNA said. In July, the U.S. docked a nuclear-capable ballistic missile submarine in South Korea for the first time since the 1980s.
Kim said the country is also pursuing a nuclear-propelled submarine and plans to remodel its existing submarines and surface vessels so they can handle nuclear weapons, describing the building of a nuclear-capable army as an "urgent task."
South Korea's military insisted North Korea was exaggerating the submarine's capabilities. The South's Joint Chiefs of Staff said the North would have needed to increase the size of the bridge and other parts of the original vessel to accommodate missile launch systems, but that the appearance of the new submarine suggested that it could "not be operated normally."
"There are signs of deception or exaggeration," the Joint Chiefs of Staff said in a statement, without elaborating.

⬇️ Top Picks for You ⬇️
McCarthy to Work with Dems to Pass 45-Day Funding, Avoiding Govt Shutdown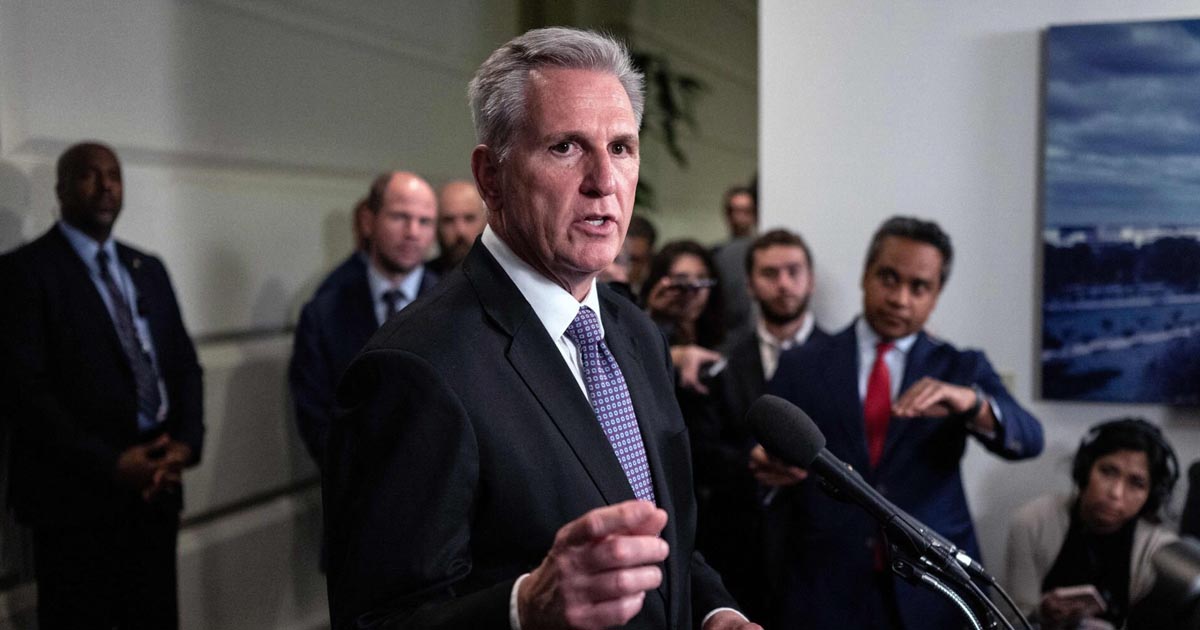 On the brink of a federal government shutdown, Speaker Kevin McCarthy announced a dramatic pivot Saturday, trying to push a 45-day funding bill through the House with Democratic help — a move that could keep government open but most certainly risks his job.
Republican lawmakers met behind closed doors early in the morning with hours to go before the midnight deadline needed to fund government operations or face a disruptive federal closure.
The new approach would leave behind aid to Ukraine, a White House priority opposed by a growing number of GOP lawmakers, but the plan would increase federal disaster assistance by $16 billion, meeting President Joe Biden's full request.
The House was preparing for a quick vote Saturday on the plan, but Democrats hit the brakes, seeking time so they could read the 71-page bill. Across the Capitol, the Senate was opening a rare weekend session and hoping to advance its own stopgap plan, but with money for Ukraine.
"We're going to do our job," McCarthy said after the morning meeting. "We're going to be adults in the room. And we're going to keep government open."
With no deal in place before Sunday, federal workers will face furloughs, more than 2 million active-duty and reserve military troops will work without pay and programs and services that Americans rely on from coast to coast will begin to face shutdown disruptions.
The sudden House action would fund government at current 2023 levels for 45 days, through Nov. 17. It would move closer to the bipartisan approach underway in the Senate, which also would fund the government through that period, while adding $6 billion for Ukraine to fight the war against Russia and $6 billion for U.S. disaster relief.
"A bipartisan, a bicameral solution is the only way forward," said Rep. Rosa DeLauro, the top Democrat on the House Appropriations Committee. She and other Democrats decried cutting Ukraine aid.
McCarthy, R-Calif., will be forced to rely on Democrats for passage because the speaker's hard-right flank has said it will oppose any short-term measure. McCarthy was setting up a process for voting that will require a two-thirds supermajority, about 290 votes in the 435-member House for passage. Republicans hold a 221-212 majority, with two vacancies.
Relying on Democratic votes and leaving his right-flank behind is something that the hard-right lawmakers have warned will risk McCarthy's job as speaker. They are almost certain to quickly file a motion to try to remove McCarthy from that office, though it is not at all certain there would be enough votes to topple the speaker.
"If somebody wants to remove me because I want to be the adult in the room, go ahead and try," McCarthy said of the threat to oust him. "But I think this country is too important."
The quick pivot comes after the collapse Friday of McCarthy's earlier plan to pass a Republican-only bill with steep spending cuts up to 30% to most government agencies that the White House and Democrats rejected as too extreme.
"Our options are slipping away every minute," said one senior Republican, Rep. Mario Diaz-Balart of Florida.
Meanwhile, the Senate was marching ahead on its package with support from both Democrats and Republicans.
"Congress has only one option to avoid a shutdown — bipartisanship," said Senate Majority Leader Chuck Schumer, D-N.Y.
Senate Republican leader Mitch McConnell of Kentucky echoed the sentiment, warning his own hard-right colleagues there is nothing to gain by shutting down the federal government.
"It heaps unnecessary hardships on the American people, as well as the brave men and women who keep us safe," McConnell said.
The federal government is heading straight into a shutdown that poses grave uncertainty for federal workers in states all across America and the people who depend on them — from troops to border control agents to office workers, scientists and others.
Families that rely on Head Start for children, food benefits and countless other programs large and small are confronting potential interruptions or outright closures. At the airports, Transportation Security Administration officers and air traffic controllers are expected to work without pay, but travelers could face delays in updating their U.S. passports or other travel documents.
An earlier McCarthy plan to keep the government open collapsed Friday due to opposition from a faction of 21 hard-right holdouts despite steep spending cuts of nearly 30% to many agencies and severe border security provisions.
The White House has brushed aside McCarthy's overtures to meet with Biden after the speaker walked away from the debt deal they brokered earlier this year that set budget levels.
Catering to his hard-right flank, McCarthy had returned to the spending limits the conservatives demanded back in January as part of the deal-making to help him become the House speaker.
After Friday's vote, McCarthy's chief Republican critic, Rep. Matt Gaetz of Florida, said the speaker's bill "went down in flames as I've told you all week it would."