Evidence that dozens of women were groomed into online sex work by members of influencer Andrew Tate's "War Room" group has been uncovered by the BBC.
Leaked internal chat logs identify 45 potential victims between March 2019 and April 2020 but the total number is likely to be higher.
The texts also appear to show the techniques used by War Room members to exploit possible victims.
Mr Tate denies any wrongdoing and says he is prepared to defend his innocence.
A statement issued by his press officer said the BBC's findings represent "another brazen attempt to present one-sided, unverified" allegations against him.
The 36-year-old former kickboxer has been charged in Romania with rape and human trafficking.
On 4 August he was released from house arrest pending his trial. Last week details of graphic evidence compiled by Romanian prosecutors were revealed by the BBC.
His brother Tristan and two associates also face charges. All have denied the allegations.
The BBC's latest investigation – outlined in the documentary Andrew Tate: The Man Who Groomed the World? – centres on 12,000 pages of encrypted Telegram messages sent by hundreds of War Room members.
However the BBC's access to the logs was limited to those sent over a period of 13 months – so the total number of women possibly targeted and exploited by the group, which was formed in 2019, could be much higher.
ANDREW TATE: THE MAN WHO GROOMED THE WORLD?
Reporter Matt Shea investigates the influencer and his "War Room".
Mr Tate says the War Room – which costs $8,000 a year to join – is a network of powerful men and those who want to learn from them.
"The War Room promotes self-discipline, motivation and confidence building whilst giving members access to thousands of professionals from around the world who encourage personal responsibility and accountability, emphasising the importance of taking ownership of your choices and actions," the statement issued by Mr Tate reads.
However, the leaked online chats indicate the War Room teaches members through its so-called "PhD" course – the initials stand for "Pimpin' Hoes Degree" – how to groom women into sex work.
Members are instructed by some of the War Room leadership – known as "generals" – to romantically seduce, emotionally manipulate and socially isolate women before luring them into performing on webcams – often taking all or most of the money they make.
While most media attention around the organisation has focused on the Tate brothers, the BBC's investigation found that a self-proclaimed "wizard" who goes by the alias "Iggy Semmelweiss" appears to be the War Room's true leader and intellectual driving force.
The messages – exclusively obtained by the BBC – suggest violence against women was taught and encouraged by some of Mr Tate's "generals".
Among them were photographs of a woman bent over with serious bruising and cuts to her backside and the tagline "Who me?".
Another post sent by a leading member who uses the alias "Joe Lampton" described how he reacted to a complaint from a woman who worked for him. "I took her keyboard and hit her in the head with it," the message read. "She went into the room and worked 7 hours without any break."
BBC investigation has found that as of August 2022 there were 434 War Room members around the world. While not all members of the War Room will act on its teachings, we were able to identify many of the women possibly groomed by members of the group, plus a further 29 women who were targeted over the same period.
The BBC spoke to two women who said they were exploited by War Room members. Although they live thousands of miles apart, their stories indicate the men were following the same tactics.
Both women said they initially believed they were in a romantic relationship with these men – who then began gradually manipulating them into sex work, a strategy known as the "loverboy method".
"He used sex a lot to manipulate me," says "Maria" – not her real name – from Buenos Aires, Argentina.
The women also say they were subjected to violence, isolated from friends and forced to perform menial tasks to demonstrate their subservience.
"Amanda" – also a pseudonym – who lives on the west coast of the US, says she gave away up to 80% of what she earned at any one time – a total of $95,000 – to two War Room members.
Amanda told the BBC she was slapped across the face by a "general" who exploited her and showed us photographs of bruising. She said: "He had control of everything."
According to the leaked chats, War Room members appear to believe they are performing "Pavlovian conditioning" on women – "this is how you train dogs", one leaked message reads. Instructions are typically provided by "generals".
Their grooming method includes "tests of submission" such as getting women to tattoo the War Room members' initials on their bodies.
Eli, a whistleblower who says he spent two years as the Tate organisation's head of sales and marketing, told the BBC: "The War Room is all about you getting women that serve you in your life." Eli says he was "brainwashed" by the Tate group, which he describes as a "cult".
Eli also described the role of "Iggy Semmelweiss" within the War Room. Asked who was really in charge of the group, the whistleblower said: "Iggy is at the top."
"Iggy's" real name is Miles Sonkin. Born in Chicago, Illinois, in 1961, he is a former member of at least two alleged cults, he developed an interest in the far right in the 2000s and appears to have met Andrew Tate around 2018. Soon after, Mr Tate started selling his own courses and the War Room was established in 2019.
Mr Sonkin sends all new members of the War Room a reading list and a manifesto outlining the group's agenda.

⬇️ Top Picks for You ⬇️
McCarthy to Work with Dems to Pass 45-Day Funding, Avoiding Govt Shutdown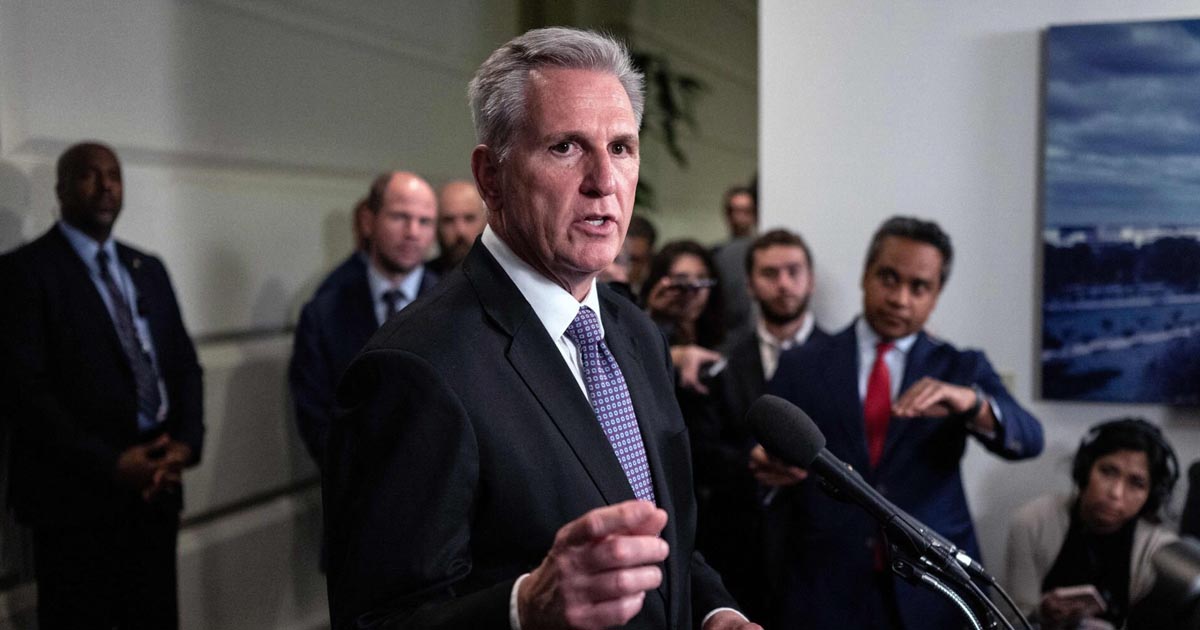 On the brink of a federal government shutdown, Speaker Kevin McCarthy announced a dramatic pivot Saturday, trying to push a 45-day funding bill through the House with Democratic help — a move that could keep government open but most certainly risks his job.
Republican lawmakers met behind closed doors early in the morning with hours to go before the midnight deadline needed to fund government operations or face a disruptive federal closure.
The new approach would leave behind aid to Ukraine, a White House priority opposed by a growing number of GOP lawmakers, but the plan would increase federal disaster assistance by $16 billion, meeting President Joe Biden's full request.
The House was preparing for a quick vote Saturday on the plan, but Democrats hit the brakes, seeking time so they could read the 71-page bill. Across the Capitol, the Senate was opening a rare weekend session and hoping to advance its own stopgap plan, but with money for Ukraine.
"We're going to do our job," McCarthy said after the morning meeting. "We're going to be adults in the room. And we're going to keep government open."
With no deal in place before Sunday, federal workers will face furloughs, more than 2 million active-duty and reserve military troops will work without pay and programs and services that Americans rely on from coast to coast will begin to face shutdown disruptions.
The sudden House action would fund government at current 2023 levels for 45 days, through Nov. 17. It would move closer to the bipartisan approach underway in the Senate, which also would fund the government through that period, while adding $6 billion for Ukraine to fight the war against Russia and $6 billion for U.S. disaster relief.
"A bipartisan, a bicameral solution is the only way forward," said Rep. Rosa DeLauro, the top Democrat on the House Appropriations Committee. She and other Democrats decried cutting Ukraine aid.
McCarthy, R-Calif., will be forced to rely on Democrats for passage because the speaker's hard-right flank has said it will oppose any short-term measure. McCarthy was setting up a process for voting that will require a two-thirds supermajority, about 290 votes in the 435-member House for passage. Republicans hold a 221-212 majority, with two vacancies.
Relying on Democratic votes and leaving his right-flank behind is something that the hard-right lawmakers have warned will risk McCarthy's job as speaker. They are almost certain to quickly file a motion to try to remove McCarthy from that office, though it is not at all certain there would be enough votes to topple the speaker.
"If somebody wants to remove me because I want to be the adult in the room, go ahead and try," McCarthy said of the threat to oust him. "But I think this country is too important."
The quick pivot comes after the collapse Friday of McCarthy's earlier plan to pass a Republican-only bill with steep spending cuts up to 30% to most government agencies that the White House and Democrats rejected as too extreme.
"Our options are slipping away every minute," said one senior Republican, Rep. Mario Diaz-Balart of Florida.
Meanwhile, the Senate was marching ahead on its package with support from both Democrats and Republicans.
"Congress has only one option to avoid a shutdown — bipartisanship," said Senate Majority Leader Chuck Schumer, D-N.Y.
Senate Republican leader Mitch McConnell of Kentucky echoed the sentiment, warning his own hard-right colleagues there is nothing to gain by shutting down the federal government.
"It heaps unnecessary hardships on the American people, as well as the brave men and women who keep us safe," McConnell said.
The federal government is heading straight into a shutdown that poses grave uncertainty for federal workers in states all across America and the people who depend on them — from troops to border control agents to office workers, scientists and others.
Families that rely on Head Start for children, food benefits and countless other programs large and small are confronting potential interruptions or outright closures. At the airports, Transportation Security Administration officers and air traffic controllers are expected to work without pay, but travelers could face delays in updating their U.S. passports or other travel documents.
An earlier McCarthy plan to keep the government open collapsed Friday due to opposition from a faction of 21 hard-right holdouts despite steep spending cuts of nearly 30% to many agencies and severe border security provisions.
The White House has brushed aside McCarthy's overtures to meet with Biden after the speaker walked away from the debt deal they brokered earlier this year that set budget levels.
Catering to his hard-right flank, McCarthy had returned to the spending limits the conservatives demanded back in January as part of the deal-making to help him become the House speaker.
After Friday's vote, McCarthy's chief Republican critic, Rep. Matt Gaetz of Florida, said the speaker's bill "went down in flames as I've told you all week it would."