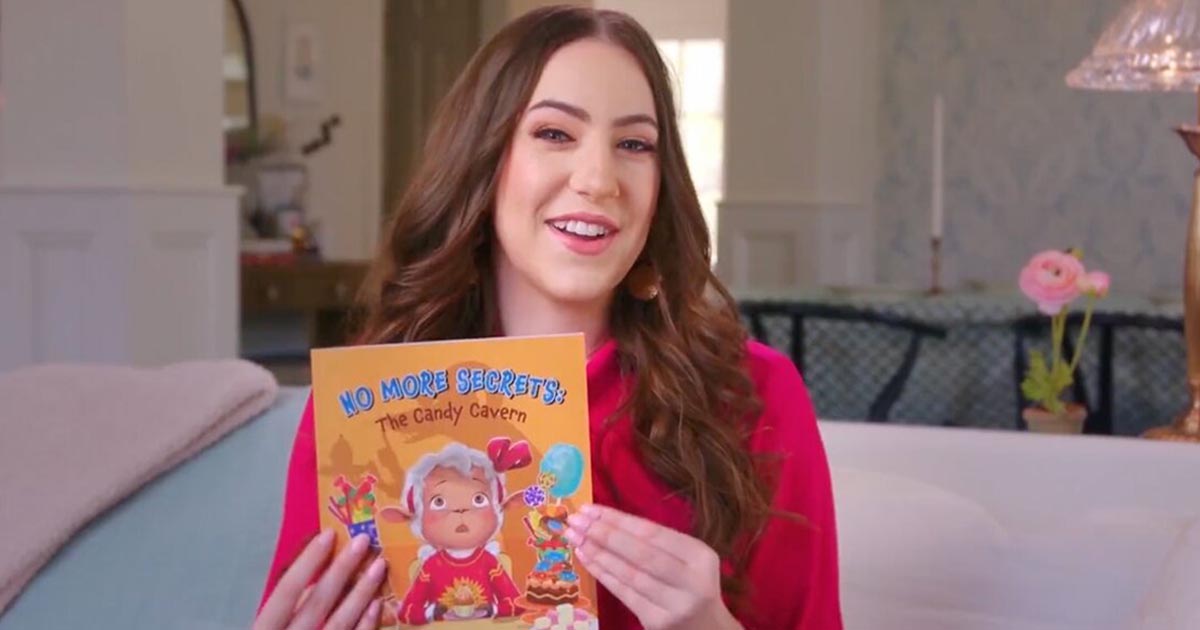 LibsOfTikTok Children's Story Hour Canceled Over Threats Amid Violent Protests at Conservative Events
A children's book event hosted by Chaya Raichik, a conservative author who runs the @LibsOfTikTok account, has been canceled over threats.
"We have received threats of potentially inappropriate and unsafe behavior at the NYC story hour with Chaya Raichik on Sunday," Raichik's publisher tweeted Friday.
"[We] have advised Chaya we cancel the event. With children involved, we don't want to take any chances."
The publisher also vowed to "find a way to combat this moving forward" and advised people to "stay tuned for an announcement in the coming days."
We have received threats of potentially inappropriate and unsafe behavior at the NYC story hour with Chaya Raichik on Sunday and have advised Chaya we cancel the event. With children being involved, we don't want to take any chances.

We will find a way to combat this moving… https://t.co/IVUkgP7el6

— BRAVE BOOKS (@BraveBooksUS) March 17, 2023
The event, which was to be held Sunday, was billed as a rival event to a drag queen story hour hosted by New York Attorney General Letitia James on the same day, Fox News Digital reported.
Raichik's now-cancelled event was sponsored by the publisher and the New York Young Republican Club, according to its EventBrite listing.
Christian actor and author Kirk Cameron's Freedom Island Tour book event with Brave Books was crashed by protesters at a public library in Fayetteville, Arkansas Friday, the publisher and Post Millennial reported.
"This hateful group, dressed to disturb children, were angry when Kirk Cameron brought up God and faith with the children and parents during our BRAVE story hour," the publisher tweeted.
The tweet includes a video where one of the costumed protesters appears to say he stepped on a "poor tiny blonde white girl." The video cuts away to a woman confirming the person stepped on her twice and hit her with a cane.
A black drag queen nun in whiteface brags about stepping on "poor tiny blonde white girl."

He is a part of "The Sisters of Perpetual Indulgence of the Arkansas Chapter of Hillbilly Harlots".

This hateful group, dressed to disturb children, were angry when Kirk Cameron brought… https://t.co/CDk2ev45SZ pic.twitter.com/NB1jv8Xouw

— BRAVE BOOKS (@BraveBooksUS) March 18, 2023
Brave Books is not alone among publishers whose conservative authors have been heckled, threatened, or assaulted.
"I understand their hesitation and decision to cancel," Bethany Mandel, co-author of "Stolen Youth" told TheBlaze Sunday morning.
"It's one thing to assume risk as an adult, but the equation changes when there are young children involved," Mandel also said.
Mandel and co-author New York Post columnist Karol Markowicz had protesters at their New York City book party March 8. Mandel, who had her two-month-old infant with her at the party, tells TheBlaze protesters violently threw glasses and screamed at attendees.
"There's an element of danger to just putting out a conservative book," Mandel said. "Now, the situation is that children can attend drag queen story hours in bars, but not a party for an orthodox Jewish author for a wholesome book about safety."

⬇️ Top Picks for You ⬇️
CIA Has Secret Office That Conducts UFO Retrieval Missions: Whistleblowers
A secretive CIA office has been coordinating the retrieval of crashed UFOs around the world for decades, multiple sources told Daily Mail.
One source said that at least nine apparent 'non-human craft' have been recovered by the US government – some wrecked from a crash, and two completely intact.
Three sources briefed on those alleged top secret operations told Daily Mail that the Office of Global Access (OGA), a wing of the Central Intelligence Agency's Science and Technology Directorate, has played a central role since 2003 in orchestrating the collection of what could be alien spacecraft.
The three sources, who spoke on condition of anonymity to avoid reprisals, have all been briefed by individuals involved in those alleged UFO retrieval missions.
Though the shocking claims sound like they come from a science fiction novel, they are part of a growing body of evidence suggesting the US government could indeed be hiding advanced vehicles that were not made by humans.
Former top intelligence officer David Grusch told Congress as much in an explosive public hearing in July.
The same month, Senate Majority Leader Chuck Schumer sponsored an extraordinary bill to allow disclosure of 'recovered technologies of unknown origin and biological evidence of non-human intelligence' – which has now passed in the Senate.
Sources who spoke to Daily Mail shed light on how the CIA has allegedly coordinated the secret recovery and storage of these alleged crashed or landed UFOs.
'There's at least nine vehicles. There were different circumstances for different ones,' one source briefed by UFO program insiders told DailyMail.com. 'It has to do with the physical condition they're in. If it crashes, there's a lot of damage done. Others, two of them, are completely intact.'
The source said the CIA has a 'system in place that can discern UFOs while they're still cloaked,' and that if the 'non-human' craft land, crash or are brought down to earth, special military units are sent to try to salvage the wreckage.
Another source with knowledge of the OGA's role said that they specialize in allowing the US military to secretly access areas around the world where they would usually be 'denied' – for example behind enemy lines.
'They are basically a facilitator for people to get in and out of countries,' the source said. 'They are very clever at being able to get anywhere in the world they want to.'
Multiple sources briefed on the OGA's activities told DailyMail.com that most of its operations involve more conventional retrieval missions, such as stray nuclear weapons, downed satellites or adversaries' technology.
But they claimed some missions coordinated by the OGA have involved retrieval of UFOs.
'The task at hand is simply to get it into custody and protect the secrecy of it,' one source said. 'The actual physical retrieval is by the military. But it's not kept under military control, because they have to keep too many records. So they start moving it out fairly quickly into private hands.'
Documents published by the National Archives and Records Administration (NARA) in December 2016 showed that the OGA was one of 56 offices in the CIA, with its chief and deputy making up two of a total 286 director-level officials in the spy agency.
An unclassified organizational chart published by the CIA in October 2015 lists the OGA among nine offices in the 'Science and Technology' wing of the agency.
Late CIA expert Jeffrey Richelson wrote in a 2016 book on the agency that the OGA was established in 2003, and cited a CIA description that it 'integrate[s] analysis, technology, and tradecraft to attack the most difficult targets, and to provide worldwide collection capability.'
A 255-word biography of former OGA deputy director Doug Wolfe, published by an aerospace conference in 2017, says that he 'helped start the Office of Global Access'.
Wolfe's bio cryptically adds that he 'was responsible for leading and managing strategic, unwarned access programs that deliver intelligence from the most challenging denied areas' and 'served as program manager with responsibility for the end-to-end system acquisition of an innovative new source and method for the IC [Intelligence Community].'
Two sources told Daily Mail that the OGA coordinates with Special Operations Forces such as SEAL teams or Delta Force under the Pentagon's Joint Special Operations Command (JSOC), or nuclear weapons experts such as the Nuclear Emergency Support Team (NEST), to collect the crashed or landed craft.
But another source, who has briefed members of Congress on alleged crash retrievals, said that NEST had not been involved in any of these operations.
A spokesperson for the agency also denied involvement.
'[NEST] personnel encounter materials from unknown origins on a regular basis,' a spokesperson said. 'In fact, one of NEST's missions is to help determine the origin of nuclear material interdicted outside of regulatory control or used in a nuclear device.
'During its operations, NEST has never encountered any material related to UAP.'
In a written statement, a JSOC spokesperson told Daily Mail: 'We have nothing for you on this.'