The U.S. government could default on its debt within a matter of days, jeopardizing payments to millions of Americans and businesses.
The clock is running out for lawmakers to lift the debt limit. Treasury Secretary Janet Yellen reiterated a warning Monday that it is "highly likely" the country will run out of cash to pay its debts in early June, potentially as soon as June 1.
"We have already seen Treasury's borrowing costs increase substantially for securities maturing in early June," Yellen warned in a letter to congressional leaders. "If Congress fails to increase the debt limit, it would cause severe hardship to American families, harm our global leadership position, and raise questions about our ability to defend our national security interests."
The debt ceiling, which is currently around $31.4 trillion, is the legal limit on the total amount of debt that the federal government can borrow on behalf of the public, including Social Security and Medicare benefits, military salaries and tax refunds.
"A technical default would also have severe consequences for millions of people. Social Security recipients, veterans, U.S. military employees, government employees, defense contractors, among others would likely go unpaid," said John Lynch, chief investment officer for Comerica Wealth Management. "The downstream effects of job losses and freezing of the credit markets would be a multiple-quarter negative hit to GDP, making a deeper recession all but certain."
Here is a closer look at the ordinary Americans who would be hit the hardest by a first-ever debt default.
Retirees
Social Security could be among the first government programs to face spending cuts in the event of a default, according to a new analysis published Tuesday by the Bipartisan Policy Center (BPC).
The government is slated to pay $100 billion in Social Security benefits throughout June, with four $25 billion payments slated for June 2, June 14, June 21 and June 28.
"Realistically, on a day-to-day basis, fulfilling all payments for important and popular programs (e.g., Social Security, Medicare, Medicaid, defense, military active duty pay) would quickly become impossible," the BPC report said.
Veterans
A default could halt or delay pay for current and retired service members and also threaten payments allocated to critical programs for mental health, caregivers and unhoused veterans.
The government is scheduled to pay $12 billion in veteran benefits and $10 billion in military pay and retirement funds on June 1, according to the BPC findings.
"Because there is no precedent for a default, it is difficult to know the precise impacts on specific federal programs," Terrence Hayes, spokesperson for the Department of Veterans Affairs, told FOX Business. "But what is clear is that, without the ability for the federal government to borrow funds, there is a very real potential that any government program or payment would be halted or severely delayed."
Homeowners and potential homebuyers
The already fragile U.S. housing market could suffer another blow if Washington officials do not raise the debt ceiling before June.
That's according to a recent analysis from Zillow, which projected that homebuying costs could surge by a stunning 22% if Congress fails to raise the debt limit by June 1. On top of that, the 30-year mortgage rate would likely skyrocket above 8%, the highest since the early 2000s, according to the report, authored by Zillow senior economist Jeff Tucker.
Zillow laid out a bleak scenario for the housing market in the case of a default. Tucker projected 23% fewer sales of existing homes to a seasonally adjusted annualized rate of 3.3 million in September. And, by the end of 2024, home values would be down about 5%.
"Much uncertainty surrounds these estimates, but there's little doubt that a default would be a major negative shock to housing market activity," Tucker wrote in the report titled "A debt ceiling default would send the U.S. housing market back into a deep freeze."
Homeowners and potential buyers
The government may also run out of enough cash to fund the Supplemental Nutrition Assistance Program (SNAP), formerly known as food stamps.
There are $1 billion payments for SNAP benefits scheduled on June 5 and June 20, according to the BPC.

⬇️ Top Picks for You ⬇️
Tucker Carlson Returns With New Show: 'Tucker on Twitter'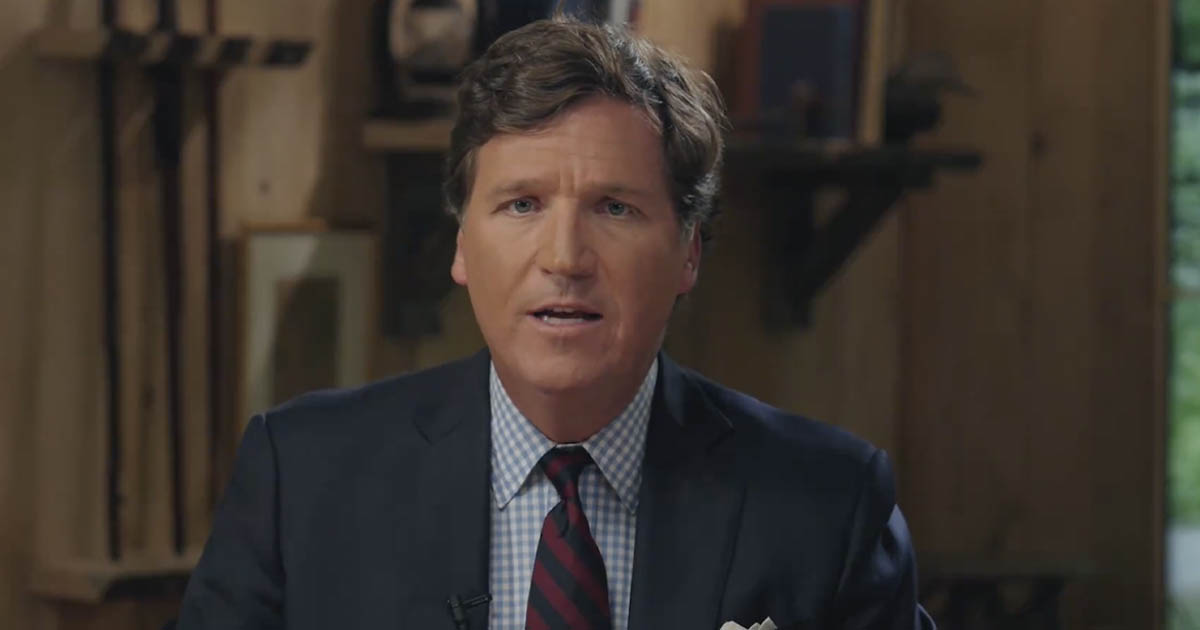 Former Fox News host and Daily Caller co-founder Tucker Carlson brought his show to Twitter for the first time Tuesday by posting a monologue about the Ukraine war and how the media is covering it.
Carlson spoke about the latest developments in the Russian war against Ukraine, beginning with a major dam explosion inside Russian-occupied territory Tuesday morning.
"This morning, it looks like somebody blew up the Kakhovka Dam in southern Ukraine. The rushing wall of water wiped out entire villages, destroyed a critical hydropower plant, and as of tonight, puts the largest nuclear reactor in Europe in danger of melting down. So, if this was intentional, it was not a military tactic — it was an act of terrorism," Carlson began.
The Ukrainian and Russian governments accused each other of intentionally destroying the dam as an act of sabotage, according to The Washington Post.
"Blowing up the dam may be bad for Ukraine, but it hurts Russia more. And for precisely that reason, the Ukrainian government has considered destroying it. In December, The Washington Post quoted a Ukrainian general saying his men had fired American-made rockets at the dam's floodgate, as a test strike," Carlson stated.
Carlson transitioned to discussing The Washington Post's story showing the U.S. knew about Ukrainian plans to attack the Nord Stream 2 gas pipeline months before it was destroyed. The Post's story was based on an intelligence leak on social media platform Discord.
"So, really, once the facts start coming in, it becomes much less of a mystery what might have happened to the dam. Any fair person would conclude that the Ukrainians probably blew it up — just as you would assume they blew up Nord Stream, the Russian natural gas pipeline, last fall. And in fact, the Ukrainians did do that, as we now know. It's not like Vladimir Putin is anxious to wage war on himself," he said.
Carlson proceeded to mock the corporate media's coverage of the Nordstream 2 explosion for immediately blaming Russia for the attack without considering whether Ukraine blew up the pipeline.
"Oh, but that's where you're wrong, Mr. and Mrs. Cable News Consumer. Vladimir Putin is exactly that sort of man — the sort of man who'd shoot himself to death in order to annoy you. We know this from the American media, which wasted no time this morning in accusing the Russians of sabotaging their own infrastructure," Carlson remarked.
"No one who's paid to cover these things seemed to entertain even the possibility it could have been the Ukrainians who did it. No chance of that. Ukraine, as you may have heard, is led by a man called Zelensky, and we can say for a dead certain fact that he was not involved. He couldn't have been. Zelensky is too decent for terrorism," Carlson added.
He followed up by ridiculing Republican South Carolina Sen. Lindsey Graham and Republican Presidential candidate Nikki Haley because of their unwavering support for Ukrainian President Volodymyr Zelenskyy and his country. Afterwards, he broadened his media criticism beyond the scope of the Ukraine war to other issues where narratives must never be questioned.
"But mostly they just ignore the stories that matter. What's happened to the hundreds of billions of US dollars we've sent to Ukraine? No clue. Who organized those BLM riots three years ago? No one's gotten to the bottom of that. What exactly happened on 9/11? Well, it's still classified. How did Jeffrey Epstein make all that money? How did he die? How about JFK? And so endlessly on. Not only are the media not interested in any of this, they're actively hostile to anybody who is. In journalism, curiosity is the gravest crime," Carlson said.
Carlson pointed to the intelligence officer who blew the whistle Monday on alleged UFOs possessed by the U.S. government as a recent example of the pressing stories the media ignores.
"So if you're wondering why our country seems so dysfunctional, this is a big part of the reason. Nobody knows what's happening. A small group of people control accesses to all relevant information. And the rest of us don't know. We're allowed to yap all we want about racism, but go ahead and talk about something that really matters and see what happens. If you keep it up, they'll make you be quiet. Trust us. That's how they maintain control," he continued.
Carlson concluded his monologue with a teaser about future Twitter broadcasts if the platform maintains its commitment to free speech under owner Elon Musk.
"That's how most of us now live here in the United States — manipulated by lies, silenced by taboos. It is unhealthy and is dehumanizing, and we're tired of it. As of today, we've come to Twitter, which we hope will be the shortwave radio under the blankets. We're told there are no gatekeepers here. If that turns out to be false, we'll leave. But in the meantime, we are grateful to be here. We'll be back with much more very soon."
Watch:
Ep. 1 pic.twitter.com/O7CdPjF830

— Tucker Carlson (@TuckerCarlson) June 6, 2023