Madonna, the "Queen of Pop," is once again making news after being accused of running a child trafficking ring in an orphanage in Southern Africa under the name "Raising Malawi."
Madonna started a foundation called 'Raising Malawi' in 2006 to help orphans and other underprivileged children in Malawi get access to healthcare and education.
Malawi is a southeast African country bordered by Zambia, the United Republic of Tanzania, and Mozambique.
"Raising Malawi supports orphans and vulnerable children with critical resources including education, medical care, food and shelter, and psychosocial support," according to its website.
These allegations against the 64-year-old pop singer were made by the Ethiopian World Federation (EWF).
EWF was established in the United States in 1937, according to its website. It is "a civic service organization that pushes policies and advocates to change the laws that harm all Black People."
The EWF has urged Malawian President Lazarus Chakwera to look into "homosexual and transgender allegations regarding the adoption of Malawian children for possible "human trafficking and social experiments," according to All Africa.
"In opening the investigations, the Federation is also asking Chakwera to look into the integrity of Madonna's Malawi charity, Raising Malawi — and "restrict her and her associates accessibility to Africa and to African children as a precautionary measure until a thorough investigation is done into child trafficking, sex exploitation, sexual slavery, adoption reversal, threat of coercion, fraud, deception and abuse of power or vulnerability," the outlet added.
Twitter user @itsnatlydenise has more on the story.
"Ethiopian World Federation (EWF) has made a surprising petition against . Child trafficking, and fear of social experiments rendered on Malawian children. More accusations to resurface, read on," she wrote.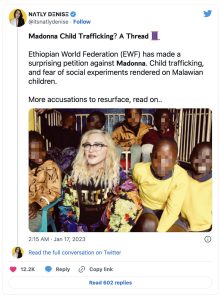 WION reported:
The Ethiopian World Federation has since asked the country's president to restrict the pop star and her company to have restricted "accessibility to Africa and to African children as precautionary measure until a thorough investigation is done into child trafficking, sex exploitation, sexual slavery, adoption reversal, threat of coercion, fraud, deception and abuse of power or vulnerability".
The Ethiopian World Federation petition states of Madonna that the "psychology behind her ability to release child pornography, religious imagery, bestiality and vulgar pornography has prompted her to open an orphanage in Malawi named 'Raising Malawi' in 2006 to host social experiments on vulnerable African children in Malawi".
The petition makes references to a book that Madonna wrote in 1992 called 'SEX', which "features adult content including softcore pornography and simulations of sexual acts including sadomasochism (the derivation of sexual gratification from the infliction of physical pain or humiliation either on another person or on oneself)".
"Gay porn stars were photographed in pornographic pictures with Madonna performing vulgar sex acts with the same sex which should have been disclosed during her adoption case in 2006 in Lilongwe, Malawi. Madonna had to sign a contract that forbade the book from including images of child pornography, bestiality, or religious imagery. Shortly after signing that agreement, Madonna founded a company called Maverick, a partnership with Time Warner. She now holds total artistic control over any work released by Maverick, who is now the book's publisher. The agreement she signed with Time Warner with the sexually explicit content in the book was null and void".

⬇️ Top Picks for You ⬇️
WATCH: Footage Of Attack On Paul Pelosi Released
San Francisco law enforcement officials released body camera footage Friday from the October attack on Rep. Nancy Pelosi's (D-CA) husband, Paul Pelosi.
A San Francisco judge ordered that the footage be made public after a coalition of news outlets filed a motion to release the footage on January 11.
The footage shows police knocking on the door of the home before either Pelosi or DePape opened it.
"What's going on man?" an officer asks.
"Everything is good," DePape responds as he wrestled for control of a hammer with Pelosi.
"Drop the hammer!" the officer then says.
"Umm, nope," DePape responded before gaining control of the hammer and striking Pelosi.
"Oh, s—!" one of the officers says as police rushed in to stop DePape during the attack.
#EXCLUSIVE
Just released police body camera video shows moments David DePape attacked Paul Pelosi at his# San Francisco home

WARNING: VIDEO IS GRAPHIC#PaulPelosi #BREAKING@Nbcbayarea pic.twitter.com/rQZriBvOCm

— Bigad Shaban (@BigadShaban) January 27, 2023
Paul Pelosi was attacked on October 28 by a nudist activist who broke into the Pelosi residence seeking to kidnap the then-House speaker, prosecutors said in a pretrial hearing. The activist, who prosecutors identified as 42-year-old David DePape, attacked Paul Pelosi after not being able to locate his wife.
DePape has pleaded not guilty on all charges, which include both state and federal charges. He is expected to appear in state court on February 23 to set a date for his trial. He is being held in jail without bail.
Authorities said that San Francisco police entered the Pelosi residence around 2:30 a.m. local time on the night of the attack. An assailant and Pelosi struggled over a hammer, and then the assailant "violently" assaulted Pelosi, the police said.
After the attack, Pelosi was taken to a hospital where he underwent "successful surgery to repair a skull fracture and serious injuries to his right arm and hands," a spokesman for Nancy Pelosi said at the time.
DePape broke into the house shouting "Where's Nancy?" a court affidavit said.
DePape told first responders at the scene that he was sick of the "level of lies" from politicians in Washington, D.C., and "came here to have a little chat with [Paul Pelosi's] wife," according to a court filing.
"I didn't really want to hurt him, but you know this was a suicide mission. I'm not going to stand here and do nothing even if it cost me my life," DePape said, according to the filing.
DePape allegedly intended to attack other high profile figures as well. Police said DePape intended to target President Joe Biden's son Hunter, Democratic California Gov. Gavin Newsom, and actor Tom Hanks.