A lawyer for a customer who shot and killed a robber in a Houston taqueria last week said his actions were justified because he was 'in fear of his life.'
Eric Eugene Washington, 30, died after being shot nine times – with one bullet hitting him execution-style in the head – by a vigilante customer who was said to be 'protecting everyone' in the restaurant.
A Texas grand jury will decide whether or not criminal charges should be brought against the still unidentified shooter, but in a statement, attorney Juan L. Guerra Jr. said he was within his rights and that the jury will agree.
'In Texas, a shooting is justified in self-defense, defense of others and in defense of property,' Guerra added.
Guerra went further, discussing how difficult the incident has been for his client from an emotional standpoint.
'This event has been very traumatic, taking a human life is something he does not take lightly and will burden him for the rest of his life,' the statement said, according to KHOU.
Washington already had a lengthy rap sheet. He was on bond for domestic violence after attacking his girlfriend – and he previously spent six years in jail for aggravated robbery with a deadly weapon.
The customer at Ranchito 4 Taqueria was hailed a hero by some after turning his weapon on the would-be robber – who strolled into the local joint, pointed a fake gun at customers and demanded they hand over cash.
The 46-year-old customer, who is believed to be Hispanic, left the scene in a dusty pickup truck, and has not yet been identified because he is not under arrest. Authorities say he is cooperating with detectives – and a Grand Jury will decide if he will face charges.
There were around ten customers eating in the restaurant when Washington entered, wearing a black ski mask and gloves, and started to rob the diners.
Many scattered to the ground and gave over their possessions in fear of Washington – who was later revealed to be taunting the taco shop with a fake firearm.
Now, records have shown Washington's extensive criminal history, including a recent misdemeanor charge of domestic assault against his girlfriend, which occurred in December.
Court documents also confirmed that Washington was released on parole in 2021 for a conviction of aggravated robbery with a deadly weapon, for which he had been sentenced to 15 years behind bars.
Washington had been convicted in 2015 in connection to the murder of 52-year-old Hamid Waraich, the owner of a Boost Mobile cell phone store, who was fatally shot in the back during a robbery. He was paroled in 2021 after serving six years.
One of the victim's sons, Sean Waraich, called Washington 'an evil criminal that took joy from harassing and robbing innocent families.'
He called the taqueria vigilante a 'true hero,' and said he 'did the right thing in stopping the robber and protecting the community from a dangerous perpetrator.'
Aman Waraich, another son of Hamid, said: 'If the guy who stopped Eric was around ten years ago, maybe I'd still have my dad.'
The would-be robber can be seen on surveillance video taking control of the taqueria and pointing a fake gun at customers as they pull cash out of their wallets and place it on the tables and floor.
Suddenly, the vigilante customer starts shooting until the robber falls to the ground. He retrieves the customers' money, then proceeds to leave along with other customers at 11.30pm.
University of Houston Law Center Professor Sandra Guerra Thompson spoke to Eyewitness News about the incident and, in particular, the fake gun the criminal had in his possession.
'I know that there are a lot of questions about the use of a gun because it wasn't a real firearm, but that really doesn't make a difference because it was used as a firearm and a person would reasonably believe that they were facing an immediate threat of deadly force,' she said.
Pedro Lopez, owner of the taqueria, said he and his employees are still in shock.
He told ABC13: 'Everyone was scared, nervous. I was too. Some customers were seated here, others were over there, he go the money and was going to leave
'You never really know what is going to happen.'

⬇️ Top Picks for You ⬇️
Pro-Life Father Arrested by FBI Acquitted on Federal Charges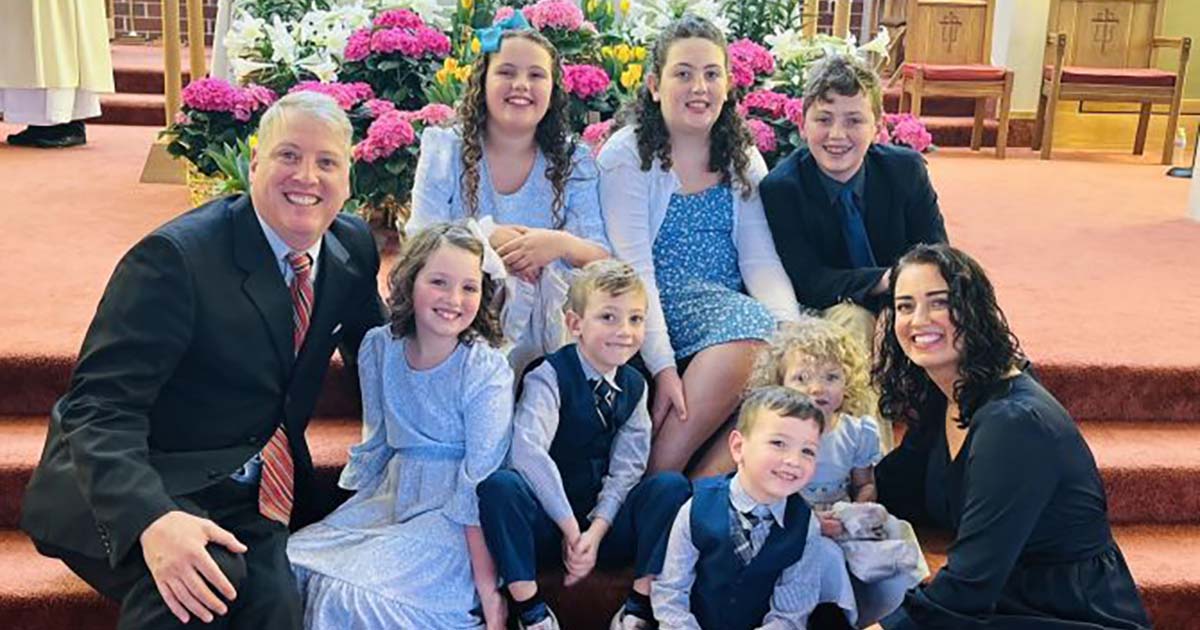 A Catholic pro-life activist facing 11 years in prison for allegedly violating a federal law prohibiting people from blocking others from entering an abortion clinic was acquitted on Monday following a week-long trial.
Mark Houck leads a nonprofit group that counsels women outside of abortion clinics in Philadelphia, Pennsylvania. He was providing sidewalk counseling when, the Department of Justice says, he assaulted an abortion escort twice "because he was a volunteer reproductive health care clinic escort."
"Assault is always a serious offense, and under the [Freedom of Access to Clinic Entrances] FACE Act, if the victim is targeted because of their association with a reproductive healthcare clinic, it is a federal crime," U.S. Attorney Jacqueline Romero said in a DOJ press release. "Our Office and the Department of Justice are committed to prosecuting crimes which threaten the safety and rights of all individuals."
The FACE Act makes it a federal crime to injure, intimidate, or interfere with anyone due to their status as a provider of reproductive health care.
Houck and his attorneys at the Thomas More Society argued, however, that this was "a political prosecution" meant to "send a message" to pro-life Americans.
"And what's clear from the Department of Justice at its highest levels, which is directing this case, [is] that they are trying to send a message to pro-life and people of faith: 'Don't mess with us,'" Thomas More Society vice president Peter Breen told Fox News. "They want to intimidate — they want to cause good people like Mark to stop praying and counseling at the abortion clinics of our country. And that's not going to happen."
Breen told the outlet that the case was thrown out of state court but revived by the Biden administration nearly a year after the incident. Further, Breen said, some 20 FBI agents raided Houck's home when they arrested him, treating him "as if he was a drug lord or a mafia boss."
"If he was truly a danger to the community, they wouldn't have waited a year to prosecute," Breen said. "Serious questions need to be asked of the attorney general. What was he thinking? Why did they do this obscene show of force against a peaceful pillar of the community?"
Houck's lawyers also argued that the DOJ's claim that the FACE Act protects anyone associated with an abortion clinic is inaccurate.
"The FACE Act was never intended to cover disputes between advocates on the public sidewalks outside of our nation's abortion clinics," Breen said in a statement earlier this month. "This new evidence shows clearly that Congress intended to limit the FACE Act to patients and staff working in the clinic, and not to take sides between pro-life and pro-choice counselors and escorts on the sidewalk. The Biden Department of Justice's prosecution of Mark Houck is pure harassment, meant solely to intimidate our nation's pro-life sidewalk counselors who provide vital resources to help pregnant women at risk for abortion."
Houck pleaded not guilty to the charges against him and testified at trial that he and the clinic escort, Bruce Love, had two altercations on the day in question. The first occurred while Houck was counseling two women crossing the street who left Planned Parenthood, Catholic News Agency reported. Love allegedly chased Houck about 100 feet in an attempt to stop him from counseling the women, Life News reported. Houck claimed that Love surprised and made contact with him, causing him to ask, "What are you doing?" and reflexively elbow the escort in the hip to move him out of the way. The prosecution argued that Houck elbowed Love unprovoked because of his status as a clinic escort.
After this, Houck said Love left the clinic and stood near Houck's 12-year-old son while taunting Houck Sr., saying, "You're hurting women. You don't care about women."
Houck said Love also repeatedly disparaged him to his son, who testified on Friday that Love stood about an arm's length away from him near the clinic.
"I moved away… because I was scared," the younger Houck testified, adding that Love told him, "Your dad's a bad person. Your dad's harassing women."
It was after Houck repeatedly told Love to stop harassing his son that Houck said he pushed Love away.
The jury deadlocked on Friday after two-and-a-half hours of deliberation, telling U.S. District Judge Gerald Pappert that they didn't think they could come to a conclusion given more time. Pappert sent the jury home but instructed them to return Monday morning and continue deliberations anyway.
On Monday, the jury acquitted Houck. Following the verdict, Breen released a statement condemning the Biden administration for pursuing his client.
"We are, of course, thrilled with the outcome," Breen said. "Mark and his family are now free of the cloud that the Biden administration threw upon them. We took on Goliath – the full might of the United States government – and won. The jury saw through and rejected the prosecution's discriminatory case, which was harassment from day one. This is a win for Mark and the entire pro-life movement. The Biden Department of Justice's intimidation against pro-life people and people of faith has been put in its place."