Florida parents sued McDonald's for serving chicken nuggets which they claim were so hot they caused second-degree burns on their 4-year-old daughter's leg.
Plaintiffs Philana Holmes and Humberto Caraballo Estevez were in court this week stating their case. They said their daughter received severe burns to her thigh area in 2019 after a 200-degree McNugget fell in her lap from a Happy Meal box.
In a split jury, franchisee UpChurch Foods was found negligent while McDonald's was not, according to court documents. The jury found that both the franchisee and McDonald's failed to produce instructions for the food that would have prevented the girl's injury, CBS News reported.
The family's attorneys called the jury decision a "tremendous victory for a deserving family."
"The reasonable, foreseeable, intended use is for a child to handle this box. The law implies a promise from a corporation to, in this case, a child," their attorney Jordan Redavid told the court earlier this week, per The Daily Mail. "And if it's preventable, it's warnable, you should warn someone about it, and if you don't do that then you're liable."
Holmes said she ordered the six-piece chicken McNuggets Happy Meal at a McDonald's drive-thru in Tamarac, Florida, and handed the box back to her daughter in the backseat. The girl was then allegedly burned by the nugget, which her family said left the child "disfigured and scarred" after it remained on her leg for two minutes.
Holmes described the events after she picked up the food during a pretrial deposition.
"As I'm pulling away out of the drive-thru I hear [Olivia] start to yell. But the time I make it to the street it's a full blown scream," she told the court, according to a transcript.
"I turn around and she dropped the nugget in her lap. So I'm trying to drive and knock them out of her lap as I'm going down the street."
"So as soon as I was able I pulled over, I run to the back seat of the car and I got out the nugget that I could see and I then pulled off her seat belt across the lap; there was a chicken nugget that was stuck that I could not reach," she said.
"As I am taking the nugget off of her skin it's falling apart in my hand. Her thigh — upper thighs — it was really, really red. She's screaming, she's yelling," Holmes went on. Photos of the child's injuries were displayed in court.
"Every once in a while, she looks at [the scar] and she refers to it as her chicken nugget," Estevez said.
The family is seeking $15,000 in damages from McDonald's and its franchise, Upchurch Foods, for negligence and poor training, the outlet noted. A jury will determine the amount of damages.
"Our sympathies go out to this family for what occurred in this unfortunate incident, as we hold customer safety as one of our highest priorities. That's why our restaurant follows strict rules in accordance with food safety best practices when it comes to cooking and serving our menu items, including Chicken McNuggets," UpChurch Foods said in a statement.
"We are deeply disappointed with today's verdict because the facts show that our restaurant in Tamarac, Florida did indeed follow those protocols when cooking and serving this Happy Meal. Our community here in South Florida should remain confident that we will continue serving safe and high-quality meals, just as we've done for more than 50 years at Upchurch Management restaurants."
"Our customers should continue to rely on McDonald's to follow policies and procedures for serving Chicken McNuggets safely," McDonald's said in a separate statement.

⬇️ Top Picks for You ⬇️
Biden Got Recurring $1,380 Payment from Hunter's Firm Starting in 2018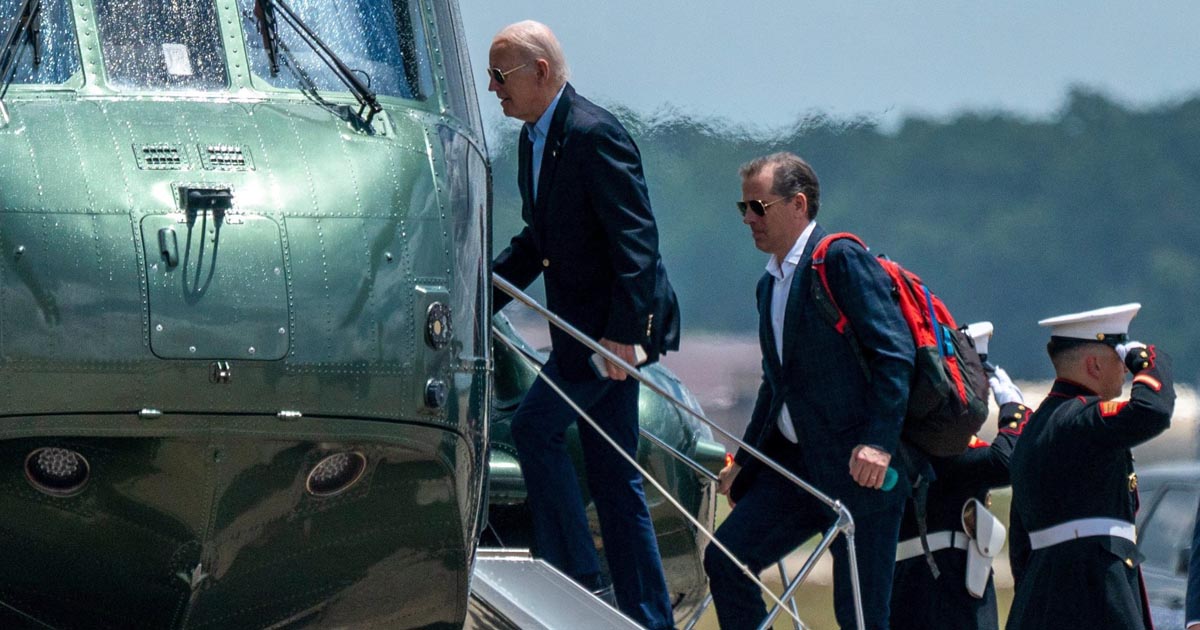 President Biden received a recurring payment of $1,380 from his son Hunter's law firm beginning in late 2018 shortly after a bank money laundering officer warned that the same account was receiving millions of dollars in Chinese government-linked funds without "any services rendered."
A bank order shows that Owasco PC set up a "monthly" transfer to then-former Vice President Joseph R. Biden Jr., with a voided check for the future president included in the documentation, which was released Monday by the House Oversight Committee.
A source told The Post that at least three recurring payments were made — on Sept. 17, Oct. 15 and Nov. 15, 2018 — totaling $4,140 to the elder Biden from Owasco PC, according to the bank records of the firm.
"President Biden and his family must be held accountable for this blatant corruption," Oversight Committee Chairman James Comer (R-Ky.) said in a video release.
"Today, the House Oversight Committee is releasing subpoenaed bank records that show Hunter Biden's business entity, Owasco PC, made direct monthly payments to Joe Biden. This wasn't a payment from Hunter Biden's personal account but an account for his corporation that received payments from China and other shady corners of the world," Comer said.
"At this moment, Hunter Biden is under an investigation by the Department of Justice for using Owasco PC for tax evasion and other serious crimes. And based on whistleblower testimony, we know the Justice Department made a concerted effort to prevent investigators from asking questions about Joe Biden. I wonder why?"
Earlier that year, a January 2019 email from assistant Katie Dodge to Hunter Biden annotated various expenses including "Ford Raptor — Reimbursement to JRB — $1380."
The provenance of the funds is unclear, however, and additional records show that Hunter Biden was knee-deep in two of his most controversial business relationships at the time, with Ukraine's Burisma Holdings and CEFC China Energy.
The evidence emerged as House Republicans prepare to question first brother James Biden on Wednesday and Hunter next week about the president's role in his family's dealings in countries such as China and Ukraine — with a possible floor vote to authorize the ongoing impeachment inquiry this month.
While a presidential candidate, Joe Biden denied that he ever discussed business with his relatives, but evidence has since shown that he met with his relatives' associates from both the Burisma and CEFC ventures.
Documents from the first son's abandoned laptop show that Burisma board adviser Vadym Pozharskyi sought "bank reference" information on Sept. 14, 2018 — one day before the initial transfer to Joe Biden was sought. However, the transaction was not executed for another two days, apparently due to a later-than-expected form submission.
Joe Biden met Pozharskyi at an April 17, 2015, dinner at DC's Café Milano. An unproven FBI informant tip said that Burisma owner Mykola Zlochevsky claimed in 2016 he was "coerced" into paying $10 million in bribes to the Bidens for their assistance in ousting prosecutor Viktor Shokin.
Hunter also was on the tail end of disbursing millions of dollars received from CEFC China Energy — one of two major Biden family dealings with Chinese government-linked firms.
On June 26, 2018 — less than three months before Joe Biden began to receive the monthly transfers — an internal Bank Secrecy Act expert warned colleagues that the institution should reconsider its relationship with Hunter as a result of Owasco PC seeming to receive Chinese funds without "any services rendered."
CEFC transferred $5 million to another Biden family-linked entity, Hudson West III, in August 2017 after Hunter warned a China-based associate of his father's wrath if a business deal was aborted. Much of the large transfer later went to Hunter's Owasco PC.
Prior bank records released by the Oversight Committee indicate that Joe Biden received payments of $40,000 and $200,000 from his brother James, who also was involved in the CEFC venture and other foreign-focused enterprises.
Comer alleged that the $40,000 transferred to Joe Biden's bank account on Sept 3, 2017, was from "laundered" Chinese funds.
James Biden paid Joe Biden $200,000 on March 1, 2018 — the same day that James received a $200,000 transfer from troubled rural hospital company Americore after pledging to use his political connections to secure a Middle Eastern investor, according to bankruptcy filings.
The White House says there's evidence that both transfers were loan repayments, but Republicans argue they have not seen loan agreement documents and note that the funds distributed to James came from a law firm, rather than Joe Biden himself, further clouding the picture.