Hunter Biden's longtime business partner who is likely to know more about the Biden family's business dealings than Devon Archer was instrumental in the first son expanding his enterprise in China.
Following Devon Archer's bombshell congressional interview last week alleging President Biden's involvement with his son's business dealings, a new light is being cast on Eric Schwerin, who was a founding partner and managing director of Hunter's now-dissolved firm Rosemont Seneca Partners.
Schwerin was at Rosemont Seneca when he was appointed by then-President Obama to the Commission for the Preservation of America's Heritage Abroad, an independent U.S. government agency, in early 2015.
"Eric asked for one of these the day after the election in 2008," Hunter revealed about Schwerin's appointment in an email on March 13, 2015. Schwerin was reappointed to the commission in January 2017.
Schwerin, who visited the White House and vice presidential residence at least 36 times during the Obama-Biden administration, was deeply connected with the Biden family and "managed almost every aspect of our financial life," according to Hunter's ex-wife, Kathleen Buhle, who was married to the president's son from 1993 to 2017.
Hunter acknowledged that Schwerin was a "close confidant and counsel" to his father in a February 2014 email and frequently talked about their finances in emails.
"If Devon Archer was the sort of business guy, the deal guy in how you structure this, Eric Schwerin was the money guy," Peter Schweizer, the president of Government Accountability Institute and an expert on Hunter's business dealings, told "Sunday Morning Futures" host Maria Bartiromo on Sunday.
As recently as March 2017, Rosemont Seneca Advisors, where Schwerin served as president, held a stake in a company run by a Chinese executive with ties to officials at some of the highest levels of the Communist Party of China (CCP), FOX Business previously reported.
Schwerin sent Hunter an email in March 2017 breaking down the ownership interests of Rosemont Seneca Advisors, which included a 5% stake in Harves Amusement Parks and ownership in Harves Sports and Entertainment.
Fox News Digital has extensively reported on the CCP ties of the parent company, Harves Century Group, and its affiliates, which have backing from the state-owned China Development Bank.
Bo Zhang, the founder and CEO of Harves Investment Group, among other U.S. based Harves affiliates, was being "groomed to take over his family's dynasty" in China, according to an email that top former Biden aide Francis "Fran" Person wrote to Hunter in 2015.
Multiple emails reviewed by FOX Business showed that Schwerin and Hunter met with Person and Zhang in Washington, D.C., on multiple occasions and emailed back and forth, coordinating potential Harves-related business deals.
One of the emails was from Schwerin to Zhang, Biden, Person, an assistant and Tara Greco, a former director of communications for the union that represents NBA players. The April 2016 email, which was directed at Zhang, said Greco had learned that the Anschutz Entertainment Group (AEG) had a deal with the NBA to "build NBA branded stadiums around China" but said it appeared the project was "stalled" after only two stadiums were built, prompting Schwerin to say, "If Liaoning can get one of these stadiums that would be a big help in your efforts to get more NBA related content in Liaoning."
After listing off several questions he had for Zhang, Schwerin concluded the email by saying they could discuss when they met the following week.
In November 2020, a joint press release announced that Harves was partnering with NBA China, a company that was formed in 2008 to conduct the NBA's business throughout China and develop NBA-themed entertainment centers. Zhang was quoted in the press release as saying, the centers "furthers our mission to provide best-in-class global entertainment experiences to local populations." In May this year, the eastern city of Suzhou is expected to open its first experience center. Zhang said, "We hope to grow it into a landmark project in the sports industry."
"As part of the partnership, Harves, plans to open six NBA-themed entertainment centers across China, with the first opening by 2022," the press release said. "These entertainment centers will bring together fans and families to experience the excitement of the NBA through a variety of new activities and offerings, including cutting-edge, interactive digital games, NBA-themed dining and more."
In 2015, Schwerin introduced Hunter to CEFC China Energy, a Chinese energy company based in Shanghai.
On Oct. 6, 2015, Schwerin sent an email to Hunter and Archer saying he met with a CEFC representative and was working on setting up a meeting.
"Talked to Scott Oh today. He represents the Chinese conglomerate, CEFC China Energy," Schwerin wrote. "It is a $35 Billion company and among the 10 largest private companies in China. They are looking to move some of their assets to the U.S. and are looking for an asset manager to invest with."
"They are coming to D.C. the last week of October and would like to meet. I am giving them some dates that would work," he said.
At the time, the CCP-connected Ye Jianming was the CEFC's chairman. Fox News Digital previously reported that in 2012 Hunter extended "best wishes from the entire Biden family" to Jianming and urged him to "quickly" send a $10 million wire to "properly fund and operate" their joint venture, which was never completed.
Hunter and possibly Schwerin met with Jianming and Oh on Dec. 7, 2015. Days later, Hunter and Schwerin held a call with the CEFC and World Food Program USA founder Rick Leach, presumably about a donation that Hunter and Schwerin helped facilitate from CEFC to the WFP USA, where Hunter Biden served as the board's chairman, according to emails.
During that same year, Schwerin was on several emails related to a movie venture opportunity for Hunter, business associate Jimmy Bulger and George Hsieh, a pro-China lawmaker in Taiwan who would leave government to open up a movie production company. Schwerin was involved in multiple conversations with Bulger and Hsieh and would then go back to Hunter to relay their conversations.
In September 2015, Schwerin emailed Hunter letting him know he held a phone call with Bulger and Hsieh and that Hsieh proposed Biden and Bulger become movie producers for his company for a total of $1 million over the course of three years. Schwerin said Hsieh was also pushing for Biden and Bulger to meet with potential investors in China, which wouldn't occur until September 2016.
Other emails show that Bulger was in conversations with Hsieh, and he wanted Hunter to meet Alibaba Group co-founder Jack Ma and other Alibaba executives after a few people went to Hsieh requesting help doing a biopic film on the life of Jack Ma.
Alibaba, a Chinese firm that reportedly helped create surveillance technology used against Uyghur Muslims in Xinjiang, is one of China's largest technology firms that actively works to advance the interests of the Chinese Communist Party (CCP).
The technologies that Alibaba helped produce have also been used for government surveillance and to "reeducate" Uyghur Muslims in Xinjiang, according to a congressional report in June 2020.
In September 2016, Schwerin sent an itinerary to Hunter Biden for an upcoming China trip looking for investors for their movie venture. The list of Chinese business leaders they were scheduled to visit had multiple CCP ties.
In 2014, Schwerin discussed with Hunter a business proposal by CITIC, a Chinese state-owned company.
"They'd like an introduction to Universal (Comcast) as they'd like to open a Universal Studios China theme park outside of Beijing," Schwerin said of CITIC, adding that the company would "like to pay us for our help."
It's not clear what came of the proposal, but according to internet archives on the Wayback Machine from 2011, CITIC was listed in the "Alliances/Clients" section of the website for Thornton Group, James Bulger's firm that later partnered with Rosemont Seneca to form Rosemont Seneca Thornton.
In 2013, Hunter's and Bulger's firms secured their partnership with Li's firm Bohai Capital in order to launch Bohai Harvest RST (BHR), which is controlled by the state-owned Bank of China Limited.
In December 2013, then-Vice President Biden traveled to Beijing due to a scheduled meeting with Chinese President Xi Jinping.
Hunter expressed interest in joining his father on the trip and ended up going, where he admitted to the New Yorker that he introduced his father to Li.
According to the report, Hunter arranged for a brief handshake in the lobby of the hotel where the U.S. delegation was staying and then Hunter met up with Li privately.
However, Archer revealed to the House Oversight and Accountability Committee in a closed-door interview last week that Biden, as vice president, also had coffee with Li during his Beijing trip.
Schwerin organized a lunch with Hunter, Li and the Buccini brothers on Feb. 9, 2017, according to emails.
Days later, Schwerin sent Li a college letter of recommendation that Biden had written for his son, Christopher.
"Hunter asked me to send you a copy of the recommendation letter that he asked his father to write on behalf of Christopher for Brown University," Schwerin wrote Li on Feb. 20, 2017. "The original is being FedExed to Dr. Paxson directly at Brown. It should be there by Tuesday at the latest (given Monday is a holiday here in the U.S.)."
"It is just great!" Li replied. "Thank you very much! And Hunter, thank you very much too."
About the same time, Schwerin was also trying to arrange a meeting between Li and Nick Rohatyn, a Biden donor and then-client of Rosemont Seneca.
"It was good to see you the other day at the White House," Hunter wrote Rohatyn in an email drafted by Schwerin. "I wanted to see if you or someone on your team wanted to meet with Jonathan Li, the CEO of BHR Partners, a Chinese cross border private equity fund that Rosemont Seneca helped found and of which we are a shareholder."
"Happy to connect with Jonathan Li when he is here," Rohatyn responded. "Copying my assistant Caroline to coordinate.
From May 2015 to February 2016, Schwerin was also part of talks between Harves and SeaWorld on potentially launching a theme park in Shanghai, and he helped arrange meetings between Harves and SeaWorld in China and Orlando, according to emails, though the deal was never realized.
Fox News Digital reported in September that Schwerin and Hunter were also instrumental in helping a Rosemont Seneca client and Democrat donor secure an event at the Chinese Embassy in Washington, D.C., after networking with one of the top officials at the embassy during a January 2011 luncheon hosted by then-Vice President Biden.

⬇️ Top Picks for You ⬇️
4th Republican Debate Highlights: GOP Rivals Clash on Stage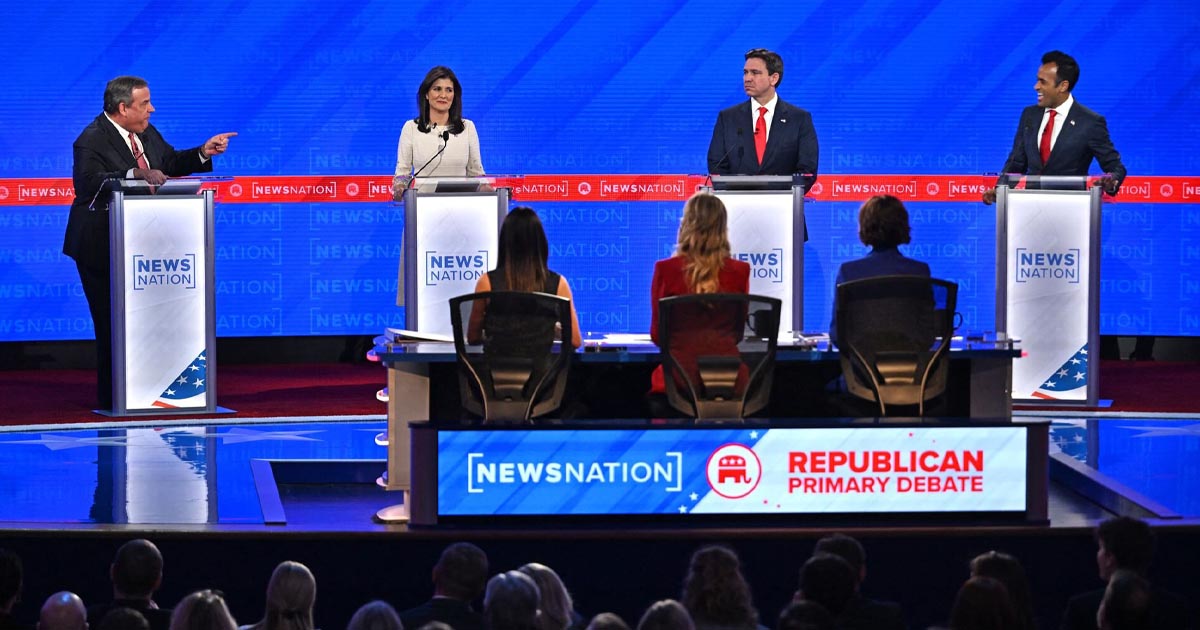 Four Republican presidential candidates traded barbs Wednesday night during a fiery GOP debate as they looked to position themselves as the best alternative to Donald Trump in the primary.
NewsNation hosted the fourth debate with three moderators: NewsNation's Elizabeth Vargas, former Fox News host Megyn Kelly and the Washington Free Beacon's Eliana Johnson.
Four candidates appeared on stage:
Former New Jersey Gov. Chris Christie
Florida Gov. Ron DeSantis
Former U.N. Ambassador Nikki Haley
Businessman Vivek Ramaswamy
Here are the highlights from the debate below.
Knives out for Haley
Haley was the night's top target, particularly for Ramaswamy and DeSantis.
The Florida governor, who has faced a threat from a surging Haley for weeks now, took a swipe at her straight out of the gate, accusing her of being weak when dealing with Democrats.
DeSantis said he was "sick of Republicans who are not willing to stand up and fight back against what the left is doing to this country," accusing Haley of caving "every time the left comes after her, anytime the media comes after her."
Additionally, DeSantis accused her of opposing bans on transgender surgery and of sending a "love letter" to the Chinese ambassador when she was governor of South Carolina in a bid to get Chinese businesses to move to the state.
Haley pushed back on both of those claims. But the most vitriolic criticism against Haley came from Ramaswamy, who has emerged as her main nemesis in each of the previous debates.
The entrepreneur attacked Haley over her donors and foreign policy, but his attacks also once again came with a personal edge. He referred to Haley as the "only person more fascist than the Biden regime" and said his three-year-old could show her the difference between the US and Israel on a map.
All in all, the night underscored the degree to which Haley is seen as a threat from her fellow debate participants — though it remains to be seen what effect their attacks will have on her momentum.
DeSantis has a strong night
The Florida governor had arguably his strongest debate performance so far during the primary cycle, taking an active role in the conversation throughout the night and landing attacks on multiple opponents.
His strong showing came days after he participated in a unique Fox News-hosted debate with California Gov. Gavin Newsom (D), which also earned him plaudits.
One of the most prominent moments for DeSantis on Wednesday came when he sought to draw a contrast between himself and Trump.
"The idea that we're going to put someone up that's almost 80 and there's going to be no effects from that, we all know that's not true. And so we have an opportunity to do a next generation of leaders," DeSantis said.
He also criticized Trump over certain policies during his administration, arguing that the former president fell short of what he promised to accomplish. He slammed Trump for not "cleaning up 'the swamp'" and not having Mexico pay for a wall on the southern border.
DeSantis went on offense throughout the night. At one point during the debate, he attacked both Christie and Haley in a discussion over gender-affirming care for minors, drawing applause from the largely Republican-leaning audience over his stance on the issue.
In his closing statement, DeSantis made a strong case for why he was the best candidate to help the Republican Party "win again," pointing to his own success in Florida during an otherwise disappointing election year for the party in 2022.
"Nobody has defeated these people more than what I have done in the state of Florida on issue after issue," he said, referring to Democrats. "We have won and we have won big, and that's what we'll do for you."
Christie takes fiercest stand yet against Trump
Christie took a full-throated criticism on Trump, whom he called a "dictator" and a "bully."
He also stepped up pressure on his fellow candidates to denounce the former president.
"The fact is that when you go and you say the truth about somebody who is a dictator, a bully, who has taken shots at everybody whether they've given him great service or not over time, who dares to disagree with him, then I understand why these three are timid to say anything about it," Christie said. "Maybe it's 'cause they have future aspirations."
Christie has been polling in third place in New Hampshire, according to RealClearPolitics's polling average of the state's surveys, but he's been trailing many of his contenders by larger margins in Iowa and South Carolina. The former New Jersey governor has faced pressure to drop out of the race as some Republicans look to coalesce around either Haley or DeSantis in order to take on Trump.
But Christie has so far refused to do so. Instead, he used the fourth debate to underscore the threat Trump poses if reelected again — a message he has leaned into throughout his campaign, but never as forcefully as Wednesday night.
"Let me make it clear. His conduct is unacceptable. He's unfit and be careful of what you're gonna get," Christie said in Alabama. "If you ever got another Donald Trump term, he's lettin' you know 'I am your retribution.' He will only be … He will only be his own retribution. He doesn't care for the America people. It's Donald Trump first."
Other GOP rivals pull their punches against front-runner
Christie wasn't the only one who criticized Trump on Wednesday, though his rivals were not nearly as forceful in denouncing the former president.
Haley, for her part, did seek to make a case against her former boss, arguing that she would steer clear of the "drama" and "vendettas" that came with a Trump presidency.
"We have to stop the chaos but you can't defeat Democrat chaos with Republican chaos. And that's what Donald Trump gives us. My approach is different. No drama. No vendettas. No whining," Haley said.
DeSantis, too, showed he was willing to make a case against Trump, whom he has been generally careful not to criticize too harshly. At one point, he alluded to the former president's age, saying that "Father Time is undefeated."
Overall, though, DeSantis and Haley were both reluctant to go after Trump in the way some Republicans have been arguing they must in order to win. Their cautious approach to the former president underscores the predicament they face, in which they need to knock Trump off his perch while also not alienating his loyal base.
DeSantis was also quick to brush aside recent concerns over remarks Trump made about not being a dictator except on "day one" if elected president.
"The media is making a big deal about what he said about some of these comments," DeSantis said. "I would just remind people, that is not how he governed — he didn't even fire Dr. Fauci. He didn't fire [FBI Director] Christopher Wray. He didn't clean up the swamp. He said he was gonna drain it. He did not drain it. He said he was gonna build a wall and have Mexico pay for it. We don't have the wall."
"Some of these policies he ran on in '16 — I was cheering him on then," DeSantis said. "But he didn't deliver it."
Debate was nasty
All of the primary debates have had their tense moments, but Wednesday's event was arguably the nastiest so far.
The candidates were attacking each other throughout — and some of those attacks got personal.
The most intense moment came when Christie lambasted Ramaswamy for repeatedly interrupting the other candidates and going after Haley.
"This is the fourth debate that you would be voted in the first 20 minutes as the most obnoxious blowhard in America. So shut up for a little while," he told Ramaswamy.
Christie also accused Ramaswamy of insulting Haley's "basic intelligence" instead of her policy positions, saying he has known Haley longer than Ramaswamy "even started to vote in a Republican primary."
Ramaswamy swiped at Haley on multiple occasions, too, continuing the ongoing feud between them. One moment came during a discussion over the war between Ukraine and Russia, when Ramaswamy said Haley, as well as President Biden, could not name three provinces in Ukraine.
"Neither of them could even state for you three provinces in eastern Ukraine that they want to send our troops to actually fight for," he said.
DeSantis, meanwhile, went after Haley over her support from large donors, alleging that she would "cave" to their wishes; he and Christie also bickered over each other during the debate on Trump's fitness for office.
The feistiness of Wednesday night's debate demonstrates just how little time remains for the candidates to score knockout blows against each other before the Iowa caucuses.
This article was updated.