Wendy McMahon, formerly the co-president of CBS News, has been promoted to president and chief executive officer of CBS News and Stations and CBS Media Ventures.
Her new role was announced the day after her former CBS News co-president Neeraj Khemlani said he would step down from his position after about two years on the job.
CBS News in a press release said McMahon's tole will include singular oversight of CBS News and Stations as well as leadership of CBS' domestic syndication business.
She will continue to report to George Cheeks, president and chief executive officer of CBS.
Later on Monday, CBS announced that veteran news executive Ingrid Ciprian-Matthews has been named president of CBS News, reporting to McMahon. She becomes the first Latina to hold the position, per the National Association of Hispanic Journalists.
"At every turn since joining CBS, Wendy has used her unique skill set as an innovator, business operator and people leader to energize operations, support our best-in-class journalism and position CBS for its multiplatform future," Cheeks said in a statement.
In the new role, McMahon will have oversight of CBS News' broadcast and streaming operations, 27 local television stations in major U.S. markets and 14 local news streaming channels.
McMahon's portfolio will include all of CBS News' weekend and weekday programs, like "60 Minutes" and "CBS Mornings" as well as its first-to-air entertainment content, such as "Jeopardy!" and "Entertainment Tonight."
She will continue to oversee CBS Media Ventures' syndication programming, as well as its content licensing to television stations and the division's national advertising sales business, per the statement.
McMahon joined CBS from ABC in 2021, where she served as president of ABC Owned Television Stations Group. She and Khemlani split the duties of co-president since that time.
She will now oversee all of his responsibilities and her current responsibilities in her new role.
Khemlani said yesterday as a part of his announcement that he will take on a new "multi-year, multi-platform first look deal with CBS to develop content."
McMahon oversaw CBS News' streaming expansion to more than a dozen cities. She will continue to spearhead CBS News' digital efforts as the sole leader of the network.

⬇️ Top Picks for You ⬇️
Venezuela Is Preparing to Invade Oil-Rich Neighbor Guyana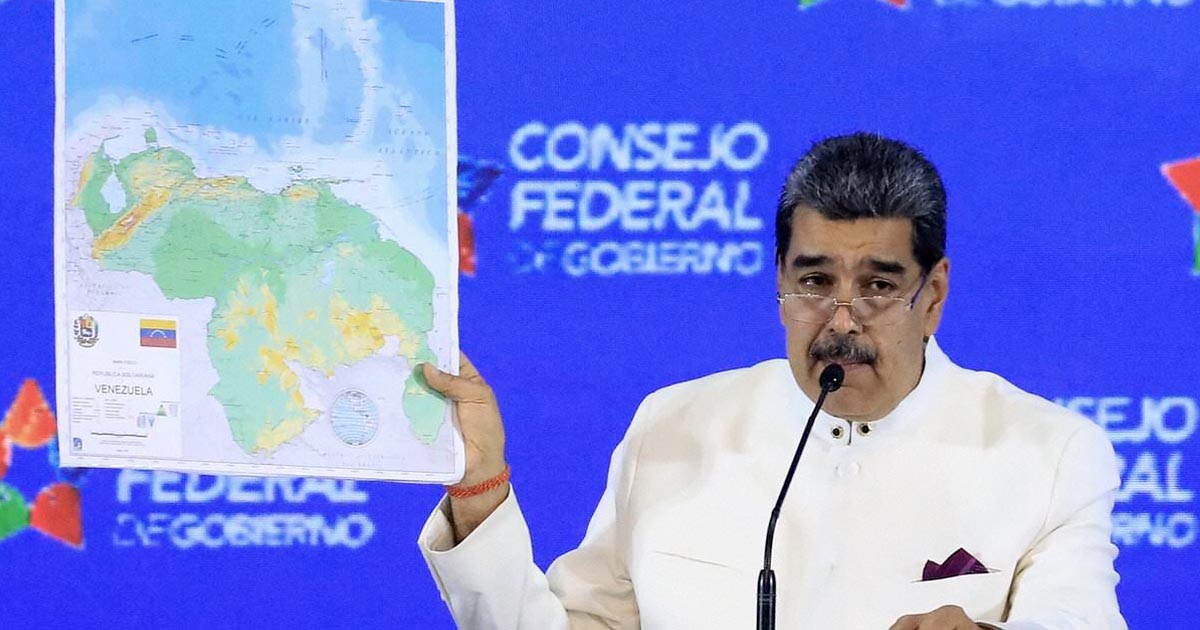 Venezuela's president on Tuesday published a new map of the region showing two thirds of neighboring Guyana 'reclaimed' by Caracas and ordered the state-owned energy companies to 'immediately' begin exploration in the area, as fears rose that Nicolas Maduro could start a war.
Venezuela has claimed Guyana's Esequiba region for over 100 years – ever since the border of the present-day country was drawn up, in 1899. But on Sunday, with his own popularity falling in the face of a newly-unified opposition, Maduro organized a 'referendum' on whether to pursue Venezuela's claim to the territory.
Voters were asked if they agreed with creating a Venezuelan state in the Esequiba region, providing its population with Venezuelan citizenship, and 'incorporating that state into the map of Venezuelan territory.'
The Maduro-controlled Venezuelan National Electoral Council said voters chose 'yes' more than 95 percent of the time on each of five questions on the ballot, and on Tuesday Maduro published his new map.
He has appointed a general, Alexis Rodríguez Cabello, as head of the region and on Tuesday dispatched him to the town of Tumeremo, a remote mining town in the jungle, 120 miles from the border.
Esequiba, about the size of Florida, is rich in minerals and accounts for two thirds of the territory of Guyana – an English speaking nation, which gained its independence from Britain in 1966. Guyana is the only English-speaking country in South America.
Venezuela protested an oil tender announced by Guyana in September, arguing that the offshore areas are subject to dispute and the companies awarded the fields will not have the rights to explore them.
Guyana has denounced Sunday's referendum as pretext to annex the land: in the days running up to it, the Venezuelan defense minister Vladimir Padrino Lopez, known for his ties to his counterparts in Russia and Iran, posted a video of Venezuela troops on parade, waving flags saying 'Guyana Esequiba', colored in the Venezuelan flag.
President Irfaan Ali called the move by Maduro 'reckless' and said his country plans to alert both regional and world leaders of Maduro's attempt to disrupt the peace in the hemisphere.
'It is unfortunate that President Maduro would choose the road of defying an international court order. This speaks volumes about the way in which President Maduro prefers to operate and also points to the fact that he's unconcerned about the peace and security of this region,' he told The Miami Herald.
'The order of the [U.N. court] made it very clear that Venezuela cannot act or take any action that would disrupt the status quo and the status quo is that Guyana exercises governance and control of Essequibo,' he said.
He added that he is seeking the support of the United Nations Security Council, the United States, the Caribbean Community, the Organization of American States and other countries to ensure Guyana's territory is 'not violated.'
'We once again call on Venezuela to retract from this reckless, adventurous move and to allow international law and the ruling of the [U.N. court] to guide our action,' Ali added.
El pueblo y su #FANB están movilizados, decididos e imperturbables a recuperar nuestra Guayana Esequiba, nos mueve el amor infinito a la patria y a cada milímetro del sagrado territorio venezolano, el cual defenderemos por todas las vías y por todos los medios que estén a nuestro… pic.twitter.com/B60slT8xSs

— Vladimir Padrino L. (@vladimirpadrino) November 29, 2023
Guyana has appealed to the International Court of Justice, the United Nations' top court, which on Friday ordered Venezuela not to take any action to change the status quo until the panel can rule on the two countries' competing claims. Any decision could take years.
Meanwhile, Guyana is nervously eyeing its giant neighbor to the north.
Venezuela's military, backed by Russia, Iran and Cuba, massively outnumbers tiny Guyana's: the Venezuelan military counts 123,000 active personnel versus only 3,400 for Guyana, according to an analysis in Brazil's Folha de Sao Paulo newspaper.
Guyana is also dwarfed by Venezuela in weaponry, with Venezuela having 514 armored vehicles compared to only six owned by Guyana.
Such an attack would draw a strong international response, with the lead likely played by Brazil, which borders both Venezuela and Guyana and whose military is significantly larger and more professional than either country's.
At the end of November, Brazil's defense ministry said it 'has intensified defensive actions' along its northern border.
'The Ministry of Defense has been monitoring the situation. Defensive actions have been intensified in the northern border region of the country, promoting a greater military presence,' it said in a statement.