Indicted New Jersey Sen. Bob Menendez — accused of agreeing to meddle in a criminal probe in exchange for a new Mercedes-Benz — allegedly took the bribe after his soon-to-be wife killed a man during a traffic accident that left her car too banged up to drive.
Nadine Arslanian Menendez, 56, was the veteran Democrat's on-again, off-again lover back when she slammed into Richard Koop, 49, as he crossed a road in Bogota, New Jersey at about 7:30 p.m. on Dec. 12, 2018, according to reports on Wednesday.
Local cops questioned Arslanian briefly, then cut her loose when they figured she was "not at fault," reported The New York Times.
Menendez's future wife told cops she didn't see Koop — but she was driving her black Mercedes fast enough that the collision flung his mangled body to the curb, just steps from his own house.
Koop died almost instantly, the Times said. When his ex-wife went to identify his corpse, she could barely recognize him.
Arslanian's luxury ride was trashed. She shattered her windshield, and the front end was badly damaged because she careened into a parked car after hitting the man, according to a Bogota police report.
In stepped her beau, the senior Democratic senator from the Garden State, with whom she was indicted last month for allegedly trading favors to help three New Jersey businessmen and the government of Egypt.
The feds allege that the 69-year-old Menendez — who married Arslanian in October 2020 — agreed to call a senior prosecutor at the New Jersey attorney general's office and ask them to go easy on an associate of businessman Jose Uribe.
In return, Uribe, a former insurance agent from Menendez's hometown of Union City, allegedly agreed to finance a brand new Benz, the indictment states.
"All is GREAT! I'm so excited to get a car next week. !!" Arslanian texted Wael Hana — an equally shady Egyptian-American businessman from North Jersey who was also close with Uribe — a few days after Menendez's alleged call.
By April 2019, she was signing the papers on a brand-new, $60,000 Mercedes-Benz C-300 convertible, according to Manhattan federal prosecutors.
"Congratulations mon amour de la vie," Arslanian texted Menendez, the indictment said. "We are the proud owners of a 2019 Mercedes."
Both Uribe, 56, and Hana, 40, were indicted alongside Menendez and his wife last month, as was Fred Daibes, a well-known 66-year-old real estate developer and big-time fundraiser for the oft-embattled senator.
Federal prosecutors have said Menendez accepted hundreds of thousands in bribes in the form of cash, gold bars, the Mercedes and even exercise machines during a four-year period, starting in 2018.
Both Menendez and his wife have pleaded not guilty to the charges.
The car — and the accident that apparently necessitated it — were mentioned briefly in the September indictment. But this is the first time details about the crash have emerged.
Koop had spent the evening in nearby bars, the Times said, and an Uber had just dropped him off across the street from his apartment when Arslanian struck him.
Surveillance video from a nearby business showed Koop fly off Arslanian's car after she hit him, then hit the brakes, the outlet said.
It doesn't appear officers knew Arslanian was connected to one of the most powerful politicians in the state, the Times said.
But cops didn't give her any tickets or summonses afterward.
"It is determined that at this time Ms. Arslanian was not at fault for the motor vehicle crash and that Mr. Koop was jaywalking," a Bogota police sergeant wrote in his report the next day.
In an interview with the Times, her attorney, David Schertler, called the car crash a "tragic accident" and said it had nothing to do with the bribery charges.
"My understanding was this individual ran in front of her car, and she was not at fault," Schertler said.
The victim's family remains worried about the "very sparse, one-sided investigation," according to his sister, Rosemarie Koop-Angelicola.
"Definitely a lack of legal enthusiasm to take this case, definite lack of media coverage, and a lack of communication by the authorities of Bergen County," she told the Times. "We felt that the whole thing was very silently swept under the rug."
Koop — a divorced father-of-one who was an avid fisherman and coach — had alcohol and marijuana in his system when he died, according to his autopsy.
But Arslanian was never even tested, Koop-Angelicola told the Times.
"The dead man was drug- and alcohol-tested, but the driver wasn't," Koop-Angelicola said. "Things like that just don't play fair in our mind."

⬇️ Top Picks for You ⬇️
Venezuela Is Preparing to Invade Oil-Rich Neighbor Guyana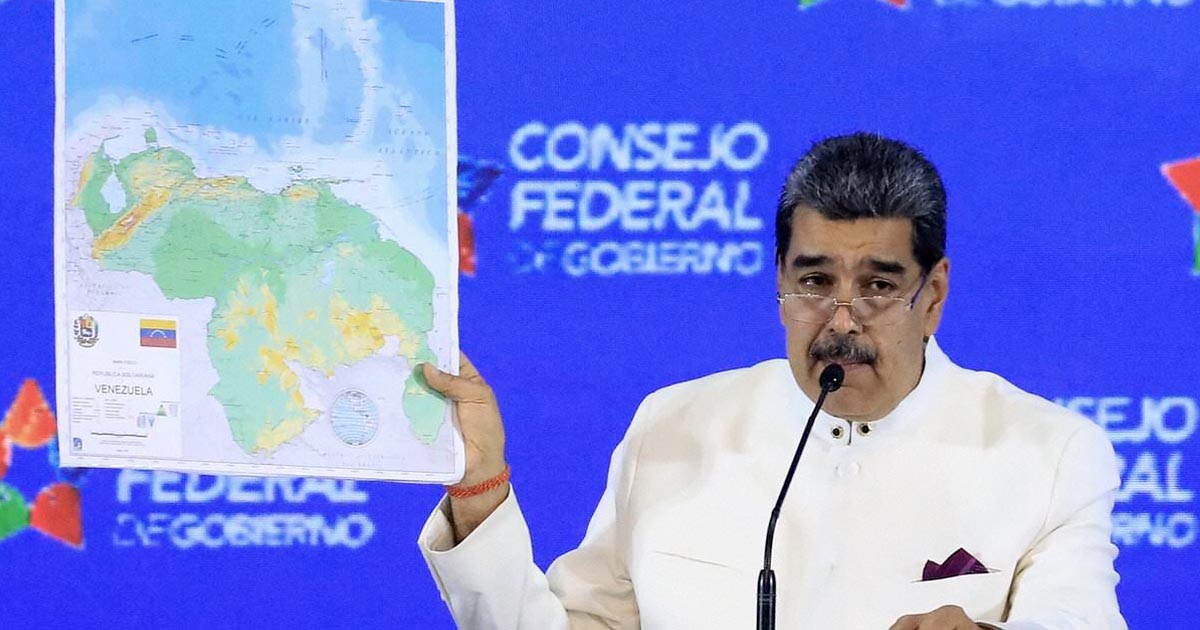 Venezuela's president on Tuesday published a new map of the region showing two thirds of neighboring Guyana 'reclaimed' by Caracas and ordered the state-owned energy companies to 'immediately' begin exploration in the area, as fears rose that Nicolas Maduro could start a war.
Venezuela has claimed Guyana's Esequiba region for over 100 years – ever since the border of the present-day country was drawn up, in 1899. But on Sunday, with his own popularity falling in the face of a newly-unified opposition, Maduro organized a 'referendum' on whether to pursue Venezuela's claim to the territory.
Voters were asked if they agreed with creating a Venezuelan state in the Esequiba region, providing its population with Venezuelan citizenship, and 'incorporating that state into the map of Venezuelan territory.'
The Maduro-controlled Venezuelan National Electoral Council said voters chose 'yes' more than 95 percent of the time on each of five questions on the ballot, and on Tuesday Maduro published his new map.
He has appointed a general, Alexis Rodríguez Cabello, as head of the region and on Tuesday dispatched him to the town of Tumeremo, a remote mining town in the jungle, 120 miles from the border.
Esequiba, about the size of Florida, is rich in minerals and accounts for two thirds of the territory of Guyana – an English speaking nation, which gained its independence from Britain in 1966. Guyana is the only English-speaking country in South America.
Venezuela protested an oil tender announced by Guyana in September, arguing that the offshore areas are subject to dispute and the companies awarded the fields will not have the rights to explore them.
Guyana has denounced Sunday's referendum as pretext to annex the land: in the days running up to it, the Venezuelan defense minister Vladimir Padrino Lopez, known for his ties to his counterparts in Russia and Iran, posted a video of Venezuela troops on parade, waving flags saying 'Guyana Esequiba', colored in the Venezuelan flag.
President Irfaan Ali called the move by Maduro 'reckless' and said his country plans to alert both regional and world leaders of Maduro's attempt to disrupt the peace in the hemisphere.
'It is unfortunate that President Maduro would choose the road of defying an international court order. This speaks volumes about the way in which President Maduro prefers to operate and also points to the fact that he's unconcerned about the peace and security of this region,' he told The Miami Herald.
'The order of the [U.N. court] made it very clear that Venezuela cannot act or take any action that would disrupt the status quo and the status quo is that Guyana exercises governance and control of Essequibo,' he said.
He added that he is seeking the support of the United Nations Security Council, the United States, the Caribbean Community, the Organization of American States and other countries to ensure Guyana's territory is 'not violated.'
'We once again call on Venezuela to retract from this reckless, adventurous move and to allow international law and the ruling of the [U.N. court] to guide our action,' Ali added.
El pueblo y su #FANB están movilizados, decididos e imperturbables a recuperar nuestra Guayana Esequiba, nos mueve el amor infinito a la patria y a cada milímetro del sagrado territorio venezolano, el cual defenderemos por todas las vías y por todos los medios que estén a nuestro… pic.twitter.com/B60slT8xSs

— Vladimir Padrino L. (@vladimirpadrino) November 29, 2023
Guyana has appealed to the International Court of Justice, the United Nations' top court, which on Friday ordered Venezuela not to take any action to change the status quo until the panel can rule on the two countries' competing claims. Any decision could take years.
Meanwhile, Guyana is nervously eyeing its giant neighbor to the north.
Venezuela's military, backed by Russia, Iran and Cuba, massively outnumbers tiny Guyana's: the Venezuelan military counts 123,000 active personnel versus only 3,400 for Guyana, according to an analysis in Brazil's Folha de Sao Paulo newspaper.
Guyana is also dwarfed by Venezuela in weaponry, with Venezuela having 514 armored vehicles compared to only six owned by Guyana.
Such an attack would draw a strong international response, with the lead likely played by Brazil, which borders both Venezuela and Guyana and whose military is significantly larger and more professional than either country's.
At the end of November, Brazil's defense ministry said it 'has intensified defensive actions' along its northern border.
'The Ministry of Defense has been monitoring the situation. Defensive actions have been intensified in the northern border region of the country, promoting a greater military presence,' it said in a statement.