Michael Gambon, the Irish-born actor knighted for his storied career on the stage and screen and who went on to gain admiration from a new generation of moviegoers with his portrayal of Hogwarts headmaster Albus Dumbledore in six of the eight "Harry Potter" films, has died. He was 82.
The actor died on Wednesday following "a bout of pneumonia," his publicist, Clair Dobbs, said Thursday.
"We are devastated to announce the loss of Sir Michael Gambon. Beloved husband and father, Michael died peacefully in hospital with his wife Anne and son Fergus at his bedside," his family said in a statement.
While the Potter role raised Gambon's international profile and found him a huge audience, he had long been recognized as one of Britain's leading actors. His work spanned TV, theater and radio, and he starred in dozens of films from "Gosford Park" and "The King's Speech" to the animated family movie "Paddington." He recently appeared in the Judy Garland biopic "Judy," released in 2019.
Gambon was knighted for his contribution to the entertainment industry in 1998.
The role of the much loved Professor Dumbledore was initially played by another Irish-born actor, Richard Harris. When Harris died in 2002, after two of the films in the franchise had been made, Gambon took over and played the part from "Harry Potter And The Prisoner of Azkaban" through to "Harry Potter And The Deathly Hallows Part 2."
He once acknowledged not having read any of J. K Rowling's best-selling books, arguing that it was safer to follow the script rather than be too influenced by the books. That didn't prevent him from embodying the spirit of the powerful wizard who fought against evil to protect his students.
Fiona Shaw, who played Petunia Dursley in the "Harry Potter" series, recalled Gambon telling her how central acting was to his life.
"He did once say to me in a car 'I know I go on a lot about this and that, but actually, in the end, there is only acting'," Shaw told the BBC on Thursday. "I think he was always pretending that he didn't take it seriously, but he took it profoundly seriously."
Born in Dublin on Oct. 19, 1940, Gambon was raised in London and originally trained as an engineer, following in the footsteps of his father. He made his theater debut in a production of "Othello" in Dublin.
In 1963 he got his first big break with a minor role in "Hamlet," the National Theatre Company's opening production, under the directorship of the legendary Laurence Olivier.
Gambon soon became a distinguished stage actor and received critical acclaim for his leading performance in "Life of Galileo," directed by John Dexter. He was frequently nominated for awards and won the Laurence Olivier Award 3 times and the Critics' Circle Theatre Awards twice.
A multi-talented actor, Gambon was also the recipient of four coveted British Academy of Film and Television Arts awards for his television work.
He became a household name in Britain after his lead role in the 1986 BBC TV series "The Singing Detective," written by Dennis Potter and considered a classic of British television drama. Gambon won the BAFTA for best actor for the role.
Gambon also won Emmy nominations for more recent television work — as Mr. Woodhouse in a 2010 adaption of Jane Austen's "Emma," and as former U.S. President Lyndon B. Johnson in 2002's "Path to War."
Gambon was versatile as an actor but once told the BBC he preferred to play "villainous characters." He played gangster Eddie Temple in the British crime thriller "Layer Cake" — a review of the film by the New York Times referred to Gambon as "reliably excellent" — and a Satanic crime boss in Peter Greenaway's "The Cook, The Thief, His Wife and Her Lover."
He also had a part as King George V in the 2010 drama film "The King's Speech." In 2015 he returned to the works of J.K. Rowling, taking a leading role in the TV adaptation of her non-Potter book "The Casual Vacancy."
Gambon retired from the stage in 2015 after struggling to remember his lines in front of an audience due to his advancing age. He once told the Sunday Times Magazine: "It's a horrible thing to admit, but I can't do it. It breaks my heart."
Gambon was always protective when it came to his private life. He married Anne Miller and they had one son, Fergus. He later had two sons with set designer Philippa Hart.

⬇️ Top Picks for You ⬇️
Biden Got Recurring $1,380 Payment from Hunter's Firm Starting in 2018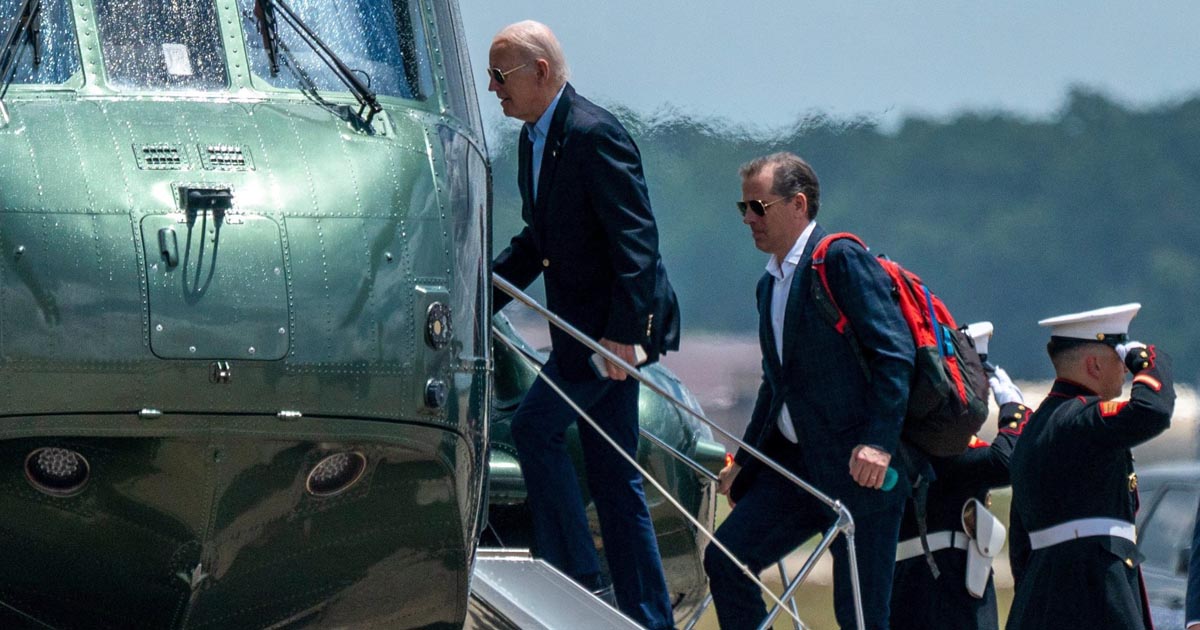 President Biden received a recurring payment of $1,380 from his son Hunter's law firm beginning in late 2018 shortly after a bank money laundering officer warned that the same account was receiving millions of dollars in Chinese government-linked funds without "any services rendered."
A bank order shows that Owasco PC set up a "monthly" transfer to then-former Vice President Joseph R. Biden Jr., with a voided check for the future president included in the documentation, which was released Monday by the House Oversight Committee.
A source told The Post that at least three recurring payments were made — on Sept. 17, Oct. 15 and Nov. 15, 2018 — totaling $4,140 to the elder Biden from Owasco PC, according to the bank records of the firm.
"President Biden and his family must be held accountable for this blatant corruption," Oversight Committee Chairman James Comer (R-Ky.) said in a video release.
"Today, the House Oversight Committee is releasing subpoenaed bank records that show Hunter Biden's business entity, Owasco PC, made direct monthly payments to Joe Biden. This wasn't a payment from Hunter Biden's personal account but an account for his corporation that received payments from China and other shady corners of the world," Comer said.
"At this moment, Hunter Biden is under an investigation by the Department of Justice for using Owasco PC for tax evasion and other serious crimes. And based on whistleblower testimony, we know the Justice Department made a concerted effort to prevent investigators from asking questions about Joe Biden. I wonder why?"
Earlier that year, a January 2019 email from assistant Katie Dodge to Hunter Biden annotated various expenses including "Ford Raptor — Reimbursement to JRB — $1380."
The provenance of the funds is unclear, however, and additional records show that Hunter Biden was knee-deep in two of his most controversial business relationships at the time, with Ukraine's Burisma Holdings and CEFC China Energy.
The evidence emerged as House Republicans prepare to question first brother James Biden on Wednesday and Hunter next week about the president's role in his family's dealings in countries such as China and Ukraine — with a possible floor vote to authorize the ongoing impeachment inquiry this month.
While a presidential candidate, Joe Biden denied that he ever discussed business with his relatives, but evidence has since shown that he met with his relatives' associates from both the Burisma and CEFC ventures.
Documents from the first son's abandoned laptop show that Burisma board adviser Vadym Pozharskyi sought "bank reference" information on Sept. 14, 2018 — one day before the initial transfer to Joe Biden was sought. However, the transaction was not executed for another two days, apparently due to a later-than-expected form submission.
Joe Biden met Pozharskyi at an April 17, 2015, dinner at DC's Café Milano. An unproven FBI informant tip said that Burisma owner Mykola Zlochevsky claimed in 2016 he was "coerced" into paying $10 million in bribes to the Bidens for their assistance in ousting prosecutor Viktor Shokin.
Hunter also was on the tail end of disbursing millions of dollars received from CEFC China Energy — one of two major Biden family dealings with Chinese government-linked firms.
On June 26, 2018 — less than three months before Joe Biden began to receive the monthly transfers — an internal Bank Secrecy Act expert warned colleagues that the institution should reconsider its relationship with Hunter as a result of Owasco PC seeming to receive Chinese funds without "any services rendered."
CEFC transferred $5 million to another Biden family-linked entity, Hudson West III, in August 2017 after Hunter warned a China-based associate of his father's wrath if a business deal was aborted. Much of the large transfer later went to Hunter's Owasco PC.
Prior bank records released by the Oversight Committee indicate that Joe Biden received payments of $40,000 and $200,000 from his brother James, who also was involved in the CEFC venture and other foreign-focused enterprises.
Comer alleged that the $40,000 transferred to Joe Biden's bank account on Sept 3, 2017, was from "laundered" Chinese funds.
James Biden paid Joe Biden $200,000 on March 1, 2018 — the same day that James received a $200,000 transfer from troubled rural hospital company Americore after pledging to use his political connections to secure a Middle Eastern investor, according to bankruptcy filings.
The White House says there's evidence that both transfers were loan repayments, but Republicans argue they have not seen loan agreement documents and note that the funds distributed to James came from a law firm, rather than Joe Biden himself, further clouding the picture.