Former Vice President Mike Pence has filed paperwork to jump into the 2024 presidential primary for the Republican nomination, setting up a clash with former President Donald Trump.
Pence has long been expected to enter the race and is set to formally announce his candidacy on June 7.
Pence, who served as governor of Indiana prior to becoming vice president, will enter a growing field of candidates competing for the nomination, including Florida Gov. Ron DeSantis, Sen. Tim Scott (R-S.C.), and former South Carolina Gov. Nikki Haley.
The former vice president has long sought to market himself as a "classical conservative," pushing for a return to the pre-Trump Republican Party.
As he mounts a bid to challenge his former running mate, Pence will likely seek to distinguish himself from Trump on socially conservative grounds. It's thought that Trump placed Pence on the ticket in 2016 to draw in the support of social conservatives, as many on the right viewed the New Yorker as too socially liberal. The same strategy will likely characterize his 2024 bid.
Pence has often described himself as "a Christian, a conservative, and a Republican, in that order."
Although he served as Trump's vice president, the two increasingly grew apart in the aftermath of the Jan. 6, 2021, Capitol breach. Pence has called it "a tragic day" and one for which he said that "history will hold Donald Trump accountable."
At the time, Trump tried to convince Pence to use a disputed power under the 12th Amendment to refuse certification of electoral slates from contested states where Trump said the results were plagued by widespread voter fraud.
Pence refused repeated efforts by the former president to use this power and has characterized Trump's efforts as a danger to American political norms. Pence argued that acceding to Trump's request would have prompted a constitutional crisis.
"President Trump was wrong," Pence said of the matter.
"I had no right to overturn the election. And [Trump's] reckless words endangered my family and everyone at the Capitol that day, and I know history will hold Donald Trump accountable."
On the other hand, he has resisted efforts from both the now-defunct House Jan. 6 panel and other inquiries for investigations into the events of Jan. 6, 2021, and has suggested that some "irregularities" characterized the 2020 election.
In a March 2021 op-ed for the Heritage Foundation, Pence noted the existence of "significant voting irregularities and numerous instances of officials setting aside state election law" during the 2020 election.
Rejection of Populism
Pence recently called on conservatives to reject the "siren song of populism."
"I believe we have to resist the politics of personality and the siren song of populism unmoored to timeless conservative principles, and we need to stand firm on the conservative agenda of life and liberty and a commitment to freedom that has always led us to victory," he said on June 3 in Iowa.
"Our movement cannot forsake the foundational commitment that we have to security, to limited government, to liberty, and to life. But nor can we allow our movement to be led astray by the siren song of unprincipled populism that's unmoored from our oldest traditions and most cherished values.
"There's a healthy debate going on within our movement today. Some in our movement long for a simple return to the traditional conservative agenda of the Reagan era. Others say our movement should be swept along by a new and energetic sense of populism."
For most of the Trump administration, Pence played the role of a loyal subordinate to Trump, defending administration wins as Trump's.
He led the administration's COVID-19 task force, overseeing Operation Warp Speed, which ultimately produced the COVID-19 mRNA vaccines.
Since leaving the White House, Pence has joined the Heritage Foundation as a visiting fellow.
Pence has expressed support for Ukraine in the Russo–Ukrainian conflict, acknowledging that it's "not America's war" but saying that the United States should nonetheless seek to back Ukraine to defend international freedom.
"Make no mistake: This is not America's war. But if we falter in our commitment to providing the support to the people of Ukraine to defend their freedom, our sons and daughters may soon be called upon to defend ours," Pence told an audience at The University of Texas at Austin in February.
"If we surrender to the siren song of those in this country who argue that America has no interest in freedom's cause, history teaches we may soon send our own into harm's way to defend our freedom and the freedom of nations in our alliance."
Despite the personal feud between Trump and Pence, Trump has focused much of his efforts on DeSantis, considered the runner-up for the nomination.
Most polls have Pence well behind Trump, polling equally with figures such as Haley, but lagging when compared to the double-digit leads enjoyed by Trump and DeSantis.

⬇️ Top Picks for You ⬇️
McCarthy to Work with Dems to Pass 45-Day Funding, Avoiding Govt Shutdown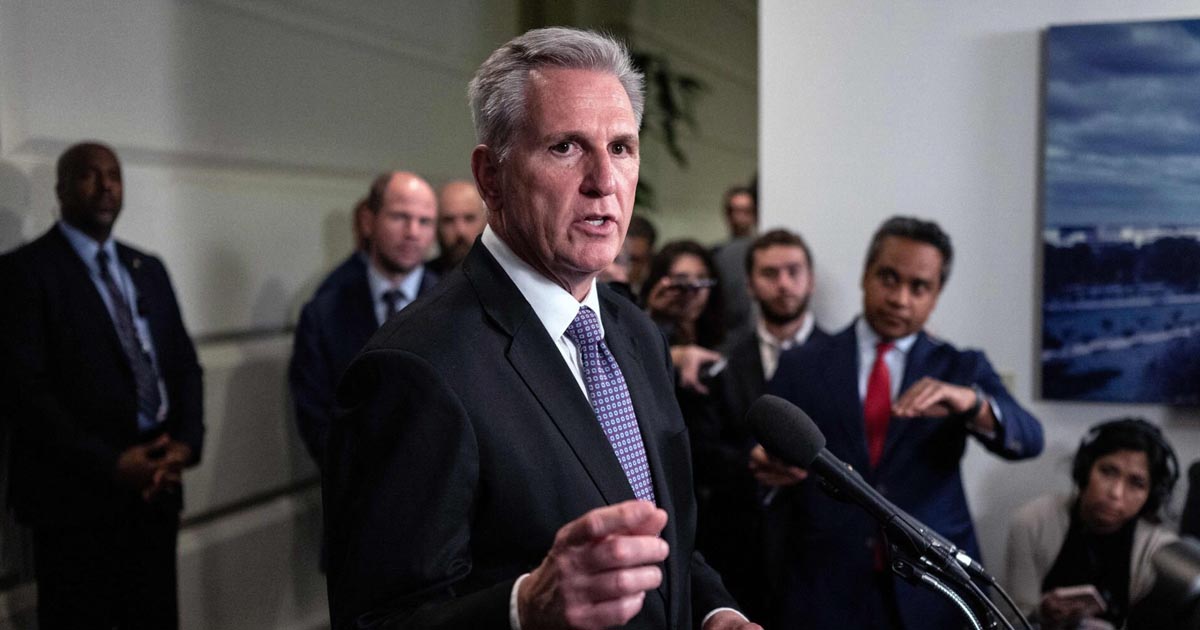 On the brink of a federal government shutdown, Speaker Kevin McCarthy announced a dramatic pivot Saturday, trying to push a 45-day funding bill through the House with Democratic help — a move that could keep government open but most certainly risks his job.
Republican lawmakers met behind closed doors early in the morning with hours to go before the midnight deadline needed to fund government operations or face a disruptive federal closure.
The new approach would leave behind aid to Ukraine, a White House priority opposed by a growing number of GOP lawmakers, but the plan would increase federal disaster assistance by $16 billion, meeting President Joe Biden's full request.
The House was preparing for a quick vote Saturday on the plan, but Democrats hit the brakes, seeking time so they could read the 71-page bill. Across the Capitol, the Senate was opening a rare weekend session and hoping to advance its own stopgap plan, but with money for Ukraine.
"We're going to do our job," McCarthy said after the morning meeting. "We're going to be adults in the room. And we're going to keep government open."
With no deal in place before Sunday, federal workers will face furloughs, more than 2 million active-duty and reserve military troops will work without pay and programs and services that Americans rely on from coast to coast will begin to face shutdown disruptions.
The sudden House action would fund government at current 2023 levels for 45 days, through Nov. 17. It would move closer to the bipartisan approach underway in the Senate, which also would fund the government through that period, while adding $6 billion for Ukraine to fight the war against Russia and $6 billion for U.S. disaster relief.
"A bipartisan, a bicameral solution is the only way forward," said Rep. Rosa DeLauro, the top Democrat on the House Appropriations Committee. She and other Democrats decried cutting Ukraine aid.
McCarthy, R-Calif., will be forced to rely on Democrats for passage because the speaker's hard-right flank has said it will oppose any short-term measure. McCarthy was setting up a process for voting that will require a two-thirds supermajority, about 290 votes in the 435-member House for passage. Republicans hold a 221-212 majority, with two vacancies.
Relying on Democratic votes and leaving his right-flank behind is something that the hard-right lawmakers have warned will risk McCarthy's job as speaker. They are almost certain to quickly file a motion to try to remove McCarthy from that office, though it is not at all certain there would be enough votes to topple the speaker.
"If somebody wants to remove me because I want to be the adult in the room, go ahead and try," McCarthy said of the threat to oust him. "But I think this country is too important."
The quick pivot comes after the collapse Friday of McCarthy's earlier plan to pass a Republican-only bill with steep spending cuts up to 30% to most government agencies that the White House and Democrats rejected as too extreme.
"Our options are slipping away every minute," said one senior Republican, Rep. Mario Diaz-Balart of Florida.
Meanwhile, the Senate was marching ahead on its package with support from both Democrats and Republicans.
"Congress has only one option to avoid a shutdown — bipartisanship," said Senate Majority Leader Chuck Schumer, D-N.Y.
Senate Republican leader Mitch McConnell of Kentucky echoed the sentiment, warning his own hard-right colleagues there is nothing to gain by shutting down the federal government.
"It heaps unnecessary hardships on the American people, as well as the brave men and women who keep us safe," McConnell said.
The federal government is heading straight into a shutdown that poses grave uncertainty for federal workers in states all across America and the people who depend on them — from troops to border control agents to office workers, scientists and others.
Families that rely on Head Start for children, food benefits and countless other programs large and small are confronting potential interruptions or outright closures. At the airports, Transportation Security Administration officers and air traffic controllers are expected to work without pay, but travelers could face delays in updating their U.S. passports or other travel documents.
An earlier McCarthy plan to keep the government open collapsed Friday due to opposition from a faction of 21 hard-right holdouts despite steep spending cuts of nearly 30% to many agencies and severe border security provisions.
The White House has brushed aside McCarthy's overtures to meet with Biden after the speaker walked away from the debt deal they brokered earlier this year that set budget levels.
Catering to his hard-right flank, McCarthy had returned to the spending limits the conservatives demanded back in January as part of the deal-making to help him become the House speaker.
After Friday's vote, McCarthy's chief Republican critic, Rep. Matt Gaetz of Florida, said the speaker's bill "went down in flames as I've told you all week it would."
Some of the Republican holdouts, including Gaetz, are allies of former President Donald Trump, who is Biden's chief rival in the 2024 race. Trump has been encouraging the Republicans to fight hard for their priorities and even to "shut it down."